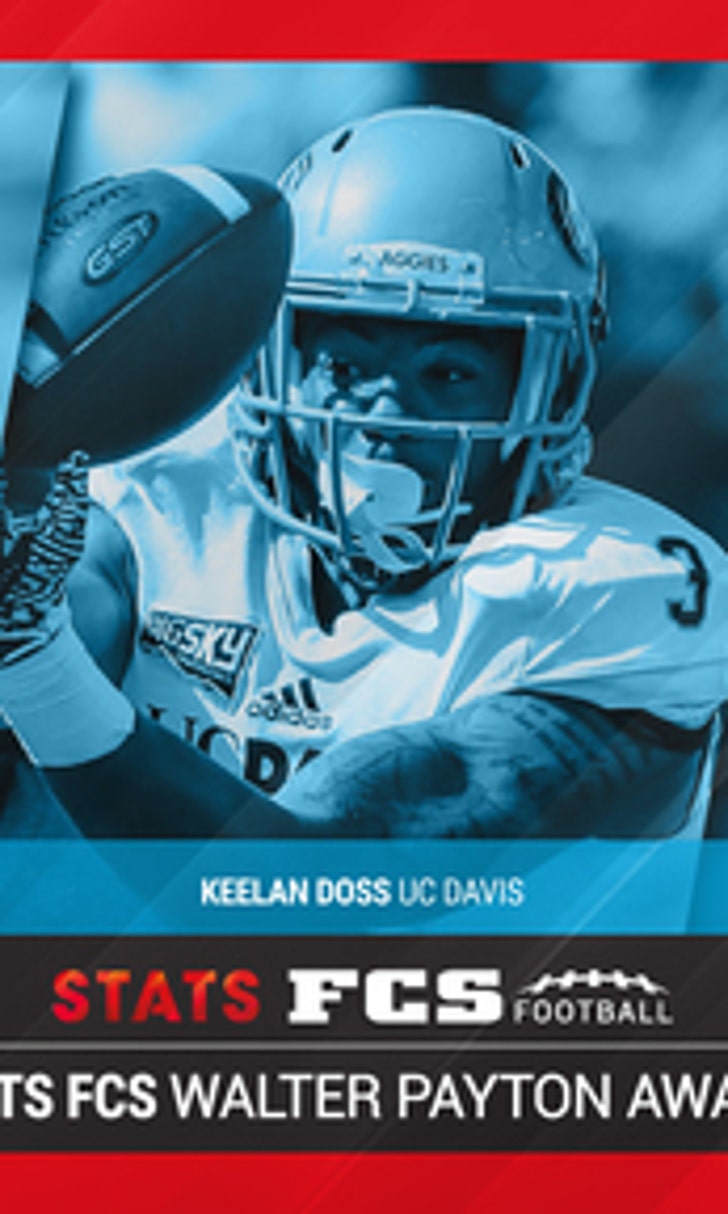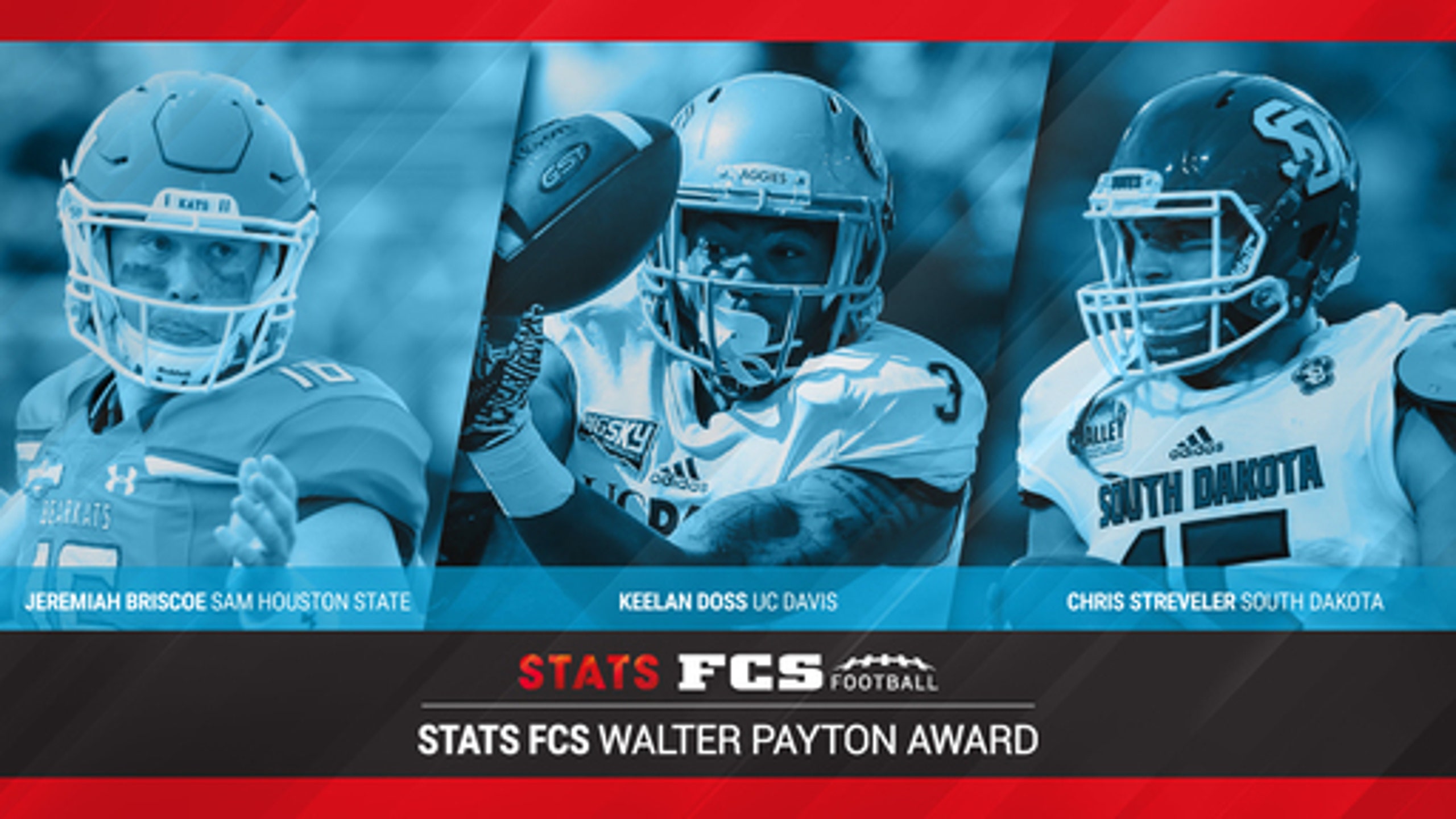 Briscoe, Doss, Streveler invited to Walter Payton Award announcement
BY AP • December 4, 2017
(STATS) - Dominating seasons are bringing together three players who hope to win the Heisman of the FCS level.
Senior quarterbacks Jeremiah Briscoe of Sam Houston State and Chris Streveler of South Dakota, along with junior wide receiver Keelan Doss of UC Davis, were invited on Monday to the announcement of the 2017 STATS FCS Walter Payton Award.
The award, named for the legendary College and Pro Football Hall of Fame running back and given to the outstanding offensive player in the subdivision since 1987, will be presented at the STATS FCS Awards Banquet Jan. 5 in Frisco, Texas - on the eve of the national championship game. Past winners include Steve McNair, Tony Romo, Brian Westbrook, John Friesz, Brian Finneran, Jimmy Garoppolo and Cooper Kupp.
Briscoe won the 2016 Payton and seeks to join former Appalachian State quarterback Armanti Edwards - the 2008 and '09 recipient - as the second two-time winner. The 6-foot-3, 225-pounder from Houston has helped the Bearkats to an 11-1 record and into the FCS playoff quarterfinals. He leads the Southland Conference and the FCS in passing yards (4,398), passing yards per game (366.5), touchdown passes (41) and points responsible for (264).
Doss, the Big Sky Conference offensive player of the year, ranks No. 1 in the FCS in receptions (115), receiving yards (1,499), receptions per game (10.5) and receiving yards per game (136.3). As UC Davis improved by two wins to finish 5-6, the 6-3, 206-pounder from Alameda, California, caught at least 10 passes in eight games and totaled at least 100 receiving yards nine times. He reeled in seven touchdowns and added a 42-yard score on his one carry.
Streveler led South Dakota to the playoffs for the first time in the program's FCS history as part of an 8-5 season. Named the Missouri Valley Conference's offensive player of the year, the 6-2, 220-pound native of Crystal Lake, Illinois, has set the conference's single-season records in passing yards (4,134) and total offensive yards (4,854) while accounting for 43 touchdowns (32 passing, 11 rushing). He ranks first In the FCS in total offensive yards per game (373.4).
A national panel of 151 sports information and media relations directors, broadcasters, writers and other dignitaries voted on the Walter Payton Award following the regular season.
The results for fourth through 25th place were as follows:
4. Devlin Hodges, QB, Samford: 5-16-20-11-8-179
5. Kyle Lauletta, QB, Richmond: 14-5-10-19-8-166
6. Taryn Christion, QB, South Dakota State: 6-12-7-10-7-126
7. Dominick Bragalone, RB, Lehigh: 3-9-9-8-13-116
8. Bryan Schor, QB, James Madison: 7-6-8-8-7-106
9. Hayden Hildebrand, QB, Central Arkansas: 8-6-4-6-5-93
10. Brandon Parker, OT, North Carolina A&T: 5-9-7-1-8-92
11. Josh Mack, RB, Maine: 0-7-8-6-8-72
12. Dallas Goedert, TE, South Dakota State: 3-5-4-3-4-57
13. Gage Gubrud, QB, Eastern Washington: 1-4-4-8-6-55
14. (Tie) Lamar Raynard, QB, North Carolina A&T: 5-2-2-2-3-46
14. (Tie) Roc Thomas, RB, Jacksonville State: 1-3-8-2-1-46
16. Anthony Lawrence, QB, San Diego: 0-5-3-3-10-45
17. Chad Kanoff, QB, Princeton: 0-3-2-9-7-43
18. Chandler Burks, QB, Kennesaw State: 2-2-3-3-6-39
19. Case Cookus, QB, Northern Arizona: 1-3-5-1-4-38
20. Justin Watson, WR, Penn: 2-1-0-5-3-27
21. DeVante Kincade, QB, Grambling State: 2-2-0-2-2-24
22. (Tie) Neil O'Connor, WR, New Hampshire: 0-2-2-1-2-18
22. (Tie) Troy Pelletier, WR, Lehigh: 0-2-1-2-3-18
24. Detrez Newsome, RB, Western Carolina: 0-1-2-2-2-16
25. Tommy Stuart, QB, Duquesne: 0-0-1-0-1-4
A first-place vote was worth five points, a second-place vote four points, a third-place vote three points, a fourth-place vote two points and a fifth-place vote one point.
---
---