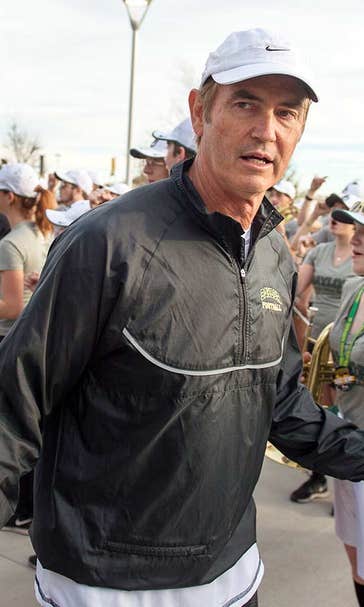 Briles won't catch the Bears sleeping on the struggling Wildcats
November 3, 2015

On Monday, a Texas Longhorns player admitted he thinks the team took Iowa State lightly, took a victory for granted as the reason they got punked 24-0.
Baylor coach Art Briles said his No. 2 Bears won't go into Kansas State, losers of four in a row, with a similar arrogance.
"The emblem on the helmet (concerns me). They're a good football team," Briles told the Waco Tribune-Herald, looking ahead to Thursday's nationally televised game on FS1. "Their game against TCU, they've got an 18-point lead. The Oklahoma State game was up and down the field the whole game. They're a Big 12 opponent."
An opponent that still had a shot at sharing the Big 12 title last season when it went into Waco for the regular-season finale. Baylor won the game and shared the conference championship with TCU. While the Bears (7-0, 4-0 Big 12) have continued to soar this season, Bill Snyder's Wildcats have hit hard times. They lost their starting quarterback in the season-opener and have now lost four straight conference games.
But as Briles alluded to, K-State couldn't hold an 18-point halftime to lead against No. 5 TCU and lost a barnburner, and also lost at No. 12 Oklahoma State on a last-second field goal.
"We played them last year in the last game of the year for the Big 12 championship. That's reality, that's not something I'm making up. So, we have a lot of respect for that football team and that program. And if you don't, then you don't understand football and you don't understand programs."
---
---