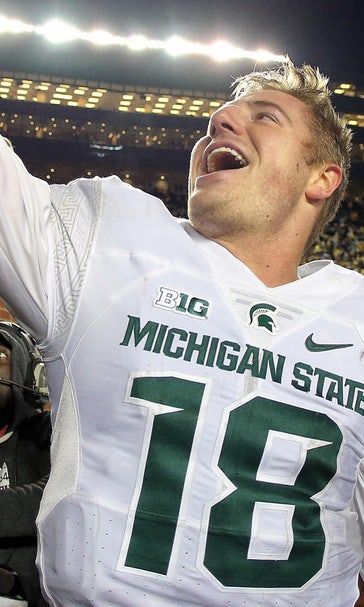 Big Ten East Notebook: Connor Cook has been a constant for Michigan State
November 3, 2015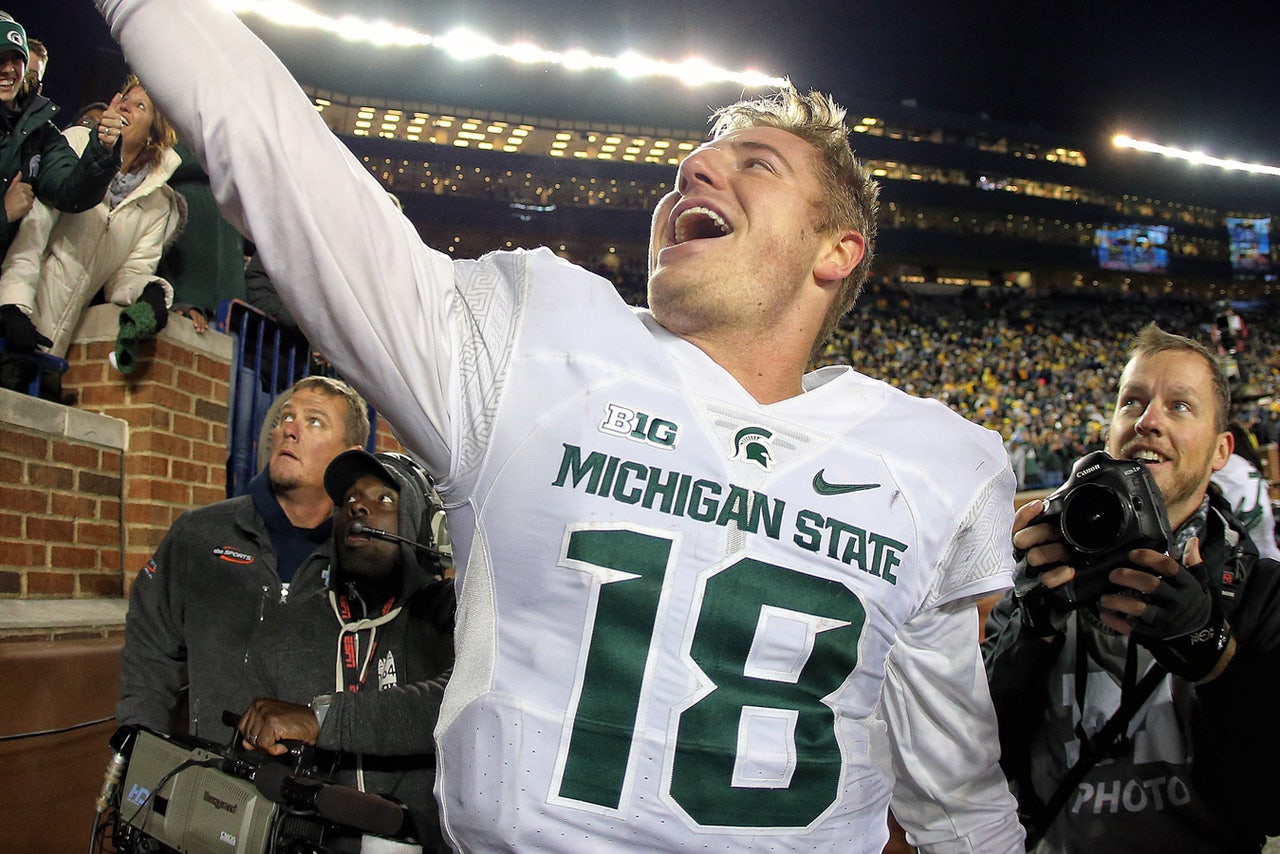 Throughout the Big Ten East this season, there have been questions or some kind of uncertainty at quarterback almost everywhere.
Ohio State, Maryland, Rutgers and Michigan entered preseason camp with open competitions.
The Terrapins have changed starters twice, while Ohio State is about to have to do the same (at least temporarily) because of J.T. Barrett's one-game suspension this week.
Hayden Rettig started the season-opener for Rutgers with Chris Laviano suspended for the first half because of a missed curfew, but Laviano took over in the third quarter and has started every game since. Back-to-back lackluster performances have led to questions about whether or not Rettig deserves another shot, but he hasn't played outside of garbage time the last two weeks.
Indiana had to start backup Zander Diamont for an injured Nate Sudfeld at Penn State then go to third-stringer Danny Cameron when Diamont was hurt against the Nittany Lions. Fortunately for the Hoosiers, Sudfeld was able to return a week later.
After winning the job in the preseason, Jake Rudock has started every game for Michigan, but his status is uncertain this week after he was unable to finish the Wolverines' game at Minnesota last Saturday night with an injury. Wilton Speight, who began the season as the third-stringer, came on to throw the game-winning touchdown pass.
At Penn State, Christian Hackenberg has started every game for a third straight season, but he and the coaching staff have been the subject of frequent questions about whether or not the Nittany Lion offense is reaching its potential. Through the games of Oct. 31, Hackenberg ranks seventh in the Big Ten in passer rating and eighth in passing yards per game, and the Nittany Lions are 10th in scoring.
And then there is Michigan State.
The Spartans enter November undefeated for the first time in head coach Mark Dantonio's nine-year tenure in large part thanks to Connor Cook. The quarterback posted arguably his best performance last time out and looks poised to make sure no one forgets about Michigan State when the College Football Playoff begins.
"I think I've been saying it over and over throughout the fall, he's got a great deal of experience, he's won at a very high level," Dantonio told reporters in East Lansing after Cook threw for a career-high 398 yards against Indiana on Oct. 24 before taking last weekend off. "The guy is 31-3 as a quarterback right now. That's unbelievable. There can't be too many people out there that have that type of record."
Cook, who broke the school record for total yards in a game with 416 against the Hoosiers and posted career-highs in completions (30), attempts (52) and touchdown passes (four), admitted he did not anticipate being able to accomplish what he has so far when he came out of Walsh Jesuit High School in northeast Ohio as a two-star recruit nearly five years ago.
"I am so blessed, so fortunate to have played on such great teams," he told reporters. "If you go back to 2013, the Rose Bowl team, had the No. 1 defense, it allowed me to accomplish things, I wouldn't have been able to accomplish with out that."
He credited receiver Tony Lippett, running back Jeremy Langford and another stout defense with helping him lead another double-digit win season in 2014.
"It's just a whole team effort, it's not just me," Cook said.
The passes he throws, often into tight coverage but allowing players such as Lippett last season and Aaron Burbridge this season to make big plays, belie that modesty, though.
They indicate a confidence in both his ability and that of his teammates, something Dantonio explained is a key to Cook's success.
Having a short memory doesn't hurt, either.
"He's used to being successful, so he has confidence," Dantonio said. "He's able to take a bad play and flip it, play through it and come out the back end playing very well. He could have a poor first quarter and play lights out three quarters in a row. It's not going to bother him.
"He's got a lot of control of the offense. He's shown great leadership in the huddle and great leadership on the field. I think he's got his coaches' back. The coaches believe in him and he believes in the coaches."
Stingy Defenses
Continuing to put up big numbers is not likely to be easy for Cook, who plays in a division that is home to three of the nation's top nine pass defenses.
Ohio State ranks second (149.3 yards per game) while Penn State is No. 4 (157.9) and Michigan is ninth (167.3). All three are also in the top 15 in pass efficiency defense. 
Cook threw for 328 yards against the Wolverines on Oc. 17 but still has to face the Buckeyes and Nittany Lions.
Still Perfect
Joining Michigan State at 8-0 entering November are Ohio State and Iowa. The last time there were three 8-0 teams in the Big Ten in the same season was 1903 (Minnesota, Northwestern and the University of Chicago)
---