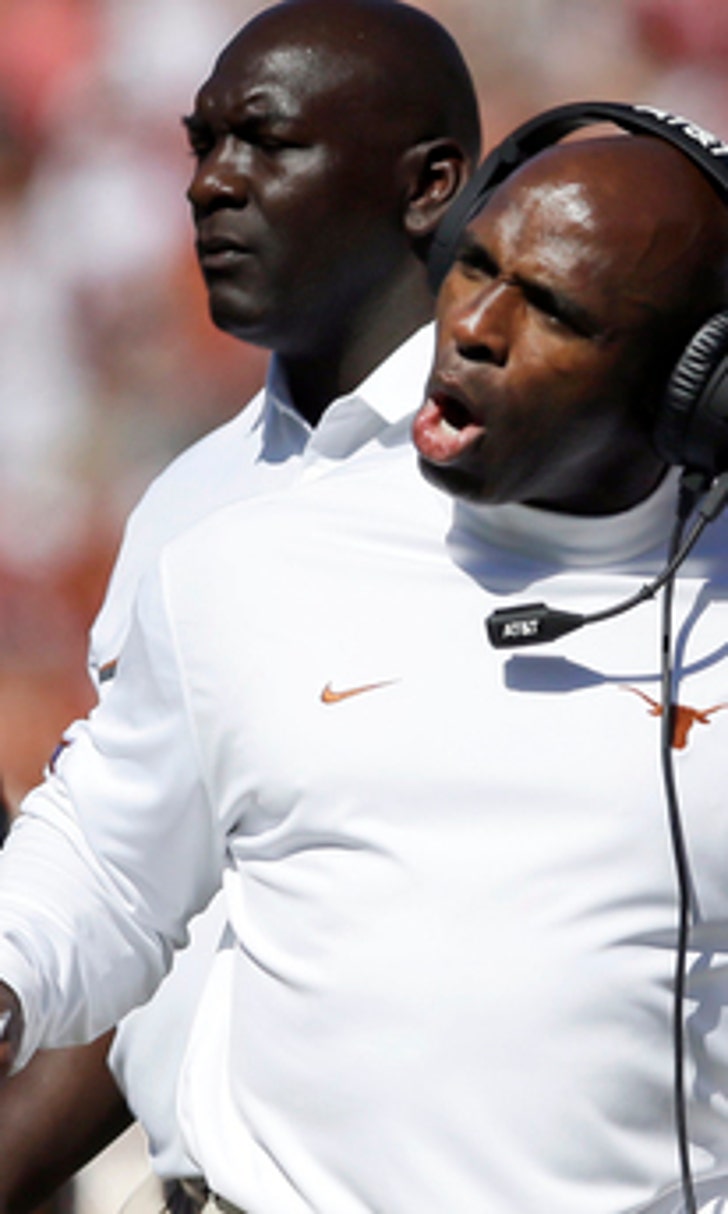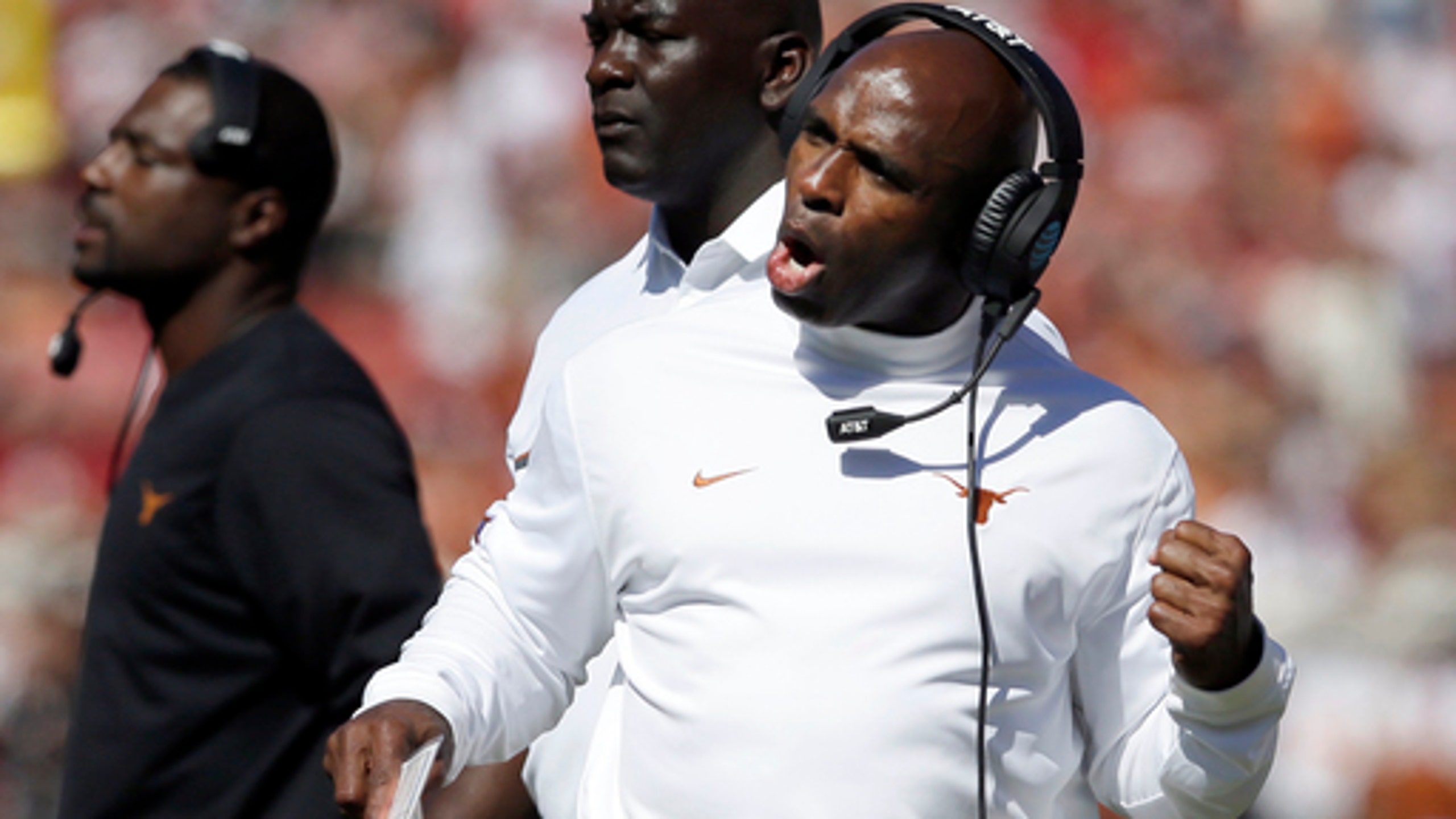 Big 12 hot seats topped by Charlie Strong at Texas
BY foxsports • October 24, 2016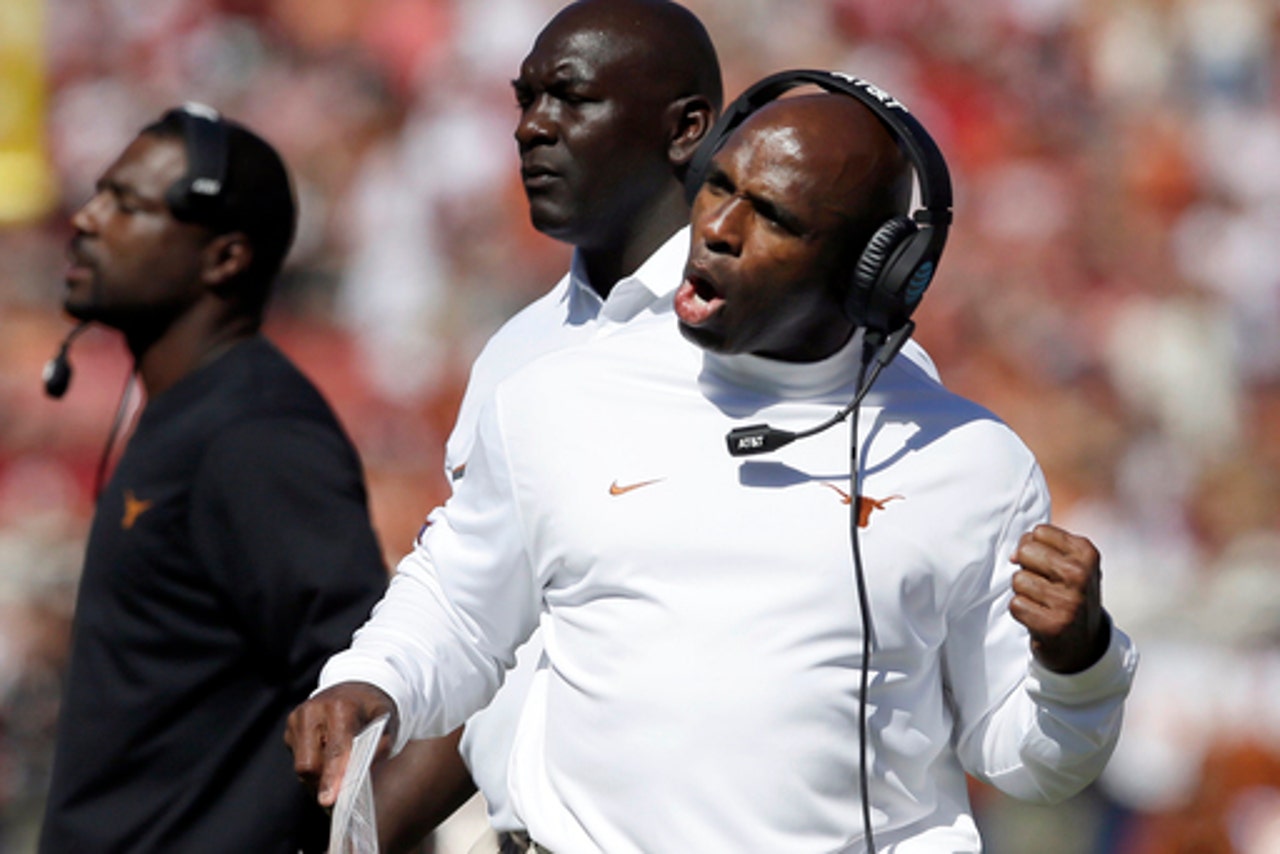 KANSAS CITY, Mo. (AP) Charlie Strong began his weekly news conference Monday by spending a couple of minutes discussing the multitude of self-inflicted wounds that cost Texas in its lost to Kansas State on Saturday.
Turnovers. Penalties. Blown assignments.
It could eventually serve as the epitaph for his tenure leading the Longhorns.
Strong dropped to 14-18 in his third season with the 24-21 defeat in Manhattan . And with eighth-ranked Baylor rolling into town, the chances of turning things around this week appear bleak.
''You look at the job - I know this, we haven't played well,'' Strong said. ''But I know this football team can play a lot better, will play a lot better. We just have to continue to develop.''
Time is running out to develop, though. Longhorns athletic director Mike Perrin has already said he will evaluate everything about the program after the season.
Strong isn't the only coach whose grasp of their job is tenuous.
Texas Tech coach Kliff Kingsbury could be headed for another losing season after a shootout loss to Oklahoma on Saturday. He is just 22-23 in his fourth season, and 11-20 in the Big 12, which makes the tenures of Spike Dykes, Mike Leach and Tommy Tuberville before him appear even more impressive. All those coaches had winning records in Lubbock.
Then there is Kansas coach David Beaty, who still has just one win in his second season. There is little doubt he took over the worst program in major college football, and there is plenty of evidence to suggest he's making progress. But another blowout loss on Saturday, this time to Oklahoma State, also showcased the gap that still exists between Kansas and the rest of the league.
''We've got great kids. They're tough dudes and they understand the task at hand, understand what we're trying to get done,'' Beaty said. ''There's no quit in those guys. There's no spirit problem. They hate losing, just like we all do. But we don't feel sorry for ourselves.''
Kingsbury and Beaty at least have a few things going for them.
In Kingsbury's case, he still has plenty of goodwill among fans from his own playing days with the Red Raiders. And his score-a-minute offense is fun to watch, even if the defense is a disaster.
In Beaty's case, he took over a program so deep in the dumps that even the most optimistic of fans would admit that it would take Nick Saban or Urban Meyer at least a few years to turn it around.
''They're much improved,'' Oklahoma coach Bob Stoops said of the Jayhawks. ''Defensively they play really solid, offensively they spread it around and throw it more consistently. Coach Beaty and his group have done a really good job.''
Here are some other tidbits from the Big 12's weekly teleconference with coaches:
MOUNTAINEERS ROLL ON
West Virginia climbed to No. 10 this week after a lopsided win over TCU , and now gets ready to face Oklahoma State as the grind truly begins. The Mountaineers (6-0, 3-0) have No. 16 Oklahoma and eighth-ranked Baylor in their final six games.
''It's hard to win in college football. There's lots of good teams out there that have lost games and we're fortunate not to be one,'' West Virginia coach Dana Holgorsen said. ''You have to celebrate the victories very short-term and then great ready for the next one.''
SNYDER ABSENT
Kansas State coach Bill Snyder missed the call to attend a funeral. Big 12 coaches often have assistants replace them on the call if they are unable to make it, but Snyder does not allow his assistant coaches to speak to media outside the Wildcats' annual media day.
TUCKERED OUT
Beaty got exhausted just watching the track meet Oklahoma and Texas Tech put on Saturday. The teams combined for more than 1,700 yards of offense in the Sooners' 66-59 victory .
''It was amazing, amazing to watch both those teams go to work,'' said Beaty, whose Jayhawks play the Sooners this week. ''It was really amazing, and they played as hard as they could, there just wasn't much left in the tank. ... I imagine living that (for a coach) was a nightmare.''
MIXON A STAR
Kingsbury walked away Saturday night with greater appreciation for Sooners running back Joe Mixon, who ran for 262 yards and two touchdowns against his Red Raiders.
''He's phenomenal,'' Kingsbury said. ''He's one of the best I've coached against because he can do so much. He's physical when they ask him to block. He's the complete package.''
---