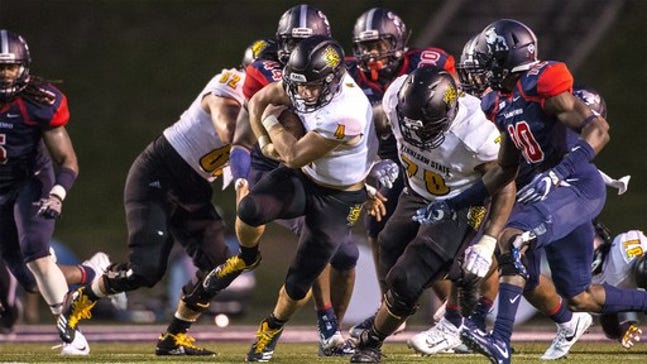 Best FCS nonconference games in 2018
Updated
Mar. 5, 2020 1:14 a.m. ET
(STATS) - The best part of this year's nonconference schedule between FCS programs is the best games go on and on.
Try to pick the 10 best games, it can be 15. Go for 15 and 20 or 25 might be better.
Strong nonconference matchups are attractive, risky and ultimately good for the FCS. Following is a countdown of the best ones:
25. Colgate (Patriot) at William & Mary (CAA), Sept. 29 - About 10 other games could go in this spot, but these two programs get it right academically as much as athletically. If the host Tribe can start 4-0 (rest assured, they won't), coach Jimmye Laycock would be going for his 250th career win.
24. Dayton (Pioneer) at Duquesne (Northeast), Sept. 15 - This has become a sneaky good regional series. Duquesne moved ahead 9-6 all-time with a 28-23 road win last year.
23. San Diego (Pioneer) at Harvard (Ivy), Sept. 15 - The Toreros went across the country on the same weekend last year only to lose to Princeton. They'll go even farther in the Ivy League for a matchup of two small-conference powers in the top six of FCS winning percentage this decade.
22. McNeese (Southland) at Northern Colorado (Big Sky), Sept. 1 - After being left out of the playoffs despite winning nine games last year, the Cowboys make an 1,800-mile trip for a first-ever matchup that could start to state this year's case.
21. Monmouth (Big South) at Princeton (Ivy), Sept. 22 - These New Jersey schools have never played before despite being separated by about 40 miles.
20. Bethune-Cookman (MEAC) at Tennessee State (Ohio Valley), Sept. 1 - The Merritt Classic features two teams that have played three straight close games this decade.
19. Villanova (CAA) at Lehigh (Patriot), Sept. 8 - Lehigh's last win in this backyard rivalry in 2006 was Andy Coen's first as a head coach.
18. Tennessee State (Ohio Valley) at Hampton (MEAC), Sept. 15 - As FCS independent Hampton searched far and wide for opponents from five different classifications, this home game is basically the highlight of its schedule.
17. Western Illinois (Missouri Valley) at Montana State (Big Sky), Aug. 30 - It's been 25 years since these programs last faced off.
16. Mercer (Southern) at Yale (Ivy), Oct. 13 - These teams were excited enough to start a series against each other that they signed on for four games in the next six seasons.
15. South Dakota (Missouri Valley) at Weber State (Big Sky), Sept. 15 - A repeat of their last meeting in 2016 would be welcomed: USD won 52-49 in two overtimes.
14. Jackson State (SWAC) vs. Tennessee State (Ohio Valley) at Memphis, Tennessee, Sept. 8 - The Southern Heritage Classic is a big draw at the Liberty Bowl in Memphis. TSU escaped with a 17-15 win before 47,407 last year.
13. Eastern Illinois (Ohio Valley) at Illinois State (Missouri Valley), Sept. 8 - The Mid-America Classic dates to 1901, with Illinois State leading 55-42-9 entering the 107th meeting.
12. Colgate (Patriot) at New Hampshire (CAA), Sept. 8 - While UNH is primed to secure a 15th straight playoff appearance, it's never gone as far as Colgate's appearance in the 2003 national championship game.
11. Prairie View A&M (SWAC) vs. North Carolina Central (MEAC) at Atlanta, Sept. 2 - The MEAC-SWAC Challenge shifts to Georgia State Stadium. Prairie View is seeking its first win in the 14-year-old series and North Carolina Central is making its first appearance.
10. Montana (Big Sky) at Western Illinois (Missouri Valley), Sept. 15 - With matchups like this one, the Big Sky/MVFC Challenge Series should be replicated across other conferences.
9. Furman (Southern) at Elon (CAA), Sept. 8 - North (Carolina) versus South (Carolina). Both teams won a close game on the road against the other last season, with Furman's victory occurring in the playoffs.
8. Samford (Southern) at Kennesaw State (Big South), Sept. 29 - It's another rubber match, so to speak. Samford's 2017 season opened with a storm-delayed win over Kennesaw State and ended with a playoff loss to the Owls.
7. Charleston Southern (Big South) at The Citadel (Southern), Sept. 15 - "The Battle of Charleston" is missing Jamey Chadwell to spice up the bitterness.
6. North Dakota (FCS Independent) at Sam Houston State (Southland), Sept. 29 - Second in FCS wins this decade to a certain team up north, the host Bearkats are thrilled "State" isn't listed on the end of "North Dakota."
5. Montana State (Big Sky) at South Dakota State (Missouri Valley), Sept. 8 - Coulda, woulda, shoulda, Montana State almost upset FCS semifinalist South Dakota State in a 31-27 thriller last September.
4. North Carolina A&T (MEAC) vs. Jacksonville State (Ohio Valley) at Montgomery, Alabama, Aug. 25 - The Aggies are basically playing a road game as they put the longest winning streak in the FCS (12 games) on the line in the annual FCS Kickoff.
3. Delaware (CAA) at North Dakota State (Missouri Valley), Sept. 22 - Delaware is back strong under second-year coach Danny Rocco entering this first-time meeting. The Blue Hens' last playoff appearance was in the first championship game to be played in Frisco, Texas (2010 season). Since then, NDSU has been there for six national titles.
2. Jacksonville State (Ohio Valley) vs. Kennesaw State (Big South) at Atlanta, Nov. 17 - This rematch of Kennesaw State's upset in the playoffs last year will be the first college football game to be played at SunTrust Park.
1. Northern Iowa (Missouri Valley) at Montana (Big Sky), Sept. 1 - Griz fans will be going bonkers over Bobby Hauck beginning a second stint as coach. Nobody's planted a "For Sale" sign yet.
---
---