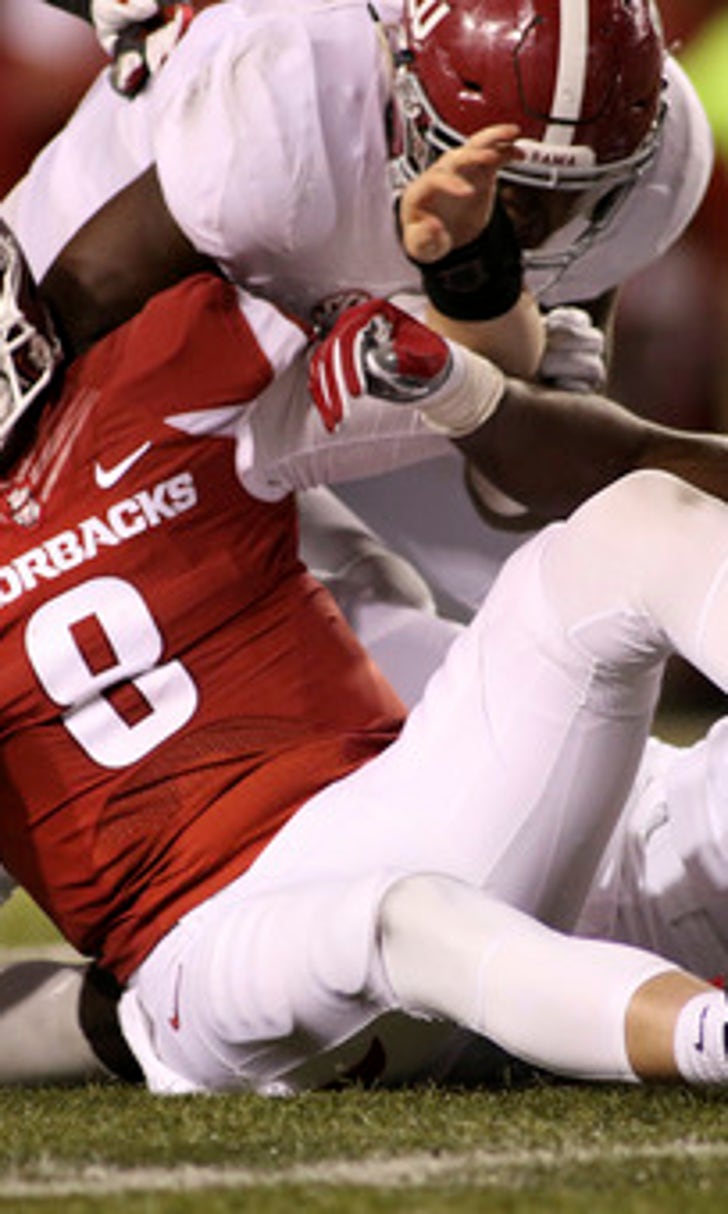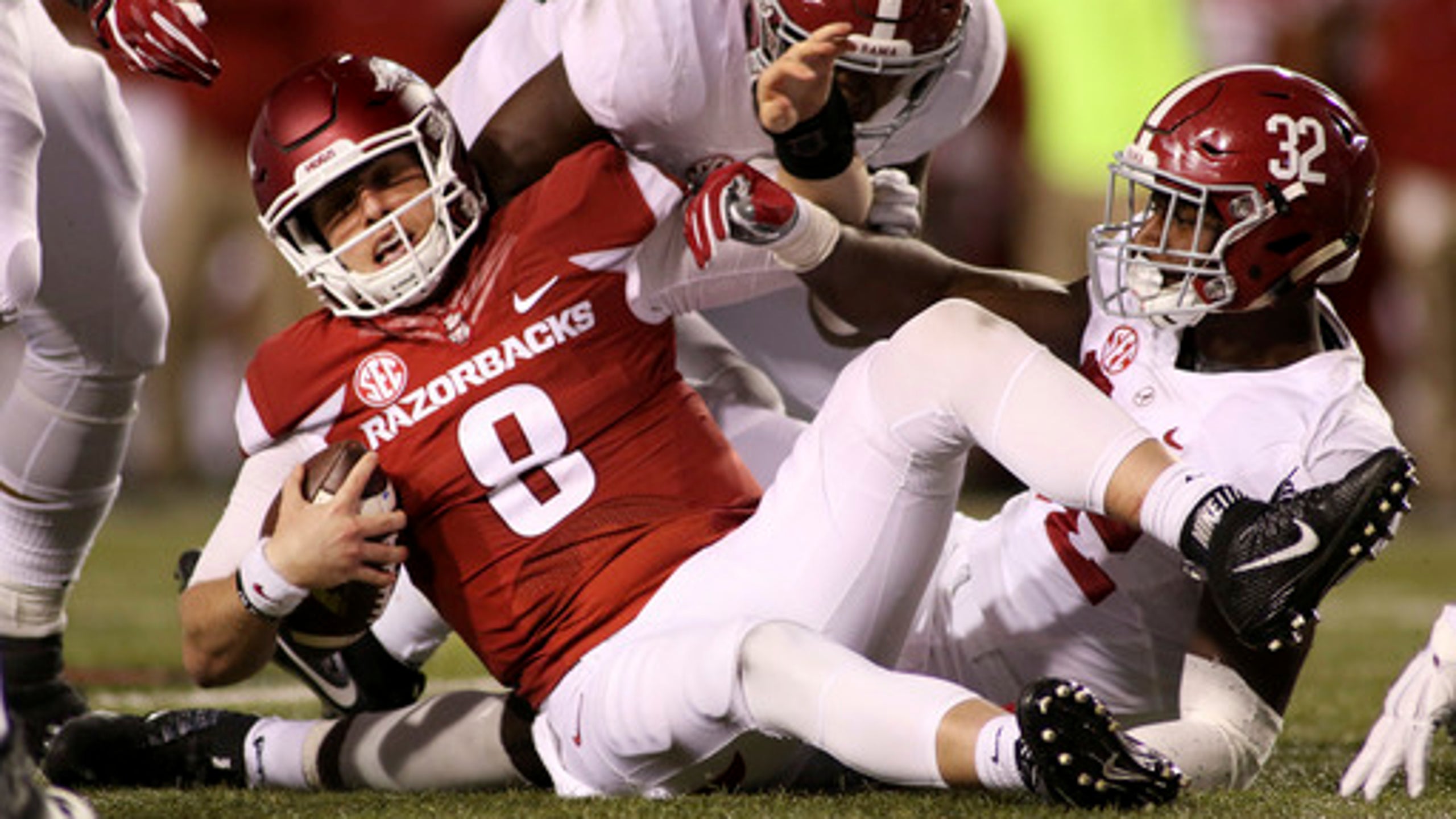 Attacking Alabama defense not thrilled with Arkansas showing
BY foxsports • October 10, 2016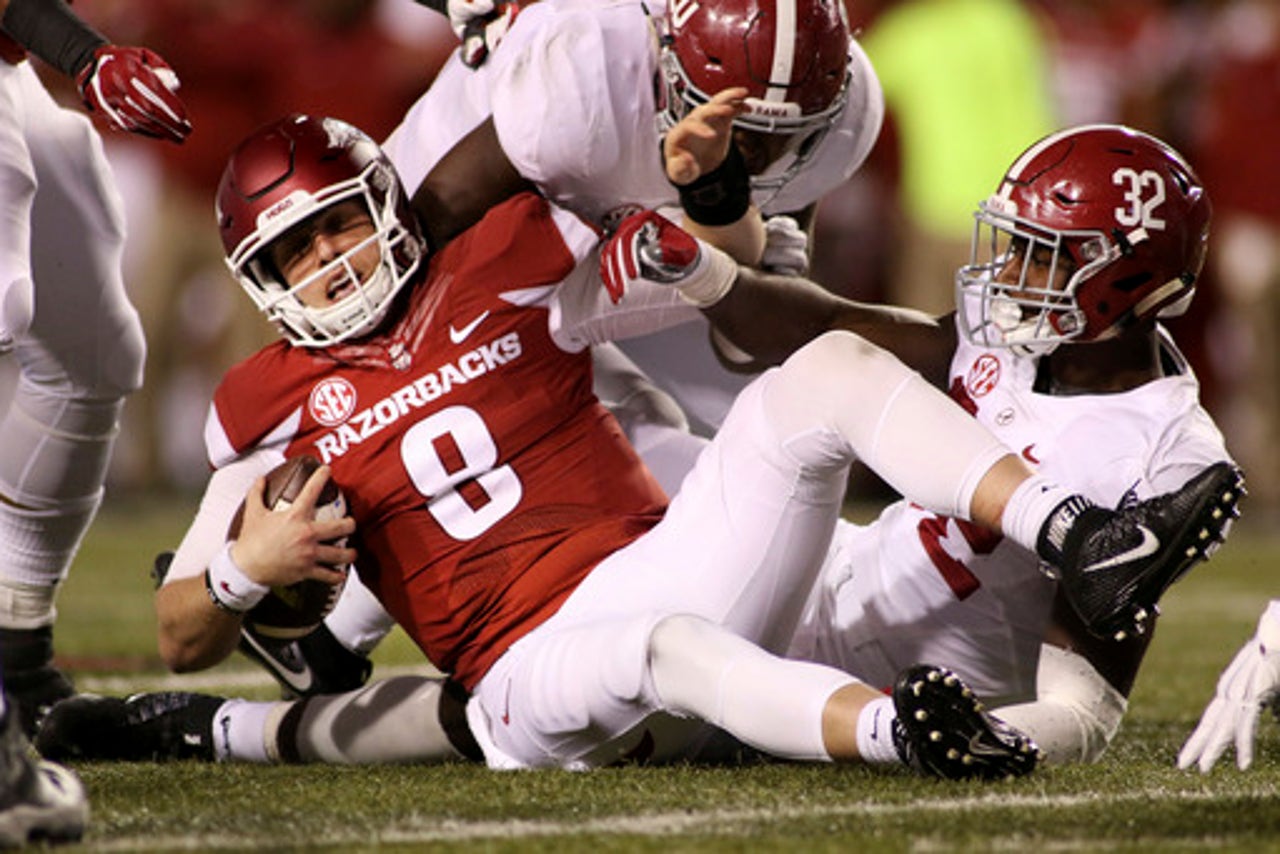 TUSCALOOSA, Ala. (AP) Nick Saban flung his headset to the ground and stomped onto the field, angrily waving his arms in the air as soon as the final second ticked off the clock.
No. 1 Alabama had just completed a 49-30 victory over No. 22 Arkansas on Saturday night in which the defense scored two touchdowns and collected six sacks, but the Crimson Tide coach found plenty to be mad about.
An attacking defense that has made a habit of big plays had spent too much time on the field in the second half and given up too many plays to Razorbacks quarterback Austin Allen for Saban's liking.
''I wasn't happy at all, either,'' said linebacker Shaun Dion Hamilton, who had a sack and forced fumble. ''Actually I felt like we almost lost the game. We didn't play well at all on defense. We gave up 30 points.''
Alabama's challenges get even bigger Saturday when trying to contain No. 9 Tennessee quarterback Joshua Dobbs and tailbacks Alvin Kamara and, if he's healthy, Jalen Hurd in Knoxville.
Whatever the lapses that had Saban scowling, first-year defensive coordinator Jeremy Pruitt's group has been attacking opposing offenses relentlessly.
The result has been a defense that has given up some passing yards but leads the nation in run defense and is fifth in sacks per game and fumbles recovered. Alabama has scored nine touchdowns courtesy of defense or special teams; nobody else in the nation has more than four.
Tennessee has had trouble holding onto the ball, fumbling 21 times in six games, one more than all of last season. The Volunteers have lost eight of them coming into this game.
''I think this is the best Alabama team we've faced since we've been here,'' Tennessee coach Butch Jones said. ''It's the best secondary of any Alabama team we've faced since we've been here.''
But the Tide's big plays have come from every level of the defense.
Ryan Anderson, Jonathan Allen and Tim Williams lead Alabama's pass rushers, but 12 players have sacks.
Williams and cornerback Minkah Fitzpatrick both scored on turnovers against the Razorbacks, and `Bama harassed Allen frequently. That part of Alabama's performance, Saban was still pretty happy with two days later.
''I think there were a lot of other plays that the quarterback was affected on, probably about a dozen, and some of those led to big plays,'' he said. ''A couple of our interceptions were because the quarterback was under duress.
''I think it's a team thing, but I do think that we need to be more difficult to score on.''
Alabama has only twice allowed more than 10 points this season, but both were Southeastern Conference road games - against Arkansas and Mississippi, a 48-43 win. The Tide scored five touchdowns combined via either defense or special teams.
Alabama produced plenty of non-offensive TDs and big plays under former defensive coordinator Kirby Smart, now Georgia's head coach. Pruitt certainly hasn't emphasized it any less.
''One thing I could say he has brought is he is always on us about attacking the ball and getting the ball out,'' Hamilton said. ''We've been doing a good job on turnovers.''
NOTES: Tennessee coach Butch Jones says linebacker Jalen Reeves-Maybin ''is still looking at some different options for what avenues he wants to pursue'' regarding his recovery from a shoulder injury. The injury has caused Reeves-Maybin to miss the entirety of the Vols' last two games and the majority of victories over Ohio and Florida. ... Jones said defensive tackle Danny O'Brien's status is ''day to day.'' O'Brien was carted off the field Saturday after getting hurt in the Texas A&M game. ... Alabama linebacker Reuben Foster and guard Alphonse Taylor are both recovering from concussions, but Saban doesn't expect them to miss much practice time. ... The lone remaining charge against Tennessee defensive lineman Alexis Johnson stemming from a February arrest was dismissed Monday, according to Knox County Assistant District Attorney General Sean McDermott. When one charge against Johnson was dropped and another reduced to misdemeanor domestic assault in April, an agreement was reached to drop the remaining charge if he avoided trouble for the next six months.
---
AP Sports Writer Steve Megargee in Knoxville, Tennessee, contributed to this report.
---