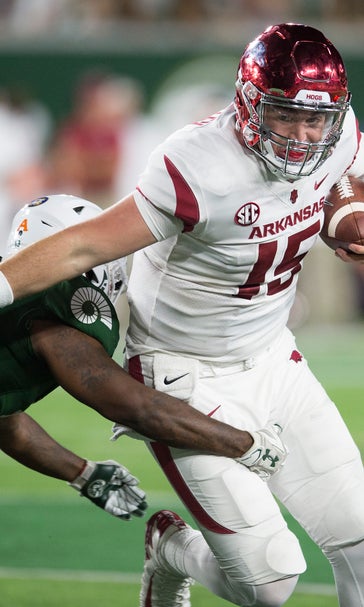 Arkansas returns home to face air-it-out Mean Green
September 14, 2018
FAYETTEVILLE, Ark. (AP) — Hjalte Froholdt has been through this before.
Like many of his experienced teammates, the senior offensive lineman has been a part of too many late-game losses and disappointments in his four years at Arkansas.
The latest crushing defeat came a week ago at Colorado State, a 34-27 loss in which the Razorbacks (1-1) allowed 25 straight points in a second-half collapse that quickly put an end to any honeymoon for first-year coach Chad Morris.
Froholdt hopes to regain whatever good will Morris lost when Arkansas returns home to host a talented North Texas team on Saturday. More than that, he wants to put an end to the late-game frustrations once and for all after they cropped up under former coach Bret Bielema.
"It's a very disappointing loss, I'm not going to lie," Froholdt said. "There's nothing we can do to change what happened at Colorado State. There's nothing we can do about it now. All we need to do is focus on North Texas."
The Mean Green (2-0) won nine games a year ago, a jump from just five wins in coach Seth Littrell's first season in 2016. North Texas has won its first two games in a season for the first time since 1994, and Littrell is hoping to use the experience of a close loss at Iowa last year to help the Mean Green put an end to an 0-9 record against the Razorbacks. North Texas is 4-37 against the SEC.
"When it's all said and done, there's a lot to be proud of," Littrell said. "We always love challenging games and facing great opponents."
Arkansas also carries into the game the frustrations of a four-win season a year ago that led to Bielema's firing, along with the embarrassment of last week. Morris just hopes those lessons keep the Razorbacks from overlooking North Texas — or anyone else.
"These kids, they care and they understand that for this program to move forward, we're going to have to learn," Morris said. "And you learn sometimes through hard times."
HOG RETURNS
Morris said this week that linebacker Randy Ramsey and offensive tackle Colton Jackson are expected to see action for the first time this season against North Texas. Ramsey injured a hamstring during the preseason and missed the first two games, while Jackson had back surgery during the summer. The 6-foot-4, 236-pound Ramsey had 42 tackles last season as a junior and was expected to be one of Arkansas' best defensive players, and Jackson figures to see action at right tackle.
FANTASTIC FINE
North Texas quarterback Mason Fine is tops in school history in passing efficiency, and he leads a Mean Green offense that leads the country with an average of 457.5 yards through the air this season. The junior is third nationally with 862 yards passing through two games this season, and he's thrown seven touchdowns and one interception.
QB DERBY
Arkansas junior quarterback Ty Storey came off the bench and shined in a season-opening win over Eastern Illinois, but Game 1 starter Cole Kelley who did the same in the second game. Morris expects both quarterbacks to play against North Texas, and he's still waiting for one or the other to show the consistency he wants to earn the regular starting job. "It's kind of still a work in progress," Morris said.
HOT START
The last time North Texas started a season 2-0 was when the Conference USA member was a part of the Southland Conference. The Mean Green haven't started a season 3-0 since 1989.
FAMILIAR FOE
Morris faced North Texas in three straight years while he was coach at SMU before coming to Arkansas. The Mustangs went 3-0 against the Mean Green during that time, and Morris is well aware how desperately the Razorbacks need a win this weekend after last week's shocking loss.
---
---