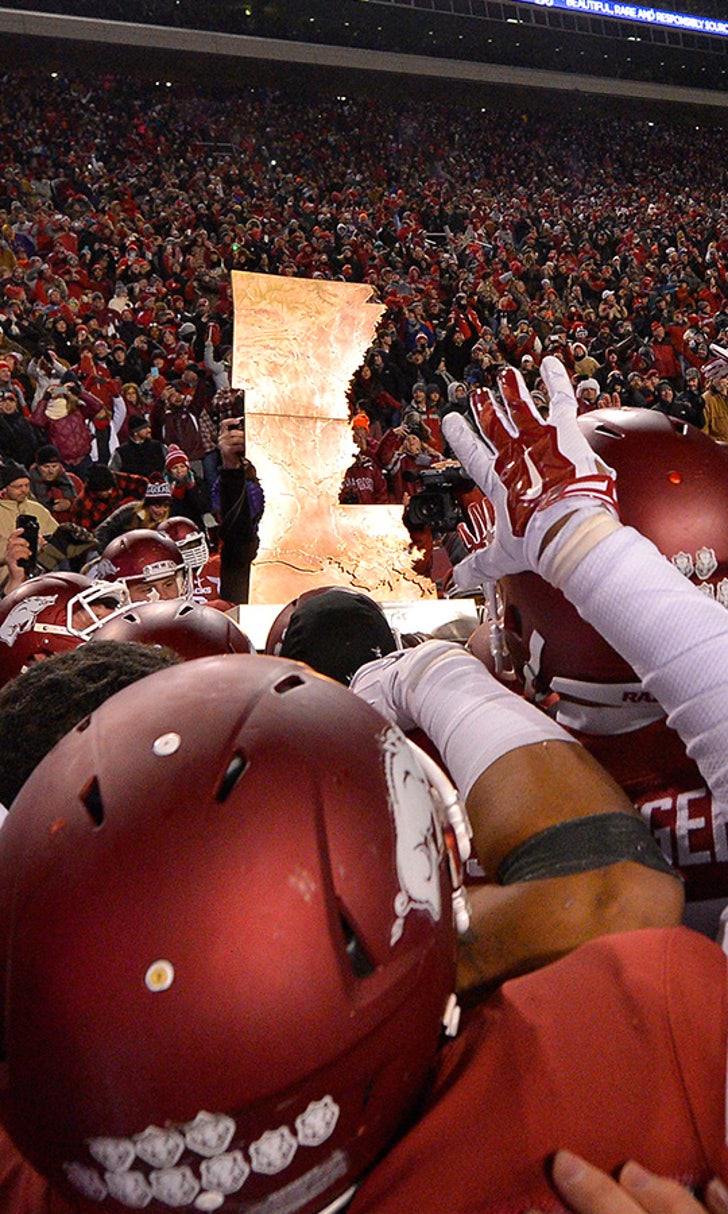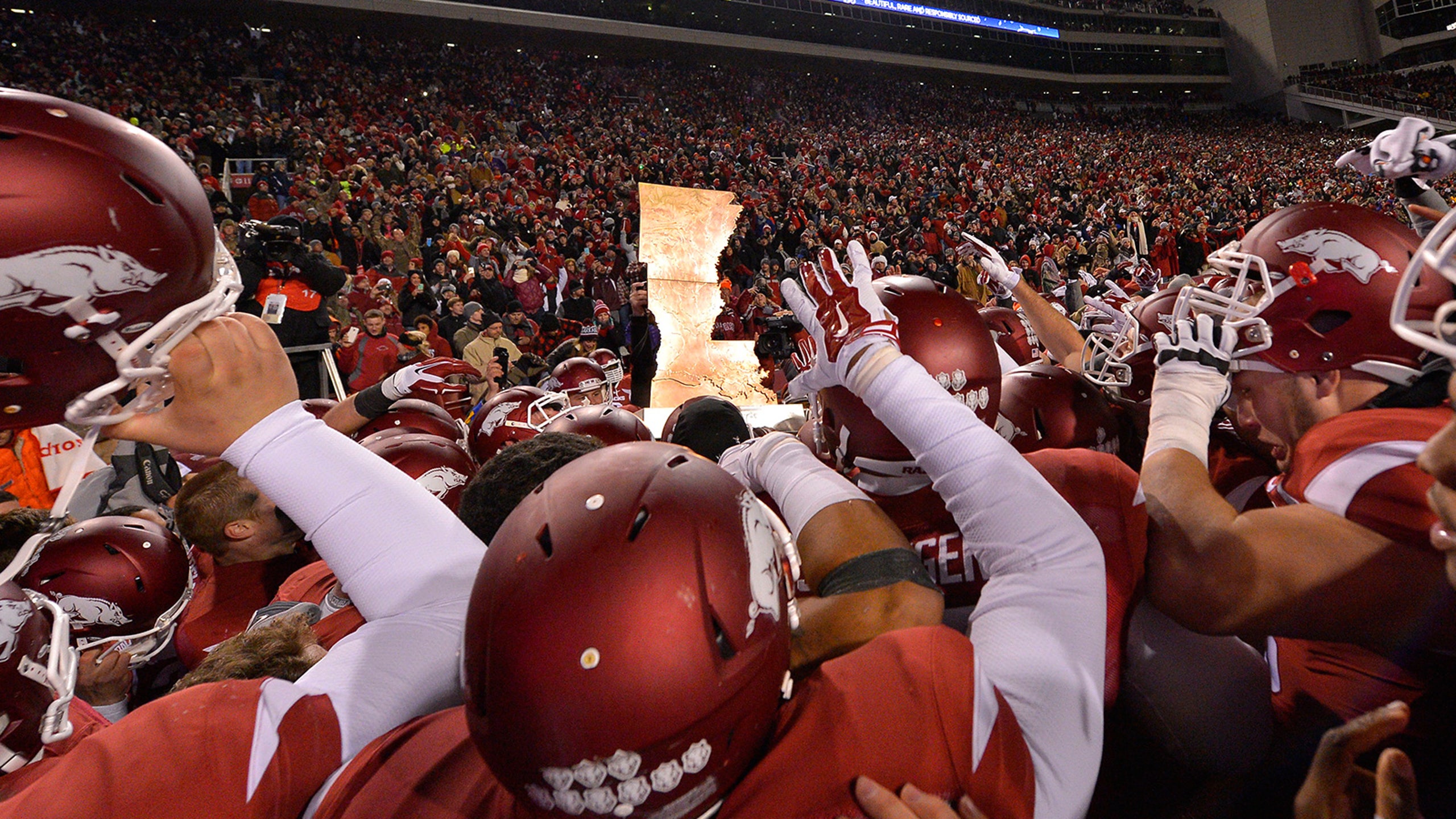 Arkansas ends SEC streak with 17-0 win over LSU
BY foxsports • November 15, 2014
FAYETTEVILLE, Ark. (AP) Bret Bielema bear-hugged Arkansas offensive line coach Sam Pittman, his right arm held high as his players doused him in the final seconds of a 17-0 win over LSU on Saturday night.
Moments later, immediately as the clock hit zero, the Razorbacks sprinted with reckless abandon across the field to reclaim the trophy from their rivals.
Of course, winning the Battle of the Boot was only a fraction of the cause for celebration for an Arkansas team mired in a 17-game conference losing streak and emotionally spent after a series of heartbreaking losses this season.
More than anything, the win - capped by thousands of fans storming the field in Razorback Stadium - signified a collective sigh of relief for the Razorbacks (5-5, 1-5 Southeastern Conference) and their second-year coach.
''It's the best feeling I've experienced since I've been in college, honestly,'' Arkansas running back Jonathan Williams said. ''The fans rushing the field, the goal posts going down, laughing and hugging my teammates and coaches, it's just a great experience.''
Bielema had lost his first 13 SEC games since leaving Wisconsin following the 2012 season, consistently preaching patience and the process of rebuilding a program humbled by turmoil following the Bobby Petrino scandal and his eventual firing.
That patience was rewarded on Saturday as quarterback Brandon Allen threw for 169 yards while being supported by a Razorbacks defense that earned its first shutout since a 20-0 win over Utah State in 2006. It was the school's first in an SEC game since 2002 against South Carolina.
''It is so exciting,'' Bielema said. ''I can't say as a 5-5 coach that I enjoyed the championship years somewhere else any more than to see the growth out of some of these guys, and to see the genuine expression at the end of the game there and to see these guys grab me.''
While Arkansas celebrated its return to the SEC win column, the Tigers (7-4, 3-4, No. 17 CFP) were handed a second straight loss for only the second time under coach Les Miles.
LSU lost in overtime to Alabama last week, but it didn't have nearly the same suspense while falling behind 10-0 at halftime against the Razorbacks. The Tigers' last shutout loss was to Alabama in the national championship game three seasons ago, and they struggled mightily on offense on Saturday as they were outgained 264-123 by Arkansas.
''It would be impossible for me to say `No, that didn't happen,''' Miles said about the possibility of an emotional hangover from last week's loss. ''At this point in time, a guy sitting in my seat is looking for answers.''
Anthony Jennings, a week after completing 8 of 26 passes for 76 yards in an overtime loss to Alabama, struggled once again on Saturday - finishing 12 of 22 passing for 87 yards.
While LSU fell to 25-2 under Miles in games following a loss, Razorback Stadium erupted in cheers of relief when Alex Collins scored on a 5-yard run early in the fourth quarter to put Arkansas up 17-0.
The relief turned to celebration when the game ended, with fans storming the field - and nearly covering all of it.
''We knew they wanted this one really bad,'' LSU defensive tackle Christian LaCouture said. ''You could tell right from the beginning the fans were into it. They were really pumped up trying to get this `W.' We tried to match that intensity, and I felt like we did, but at the same time we lost 17-0.''
Arkansas' last SEC win was a 49-7 blowout over Kentucky on Oct. 13, 2012. That came the season following the Petrino's firing, with interim coach John L. Smith leading the way.
Led by a defense that harassed Jennings throughout, sacking the LSU quarterback four times, the Razorbacks made sure not to suffer another disappointment on Saturday.
Allen finished 16 of 27 passing, including several key third-down completions as Arkansas finished 10 of 17 on third down, and Williams gave the Razorbacks a 10-0 halftime lead with his 1-yard touchdown dive midway through the second quarter.
It was just the start of the long-awaited party in Fayetteville.
''We've come so close a number of times and couldn't pull it out in the end,'' Allen said. ''We were finally able to pull it out tonight and it feels great.''
---
---