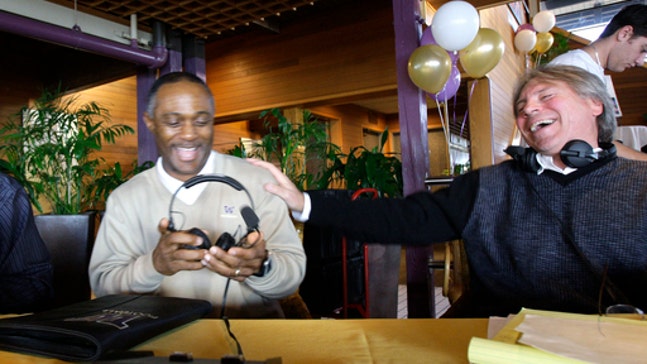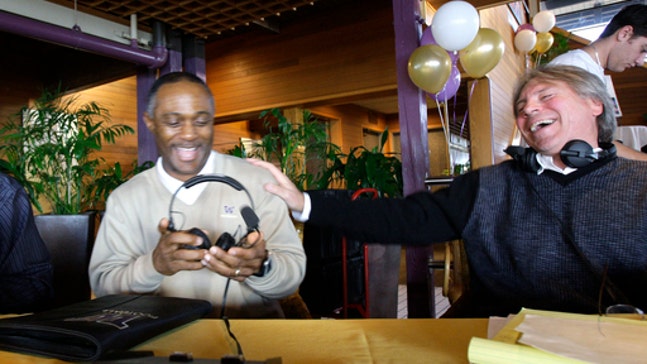 Alabama's Gold, Washington's Rondeau give teams their voice
Updated
Mar. 4, 2020 10:24 p.m. ET

They are the familiar voices in which a fan can find the comforts of home.
For nearly 30 years Eli Gold has been the radio play-by-play man for Alabama football. For even longer than that, Bob Rondeau has been describing Washington football games on the radio.
A transplanted New Yorker and hockey guy in the South. A former newsman who got hooked on college sports in Washington.
Gold and Rondeau have chronicled the ups and downs, the good and the bad, of the Crimson Tide and Huskies, respectively, for the last three decades. On Saturday in Atlanta, No. 1 Alabama faces No. 4 Washington in Peach Bowl semifinal in Atlanta, and they'll both be there as each team tries to advance to the College Football Playoff championship game.
Professional storytellers, Gold and Rondeau have stories as compelling as the teams with which they have become synonymous.
---
Bob Rondeau, voice of the Huskies
It was the fifth game after Rondeau had joined the broadcast team calling Washington football. He was 28 years old and part of his pregame responsibilities before an early October game in 1978 was to interview a legendary Alabama coach.
''I remember kind of doing a pregame interview with Bear Bryant just like this,'' Rondeau recalled with his hand shaking.
In the 38 years since, Rondeau has become as much a part of Huskies football as the boats tailgating on Lake Washington. His growly baritone and emphatic calls of ''Touchdown, Washington'' have provided the soundtrack to many of the program's greatest players, from Steve Emtman and Jacque Robinson to Napoleon Kaufman and Marques Tuiasosopo.
Rondeau's been the narrator of a team that has seen the highs of a national championship in 1991 and four Rose Bowl titles, and the indignity of a 0-12 season just eight years ago.
Riding that roller coaster is why Rondeau is so excited by Saturday's Peach Bowl showdown against Alabama.
''That's the thing I think I missed the most when they were struggling,'' Rondeau said. ''It was hard enough to keep your head into week after week and keep up your work ethic and try to tell a halfway decent story that was or wasn't there week after week. But I missed the big game. You just didn't have those. This is the biggest one in a long, long while.''
A Colorado graduate, Rondeau arrived in Seattle in 1977. He took over as the play-by-play broadcaster for Washington football in 1980 and also calls Washington men's basketball. Washington is such an enormous part of his life he got married on the field at Husky Stadium.
Rondeau was honored earlier this year by the National Football Foundation with the Chris Schenkel Award for distinguished careers broadcasting college football with specific ties to a university.
''It means everything to me professionally,'' Rondeau said. ''There is a reason I've stayed here as long as I have. A lot of times in this business it can be pretty transitory and guys move on if it doesn't feel right. But this university has been great to me through the years. It's been fun to see them grow, and hard to watch them falter and then fun to see them grow again.''
---
Eli Gold, voice of the Crimson Tide
Growing up in Brooklyn, New York, Gold gobbled up every sports nugget he could but college football information was sparse.
Now, Gold is deep into his third decade as Alabama's football play-by-play man, delivering the narrative for legions of Crimson Tide fans during the halcyon era of an iconic football coach. Back then, he wasn't even familiar with a certain other `Bama icon.
''In the Sunday New York Times, they would have two lines of agate print buried on Page 18 about college football games. Literally,'' Gold said recently from Chicago, where he was set to announce an NFL game. ''I did not even know who Bear Bryant was, and I was a huge sports fan. But there was no coverage of Alabama or for that matter most of college football.''
The 63-year-old Gold is now a Southern fixture, especially for Alabama and NASCAR fans. He's been the voice of `Bama since 1989 and has done radio for NASCAR's Motor Racing Network even longer, since 1976.
Gold has given blow-by-blow accounts through Nick Saban's run of four national titles and bid for a fifth.
''The fact that I ended up living in Alabama, let alone broadcasting NASCAR and the Tide was something that never, ever, ever crossed my mind,'' Gold said. He doesn't plan to stop any time soon, since he's in the first year of a new 10-year contract.
He came South to broadcast games for the Birmingham Bulls hockey franchise. Gold has done everything from Arena Football League games to regional basketball broadcasts and the NFL.
His voice is ubiquitous for Alabama fans and his face is recognizable in the state. But with his glasses, girth and thinning silver hair, Gold also resembles another broadcasting staple, retiring CBS announcer Verne Lundquist.
The two close friends are often confused for the other.
Lundquist stopped at a gas station in Leeds, Alabama, outside Birmingham recently.
''And this guy comes tearing out, `My God, Eli Gold is here getting gas at my gas station,''' Gold said. ''And Verne says, `Nope, the name is Lundquist.' That's what he always says.''
Gold had to explain that he and Lundquist were, indeed, two separate people during a Waffle House breakfast recently.
''The waitress came up to me and said, `Now, tell me, how do they decide what games you do on radio for Alabama and what games you do on television for CBS,''' Gold said.
Make no mistake, he's `Bama's voice.
----
AP College Football Writer Ralph D. Russo contributed to this report.
----
Subscribe to AP's weekly Top 25 College Football Podcast and find more AP college football coverage at http://www.collegefootball.ap.org .
---
---