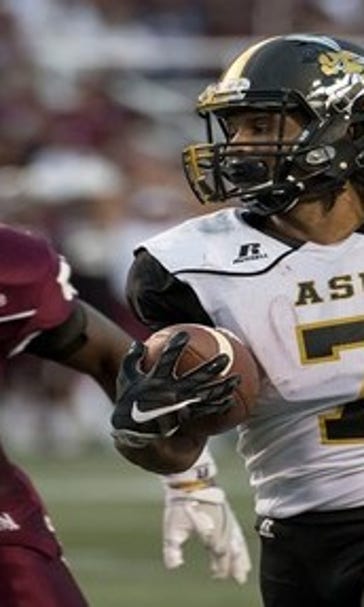 Alabama rivals A&M, State seek another 'Magic' matchup
October 26, 2017

(STATS) - Alabama A&M is tied for first place in the East Division of the SWAC, seeking to make it to the conference championship game and, ultimately, the Air Force Reserve Celebration Bowl.
There will be plenty of people at A&M's matchup against Alabama State on Saturday (3:30 p.m. ET, ESPN3) who won't say those two games are bigger than the Magic City Classic.
The SWAC rivals will meet for the 76th time before the biggest crowd of the FCS season. Over 60,000 fans generally attend the matchup at Legion Field in Birmingham. Three days of events surround the game.
"It's our Super Bowl," A&M coach James Spady said. "It's always a competitive game, even when one team is perceived as better than the other or one team is not as good as the other, it's still a very challenging matchup."
"This is not a regular game, so we have to take it as that," said ASU interim coach Donald Hill-Eley. "We're going in it with that same (feeling) that there is more than just a game, this is an event."
Both teams come off byes last weekend. Alabama A&M is 3-4, but 3-1 in the SWAC, tied with Alcorn State atop the East standings. Alabama State (1-5, 1-2) lost its first five games, but won its first one under Hill-Eley after he replaced the fired Brian Jenkins.
The overall series predates the start of the Magic City Classic. Alabama A&M leads 40-37-3, winning 42-41 last year in the first overtime game in series history.
---
---