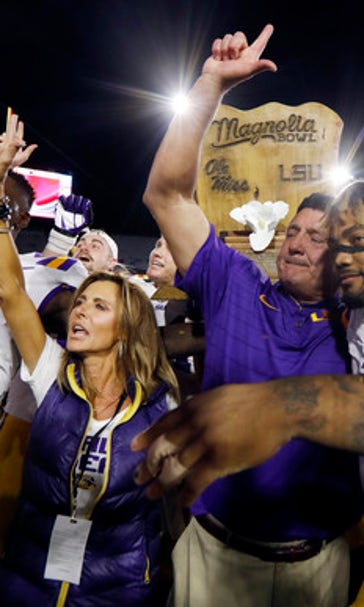 Alabama-LSU is still big - but so is the point spread
October 30, 2017

TUSCALOOSA, Ala. (AP) Nobody has to tell LSU's Ed Orgeron how big this Alabama game is, but they will anyway.
Frequently.
Top-ranked Alabama and No 19 LSU are rivals in the SEC West and on the recruiting trail, and the Tigers have dropped six straight meetings starting with the national championship game to end the 2011 season. So yes, it's big and it's a key barometer for the standing of both the program and the head coach.
''Born and raised in Louisiana, how can you not know that?'' Orgeron said Monday. ''I mean, this is the game. Everywhere I go, they talk about this. This is the game.''
Alabama has had the edge in recruiting, including landing top linebacker prospects Dylan Moses and Christopher Allen out of Baton Rouge in its last recruiting class and beating out LSU for defensive lineman Isaiah Buggs as well. The Tide has also won on the field since an overtime loss to LSU in the so-called ''Game of the Century'' in 2011.
But last year, with Orgeron as interim coach, the game was scoreless into the fourth quarter. Then Alabama mounted a 90-yard touchdown drive and marched 15 plays for a field goal to escape with a 10-0 win.
Still, players like LSU linebacker Devin White got plenty of questions about the losing streak to `Bama when they got time at home during an open weekend.
''Our attitude is that we are going to play well against Alabama,'' White said. ''Our record may not show it, but we are as good as any team in the country.''
Still, Alabama is favored by 21-1/2 points, the biggest point spread in the series since LSU won as a 24-point underdog in 1993, according to oddsmaker BookMaker.eu.
Saban thinks the Tigers have undergone quite a renaissance since getting stunned by Troy. They've won three straight and beaten two teams that were ranked at the time.
''Probably the worst thing that happened for all of us in the SEC is when they lost to Troy,'' Saban said. ''They've really made a turnaround as a team.''
LSU tailback Derrius Guice is coming off a 276-yard rushing performance against Mississippi. Quarterback Danny Etling hasn't thrown an interception during the winning streak.
To Saban, the Tigers have ''improved dramatically.''
''They're just playing better,'' he said. ''They're throwing and catching the ball better. They're blocking better. They've got more positive runs. They've got more explosive plays. It looks like the players are a lot more confident.''
Both teams are coming off an open date leading up to the prime-time CBS game. But the two coaches struck slightly different notes.
Orgeron says LSU had ''a very successful open week.'' Saban called Alabama's practice performance during the bye week ''acceptable.''
The Alabama coach said it should be easier for players to focus this week with an LSU game that has seemed especially big since the former Tigers' coach arrived in 2007.
One thing Saban doesn't want them focusing on: The first playoff rankings released Tuesday night.
''I mean, what significance does the poll have right now?'' he said. ''All we're talking about here is the challenge of our season, and where are we going to be in the poll if we don't play well in the next four games. I'm focusing on the next four games.
''I (couldn't) care less about the poll. You won't see me wasting any time watching TV or watching who's 1 or who's 2, and it doesn't matter. What matters is how you play the rest of the season.''
That starts Saturday night.
---
Freelance writer Bryan Lazare contributed to this report in Baton Rouge, Louisiana.
---
More AP college football: www.collegefootball.ap.org and https://twitter.com/AP-Top25
---
---