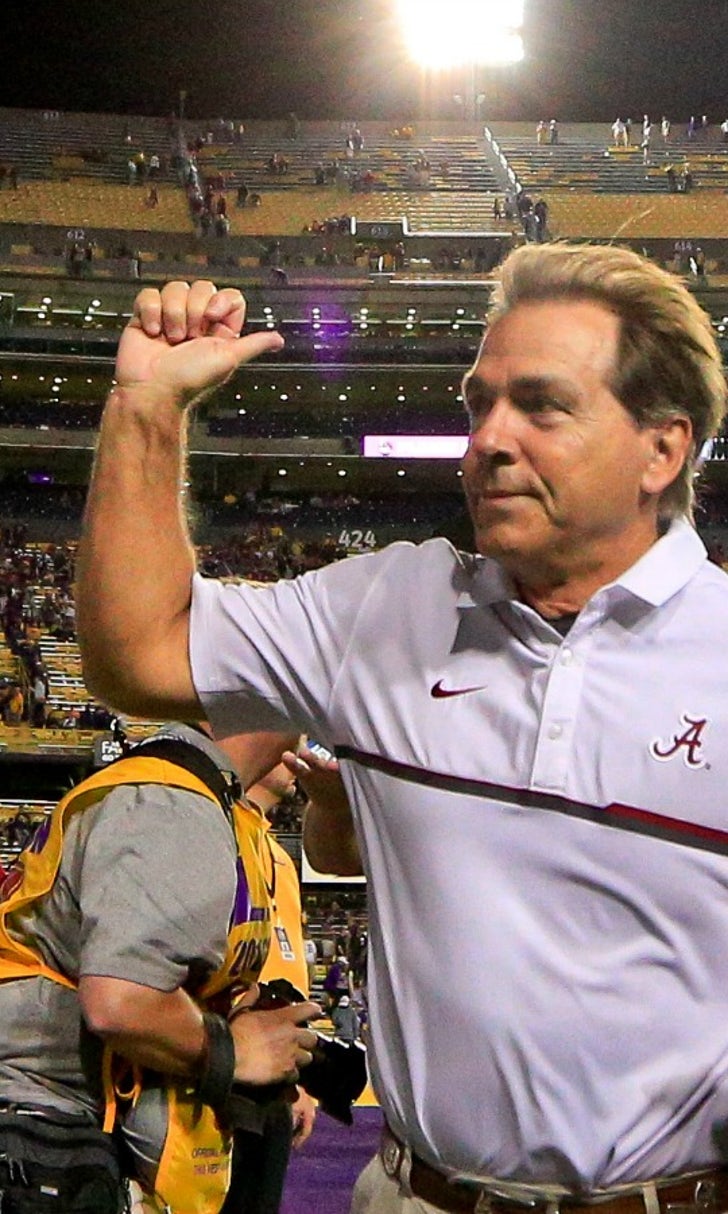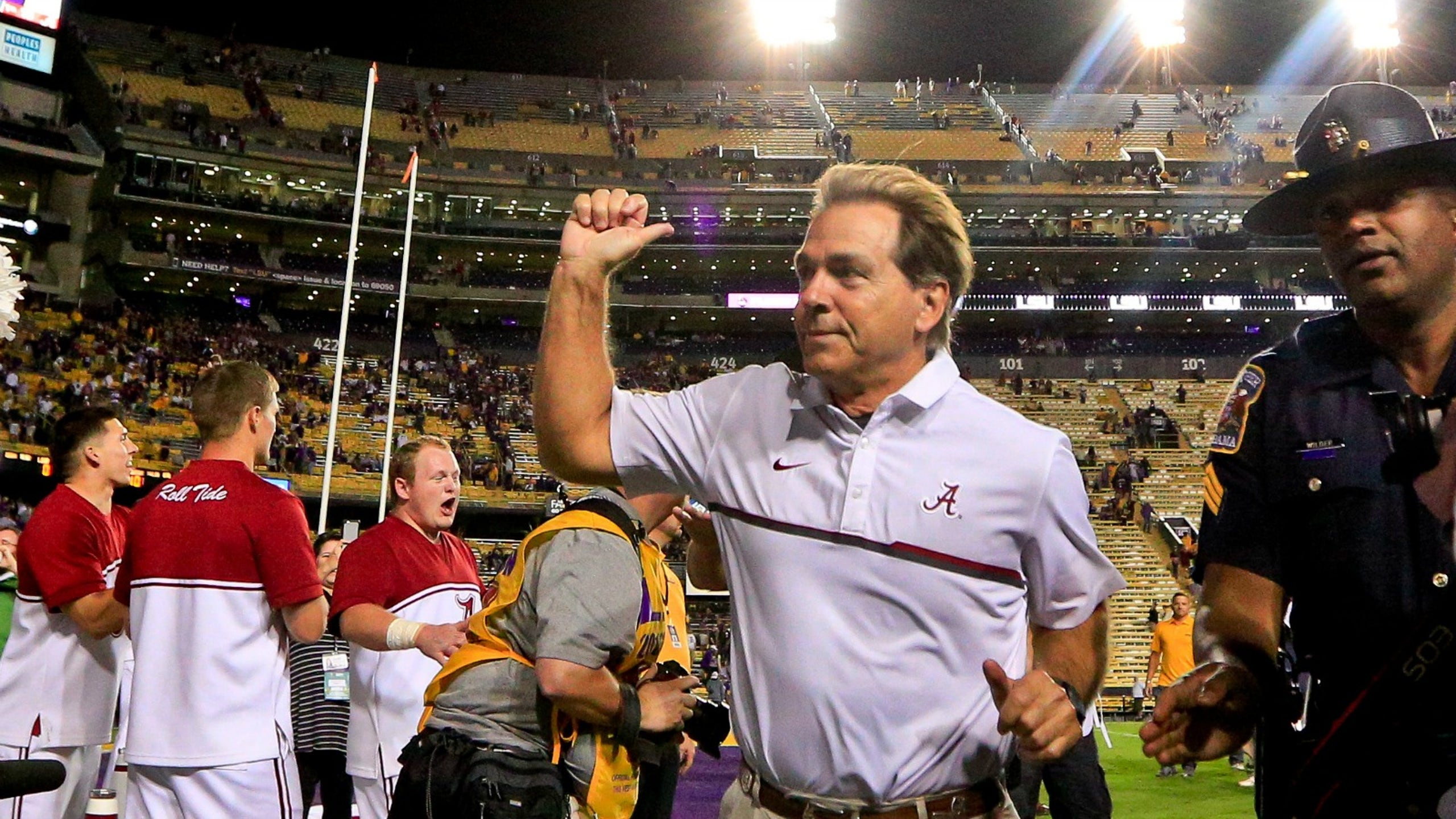 Alabama goes old-school in suffocating 10-0 win over LSU
BY Aaron Torres • November 15, 2016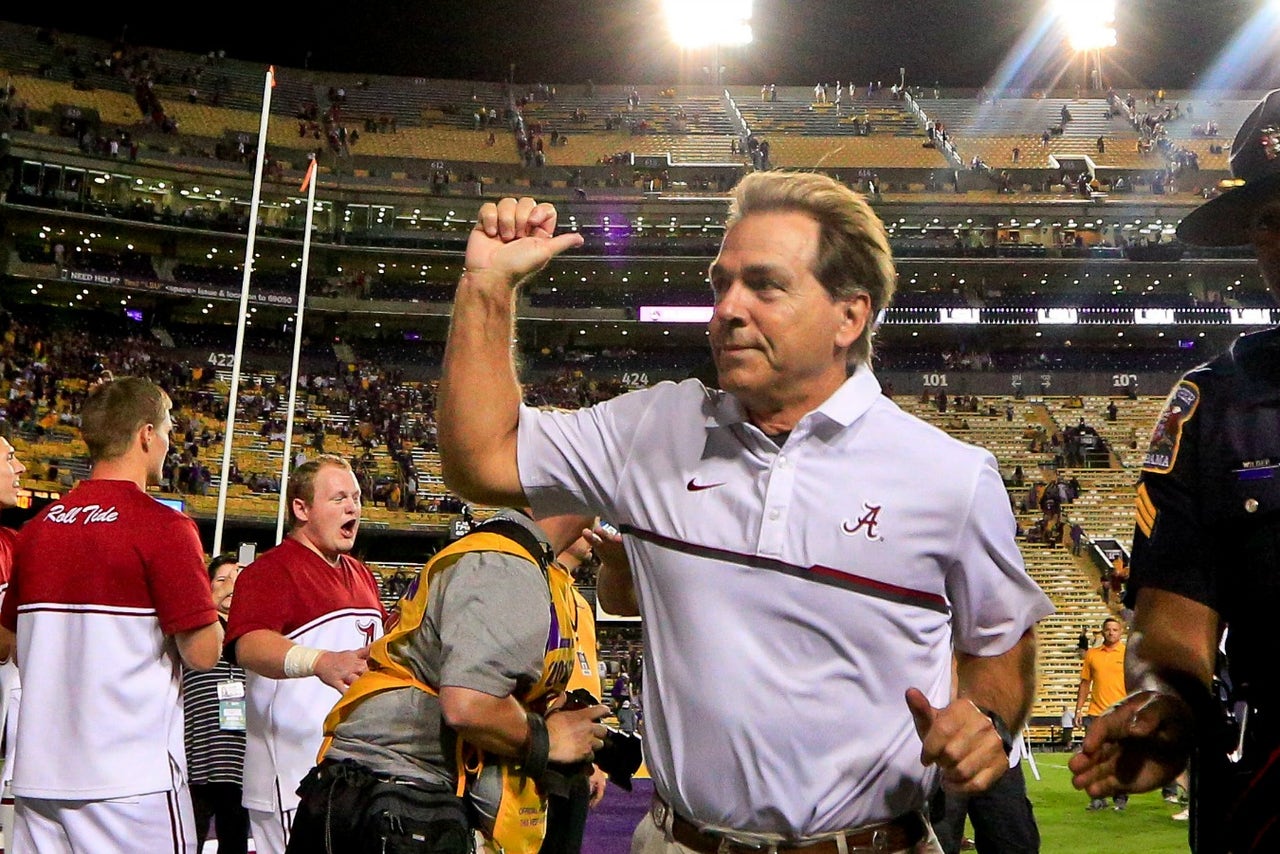 If you're a fan of college football, you've probably spent quite a bit of time these last few months -- or last few years -- reading about the "new" Alabama. About how the offense has evolved under Lane Kiffin. How Nick Saban has opened his mind to new ideas, like he ripped a page straight out of Phil Jackson's zen-Buddha playbook or something. How Jalen Hurts encapsulates the evolution of this program, as a dual-threat quarterback, who is as deadly with his feet as with his arm.
That's all certainly true. It also doesn't take away from one simple fact: For all the new-school stuff at Alabama, Saturday the Crimson Tide had to turn back the clock to get their toughest win of the season. The Crimson Tide's 10-0 victory over LSU wasn't about a new-fangled offense, gimmicks, or winning a high-scoring shootout. Instead, it was about defense, grabbing a lead, bleeding the clock, and escaping with a narrow win.
This victory doesn't count any more or less than any other for Alabama. But it has to feel extra special for Saban and the Tide.
And it's fitting really that on the five-year anniversary of the famed "9-6" game, this one had the meat-grinder, defensive struggle feel to it like all the great Alabama-LSU games.
The Crimson Tide came into this one averaging a staggering 43.9 points per game, but it became obvious early that they weren't going to get anywhere close in Baton Rouge. Hurts threw an interception on the opening drive, and the Tide missed plenty of scoring chances. They missed a field goal later in the first half, botched a fourth down play-call in the red zone, and Hurts himself had another costly fumble in the second half. When you factor in that LSU forced Alabama into four three-and-outs (again for a team which came into the game averaging over six touchdowns a game) it was clear that this wasn't going to be a "normal" night for the Crimson Tide.
Instead, they went old-school and buckled down with one of the best defensive efforts we've seen at any point in the season. Incredibly, the Crimson Tide held LSU -- which had set offensive records in three straight games -- to 125 yards of total offense. Even more incredible was that nearly a third of that offense came on one, 41-yard pass from Danny Etling to D.J. Chark in the second quarter. Not to mention that the Crimson Tide once again bottled up the virtually unbottle-able (yes, I just made up a word) Leonard Fournette. The LSU star, who just set a school record with 284 yards rushing two weeks ago was held to 34, in the best defensive effort against Fournette since … last year, when Alabama held him to 31 yards.
Basically Alabama's defense held serve long enough, before the offense took over. Hurts led a 12-play, 90-yard drive touchdown drive to give Alabama its first points, and when the Tide got the ball back, the offense was more impressive, with a 15-play, 50-yard drive that resulted in a field goal. The best part? In the sprint-to-the-line-of-scrimmage, up-tempo, go-go-go world we live in, Alabama chewed nine minutes and 51 seconds off the clock to get those final three points. It left LSU with next to no time to put together one scoring drive, let alone two. Four plays later, the Crimson Tide ended the game for good with a turnover on downs.
With the victory Alabama improves to 9-0, and we all know what awaits from here. There are relatively easy match-ups with Mississippi State and Chattanooga before a showdown with Auburn in the Iron Bowl. Then an SEC title game, and who knows, probably some combination of Michigan, Clemson, Washington or Ohio State in the playoff, on the road to a potential title.
In those games, the Crimson Tide will probably have to go back to their new-school look, to the up-tempo and spread option offense they've grown to run the last few months.
But if they do end up winning a championship, credit will have to come back to Saturday against LSU, where the Crimson Tide proved that for at least one night they could go old-school as well.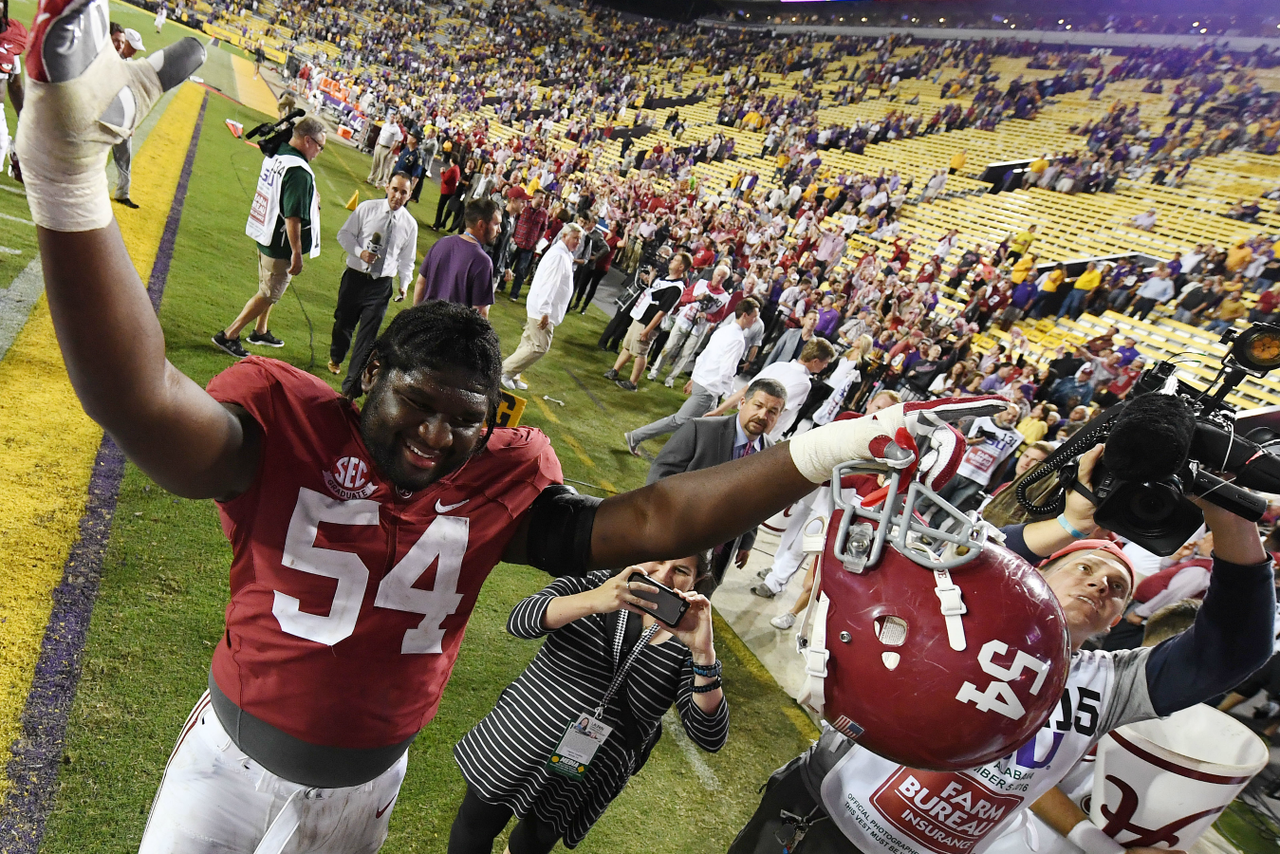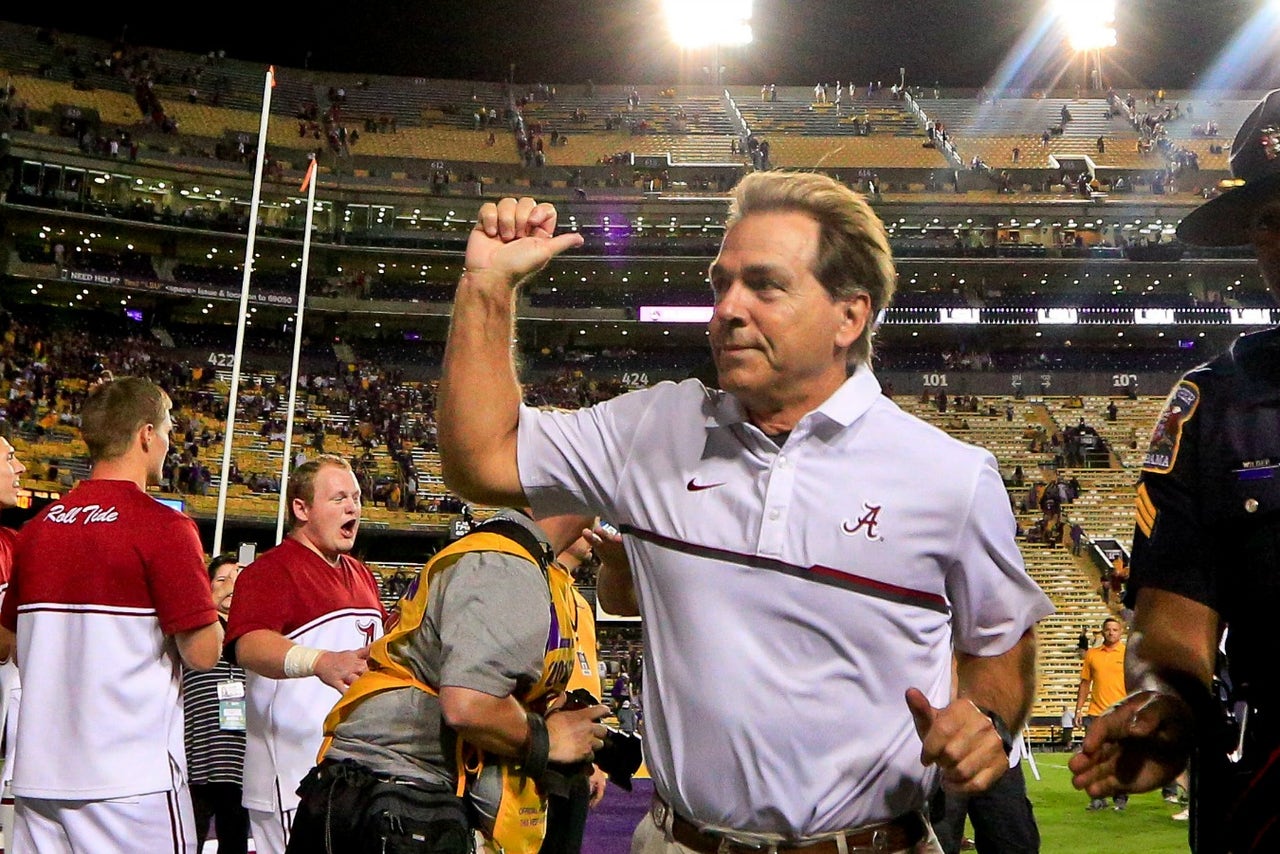 ---