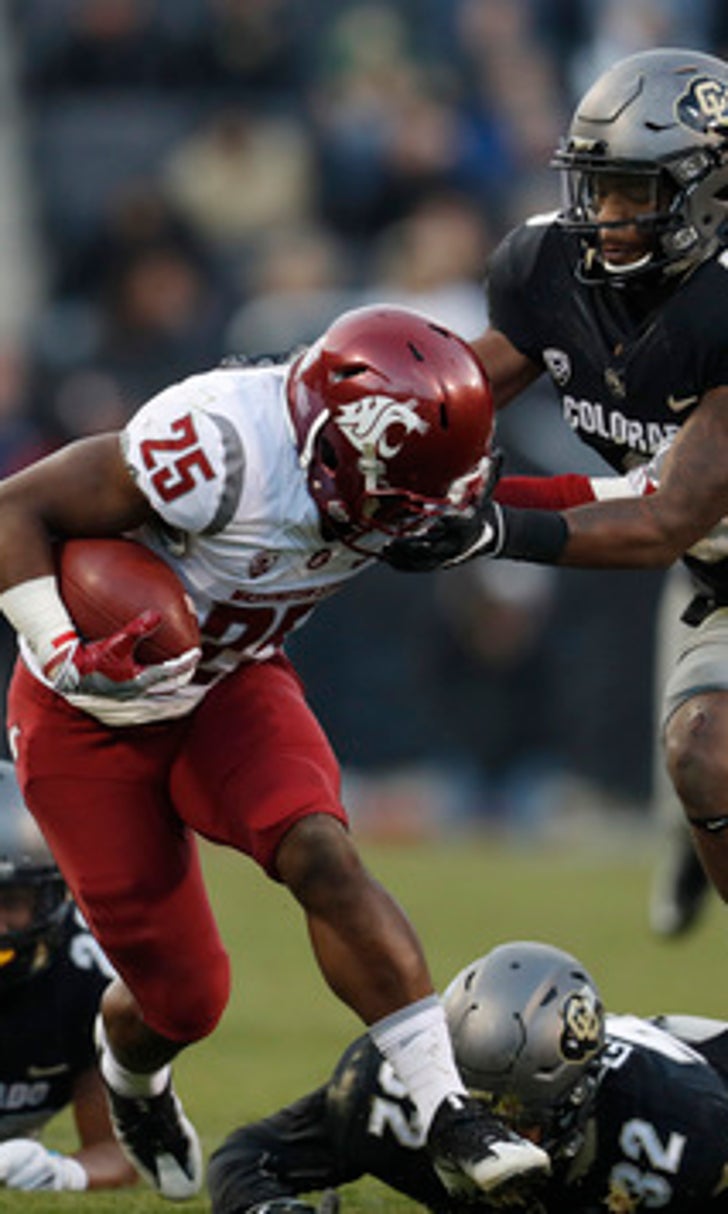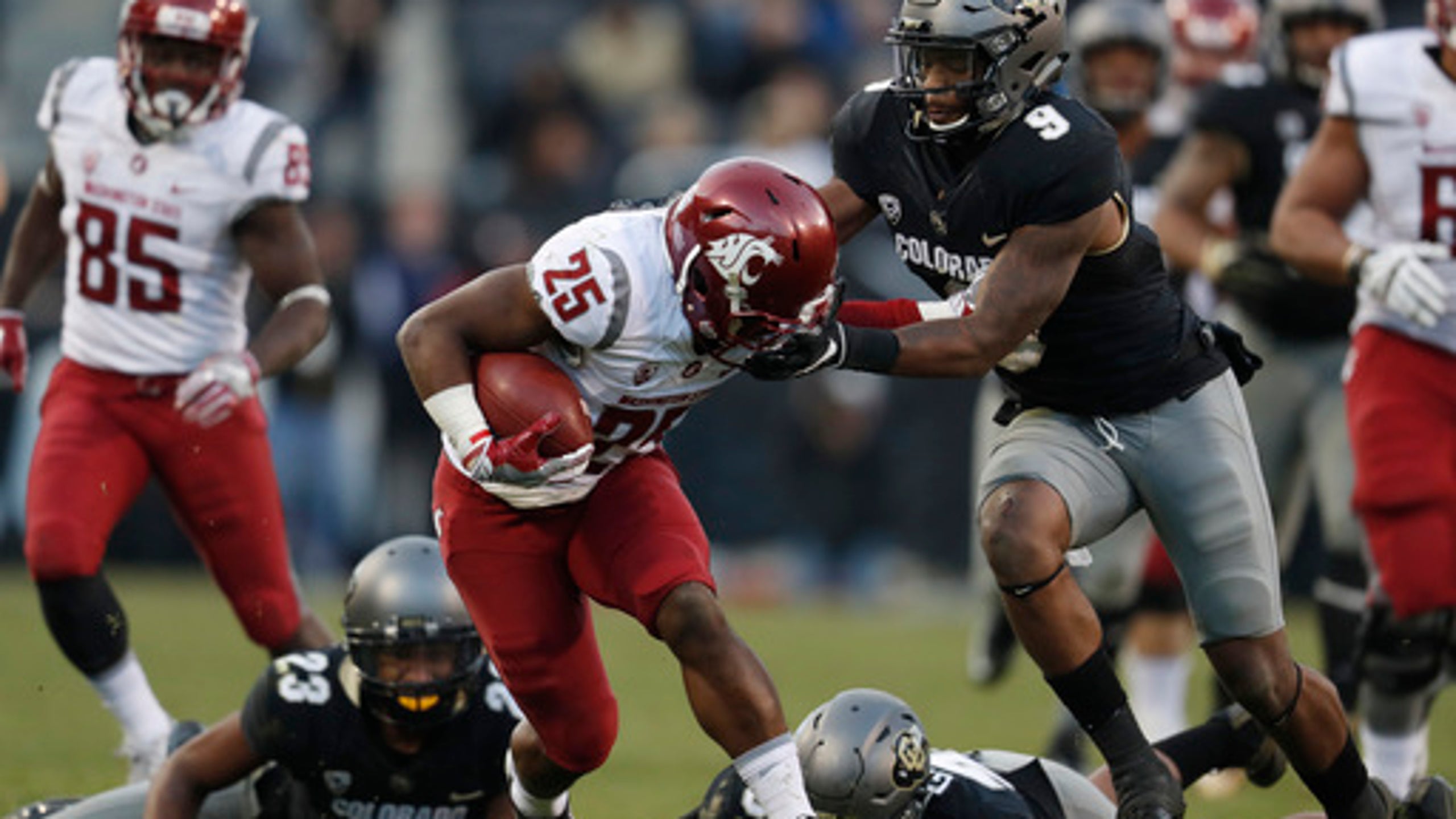 Air Raid offense also boasts some productive running backs
BY foxsports • November 21, 2016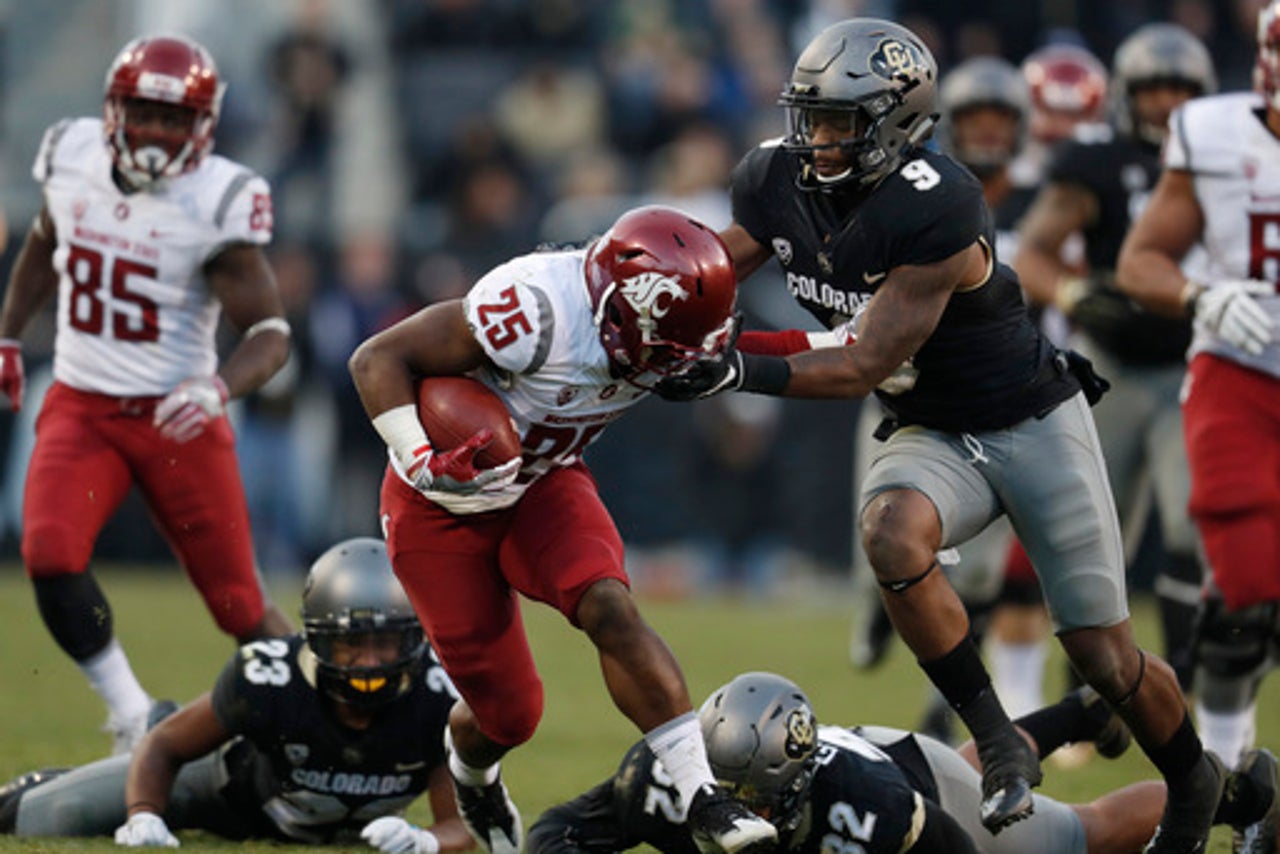 It's true that No. 23 Washington State gets most of its yards via the pass in coach Mike Leach's Air Raid offense. It's also true that Washington State this year has the most productive running backs in the Pac-12.
Put those two facts together and you have a pretty good explanation for why the Cougars are having one of their best seasons in recent history. Washington State (8-3, 7-1) remains in the hunt for a league title heading into Friday's Apple Cup against No.6 Washington.
Leach said people who think the Air Raid involves only a quarterback and receivers do not understand the offense. It is often running backs who get the most touches, he said. ''We'd like to have the highest level of production from that position,'' Leach said.
Gerard Wicks, Jamal Morrow and James Williams are the backs carrying the load. Of the three, Wicks is the biggest and strongest, Morrow has more versatility and Williams is the most dynamic runner, Leach said.
Opposing coaches have noticed.
''Not only are they trying to run it (more), they're really good,'' Colorado coach Mike MacIntyre said before the Buffaloes' 38-24 victory over Washington State on Saturday.
The three have piled up 1,537 yards rushing and 954 yards receiving to lead the league in total yards from scrimmage.
The Cougars also lead the Pac-12 with 29 touchdowns scored by running backs.
Washington State has scored 50 or more points a record four times this season, and is averaging 42 points per game.
''A lot of that has to do with our offensive line,'' Leach said. ''This is the biggest group we've had.''
Offensive lineman Eduardo Middleton said it's fun to do something besides drop back into pass protection.
''We get to show people we are not just guys who can pass the ball,'' Middleton said. ''It's been nice.''
Quarterback Luke Falk, who has thrown for 3,935 yards so far this season, said the running game keeps the defense honest.
''People can't drop eight back on us now,'' Falk said. ''They have to respect our run game.''
Receiver Gabe Marks said the running backs deserve the touches they get.
''Back in the day, we'd just run it and nothing would get done,'' Marks said after the Cal game, when Washington State's backs combined for 254 yards and averaged 8.2 yards per rush. ''It's hard to deny that type of production.''
Washington State's running game began to improve during last year's 9-4 season. Washington State scored just eight rushing touchdowns and averaged 80 yards rushing per game last year but that was a big improvement over the dreadful 2014 average of 39.8 yards per game.
This season, the Cougars are averaging 132 yards per game, highest in Leach's head coaching career. The Cougars have topped 200 yards rushing in a game three times.
''Balance is good,'' Marks said. ''We've got some good balance right now.''
---
More AP college football: www.collegefootball.ap.org and https://twitter.com/AP-Top25
---