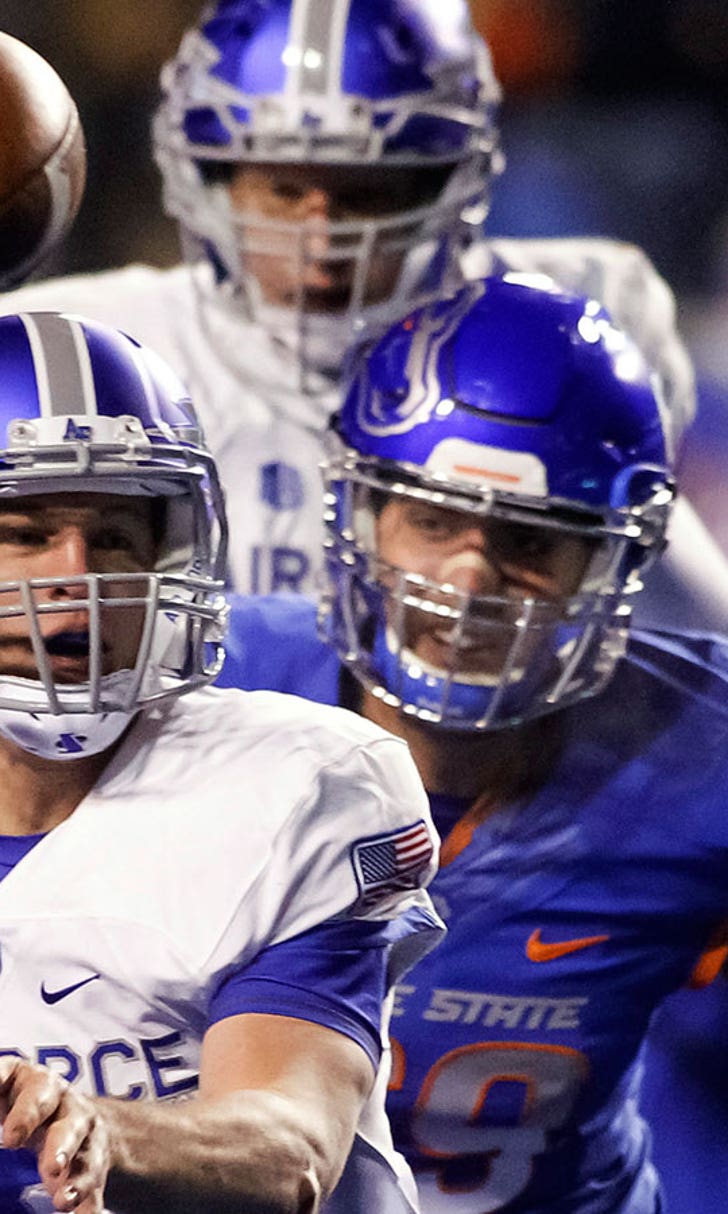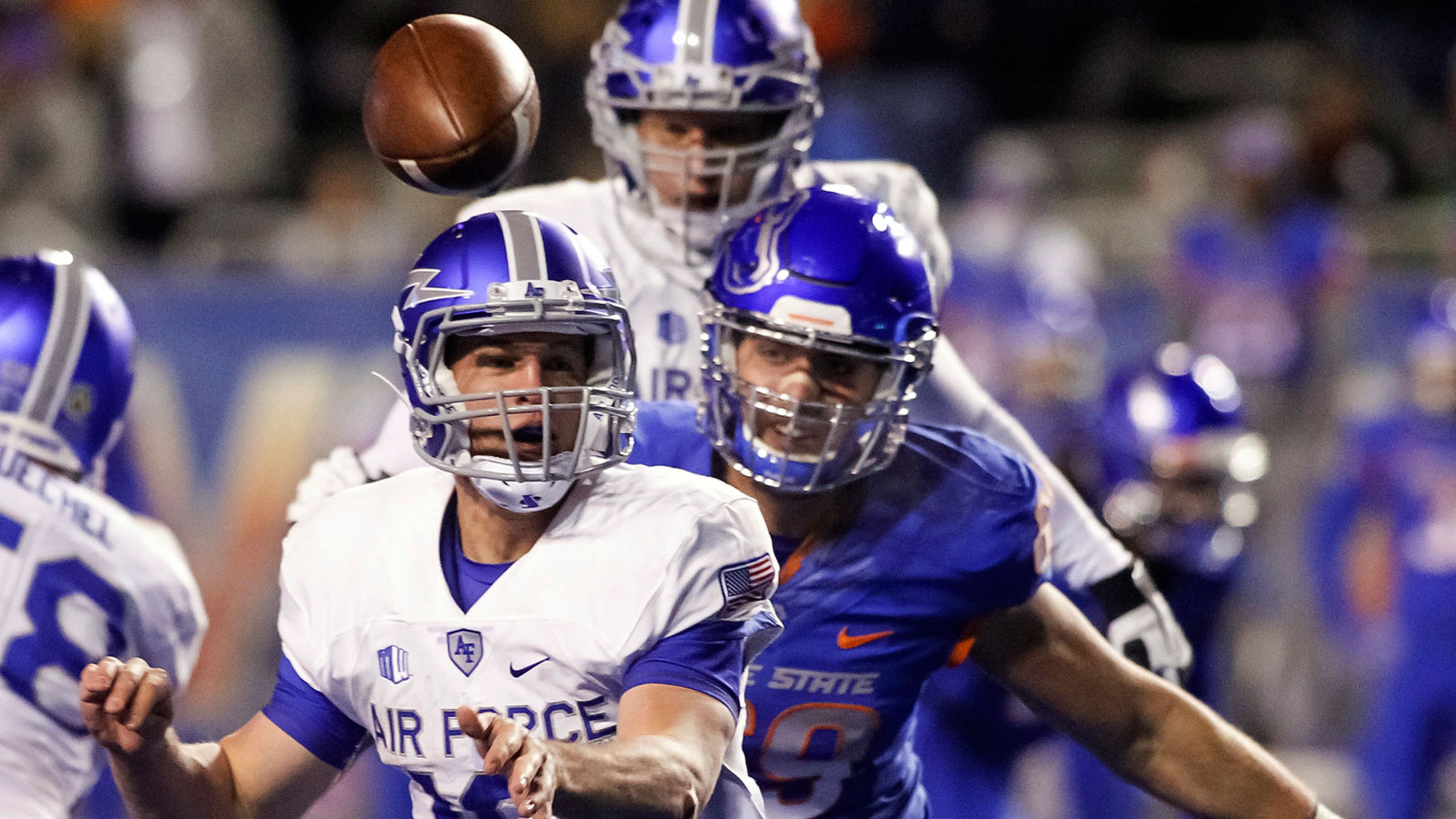 Air Force goes to the air to thwart Boise State, 37-30
BY foxsports • November 21, 2015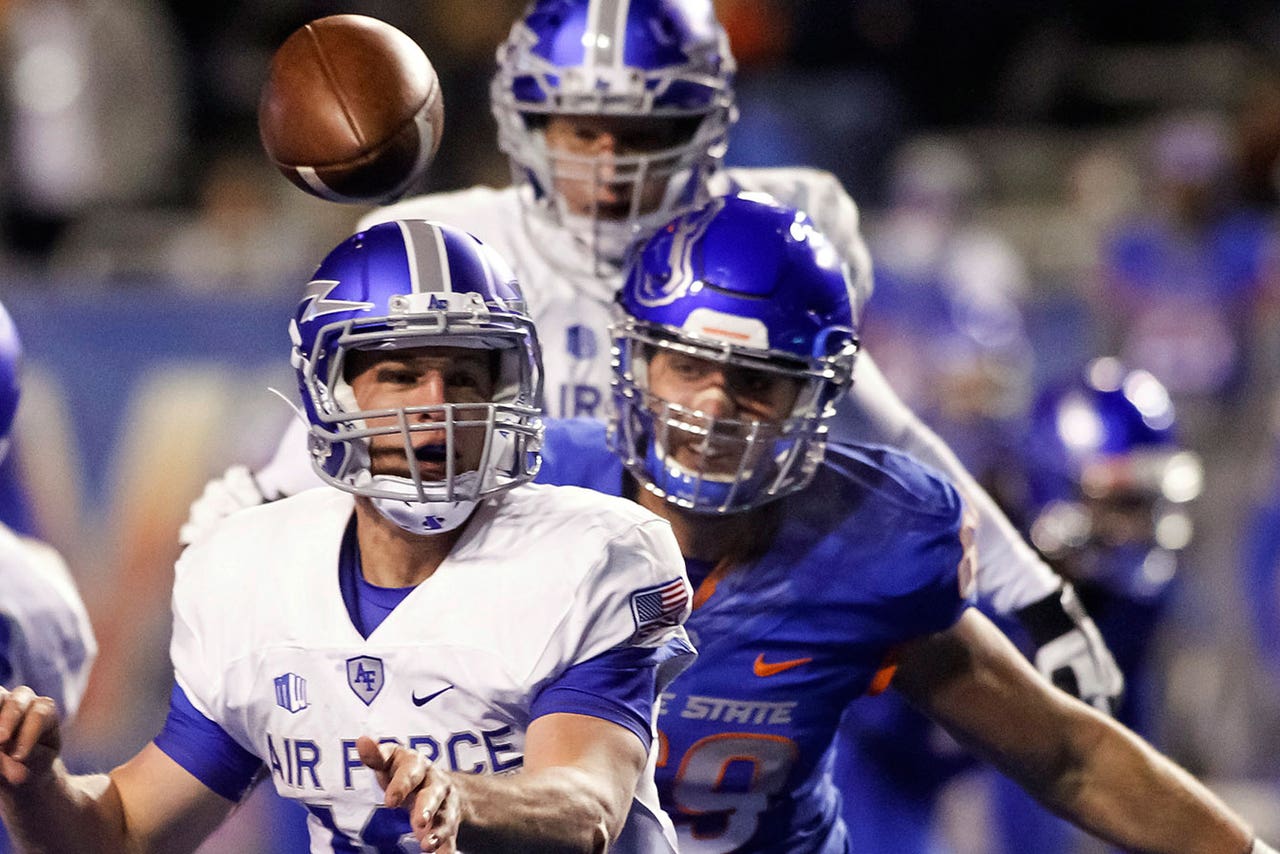 BOISE, Idaho — Air Force quarterback Karson Roberts flashed a wry grin after the Falcons upset Boise State 37-30 Friday night on the strength of his 279 yards passing.
"That was definitely fun," said Roberts, who threw for most yards in a game since Dee Dowis passed for 306 in 1989 against Notre Dame and has thrown for 550 yards in his last two games.
But it didn't start out that way.
"It wasn't the best start," said Roberts, who fumbled on the Falcons' first offensive play from scrimmage. "It was really about as bad of a start as you can get. But the coaches settled us down and reminded us that there was a lot of football left to play."
Eighty seconds into the game, Boise State held a 10-0 lead after an 83-yard touchdown run by Jeremy McNichols and a 37-yard field goal by Tyler Rausa off Roberts' fumble.
But it was a lead that didn't even last until halftime.
Air Force (8-3, 6-1) stormed back and built a 21-point lead in the third quarter before holding on for the victory. In the process, the Falcons took control of the Mountain Division race and can secure a spot in the conference title game with a win against New Mexico next week or a loss by the Lobos on Saturday against Colorado State.
Boise State (7-4, 4-3) watched its hopes of defending its conference crown vanish in losing consecutive games at home for the first time since 1997.
"There's a problem in execution and there's a problem in going out there and just doing our jobs," Boise State coach Bryan Harsin said. "We're not sneaking up on anybody any more. We just have to go out there and be more consistent."
Staked to a 24-13 halftime lead, Air Force struck with a 51-yard scoring pass from Roberts to Garret Griffin for a 31-13 lead with 13:18 left in the third quarter.
Luke Strebel added a 32-yard field goal with 8:27 left in the third quarter, pushing Air Force's lead to 34-13.
Then for the second straight week, Boise State mounted a late comeback attempt.
Brett Rypien hit Thomas Sperbeck on a 34-yard pass play with 53 seconds left in the third quarter to draw within 34-20.
After the Broncos' defense stopped Air Force, the offense responded with another touchdown, this time a 2-yard run by Thomas Stuart with 5:35 remaining to bring the Broncos within 34-27.
But Air Force all but salted the game away with a nine-play, 47-yard drive that ended with a 45-yard field goal by Strebel with 2:11 remaining to push the Falcons' lead to 37-27.
Rausa added a 45-yard field goal with 11 seconds remaining to pull Boise State within a touchdown again, but the Broncos couldn't come up with the onside kick.
Despite the win, Air Force coach Troy Calhoun remained critical of his team's path to success after turning the ball over four times.
"We were fortunate to get the win tonight, and we've got to improve," Calhoun said. "There's just a lot of work left for us to do."
Air Force finished the game with 607 yards, the most Boise State has given up this season. Jacobi Owens led the Falcons' ground attack with 145 yards on 20 carries.
Timothy McVey, who had two receptions for 67 yards, added 74 yards on eight rushing attempts. Griffin led all receivers with three catches for 107 yards.
Boise State's Rypien finished 23-of-48 passing for 237 yards with one touchdown, while Jeremy McNichols rushed for more than 100 yards for the sixth straight game with 151 yards on 20 carries.
---
---