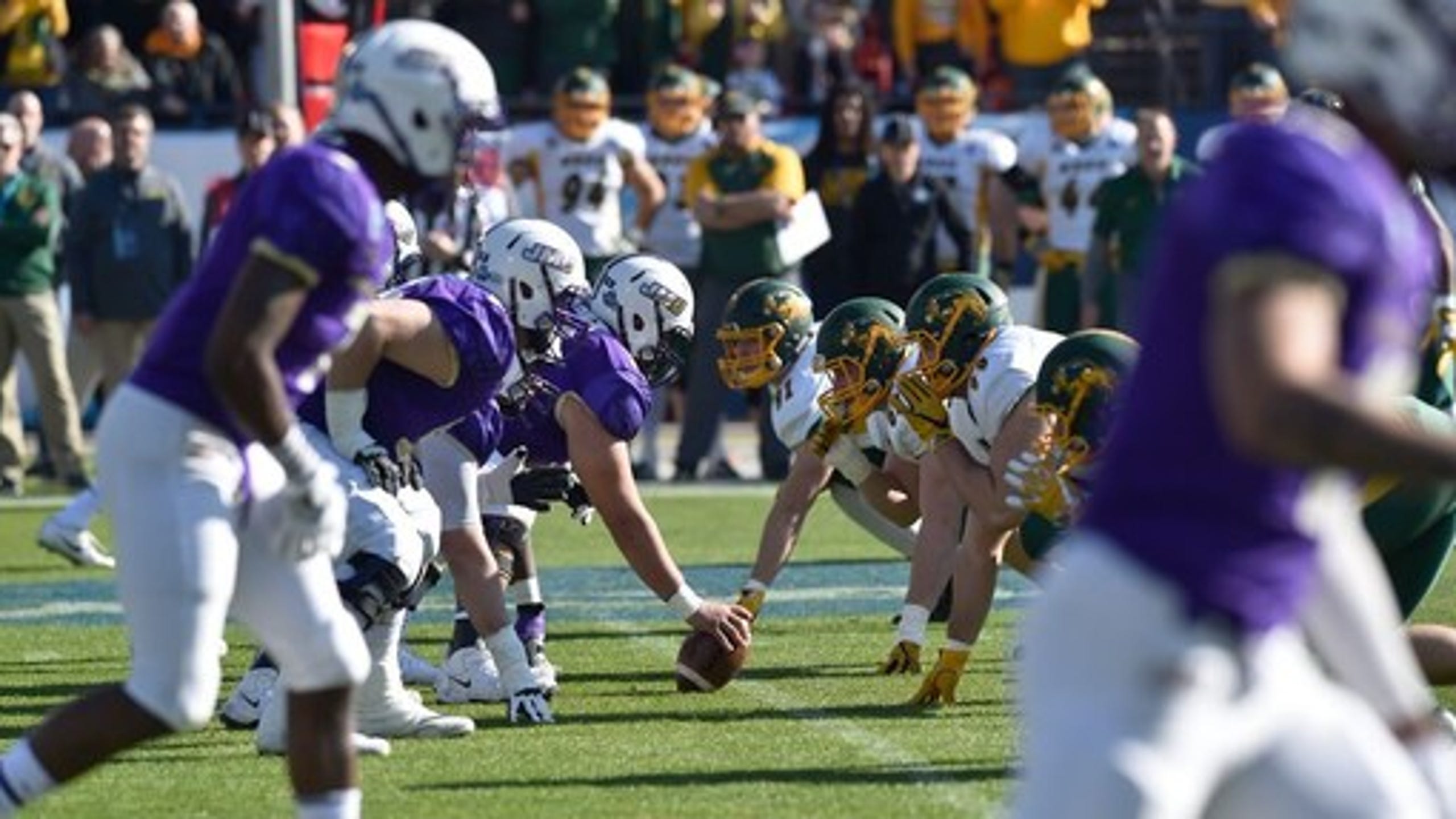 A sneak peek to FCS 2018
BY AP • January 10, 2018
(STATS) - If you're looking for something new in the FCS, it's a good thing they don't play the games on paper.
Following North Dakota State's 17-13 win over James Madison in the national championship game last Saturday, they remain the two programs best-suited to be playing next Jan. 5 in Frisco, Texas. But the Bison are the clear favorites to add a seventh FCS title, which would break their tie with Georgia Southern for the most all-time.
At least one CAA or Missouri Valley team has appeared in every title game since 2002, and the two top conferences in the FCS have combined for 12 of the 16 national titles in that period.
Are you ready for some (more-of-the-same) football?
Here's a quick look ahead to FCS 2018:
---=
THE TWO TO BEAT ... AGAIN=
North Dakota State (2017 final ranking: No. 1) - By the time you read it, the Bison will famously be working toward next season already. Coach Chris Klieman's team is expected to return 13 starters from the national championship game, with a dominant offense that features quarterback Easton Stick and running backs Bruce Anderson and Lance Dunn. The defense gets back injured All-American Greg Menard - basically making it 14 starters - to pair with linebacker Jabril Cox in an aggressive front, with All-America strong safety Robbie Grimsley on the back end. It doesn't hurt to play seven of the 11 regular-season games at home, including Delaware in a big nonconference matchup.
James Madison (No. 2) - With a 10-year contract extension, coach Mike Houston appears entrenched, and the Dukes won't stray far from the top rung of the FCS. Their senior losses appear more substantial than North Dakota State's, including former CAA players of the year in quarterback Bryan Schor and defensive end Andrew Ankrah. The new QB - perhaps 2017 backup Cole Johnson as a junior or rumored Pittsburgh transfer Ben DiNucci - will have terrific weapons in running back Marcus Marshall, Trai Sharp and maybe Cardon Johnson (if granted a sixth season), along with emerging wide receiver Riley Stapleton. Cornerbacks Jimmy Moreland and Rashad Robinson hope to keep forcing turnovers on a retooled defense. The road schedule is tough, starting with North Carolina State.
---=
FOUR TO WATCH=
Kennesaw State (No. 8) - Playoff victims Samford and Jacksonville State may not be anxious to see quarterback Chandler Burks and the Owls' No. 1-ranked rushing attack on the schedule again. As a freshman, linebacker Bryson Armstrong, the 2017 STATS FCS Jerry Rice Award winner, contributed seven takeaways to the team's turnover plank. They'll open against their first FBS opponent, Georgia State.
New Hampshire (No. 12) - A 14th straight playoff appearance by the Wildcats was in doubt this season, but a 15th shouldn't be next. They bring back a ton at the skill positions, including quarterback Trevor Knight and wide receiver Neil O'Connor, and on defense, led by leading tackler and linebacker Quinlen Dean. Coach Sean McDonnell will enter his 20th season leading the 'Cats.
South Dakota State (No. 3) - There may not be a more motivated player in the FCS than quarterback Taryn Christion, whose junior season ended in disaster against James Madison in the national semifinals. He will have to overcome the losses of tight end Dallas Goedert and wide receiver Jake Wieneke, but the run game is strong with Isaac Wallace and Mikey Daniel. Linebacker Christian Rozeboom has led the team in tackles in each of his first two seasons.
Weber State (No. 5) - A "coulda, shoulda, woulda" effort in losing to James Madison in the quarterfinals underscored how strong coach Jay Hill's team was this past season. Five first-team All-Big Sky selections return, including leading tackler LeGrand Toia at linebacker, but the big "if" for the Wildcats is replacing quarterback Stefan Cantwell.
---=
GIVING CHASE=
Eastern Washington (No. 21) - A playoff snub will motivate the Eagles throughout the offseason, but they're going to have to win more of the big games in coach Aaron Best's second season. Despite a down year, quarterback Gage Gubrud still ranked second in the FCS in total offense in 2017.
Elon (No. 20) - A playoff appearance has whet the appetite of the young Phoenix, who hope to keep rising in coach Curt Cignetti's second season. Running back Malcolm Summers will return from a midseason injury, plus young talent abounds on offense with quarterback Davis Cheek, running back De'Sean McNair and wide receiver Kortez Weeks. Linebacker Warren Messer must take the next step following the loss of safety Chris Blair. The Phoenix will again host Furman, which knocked them from the playoffs.
Illinois State (unranked) - Kurt Beathard, the offensive coordinator on the 2014 national runner-up, has returned to coach Brock Spack's staff, and will try to help quarterback Jake Kolbe fill his vast potential as a senior. Running back James Robinson remains the offensive standout, while linebacker Tyree Horton is back as the team's leading tackler. The Redbirds missed the playoffs in 2017 after three straight appearances.
Sam Houston State (No. 4) - It will be impossible to replace two-time STATS FCS Walter Payton Award winner Jeremiah Briscoe, but the new quarterback, likely 6-foot-6 transfer Mike Dare, will be thrilled to pass the ball to Nathan Stewart and Davion Davis, who caught 150 passes for 2,854 yards and 31 touchdowns in 2017. Defensive end Chris Stewart put up big numbers as well for a program that has been to five semifinals in the last seven seasons.
---=
THEN THERE'S ...=
Delaware (unranked) - Linebackers Troy Reeder and Charles Bell and safety Nasir Adderly give the Blue Hens a strong trio on defense, but the offense needs J.P. Caruso to settle the quarterback problems in coach Danny Rocco's second season.
Jacksonville State (No. 9) - The Gamecocks haven't lost an Ohio Valley Conference game since 2013, but an experienced Austin Peay squad could dislodge them atop the standings. Improvement by quarterback Bryant Horn is a must as coach John Grass seeks to replace running back Roc Thomas and defensive end Darius Jackson, the STATS FCS Buck Buchanan Award winner.
McNeese (No. 22) - With the most wins of any eligible team not to make the playoffs, the Cowboys hope to bang down the door with their formidable defense, which was the best in the FCS against the run. Quarterback James Tabary will challenge to be the Southland's best.
Montana (unranked) - Griz fans will want second-time coach Bobby Hauck to get the program back to an elite level sooner rather than later. Quarterback Gresch Jensen is coming off an excellent freshman season and linebacker Josh Buss will be one of the top defensive players in the Big Sky. The Griz will host Northern Iowa in Hauck's first game back on the sideline.
North Carolina A&T (No. 7) - Coach Rod Broadway has retired after a perfect season, and while the Celebration Bowl champs don't go to the playoffs, they'll return enough talent to post another huge campaign. No MEAC team has the same firepower in the offensive backfield as quarterback Lamar Raynard and running back Marquell Cartwright.
Northern Iowa (No. 17) - While coach Mark Farley's teams excel in November, they keep playing from behind record-wise. The loss of senior standouts is troubling, but the ones returning include quarterback Eli Dunne and running back Marcus Weymiller.
Samford (No. 18) - The Bulldogs figure to be the team to beat in the Southern Conference with quarterback Devlin Hodges and defensive end Ahmad Gooden coming off conference player of the year honors. Kelvin McKnight is a 100-catch receiver waiting to happen, but coach Chris Hatcher's offense needs a rushing threat for his team to make a deeper run in the playoffs.
Stony Brook (No. 11) - Quarterback Joe Carbone was one of the most improved players in the FCS this past season. While the Seawolves suffer significant senior losses, defensive end John Haggart and linebackers Shayne Lawless and Noah McGinty are key returnees.
---=
OTHERS TO REMEMBER=
Austin Peay (unranked), Nicholls (No. 25), Villanova (unranked), Wofford (No. 6), Western Illinois (No. 13); Youngstown State (unranked)
---
---