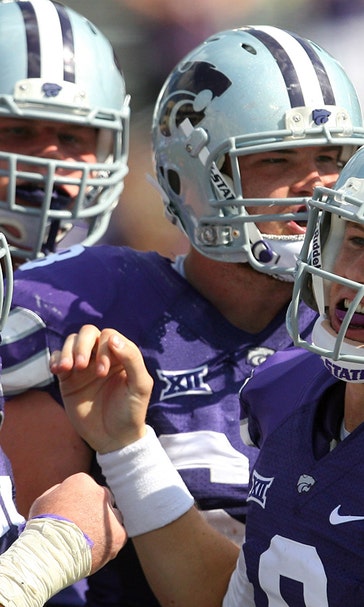 A freshman could make K-State QB race very interesting
April 21, 2015

MANHATTAN, Kan. -- A long time ago, in a galaxy far, far away, there was a thing called a phone book. Ask your parents.
It was heavy. The pages were thin. Government offices were listed at the front, residences were in the middle and so on. It showed up on your front porch one day, without fail, even though you can't remember anyone in your household actually asking for it. If you dropped it from a high enough distance toward a concrete surface, the sound it made upon contact was not dissimilar from, say, small cannon fire.
Nothing? Nada?
OK, then. Imagine eight iPads taped together. In a binder.
And that, amigos, is what Alex Delton has to learn by the middle of August. No. Scratch that. That is what Alex Delton has to master.
"I'd say it's probably phone-book size," was how Kansas State junior quarterback Joe Hubener described Bill Snyder's playbook Tuesday afternoon. "But within that, it's got all kinds of stuff -- not just the playbook. It's got the '16 Goals' and other things along that line as well. It's like a handbook."
Welcome to college, kid.
We bring this up because it's the final week of spring football in EMAW Country, the crescendo of a month in which many questions are raised, half get answered and scrimmages become the stuff of gospel. Because of a giant facelift for the Vanier Football Complex, Saturday's spring game will be played at Sporting Park in Kansas City, Kan., home of Major League Soccer giant Sporting Kansas City. That's new.
The Wildcats' quarterback job is wide open, and we're all still talking about a true freshman, a teen who only just enrolled a few months ago. That's new, too.
"He's picking it up real quick; he's a talented player, for sure," Hubener, the dual-threat front-runner for the job, said of Delton, the dual-threat youngster from Hays, Kansas. "He's a talented player, for sure. Tons of speed. Throws a really good ball. It all depends on how much he continues to develop with his knowledge, for sure."
Which brings us back to the whole playbook-the-size-of-a-phone-book thing. The buzz is that Delton enrolled early for a reason, that he saw an opening -- Jake Waters and his 5,970 passing yards over the last two seasons are pro-bound -- and pounced. Which is interesting considering that Snyder, as a general rule, prefers his freshmen to be neither seen nor heard. Especially the ones under center.
But word is getting out that the kid can play, or at least play well enough to push the veterans on hand. And even the Jedi Master -- who used the term "eye-catching" in describing Delton a week ago -- won't deny what's in front of him.
"I think he is going to be in the mix," the coach allowed.
Last week, Snyder was tactfully noncommittal. This week, he affirmed that, regardless of what happens Saturday, the final call probably won't come until preseason camp in August.
"One guy has a good day, the other guy has a good day," the coach said earlier this month. "One has a bad day and so on down the road."
So, no, this story isn't going away. If Delton has another one of those "good days" at Sporting Park, the electric freshman, who scored 31 touchdowns last fall as a senior, might not be going away, either.
"He's obviously doing really, really good with all his opportunities," offered Jesse Ertz, the sophomore who has reportedly split most of the first-team snaps with Hubener to this point. "But it's a lot to ask. Usually (as a freshman), there are lots of things that are still going to come and you're still going to have to work on."
At 6-foot-1, 190 pounds, Delton is smaller and leaner than Hubener and Ertz. But he might be quicker, too, having recorded a 4.55 in the 40-yard dash and a 4.34 time in the shuttle at the 2014 Under Armour football combine. Given the fun the 'Cats have had with the zone-read in the past, the more you read, the more intriguing Delton's situation becomes.
"You know, it's really competitive right now," noted senior tackle Cody Whitehair, who has been through these particular rodeos before. "Both (Hubener and Ertz) are doing some good things for us. They're both running the ball well, both throwing the ball well, and getting good handoffs and getting us into the right play and getting (the ball) to the right guy."
So if it's a tie on all angles ...
"It's tough to come in and play at any position really (as a freshman), especially at this level," he continued. "And (Delton) is doing some good things. And what's really impressed me is his knowledge of the game, as far as the reads. And he's really kind of getting a pretty good grasp of that, which is good to see in a young quarterback."
Grasping the phone book is one thing. If the kid can recite it, back to front, while he's running for his life and 90,000 in Austin are screaming for his head, this summer could get a heck of a lot more interesting.
You can follow Sean Keeler on Twitter at @SeanKeeler or email him atseanmkeeler@gmail.com.
---
---