72 hours inside Ed Orgeron's LSU war room on the race to Signing Day
Published
Feb. 14, 2017 4:05 p.m. ET

BATON ROUGE — It's 6:19 a.m. on the last Monday in January — or more specifically, 47 hours and 41 minutes until the official start of National Signing Day — and the LSU Football Operations Center is already buzzing. Surrounded by a three-story floor-to-ceiling display of trophies and pictures, a giant video board plays LSU football highlights non-stop. The halls on the first floor used to be covered with pictures of former Tigers in the NFL, but as soon as Ed Orgeron was named the interim head coach after Les Miles was canned in late September, he replaced them with team photos of every LSU conference and national championship team in the school's rich history. Some inside the LSU program believe that Miles didn't want these old championship photos up because a few of them contained his predecessor, Nick Saban, who has since turned Alabama into the sport's resident super power.

"Ed doesn't worry about any of that B.S.," says one of the staffers. "It's all about having the right mindset." As in "one team, one heartbeat" — Orgeron's mantra.

Orgeron wasn't the first one in the building this morning. Derek Ponamsky arrived 45 minutes earlier to get a quick workout in. Truth is, the real sweating for Ponamsky and his colleagues is just about to begin. Over the next three days, in the wake of a coaching transition, they'll try and close on a recruiting class. Ponamsky's title is Special Assistant to the Head Coach. He's been on the job for about four months. The 43-year-old, a.k.a. "The Prince," was a Baton Rouge radio host when Orgeron invited him to his first team meeting and announced him as his new assistant. The two grew close in the year Orgeron was out of work in 2014 — after his 6-2 stint as USC's interim head coach in 2013 and before he was hired by Miles as the Tigers defensive line coach. Orgeron was a weekly guest on the Culotta & The Prince show.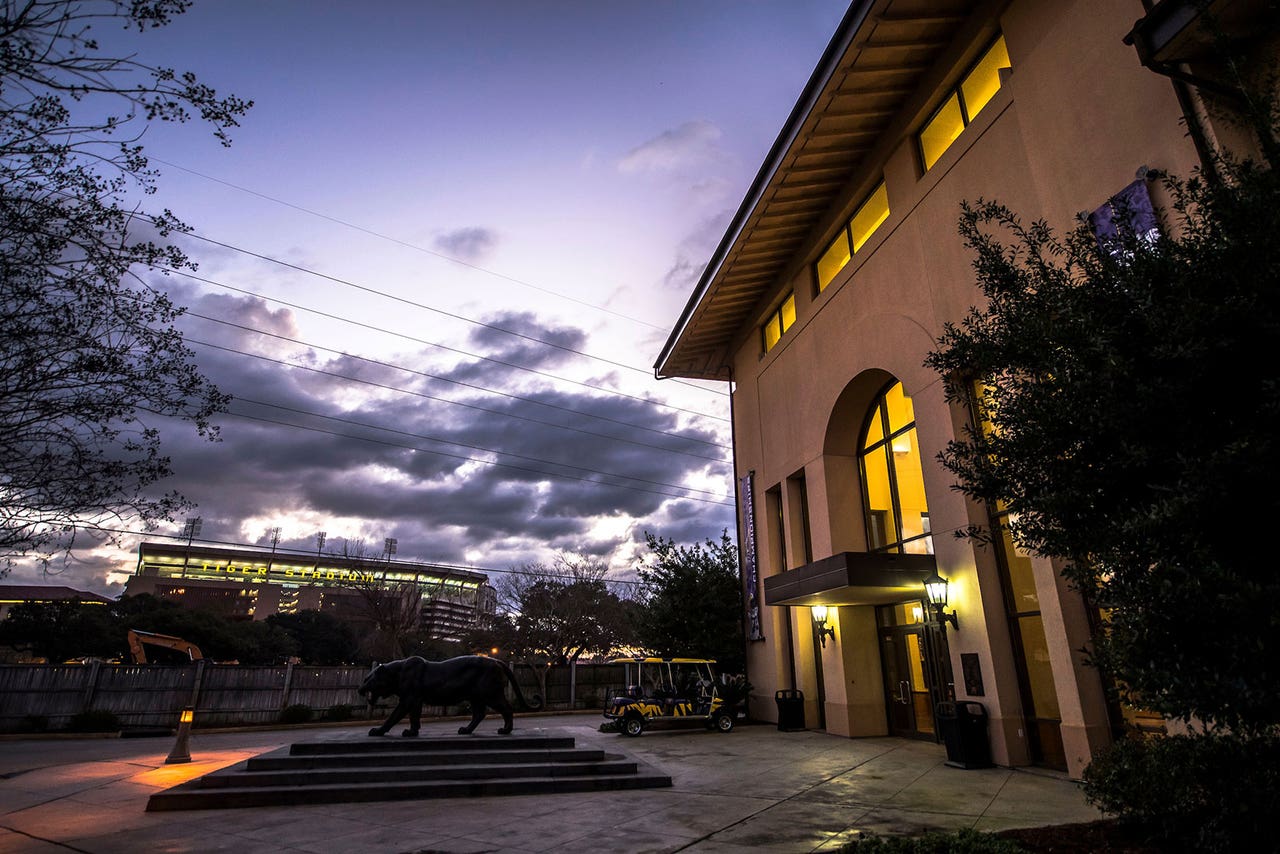 A barrel-chested, 6-foot, 240-pound whirlwind with a gravelly voice that booms throughout the Tiger football complex, Orgeron pops into Ponamsky's office to go over the morning agenda so they can be ready for an 8 a.m. staff meeting. The Tigers have 19 commitments. They might sign as many as eight more, but there are few certainties. Word is Devonta Smith, a touted in-state wideout, took an unofficial visit to Alabama over the weekend, contrary to what some folks close to the speedy 158-pounder have told Orgeron. Getting good intel and deciphering messages while sifting through a torrent of rumors is critical as big-time college programs finalize their classes, especially now that the SEC prohibits schools from sending out unlimited scholarship papers. The days of oversigning with 38-man recruiting classes are over.




The Tigers entered the week No. 6 in the national recruiting rankings. LSU, like most FBS programs, has whittled its recruiting board from the 1,000 or so prospects that have been evaluated at some point over the past 12 months. Among the top guys on their entire board: Myles Brennan, a poised, strong-armed 6-4 QB; JaCoby Stevens, a rangy 6-2 safety; Tyler Shelvin, a 6-2, 370-pound defensive tackle the staff IDed as the top in-state player; K'Lavon Chaisson, the guy they believe is the nation's top edge rusher — and a slighter version of their current All-American, Arden Key; and Marvin Wilson, a 6-4, 330-pound defense tackle whose freakish short area quickness reminds Orgeron of one of his protégés, Cortez Kennedy.

The first three, they think, are essential locks for LSU. The latter two, a pair of Texans from Houston, are going to have the Tigers on edge for much of the two and a half days.

*****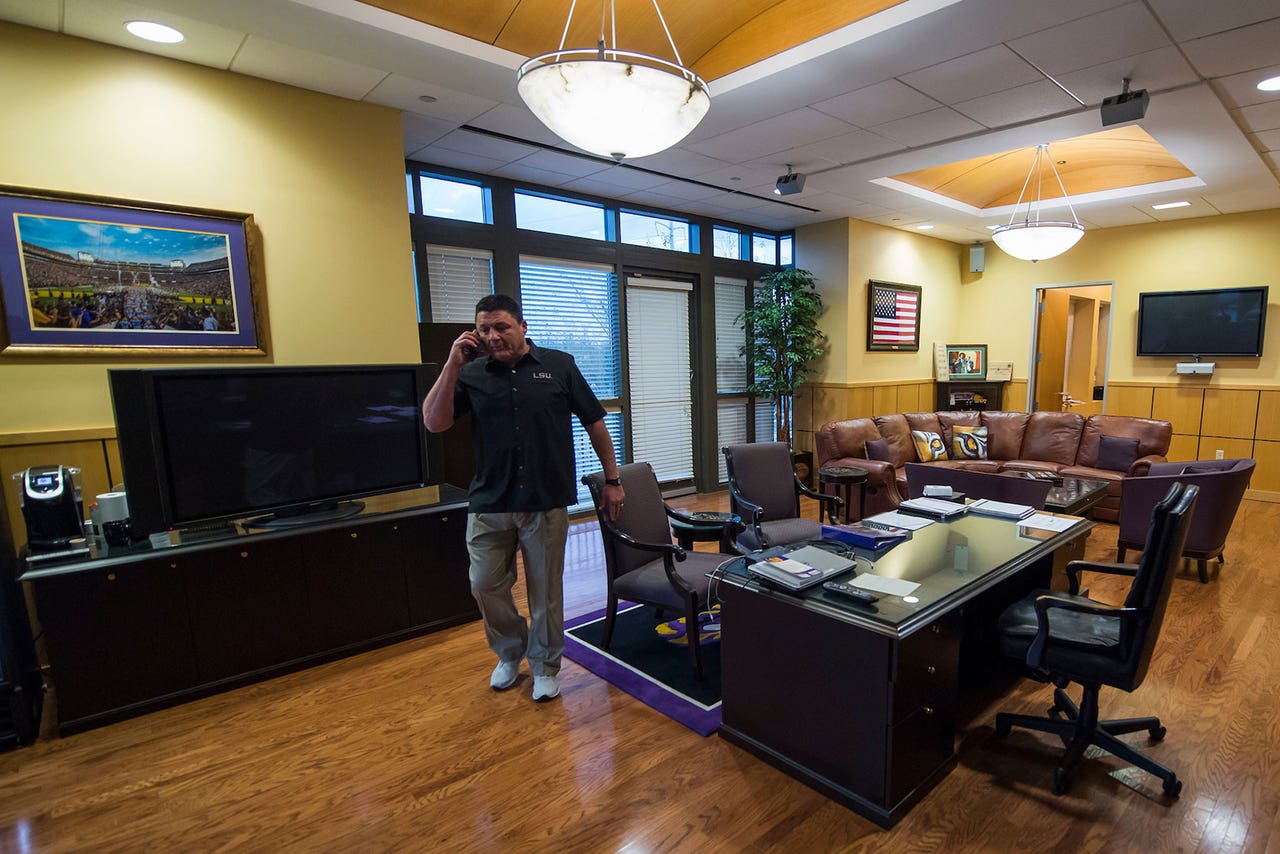 Several Tigers assistants are already in their offices, working phones and trying to get the latest info about their targets in preparation for the 8 a.m. meeting. Orgeron heads into his office. When he was named the interim head coach at USC, with eight games remaining on the regular-season schedule, he didn't move into the big office. His boss, athletic director Pat Haden, didn't want him to. At LSU, it's all his.

Even though Orgeron's been in this office for four months, it's still sparsely decorated. There are big binders full of scouting reports and game plans for various opponents; a portrait of Orgeron, his wife Kelly and their three boys; and a refrigerator case stocked with bottled waters, Diet Cokes and cans of Monster Energy drink. On the wall facing his desk is a framed American flag. Next to it is a small glass case in the corner with assorted LSU items. Above it is a picture of one of his old USC recruits, Leonard Williams, as he poses for a picture with NFL commissioner Roger Goodell at the 2014 draft. Across it Williams has signed "TO COACH O THANKS FOR EVERYTHING!!" Resting next to that frame is a wooden plaque that was given to him by a fan he'd never met before. In all caps it says "NEVER NEVER NEVER NEVER NEVER QUIT!" It reminds him of the biggest lesson his late father taught him.

Orgeron's favorite part of the office is the small balcony to his left that overlooks LSU's four practice fields. Around this time every day he says his prayers about how thankful he is to be living his dream. It still feels surreal to the Louisiana native even almost two months after being named the permanent head coach at LSU, especially after how heartbreaking it was to turn the USC team around only to be informed by Haden that they were hiring somebody else instead.

"One of my worst days turned out to be my best day," he says now, knowing that if he had gotten the USC job, he wouldn't have gotten LSU. On his flight home to Louisiana after getting snubbed by Haden, Orgeron told his wife that aside from the day he buried his daddy, this was the worst day of his life.

"No, it's not," she told him. "God has a bigger plan."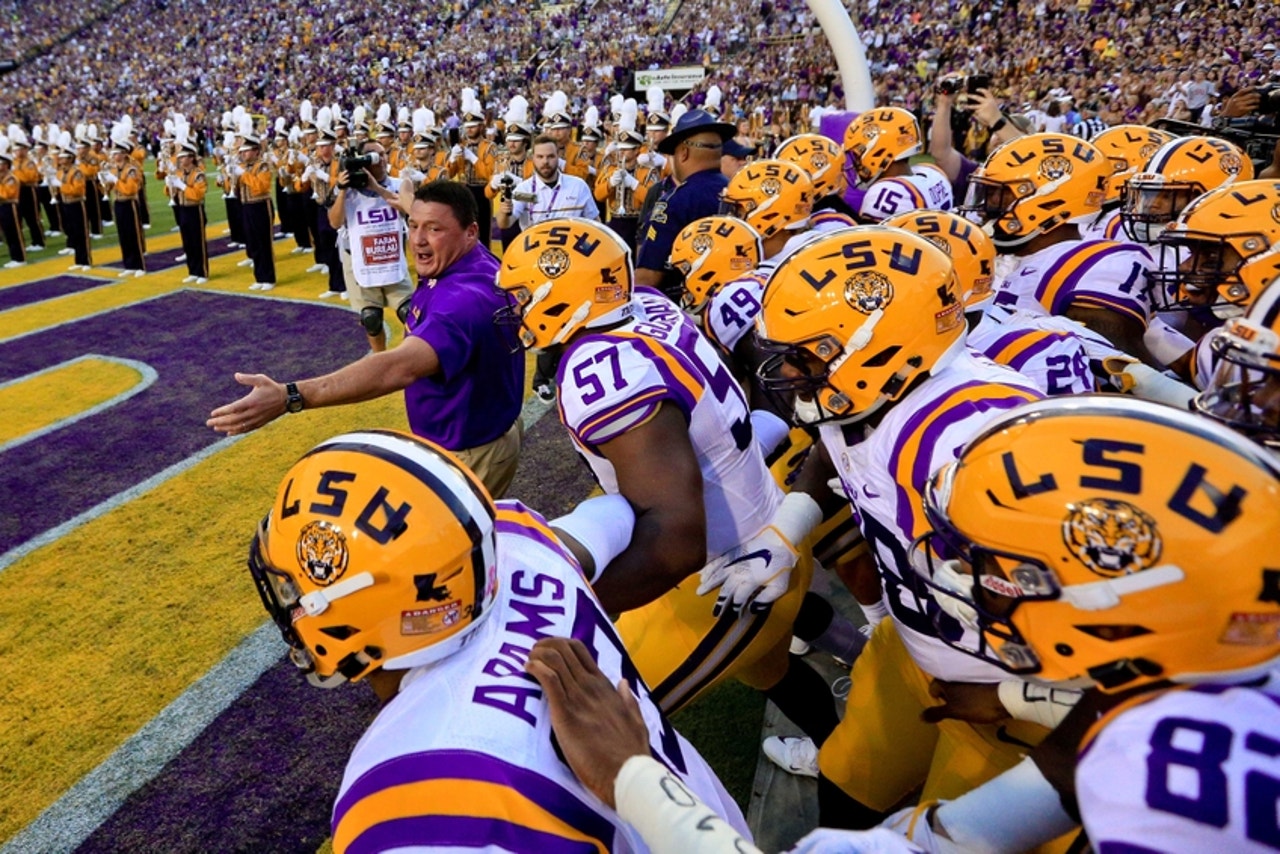 "Yeah, right," a skeptical Orgeron thought. And yet, here he is now fully aware of so many quirky things that needed to happen for him to be in this position. If his old boss Lane Kiffin didn't get fired as early in the season as he did at USC, would Orgeron have had enough time to show people he'd made significant changes from his three chaotic seasons as head coach at Ole Miss, where his teams went just 10-25? Or what if Miles didn't get ousted early enough in the 2016 season to afford Orgeron the opportunity to prove to LSU brass that he was right to take over? Or, how about the fact that Miles was rescued from the hot seat late in the 2015 season by his players too? If LSU had dumped Miles then, Orgeron would've had no shot. And, if Orgeron didn't fail as spectacularly as he did back at Ole Miss, he probably wouldn't have been as open to making the big changes he did in his own style to become the type of coach he is now, which is much the same guy the recruits have seen for years — intense but upbeat, and one that understands his own strengths and weaknesses.

On his balcony, Orgeron visualizes Tiger greats Charles Alexander, A.J. Duhe and Kevin Faulk, among others, running across these fields in their heyday. Orgeron can see himself back in his late teens out there too, doing drills right by All-SEC nose guard Ramsey Dardar. Orgeron only lasted about two weeks there as an LSU freshman before he quit and moved back home. Ever since, he's regretted that decision with everything in his soul. He was given the number 54 at LSU, and sees it as sweet irony that he was 54 when he got his dream job as the Tigers head coach.

His office opens up to LSU's war room, where he spends most of his day. In the center is a long rectangular table surrounded by two dozen chairs. The walls are covered with dozens of magnetized player profiles arranged by position and class. On the wall behind Orgeron's chair is the "Boys from the Boot" board that has all of their in-state prospects. On the wall to his left is the "National Board" that has everyone else. On the other side is a large day calendar detailing the next three months as well as a breakdown of when each recruit took their official visits. Orgeron is manic about organization. Some staff holdovers say it is a big change from the Miles era, where they didn't put the same emphasis on junior recruiting.

Seated immediately to Orgeron's right is 31-year-old Austin Thomas, LSU's general manager. Thomas grew up a recruiting junkie, getting trouble in school on National Signing Day two straight years for spending so much time in the library trying to get online updates on recruits, he says. "From that point on, we always looked at (Signing Day) as a 'sick' day, and I knew what I wanted to do. I didn't want to coach. I always wanted to do personnel and was fascinated by putting things together."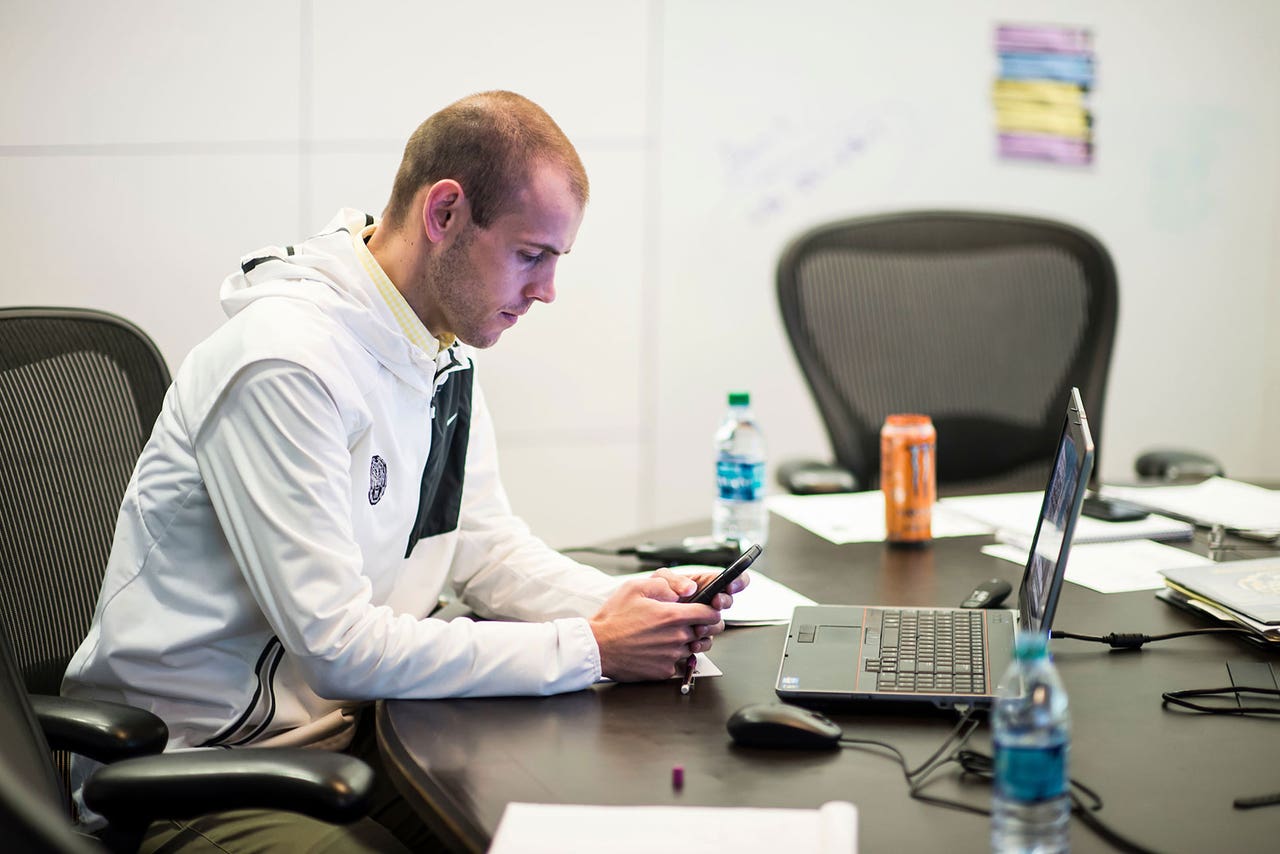 Unlike almost everyone else in the war room, Thomas didn't play college football. He got a master's in sports management from Tennessee and broke in at UT as a recruiting intern in 2008 and then earned much more responsibility when Lane Kiffin took over the Vols program in 2009. Monte Kiffin, who had come from the NFL to join his son's staff, offered Thomas a job as a quality control assistant with the defense. Thomas was 23, working up scouting reports, writing practice scripts and sitting next to the coaching legend in the box on game day. The Kiffins only stayed at Tennessee one season before Lane bolted for the USC job. Orgeron followed, as did Thomas. He worked his way up at USC to assistant director of recruiting while the Trojans program coped with hefty NCAA sanctions and scholarship hits. Then in 2013, another Orgeron protege, Frank Wilson, then LSU's running backs coach, recruited Thomas to join the LSU staff. Thomas helped the Tigers land the nation's No. 2 class in 2014. However when USC offered an assistant AD job with the title of Director of Player Personnel, Thomas went back west, but he only was there 10 weeks before LSU offered the same role and he returned.

"When Austin left, this place went to chaos," Orgeron says. "It was crazy."

Thomas also has proven to be quite the recruiter for LSU. He reeled in Stevens, the five-star safety from his home turf in Tennessee, and played a key role in helping flip Jacob Phillips, a heady 230-pounder from Tennessee ranked by some sites as the nation's top middle linebacker. Phillips had been committed to Oklahoma since October but announced he was going to LSU last week after taking an unofficial visit to Baton Rouge. Once Phillips got to LSU and hunkered down in the film room with Dave Aranda, regarded by many as the nation's top defensive coordinator, the kid was hooked.

At 7:10 a.m., LSU gets a jolt of good news. Dennis "Meatball" Johnson, the Tigers' young outside linebackers coach, tells Orgeron he just got a text from Chaisson. "He said, 'I'm coming. No doubt.'"

"WOOHOOOO!" Orgeron shouts as his face lights up before giving Johnson a big fist bump.

"WAY TO GO, MEATBALL!"

*****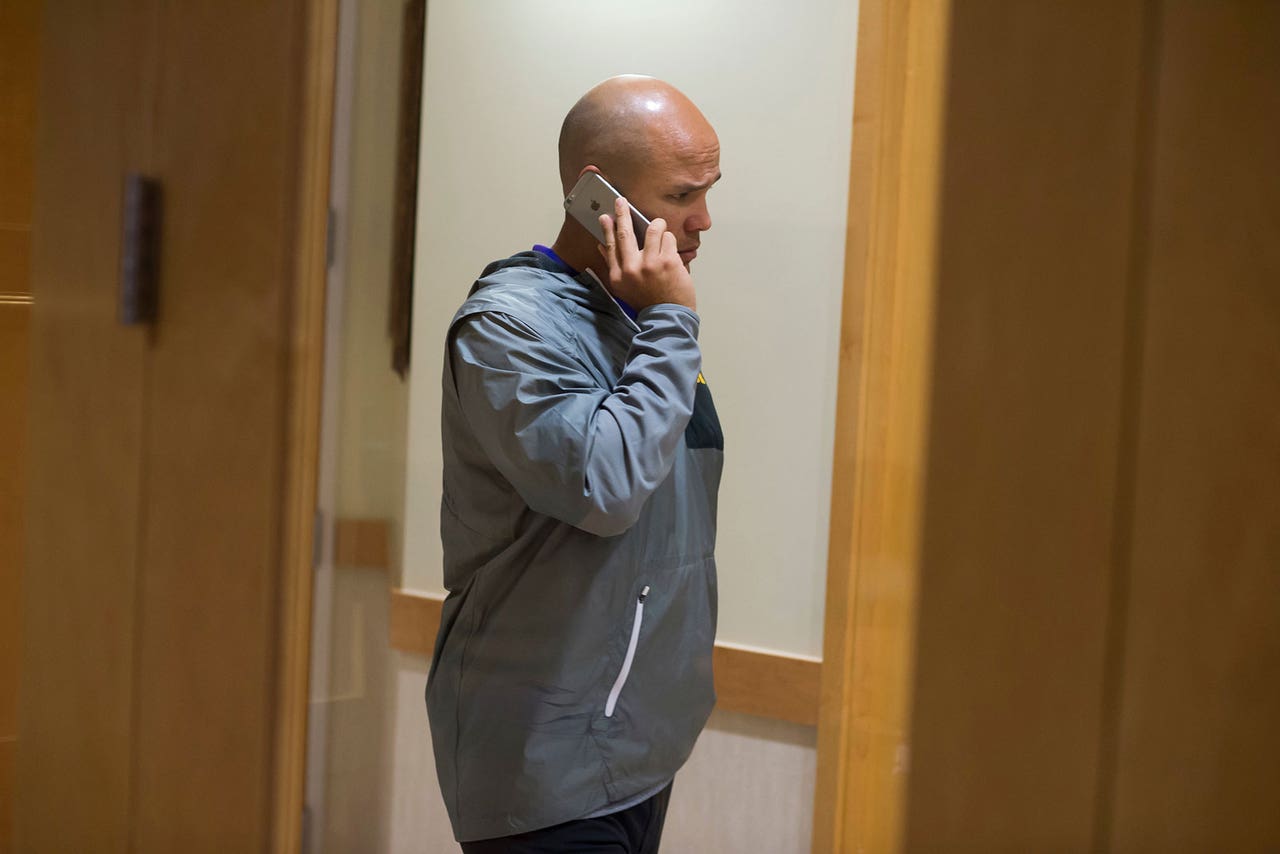 The 8 a.m. meeting focuses on watching as much film as humanly possible of the top 2018 and 2019 prospects, both in Louisiana and around the country. Orgeron loves being the first one to offer a prospect. He trusts his ability to evaluate, something he honed in his time working for Jimmy Johnson and Pete Carroll. Plus he knows that affords him the opportunity to play the loyalty card with a kid, since he was the first college coach to believe in them. (The staff estimates LSU was the first offer for half of their recruiting class.) He also prods his assistants to connect with high school coaches and get him on the phone with their players. Before that, though, priority one is the "Hotlist" — an update on where they stand with each undecided 2017 recruit.

Orgeron moves 10 nameplates over to the white board next to him. Chaisson; Phidarian Mathis, an in-state defensive lineman; Todd Harris, an in-state safety; Marvin Wilson; Tyler Taylor, a middle linebacker from Georgia; Markaviest "Big Cat" Bryant, an edge rusher from Georgia; Ellis Brooks, a linebacker from Virginia; Neil Farrell, a defensive lineman from Alabama; Willie Gay, a linebacker from Mississippi; and Devonta Smith. Much of the 15-minute discussion surrounds how to best handle the next two days with each prospect, but in the case of two linebackers, the intel does not bode well for LSU. Like when Aranda tells Orgeron he thinks Brooks is going to go to Penn State, or when offensive line coach Jeff Grimes mentions that a Tiger commit sent him a text earlier in the morning that Gay said he sounded like he wasn't coming, telling the fellow recruit, "I don't think I can do this."

Linebacker is the biggest need LSU has for the class of 2017. Orgeron says Aranda pointed out to him that LSU has more kickers on scholarship than linebackers, "and we've got to get that fixed."

LSU has taken a nice step towards doing that already in gaining solid commitments from Phillips and Patrick Queen, an in-state kid who clocked a 4.49 40 at their summer camp.

https://twitter.com/LSUfootball/status/826788640923713536

A third inside linebacker also may be headed to Baton Rouge. Orgeron tells his staff that he and Taylor, a consensus four-star middle linebacker, had a good conversation last night. Aranda: "I feel good about him. Let's give him some space."

Before film starts, Orgeron wants to get an update on what is going on with the top 2018 and 2019 prospects in-state. The staff actually has already scouted — and offered — many of the players ranked on the 247Sports Louisiana database that's projected onto a screen, but since the coaches have been on the road for the past few weeks, there's new info to be sorted out. The No. 1-ranked recruit on 247's list, cornerback Kelvin Joseph, is committed to LSU. The Tigers have commitments from three of the top nine players listed. Trying to lock up the best local players is always pivotal when you're the only Power 5 program in a talent-rich state, but it's become a source of frustration for Tiger faithful. They haven't beat Alabama on the field since 2011, and they've lost some key players to Saban too, starting with No. 1 player Landon Collins in 2012. Tim Williams, the No. 3 player from right in Baton Rouge, was next to bolt the following year. Cam Robinson, the No. 2 player, headed to Alabama the year after that. There is no recruit in the 2017 class in Louisiana that is as highly regarded as those guys were, but Orgeron is determined his staff must do a better job in-state.

"Call these coaches. Text these guys. I wanna talk to 'em," Orgeron says.

*****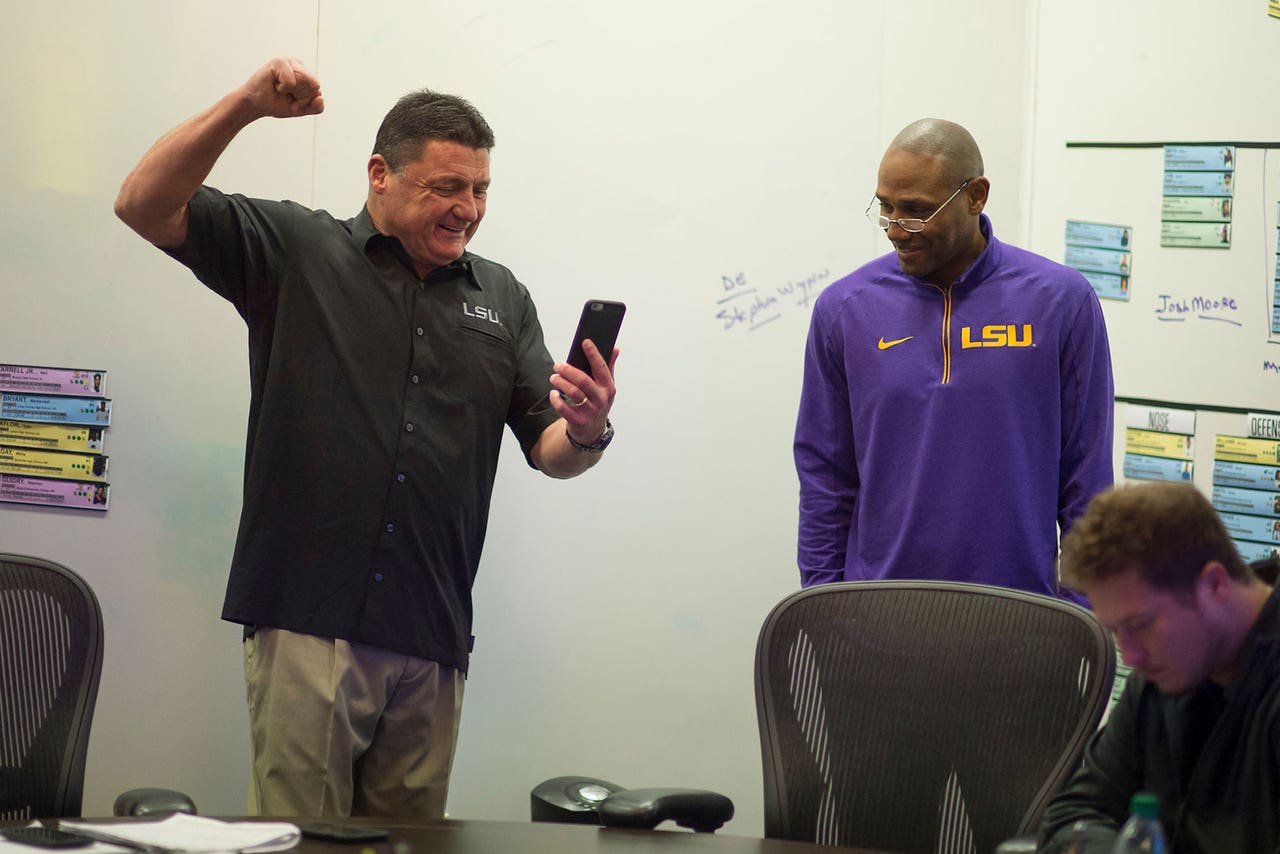 Ed Orgeron and Corey Raymond


Running back is the biggest priority for the 2018 class. Orgeron plans on signing two. LSU is losing junior Leonard Fournette to the NFL this spring and Heisman contender Derrius Guice, the SEC's leading rusher, is likely to jump after next season. LSU was very high on Cam Akers, but he's headed to Florida State. They also missed out on a four-star in-state running back Travis Etienne, who's going to Clemson.

Four of 247's top nine running backs for 2018 have already committed. The top-ranked back, Zamir White from North Carolina, has not, but in a recent interview, he didn't mention LSU among his favorites. The staff's reaction to each of the running backs' film sometimes doesn't align with the rankings. One back's first play on the tape has Orgeron sold. The kid, a smaller back, displays dazzling change-of-direction skills and balance in wriggling himself out of trouble after being surrounded by tacklers.

Much of the fodder as the staff pours through film is about whether good players could be special ones. Trying to decipher just how big and how fast a guy plays is vital, as is getting a read on the caliber of the competition. Verified track times help if the staff can find them. Responding to Orgeron's prodding, his staff seems to bring him their cell phones every three minutes with a different high school coach or player on the other end. "I want you to holler at Coach O…"

"WHADDAYASAY!"

Orgeron is good at small talk. Usually it's about food, often gumbo. His recall of their film, or coaches or past players from that area is uncanny. Any way to make an instant connection is invaluable at fostering a relationship and standing out from the herd. It also doesn't hurt that he has personally recruited or developed 14 defensive linemen who have gone on to become first-round picks.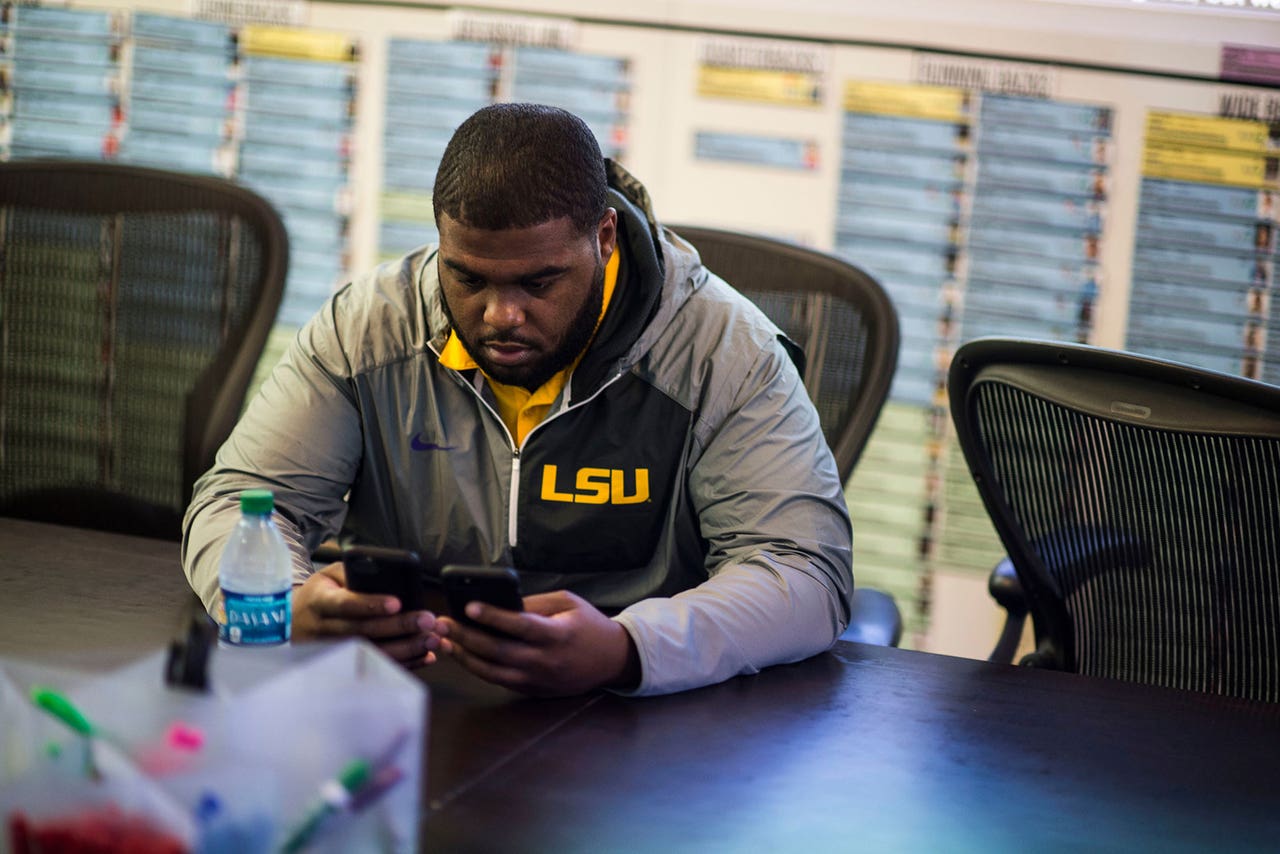 The 2018 recruiting also serves as a way to not get so consumed with the impending decisions that they'll find out about on Wednesday. A steady flow of staffers enters and exits with their cells pressed against their ears. Sometimes they're waiting three deep with a recruit on the line for Orgeron to finish chatting up another prospect.

Meatball is going through his first Signing Day as a full-time coach. The 28-year-old, a former reserve defensive lineman for LSU from Mississippi, was promoted by Orgeron from graduate assistant about four months ago. For much of his time as a GA, Johnson didn't even have a car. He usually walked two miles each way to the office, rain or shine. Johnson's helped recruit some of the biggest names left on LSU's board — Chaisson, Mathis, Big Cat Bryant and Wilson, the highest-rated uncommitted prospect in the entire country. Orgeron and Meatball both feel like they've developed strong relationships with Wilson's mother and brother. They also felt very good about a 5 a.m. visit they had with Chaisson and his grandparents where the LSU coaches hustled to see him at home and then followed him to the airport and spent another 40 minutes with the pass rusher right up to the security checkpoint before he flew to Florida for an official visit last weekend.

At 3:45 p.m. Monday, Meatball gets more encouraging news. Chaisson's grandmother texts the young coach to say she brought some LSU sweatshirts.

Thirty-nine minutes later, Thomas, the Tigers' general manager, re-enters the war room with some potential bad news involving Mathis, a 290-pound defensive lineman from north Louisiana that LSU is battling for with Alabama. Every year, something seems to unfold that you've never seen before around Signing Day. This year, it's Phidarian Mathis announcing his college choice from the gravesite of a friend, Tyrell Cameron, who was killed after a collision on the field in September 2015. Cameron, Thomas has heard from someone close to Mathis, was a big Alabama fan.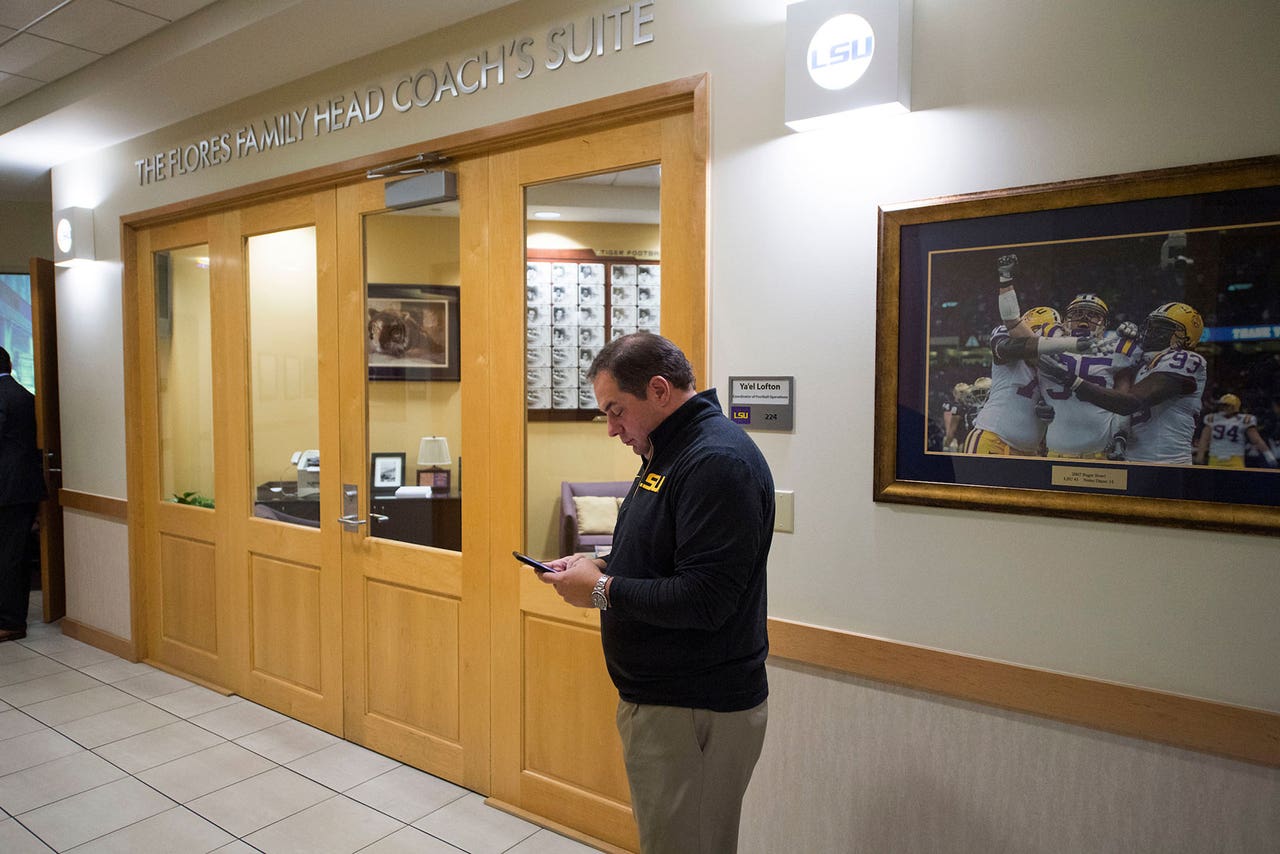 If it's a sign that Mathis plans to pick Alabama, it conflicts with what Orgeron and Meatball have been hearing from the player's family. But Ponamsky said he's heard the same thing as Thomas has, and they were told that by two different people.

By late afternoon Monday, Meatball has his head in his hand with his cellphone in front of him on the table.

"These waves are crushing me," he says. "This is gonna be the craziest two days of my life. At (FCS) Northwestern State, it wasn't like this."

"I need Dramamine just to come to work," cracks Ponamsky, another Signing Day newbie. He says he's also hearing Marvin Wilson is set to go with Florida State.

Orgeron doesn't seem fazed. By 7 p.m. Monday, the LSU coaching office is empty. It's another sign of how much he's changed. At Ole Miss, he'd have demanded his staff stay and try and contact every recruit they'd offered that year, just in case they were having second thoughts.

Then again, it's doubtful that Ole Miss team would have gotten visits from even a third of the guys they already have committed here now.

The biggest development on Tuesday happens at a gravesite in northeast Louisiana, where Mathis honors his late friend and does in fact announce he's going to Alabama. Later in the day, Orgeron gets a text from defensive lineman Neil Farrell (down to FSU and LSU) that says "Go Tigers." He's coming. Truth be told, 24 hours earlier they figured they'd land one of these two linemen, but it wasn't the one they're ending up with. Orgeron also gets a text from Willie Gay, saying he's staying at home to play at Mississippi State.

In his days as Pete Carroll's recruiting coordinator at USC, Orgeron and the staff slept in the Trojans football office on the eve of Signing Day. Instead, he'll get a few hours of sleep at a hotel on campus before coming back around 4 a.m.

*****

https://twitter.com/DerekPonamsky/status/826745401462181888

Forty minutes before the first National Signing Day signee will be official, Meatball delivers more good news from Chaisson: "K'Lavon's grandmother bought $300 worth of LSU stuff and a Tiger statue."

The official word that Chaisson's a Tiger comes two hours later, at 7:20 a.m., when his high school coach sends in a screen shot of his signed National Letter of Intent, even though LSU won't publicize it for almost another four hours since that's when the high school is doing its announcements.

"I can finally breathe," Meatball says, re-entering the room after getting a call from Chaisson.

"You just got the best pass rusher in the country!" Orgeron says. "A week ago, he was committed to Texas and you set up that 5 a.m. visit with him and you stayed with it."

The head coach leads the staff into chants of "MEATBALL! MEATBALL!"

Chaisson becomes LSU's fifth signee from Texas in the 2017 class and the third of the state's top six prospects, Ponamsky notes. Of course, the biggest one — Wilson — still has yet to announce.

https://twitter.com/LSUfootball/status/826845330687852545

For most of the day, the projector screen in the front of the war room is showing ESPN's Signing Day coverage. One of the first players to announce on the show is four-star safety Todd Harris, who as LSU expected, picks the Tigers over Alabama. A recruiting analyst on TV points out that it's a five-minute bike ride from Harris' school in Plaquemine over to the LSU campus. Ponamsky shakes his head and smiles.

"I told him, it's five minutes as the crow flies! I didn't say ride your bike across the river!"

Thomas surfs over to a stream of an Atlanta news station airing recruiting announcements from the College Football Hall of Fame in time for linebacker Tyler Taylor to say he's going to become an LSU Tiger. Orgeron stands with fists raised in the air. "There he is, the next Kendell Beckwith," he says. "I never thought we could get that kid out of Georgia. Dave (Aranda) did a tremendous job."

But the Tigers soon get some bad news from Georgia. Big Cat Bryant, who they heard was coming to LSU, instead has signed with Auburn. Two other recruits that LSU didn't feel optimistic about — receivers Devonta Smith and Nico Collins — also are going elsewhere.

"This is like giving birth while having open heart surgery," Ponamsky says, as ESPNU teases the Marvin Wilson announcement for what seems like the 20th time.

*****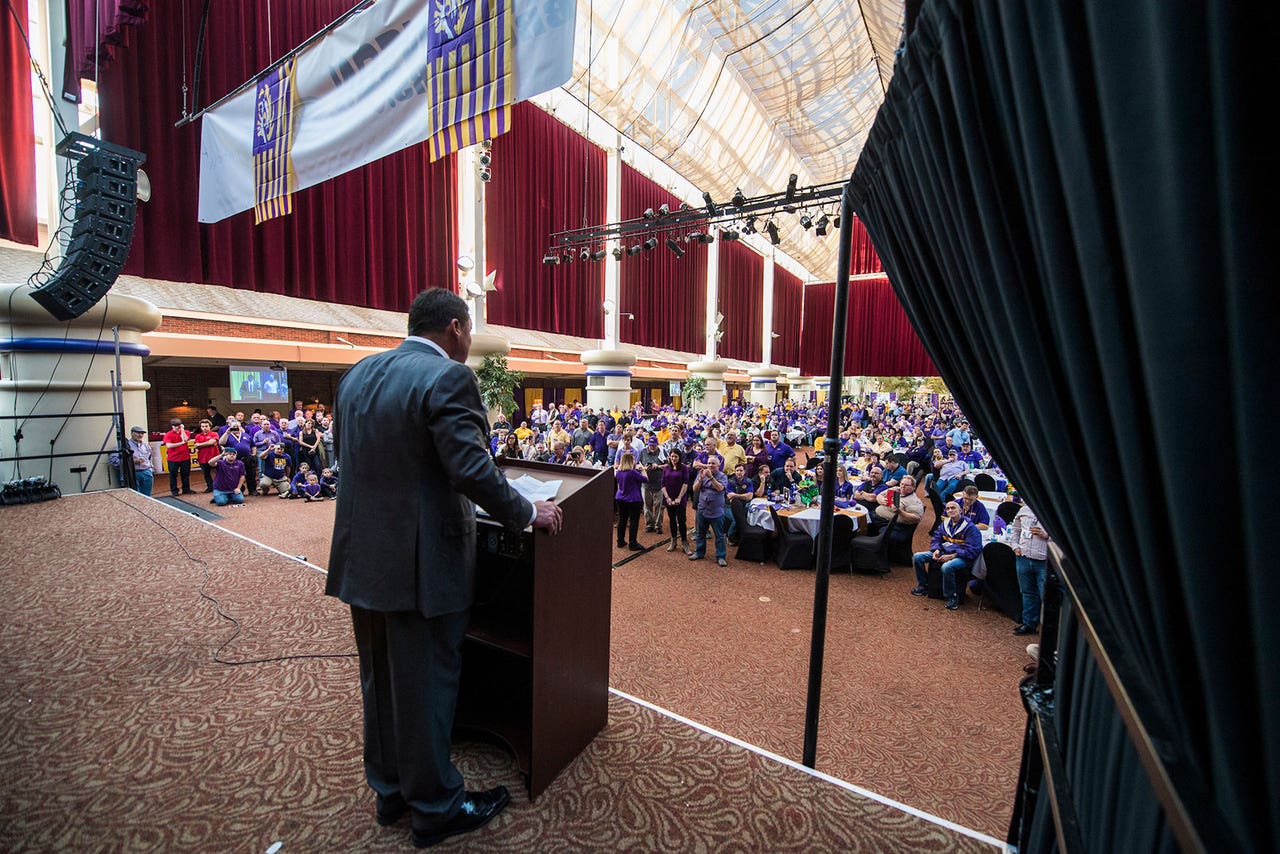 Wilson is expected to announce his decision at 3:30. By 3:25, the war room is packed again. A few early-enrolled freshmen file in along with an upperclass defensive back and Verge Ausberry, LSU's deputy AD. "Hollywood Marv" is picking between four schools — LSU, Florida State, Ohio State and Oklahoma, but by this time of day the latter two know they're out of it. According to ESPN, the Buckeyes staff has already closed up shop for the day. Former Texas coach-turned-TV analyst Mack Brown says the school that is going to get Wilson probably already knows.

"They usually call you right before he goes up," Brown says. "If you haven't heard much today, you're pretty sure you're out. And if you think you're out, you're usually out."

Brown's comments sink in for Orgeron, who hasn't heard from Wilson in days. The cameras cut to Wilson in Houston, who grabs a bag and announces that he's going to Tallahassee.

Inside the LSU war room, there is silence, aside from Wilson's comments on the TV screen, for over a minute.

Finally.

"Hey, guys, great job," Orgeron says. "Turn that off, OK? Great job. Great job. Great recruiting class. I'll see y'all at the Bash."

The Bash is the Bayou Bash, a fan event down at a local casino where Orgeron will talk recruiting and introduce his staff. Before that, though, he has to do a press conference. The timing's rough. LSU just signed the nation's No. 7 class, which is higher ranked than any coach taking over in a transition has ever achieved. It's also 29 spots higher than the average of all of the other active SEC coaches did in their debut recruiting class, but the sting of the Wilson announcement has zapped most of the energy from the building.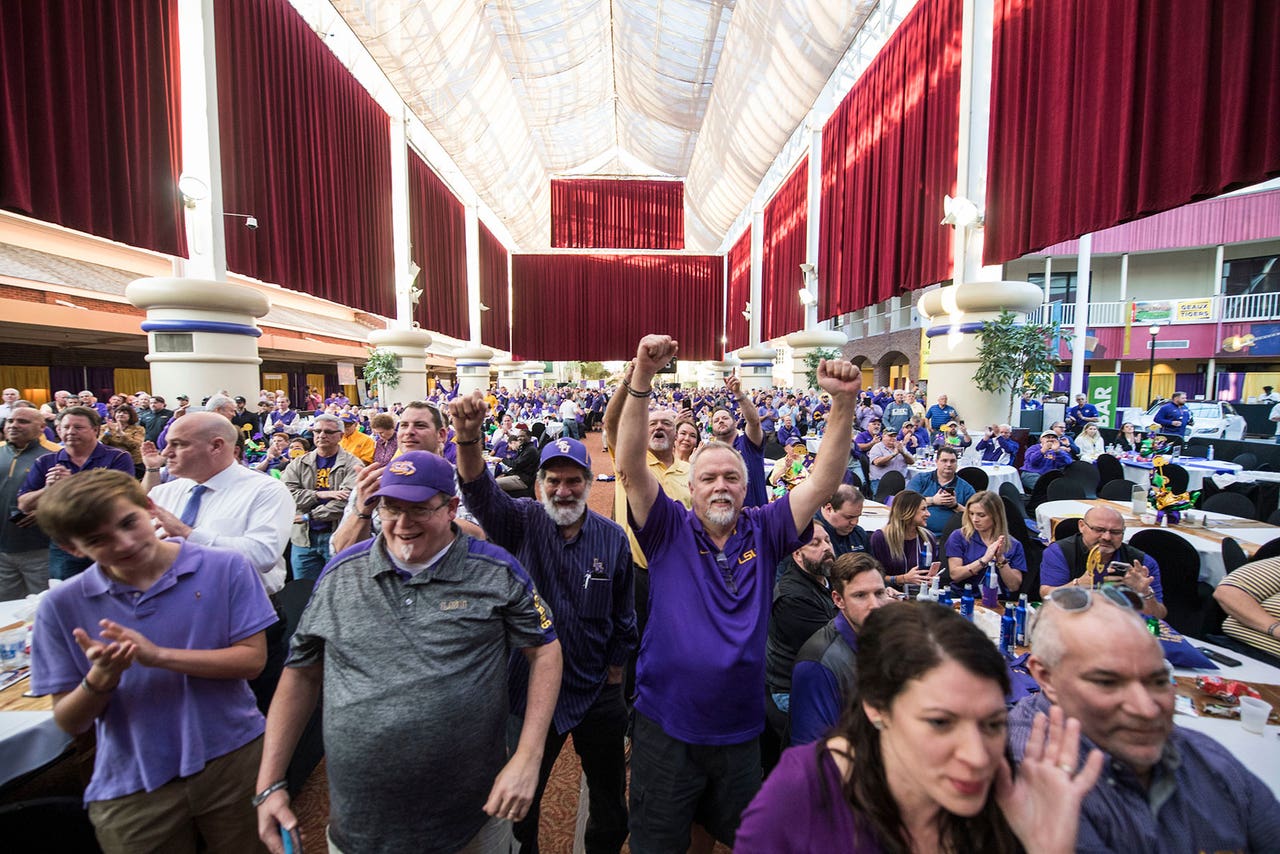 The tone of the presser is still very upbeat, heavy on filling the needs at linebacker, quarterback and replacing all-everything defensive backs Jamal Adams and Tre'Davious White. In reality, Orgeron's biggest commitments of all this winter were locking up Aranda as his defensive coordinator and Matt Canada to take over the offense. Of the 20 questions he fields, one is most pressing — about Orgeron's pledge to put a fence around the state of Louisiana but still having a few get away this year. Once again, Nick Saban's Alabama was a thorn in LSU's side, getting three of the top five recruits from the state. LSU got the other two — Tyler Shelvin and Todd Harris.

"We have work to do," Orgeron replies. "I said we're going to get the best players in the state of Louisiana to come here. We missed out on some guys and obviously we have work to do, and that's in our primary area. Those are some of the things we need to get fixed."

Those fixes are why Orgeron, Thomas and Ponamsky were in the office by 7:45 a.m. Thursday morning. They have a meeting with AD Joe Alleva. More staff changes are in the works. Orgeron is going to try and hire his old pal from his USC days, Tommie Robinson, as LSU's new running backs coach and recruiting coordinator. He also feels the Tigers need to get stronger in New Orleans.

Robinson, an Alabama native, was ranked by 247Sports as the nation's No. 2 recruiter for the 2017 class. LSU only has one recruiter crack the Top 50. It's Austin Thomas, who comes in at No. 11. "That's cause I got Coach O," Thomas says.

Just in the previous three days, Orgeron was on the phone with close to 100 recruits for the 2018 class. By the time the staff is back in the war room, the following Monday, LSU will have lined up its new receivers coach, Mickey Joseph, a former New Orleans area high school star who came from Louisiana Tech and has recruited the city for almost 20 years.

Orgeron knows he doesn't have much time to waste. On Feb. 18, LSU hosts its big Boys From The Boot event for the best juniors in the state of Louisiana. After all, recruiting never stops.


---
---