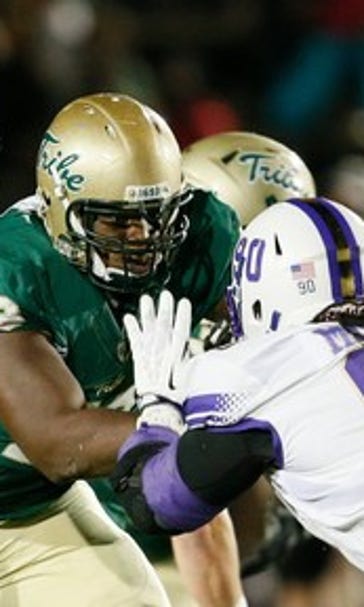 19 from FCS invited to NFL Combine
February 15, 2017

(STATS) - The big men working the line of scrimmage are in focus among the former FCS players headed to the NFL combine.
Seven offensive linemen and four defensive ends are among 19 from the FCS invited Wednesday to participate in the annual pre-draft event from Feb. 28-March 6 in Indianapolis.
All 32 NFL teams will take an up-close-and-personal look at 330 players through measurements and medical examinations, psychological testing, interviews and on-field workouts.
The FCS offensive linemen invited were tackles Julie'n Davenport (Bucknell), Javarius Leamon (South Carolina State) and Jerry Ugokwe (William & Mary), and guards Erik Austell (Charleston Southern), Corey Levin (Chattanooga), Cameron Lee (Illinois State) and Jessamen Dunker (Tennessee State).
Keionta Davis (Chattanooga), Tanoh Kpassagnon (Villanova), Derek Rivers (Youngstown State) and Avery Moss (Youngstown State) comprise the strong group of defensive ends.
Four-time FCS first-team All-American Cooper Kupp, who holds Division I records for career receptions, receiving yards and touchdown catches, will participate in the combine along with his fellow former Eastern Washington wideout Kendrick Bourne.
In addition, tight end Eric Saubert (Drake), running backs De'Angelo Henderson (Coastal Carolina) and Tarik Cohen (North Carolina A&T), cornerbacks Brendan Langley (Lamar) and Ezra Robinson (Tennessee State) and safety Lorenzo Jerome (Saint Francis) will try to raise their stock with NFL teams.
"The combine is its own animal," Kupp said. "What that whole phase is about, the testing and those four or five days that you're down there, it's a lot of making you uncomfortable in terms of you're dealing with interviews here or there, you're not getting a whole lot of sleep, there's a lot going on. The same way, there's competition. But the competition isn't going against anyone, it's about being the best you.
"But I think I'm prepared for that because that's how I approach this game of football. It's not just about competing against the guy across from you, it's about making sure that I'm the best me that I can be."
The combine is staggered into positional groups over four-day intervals, wrapping up with the much-dissected on-field workouts. This year's workout dates are: kickers, special teamers, offensive linemen and running backs on March 3; quarterbacks, wide receivers and tight ends on March 4; defensive linemen and linebackers on March 5; and defensive backs on March 6.
---
---