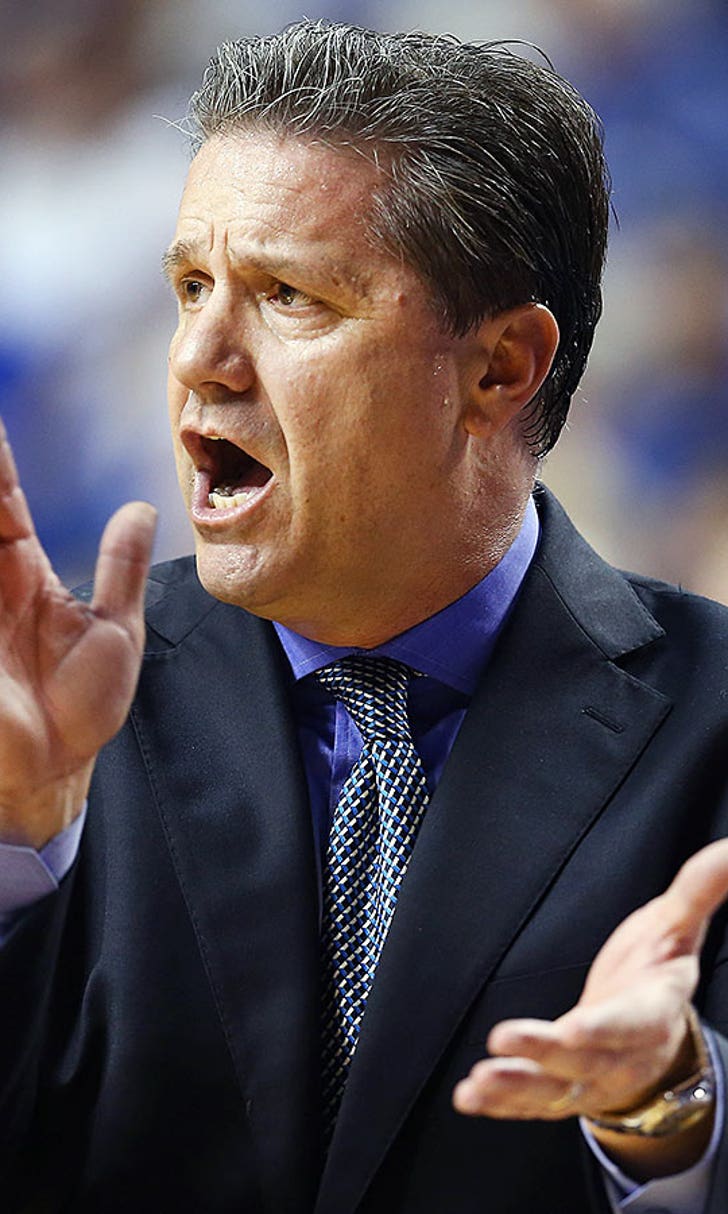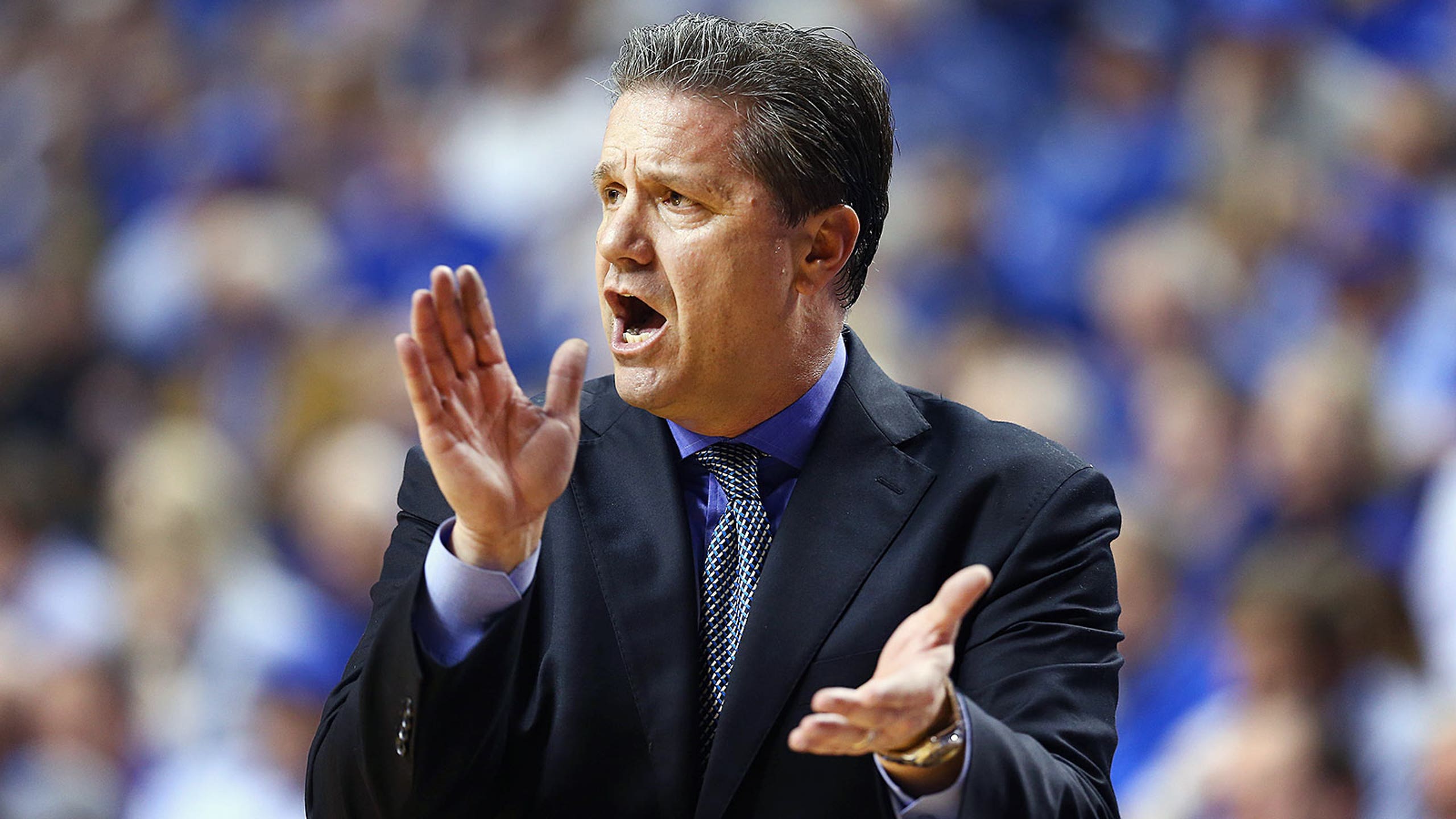 Why you should believe in John Calipari's Goliath-turned-David Wildcats
BY foxsports • February 27, 2014
It took only a couple of minutes of watching John Calipari's Wednesday practice leading up to his team's SEC battle with Arkansas to realize it. The Kentucky coach likes how his group is looking headed into March.
The frustrating moments that caused the coach to spend so much of the early part of the year harping on effort and energy are now replaced by more hand claps and encouraging words. While he is still, in his own words, "having to coach too much" -- correcting more mistakes than he would like at this point of the season -- there is a spring in his step that was lacking even a month ago.
After a season that has caused many in the Big Blue Nation to complain about a few too many losses, Calipari is starting to showcase confidence in his 17th-ranked Wildcats, and he believes his group of primarily freshmen and sophomores have a chance to make a tournament run.
"Why am I getting excited right now is I feel like we have a chance," Calipari explained. "The No. 1 thing is that you have to have the talent to win it. We have the talent. Then you have to work on energy, chemistry and being a player-driven team. A coach-driven team can be good, but a player-driven team can be special, and every day we are getting closer on that. But ultimately you have to have talent. And we have the talent."
Talent was never a question for this Kentucky team coming into the season, as it entered with the highest-ranked recruiting class in the history of most ranking services. But after early losses to Michigan State, Baylor and North Carolina, the idea of a dominant UK team took a back seat to the reality of the difficulty of winning with such a young group. The grind of the year caused some to say they felt they could see the wear and tear of the struggle on their coach's face, but Calipari says that isn't the case.
"Everyone for some reason thinks this year has been frustrating. No it hasn't," Calipari assures. "If we had bad kids, then it would be frustrating, but we don't. I have had to get this group to change how they think. That is the hardest thing. Then you add in getting them in shape and defining their games and it has had to be a major turnaround quickly."
Calipari notes that this group has a higher learning curve than any he has ever dealt with, as the top seven players are all freshmen or sophomores. He says that attempting to make such a turnaround with no real veteran leadership is "trying to do what has never been done before," but it's also because this group lacked some of the initial qualities found in his 2012 championship team.
"Why didn't it take so long in 2012?" he asks. "Back then I had a team with Anthony (Davis) and Michael (Kidd-Gilchrist) who were ready from day one and only thought team. Then we had a couple of sophomores and Darius (Miller, a senior) and we only had to change one guy, Marquis Teague, not a whole team. This group has required us to change almost everyone, so it has just taken longer."
But don't expect this experience to fundamentally alter Calipari or his philosophy on how he coaches. While he likes having veterans and has recruited some players in this year's class that will certainly stay longer (Marcus Lee, Dominique Hawkins, Derek Willis), he is not going to stop assembling talent or start asking them to return if it isn't the right decision.
"Do I want them all to come back for me?  Sure. But I can't do that," he explains. "You have to wait and see. Before the season, everyone said this group was all gone, then one month in none of them were gone. Now you got two guys not on the board. That's what they said about Tyreke (Evans) and then by March he went No. 4 in the (NBA) draft. We don't know. But we have to do what is best for the kids and I won't change that."
Calipari does firmly believe however that if his team reaches its potential, it can play with anyone in America. He says that unlike in 2012, when he thought his Kentucky team would have had to "stub its toe" to lose and only two or three other teams had a real chance, this year it could be wide open.
"Normally teams in the past that had a chance were unbelievable defensively," Calipari said. "They would lock you down, make everything hard and then have a couple of guys who could score. They might have three NBA guys on the roster. I look around the country and I don't see that."
He thinks Syracuse "may be the closest" to the right makeup of a championship team and notes that Duke and Florida both have a lot of the characteristics of teams that can win it all. But Calipari is also quick to give credit to an underdog he considers a kindred spirit.
"People say Wichita State can't win it. Well, we almost did it at Massachusetts and Memphis and I would tell you they can because they will play with confidence and think they can beat anybody."  
However for Calipari, it is rarely about the other teams he plays and more about the team directly in front of him. After practice, he talks in detail about the quality of kids in his program and the fact that he is having a great deal of fun watching the team come together as he always thought they would.
However anyone who looks at Calipari can tell that a combination of the continued turnover of young players and the pressures of coaching under the constant magnifying glass of Kentucky basketball have worn on him. He has joked over the years about looking older and there is certainly some truth to the fact that just as the Presidency clearly aged Barack Obama and George W. Bush, Calipari isn't the young buck he was even five years ago. And with the constant speculation of a possible return to the NBA, his future at Kentucky is always on the minds of fans who hope Calipari coaches his final game in Lexington many years down the road.
"I'm fine. I'm not 35 anymore, I am older. But I am fine," he says, dispeling the notions.
But he says there is one thing more than any other that may have an effect on his career and how long he stays at Kentucky -- the proposed NBA rule to require two years of college before a player can turn pro.
"My career will be extended if they go to the two-year rule in the NBA. It just will," Calipari says. "If that happens it will be crazy down here. My hope is that it goes to two years. It will be better for high school basketball, better for college basketball and better for the NBA. Is it also a little self-serving? Sure, but it will be better for everyone else and the game of basketball too."
At this moment, Calipari's focus is not on the NBA two-year rule or even the next group of superstars he has coming into Lexington next season. It is on this group and a March run he still believes is possible. It may seem ludicrous to fathom the idea of the ultimate college basketball Goliath going into the tournament as a slightly overlooked David, but bizarrely this Kentucky team may be there. With most pundits poking holes in UK's tournament resume and expecting an early exit, this team that was expected to be a traveling circus is now heading into March slightly under the radar.
But for Calipari, this lack of expectation and respect is a motivational tool, not only for his team but for himself. He sees this season and the turnaround of this group as potential for another victory over his persistent critics.
"If this team does well in the tournament, it will be killing a lot of people," Calipari says with a smile. "This isn't supposed to happen with young guys. They like to say, 'Well, he did it once and it will never happen again. You can't do this.' Well, we'll see."
---
---