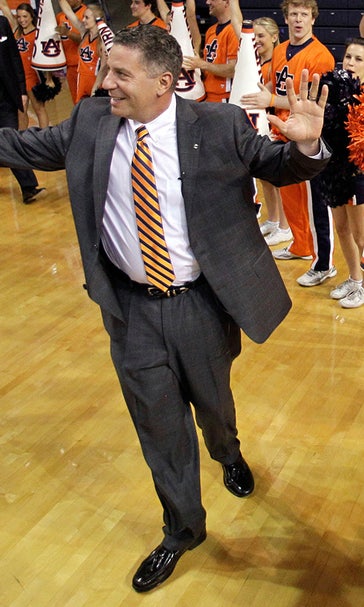 Watch Bruce Pearl hit trick shot from upper deck of Auburn Arena
November 20, 2014

Auburn hired Bruce Pearl in an effort to revitalize its basketball program, and the high-energy head coach has done his part -- crashing a lecture to promote Midnight Madness to students in class, going shirtless in a dunk tank for a fraternity's charity event, and just being his usual, excitable self.
Now, Pearl has added something new to draw attention to Auburn hoops -- trick shots.
Pearl joined the guys from The Legendary Shots -- who regularly post online videos -- as they took some impressive long-distance shots from all corners of the arena. 
Let's hope the Tigers themselves take some long-range shooting tips from their coach, as they're shooting less than 30 percent from beyond the arc so far this season.
Have a look:
---
---