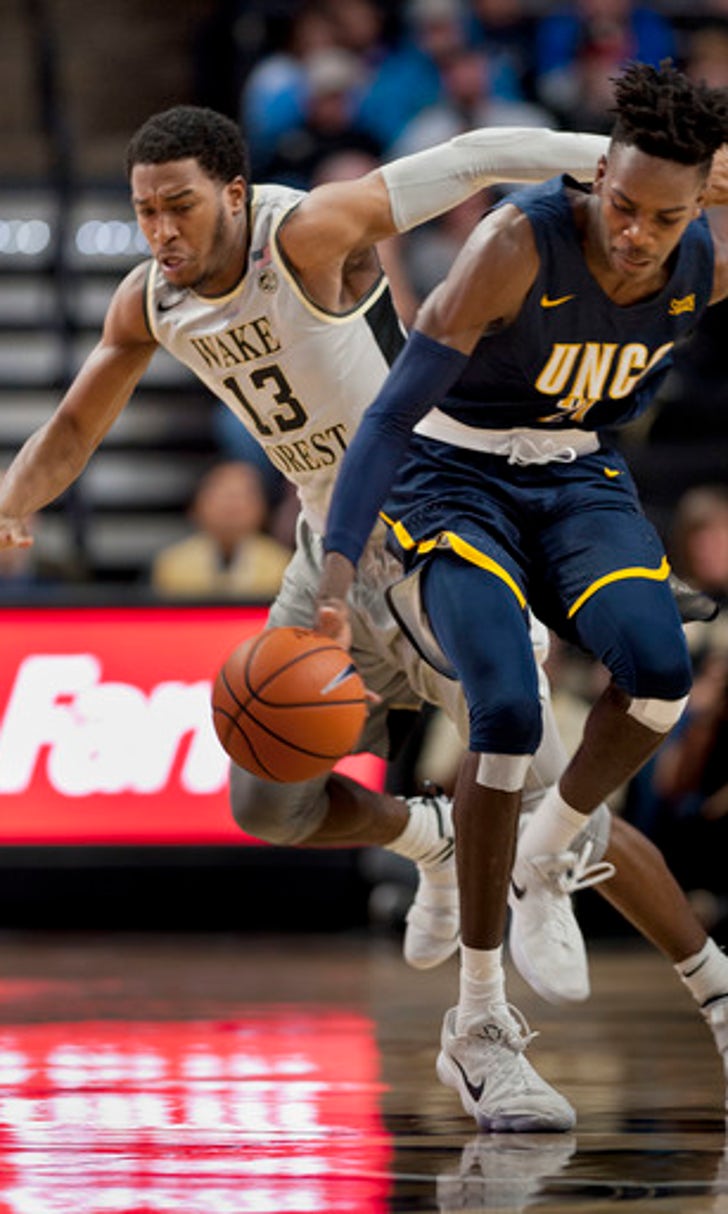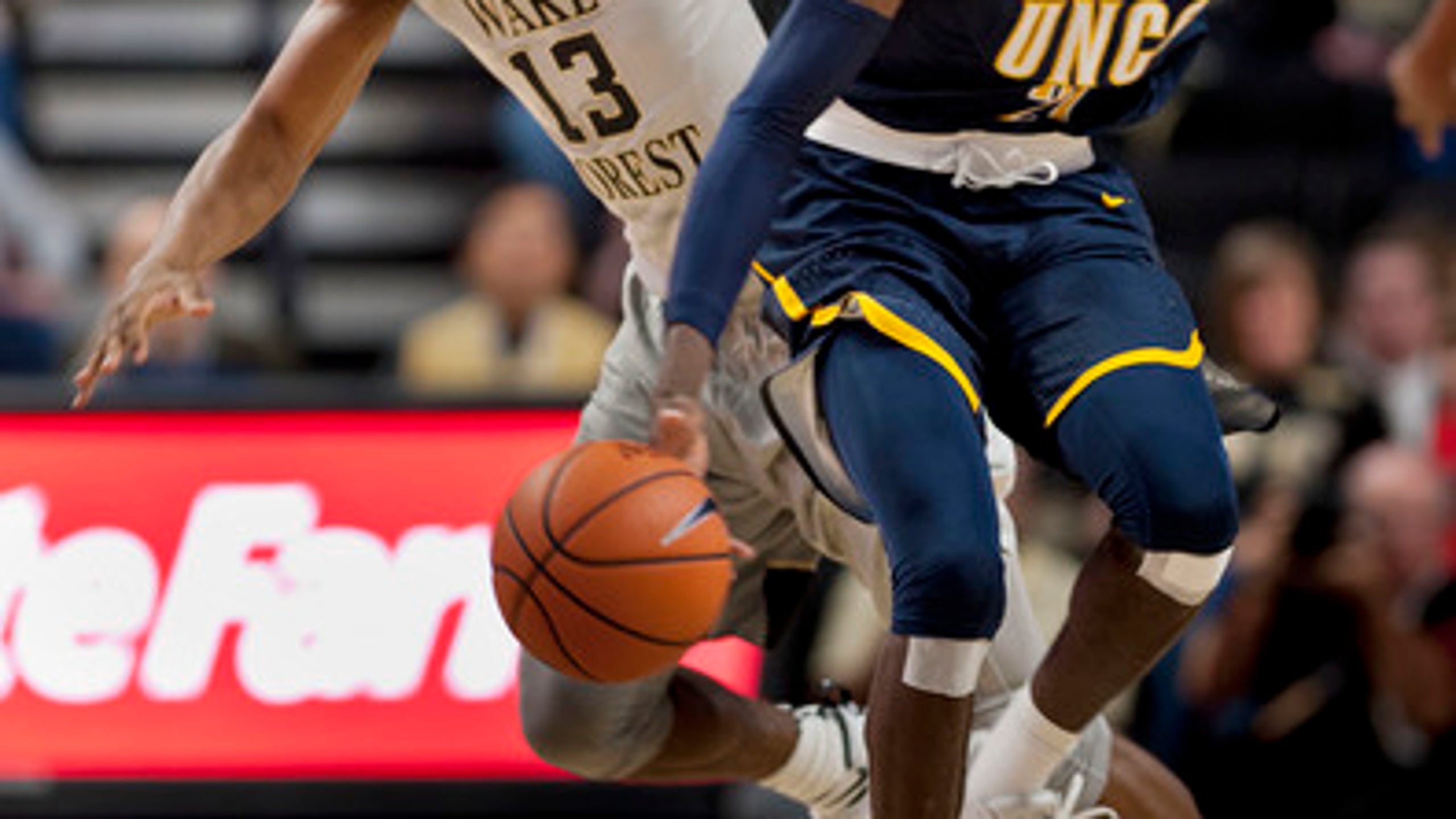 Wake Forest holds on to beat UNCG, 81-75 (Nov 24, 2017)
BY AP • November 24, 2017
WINSTON-SALEM, N.C. (AP) Trying to recover from a discouraging start to the season, Wake Forest simply couldn't afford a loss to an improved UNC Greensboro team.
Keyshawn Woods made sure that didn't happen.
Woods scored 20 points and Wake Forest held on to beat UNC Greensboro 81-75 on Friday night.
Woods has come off the bench in the past two games after making 25 starts, with coach Danny Manning saying the switch was the redshirt junior's idea but adding that ''he's still going to play starters' minutes.''
''As long as we're winning, I couldn't care less if I start or if I come off the bench or even if I don't play,'' Woods said.
Doral Moore added 17 points, Bryant Crawford had 11 and freshman Donovan Mitchell finished with 10 for the Demon Deacons (2-4).
They entered having lost four of five to start the year but shot better than 50 percent for the first time this season, hitting 61.5 percent of their shots overall and 57 percent from 3-point range.
''From here, we've just got to continue the trajectory of going this way,'' Manning said, gesturing up with his hand. ''We've got to be able to go up each time. We'll certainly try to maintain that mentality.''
Francis Alonso scored 31 points - one shy of a career high - with seven 3-pointers for the Spartans (4-2), who had their four-game winning streak snapped with both losses coming against Atlantic Coast Conference schools.
James Dickey III pulled UNC Greensboro to 75-73 with a free throw with 36.4 seconds remaining before Moore followed with two foul shots to make it a four-point game with 36.2 seconds to play.
Alonso countered with a jumper over Mitchell Wilbekin with 21.6 seconds left, making it 77-75. Wake Forest broke the Spartans' press, but freshman Chaundee Brown missed a layup with about 15 seconds left and Malik Massey came down with the ball. But the officials ruled his heel was on the end line, giving the ball back to the Demon Deacons with 14.5 seconds left.
Brown then hit two free throws to push the lead to four, and Alonso's 3-pointer with about 5 seconds left was too strong.
BIG PICTURE
UNC Greensboro: The Spartans reached the Southern Conference title game last season and Alonso is capable of shooting them back there again this coming March. He has 18 in his last three games, and single-handedly kept UNC Greensboro in this one with his long-range touch. UNC Greensboro finished 13 of 26 from 3-point range.
Coach Wes Miller says Alonso ''really worked this offseason to turn himself into more of a complete player. ... I think he's a tougher cover now.''
Wake Forest: Maybe a return home to face one of their neighbor schools is what the Demon Deacons needed to start to get themselves right after this awful start. Wake Forest improved to 32-0 against the five schools based in north-central North Carolina, and won its 13th in a row against instate, non-conference opponents.
KEY STAT
Mitchell - who was 3 of 3 from the field and 2 of 2 from the foul line - finished with his second perfect shooting night of the season. The Demon Deacons are 2-0 in those games. Mitchell had an identical stat line against Quinnipiac.
SHOOTING STAR
Alonso finished 11 of 17 from the field and was 7 of 10 from 3-point range to finish just shy of his career-best 32-point performance against Delaware four nights earlier.
UNCG VS. THE ACC
The Spartans fell to 2-59 against ACC teams with wins at Virginia Tech in 2013 and Georgia Tech in 2007. Their matchup with the Demon Deacons came down to the final minutes for the second straight year. Wake Forest won last year's meeting on a 3 by Crawford with two seconds left. ''We're used to Wake Forest making big-time 3s,'' Miller said.
UP NEXT
UNC Greensboro: Visits Presbyterian on Tuesday night.
Wake Forest: Plays host to Illinois on Tuesday night in the ACC/Big Ten Challenge.
---
More AP college basketball: http://collegebasketball.ap.org and http://www.twitter.com/AP-Top25
---
---