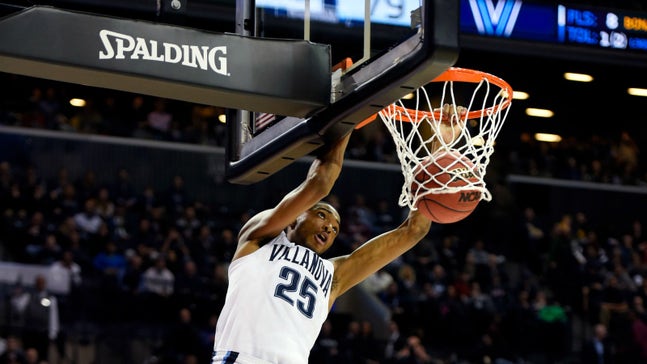 Villanova avoids third straight early tournament exit with Iowa rout
Published
Mar. 20, 2016 3:05 p.m. ET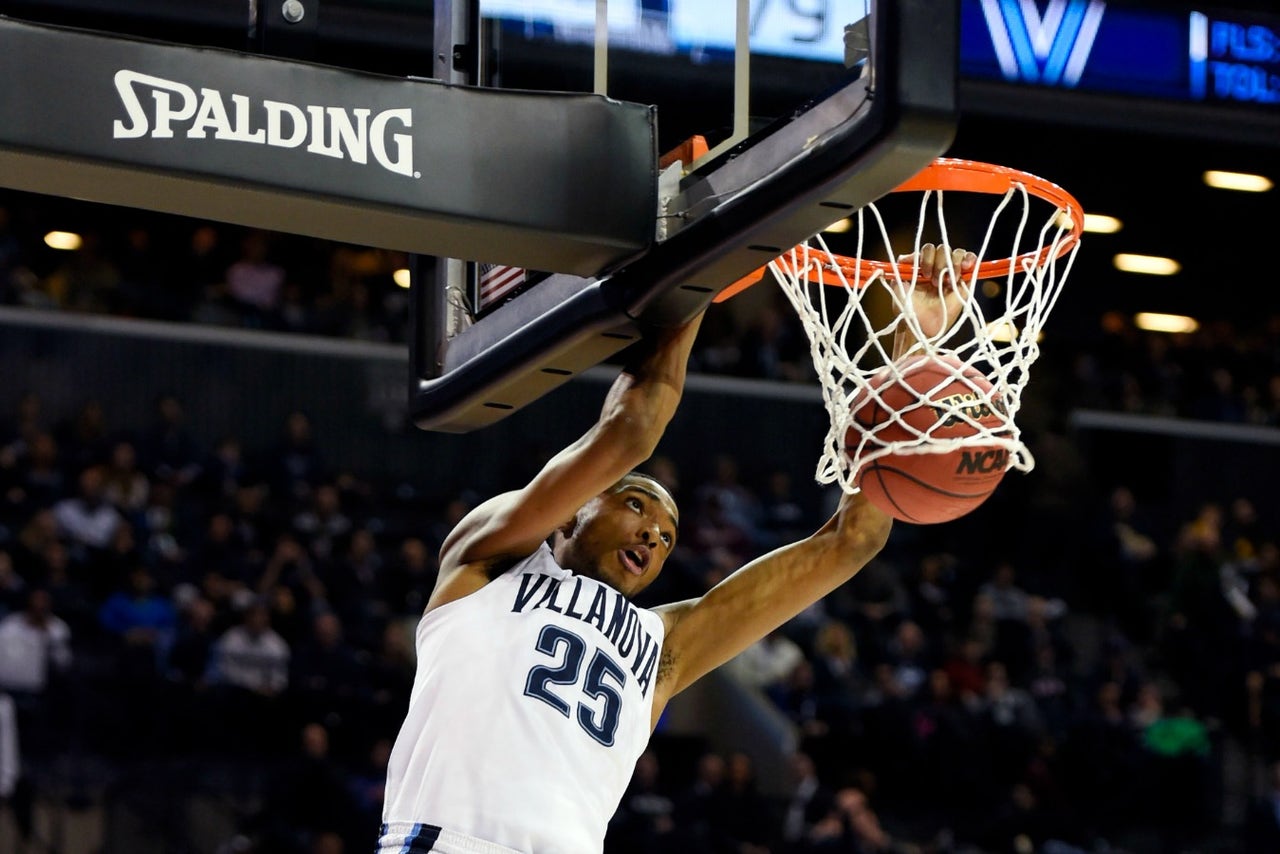 NEW YORK -- Finally, a Sweet 16 run for Villanova.
It had been seven years since the Wildcats advanced to the NCAA Tournament's second weekend, and led by their seniors, they moved on easily.
Ryan Arcidiacono scored 16 points, Daniel Ochefu had 11 rebounds, and second-seeded Villanova beat seventh-seeded Iowa 87-68 on Sunday in the South Regional, the Wildcats' first Sweet 16 appearance since they went to the Final Four in 2009.
Arcidiacono, Ochefu and the rest of Villanova's seniors made it to the tournament's second weekend for the first time. They were upset in the round of 32 the last two seasons and didn't make it that far as freshmen.
"Great leadership by Ryan Arcidiacono and Daniel Ochefu," coach Jay Wright said. "I'm thrilled for that senior class that they get to play in a Sweet 16."
So are those seniors.
"It was definitely a big-time sigh of relief," Arcidiacono said. "I was ecstatic that we won our game against Iowa because we know how good of a team they are. But I'm just happy for our senior class to be able to get to experience it."
Ochefu, who said he heard the first question about the Sweet 16 last summer, was thinking of a lot of Villanova players.
"It means a lot for us and just for this program," he said. "And for all the seniors that were here before us and molding us into the guys we are today, this one's for them."
Disappointed in today's outcome but extremely proud of our 17 student-athletes that represented @uiowa this season. #Hawkeyes

— Iowa Basketball (@IowaHoops) March 20, 2016
The Wildcats (31-5) will meet third-seeded Miami on Thursday in Louisville, Kentucky.
"I just think the biggest thing is I'm honestly just done answering the questions about getting past the (first) weekend," Arcidiacono said. "I know it was always in the back of our senior minds and our team. But we definitely can go all the way as long as we stick to what we do."
Villanova lost in the round of 32 as a No. 1 seed last season and as a No. 2 seed in 2014. But there was no doubt in this one. The Wildcats led 54-29 at halftime and by as many as 34 points in the second half. The closest Iowa (22-11) got was 16 points in the final minutes.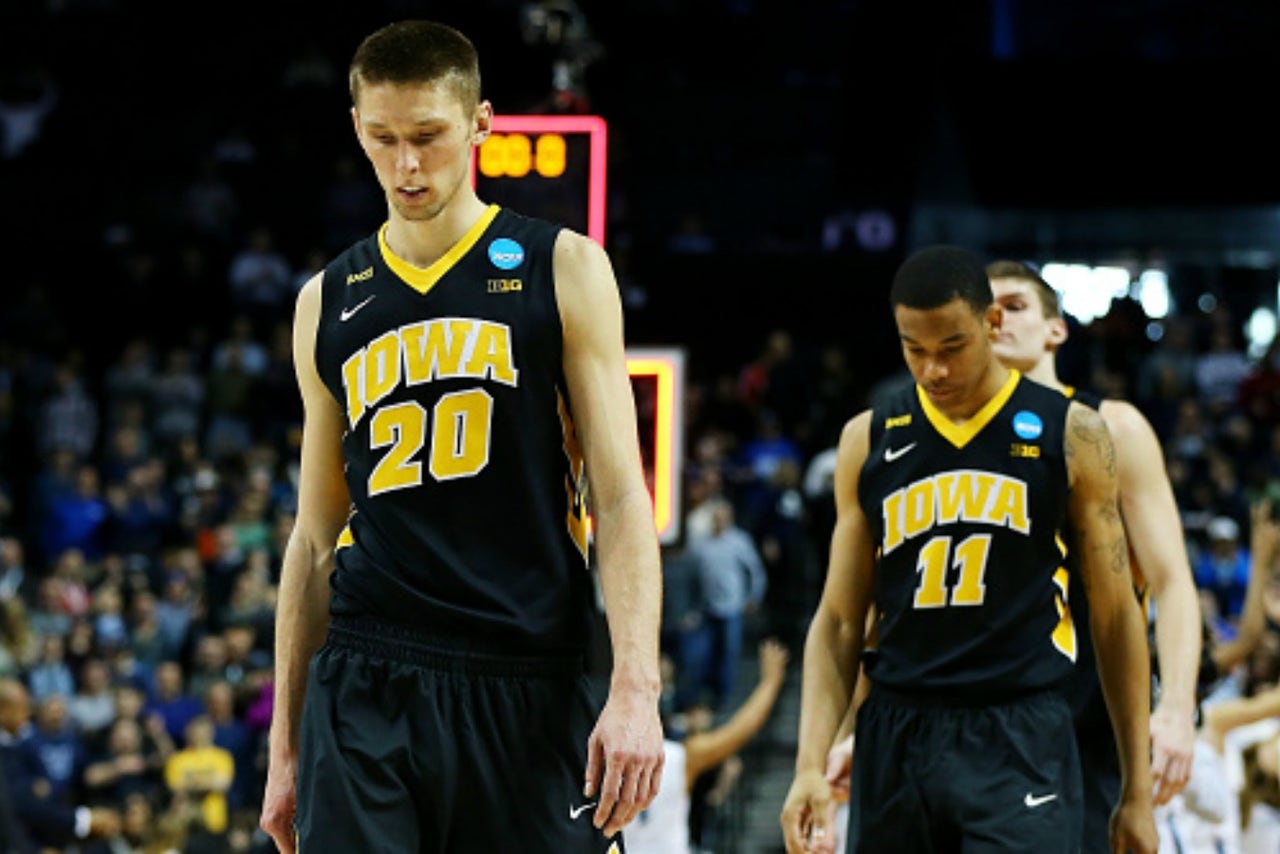 Jarrod Uthoff (#20) and his Iowa teammates after their loss. 
Josh Hart scored 19 points, Kris Jenkins 15 and Jalen Brunson 12.
Jarrod Uthoff led Iowa with 16 points. Nicolas Baer had 15 and Peter Jok 11.
The Wildcats took command about 12 minutes in. While Villanova was hitting almost every shot -- the Wildcats made seven of their first 10 3-point attempts -- Iowa couldn't come up with a basket to stem the tide.
The Hawkeyes went five minutes with a field goal, and Villanova took a 39-21 lead. It didn't get any better for Iowa, and it couldn't have remained any better for the Wildcats against the Hawkeyes' zone.
Villanova, which wasn't fazed in the least by Iowa's midcourt trap, closed the half on an 8-0 run. The 54 points were the most the Wildcats have ever scored in a half in the NCAA Tournament.
"We were just hitting on all cylinders," Wright said.
Villanova shot 60.6 percent in the half. Three players -- Jenkins, Hart and Brunson -- had already reached double figures. Villanova had just four turnovers, none of which Iowa scored off, and it turned the Hawkeyes' eight turnovers into 12 points. The Wildcats outrebounded Iowa 19-12.
Wright said he told Iowa coach Fran McCaffery when they shook hands: "Hey, I'm sorry. We haven't played a first half like that in a long time."
And the Hawkeyes couldn't make a run in the second half.
"It's hard to come back. You've got to make 3s,"McCaffery said. "We had good looks at it from 3. If we could have made a few, maybe it would have been a little bit different."
The Wildcats had advanced to the second round with an 86-56 thrashing of UNC-Asheville while Iowa needed overtime to beat Temple 72-70 on a tip-in at the buzzer.
"I really think they can go a long way," McCaffery said of Villanova. "They're a really difficult team to guard. A lot of times, really talented offensive teams plays defense in spurts, and they don't. They play defense equally as well as they play offense."
TIP-INS
Iowa: The Hawkeyes last reached the Sweet 16 in 1999. ... They were 7 of 24 from 3-point range with Jok going 2 of 7. ... Iowa did not have one fast break point while Villanova had 18. ... The Hawkeyes also lost in the round of 32 last year.
Villanova: The Wildcats finished 10 of 19 from 3-point range. ... Hart was 7 of 11 from the field. ... Jenkins led Villanova with six assists and three others had four each. ... The Wildcats won the only previous NCAA Tournament meeting between the schools, 55-54 in the second round in 1983. ... Villanova is 6-0 at Barclays Center.
UP NEXT
Iowa: Season over.
Villanova: South Regional semifinals against third-seeded Miami.
---
---