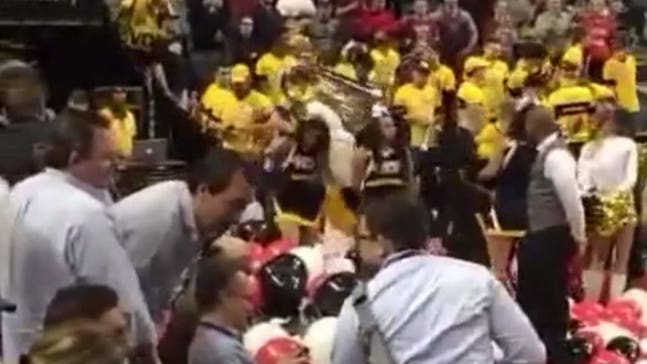 VCU cheerleader takes out disappointment on St. Joseph's balloons after Atlantic 10 loss
Updated
Mar. 4, 2020 11:59 p.m. ET

After rolling over Davidson in the semis, VCU probably imagined Sunday's final against St. Joseph's going very differently. But some days you're the pigeon dropping 10 threes and nearly winning by 20, and other days you're the statue, getting rained on and beaten handily 87-74.  
It's like that sometimes, you know? But hey, when life gives you lemons, say SCREW LEMONS and pop the other team's championship balloons in a fit of rage because whatever what's so great about that other team anyway? 
Cheer up, VCU cheeleader with whom I can relate on a spiritual level. St. Joe's may have grabbed the Atlantic 10 title with this win, but VCU still gets to go to the Big Dance.
(Thanks to Deadspin for sharing.)
---
---