Eastern Washington Eagles
Eastern Washington Eagles
Utah routs Eastern Washington 85-69 (Nov 24, 2017)
Published
Nov. 24, 2017 11:30 p.m. ET

SALT LAKE CITY (AP) Coming off a bad game in Las Vegas, David Collette did everything in his power to prevent a repeat performance.
Collette only played 18 minutes for Utah on Friday night, but he dominated every second he was on the floor. The senior forward scored a season-high 24 points on 11-of-12 shooting to help the Utes sprint away for an 85-69 victory over Eastern Washington.
Collette totaled just nine points in an 85-58 loss to UNLV on Wednesday.
''I needed to come back and get that last game out my system and have a great game this time,'' Collette said.
Sedrick Barefield added 12 points and Donnie Tillman chipped in 10 for the Utes. Utah (5-1) has not lost to a Big Sky opponent since the 2012-13 season.
Bogdan Bliznyuk scored 17 points, while Jacob Davison added 15 to lead the Eagles. Eastern Washington (3-4) is in the midst of 10 straight road games to open the season. The Eagles make their home debut against Cal State Northridge on December 17.
Eastern Washington shot just 39 percent from the field and went 5 of 27 from 3-point range.
''I tell the guys all the time I have to put them in better positions and what happened tonight was that we had open looks, but we have to get some touches inside and better looks,'' Eastern Washington first-year coach Shantay Legans said. ''We have to do a better job of finding those guys and being better prepared to go against teams like this.''
It didn't take Collette much time to find a rhythm. The senior forward totaled 18 points before halftime while going 8 of 9 from the field. His previous season high was 17 points against Missouri and he posted his highest single-game point total since transferring to Utah from Utah State.
With Collette doing damage around the basket, Utah had no trouble pulling away early from Eastern Washington. The Eagles initially took a 4-2 lead on a a jumper from Bliznyuk and then tied it at 11-11 on two free throws from Bliznyuk. That's as close as Eastern Washington would get.
Utah held the Eagles without a basket for a 3 1/2-minute stretch while mounting a 12-2 run. Donnie Tillman capped the run with a three-point play to give the Utes a 23-13 lead.
A few minutes later, Utah scored on six consecutive possessions to create an even bigger cushion. Collette got things going for the Utes with a pair of free throws and back-to-back baskets and Tyler Rawson hit a pair of 3-pointers, sandwiched around a slashing layup from Parker Van Dyke, to cap off the run. It helped Utah build a 37-17 lead with 5:20 remaining before halftime.
''Our guys did a nice job of feeding it to (Collette) and he was obviously super-efficient when he got his hands on the ball,'' Utah coach Larry Krystkowiak said. ''We know what he can do down there and we got to gain a little confidence from that and keep it up. We have to have an interior presence to win some games against good teams.''
The Utes led by as many as 33 points in the second half, taking a 67-34 lead on a 3-pointer from Justin Bibbins with 14:07 remaining.
BIG PICTURE
Eastern Washington: Utah's size down low and lethal perimeter shooting killed the Eagles. Eastern Washington fared well against previous Pac-12 opponents, upsetting Stanford and giving Washington a scare. The Utes were a different story. They dominated on the glass and found easy baskets for the bulk of 40 minutes.
Utah: A strong performance on both ends of the court helped the Utes bounce back from a decisive loss to UNLV in Las Vegas. Utah exploited a mismatch around the paint by feeding the ball to Collette early and it opened things up for shooters on the perimeter. The Utes didn't let off the gas on the other end, forcing Eastern Washington to endure lengthy scoring droughts in both halves.
UP NEXT
Eastern Washington travels to Seattle on Sunday, December 3.
Utah hosts Hawaii on Saturday, December 2.
---
---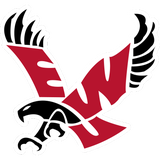 Get more from Eastern Washington Eagles
Follow your favorites to get information about games, news and more
---