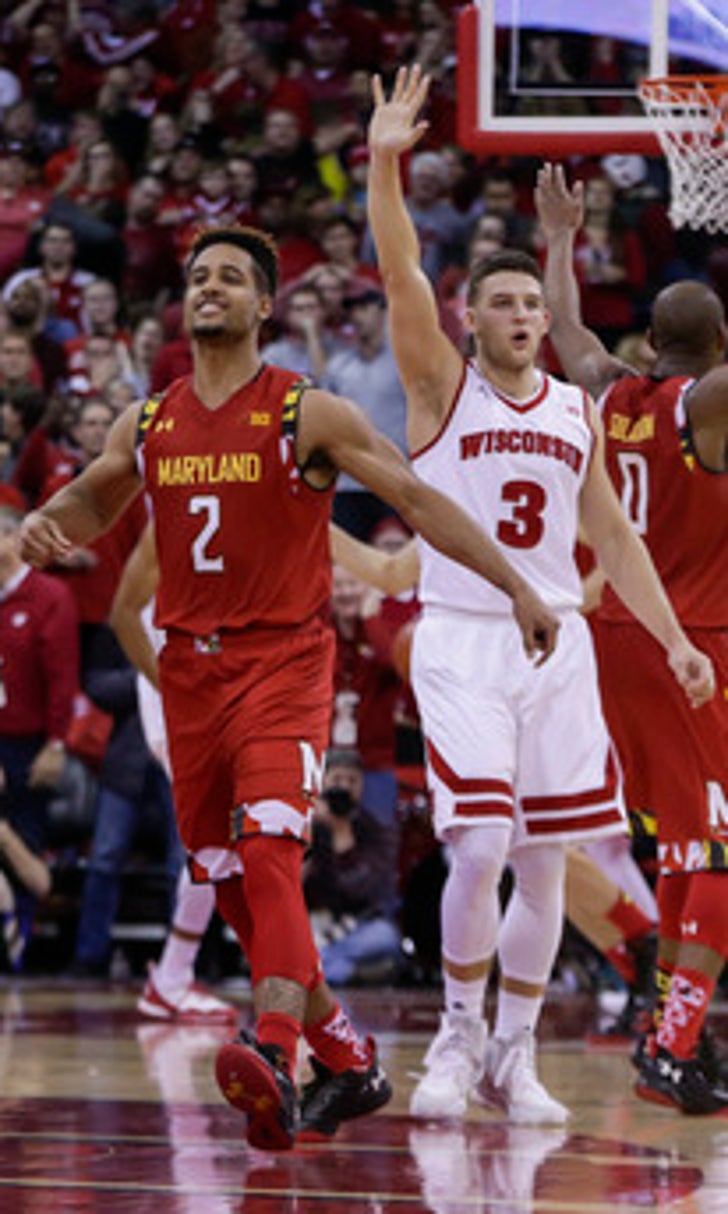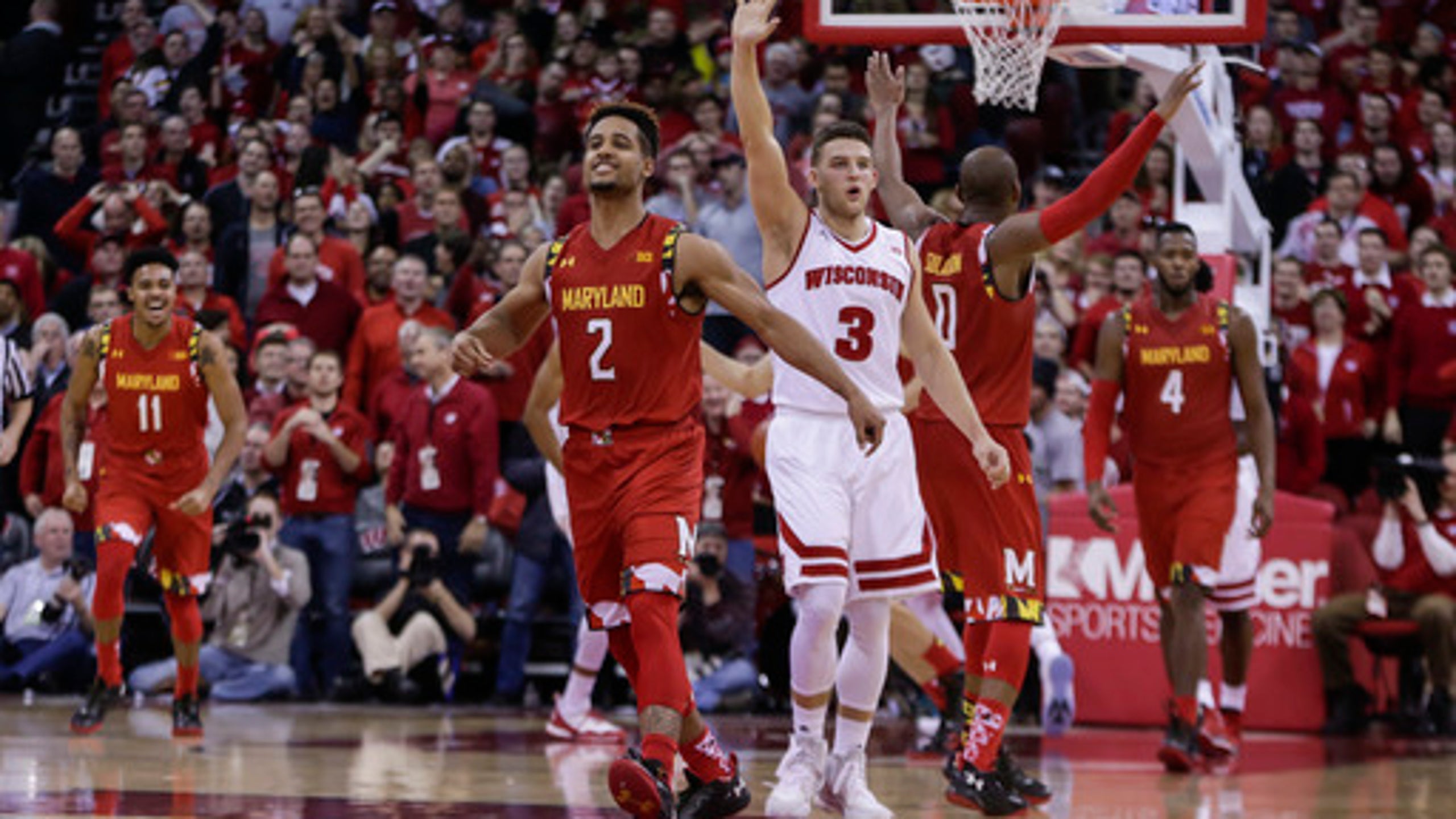 Trimble's deep 3 with 1.2 seconds left lifts No. 3 Maryland
BY foxsports • January 9, 2016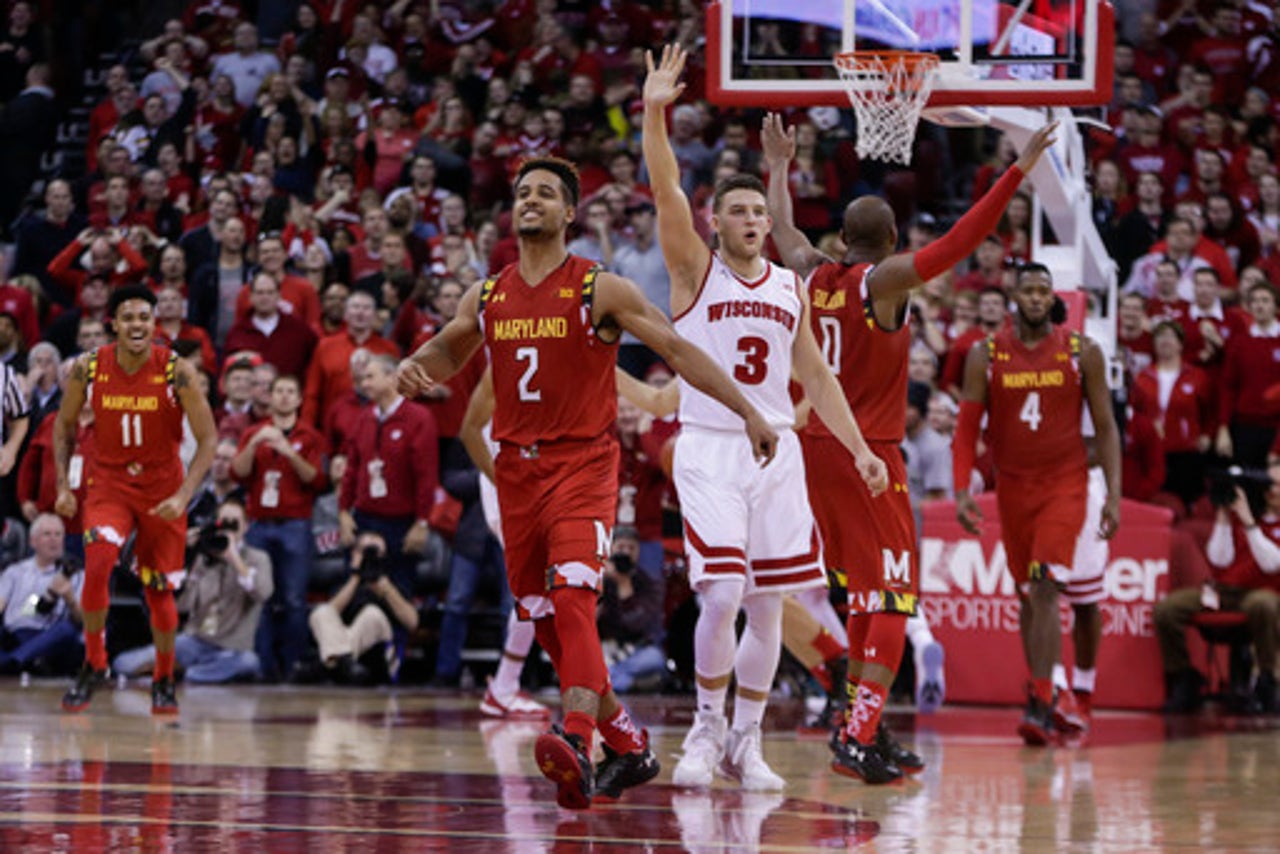 MADISON, Wis. (AP) Melo Trimble hit a long 3-pointer with 1.2 seconds left to lift No. 3 Maryland to a 63-60 win over Wisconsin on Saturday.
Trimble finished with 21 points on 9-of-17 shooting in a game in which the Terrapins (15-1, 4-0 Big Ten) lost an eight-point lead with about 7 minutes to go.
Trimble saved his biggest shot for the end.
The sophomore let the shot clock wind down with Zak Showalter guarding him for the Badgers (9-8, 1-3). Showalter had a hand up when Trimble let loose the winning shot.
Trimble swaggered as he backpedaled after the bucket stunned the Kohl Center crowd. Showalter bent over at the hips, his head down in disappointment.
Robert Carter Jr. added 14 points and 11 rebounds for Maryland.
The Badgers had tied it at 60 on Bronson Koenig's 3 with 23 seconds left, capitalizing after Rasheed Sulaimon missed the front end of a 1-and-1 with 40 seconds to go.
Nigel Hayes led the Badgers with 17 points, while Ethan Happ added 16.
Diamond Stone had 11 points in his first trip back to his home state with the Terps. The Milwaukee native, who was recruited by the Badgers, was booed and jeered nearly every time he touched the ball.
Trimble left them disappointed in the end.
The quick, versatile guard had two 3s and two layups during a 10-1 run that allowed the Terrapins to open up a 56-48 lead with 6:50 left. Carter ignited the run on the defensive end by blocking three shots in 42 seconds.
Wisconsin went cold from the field for the next 8 minutes until the backcourt duo of Showalter and Koenig drew the Badgers back with long-range shooting. Koenig had 13 points on 4-of-12 shooting, including 3 of 7 from 3-point range.
Maryland led 36-32 in a first half in which the Terps used their offensive versatility to create separation every time the Badgers tried to make a run.
TIP-INS:
Maryland: The Terps lost in their two previous trips to Madison, with their last visit coming in 2004. Maryland also lost in Madison in 1931. ... Stone won four Wisconsin state prep titles on the Kohl Center floor while playing for Whitefish Bay Dominican in Milwaukee.
Wisconsin: Hayes led all scorers in the first half with 14 points on 5-of-7 shooting. ... The Badgers were 6-2 against top 5-ranked teams over the last three seasons entering Saturday.
UP NEXT:
Maryland: At Michigan on Tuesday.
Wisconsin: At Northwestern on Tuesday.
---
Follow Genaro Armas on Twitter at http://twitter.com/GArmasAP and the AP's college basketball site at http://collegebasketball.ap.org
---
---