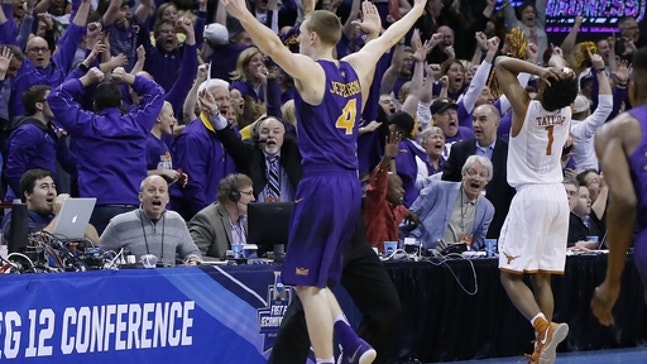 The Latest: Wichita State makes big second-half run
Published
Mar. 19, 2016 3:00 p.m. ET

The Latest on the third full day of the men's NCAA Tournament, including games being played in Raleigh, North Carolina; Providence, Rhode Island; Des Moines, Iowa; and Denver (All times EDT):
---
1:50 p.m.
In just a few dizzying minutes, Wichita State has made it a ballgame.
After trailing by as many 21 in the first half and 13 at halftime, Wichita State has fought back and trimmed Miami's lead to 48-45 with 7:43 to play in the game.
The Shockers came out of the half with a lot of pep and briefly took a 43-42 lead on a 3-pointer by Ron Baker at the 10:24 mark.
Wichita State has found its touch after shooting just 24 percent in the first half, The Shockers are 9 for 16 so far in the second.
Miami had nine turnovers in the opening 20 minutes, but has already committed six in this half.
-Kyle Hightower, reporting from Providence, Rhode Island
---
1:40 p.m.
The off day in the women's NCAA Tournament brought a few jokes from Kansas State coach Jeff Mittie.
When asked about his memories of when his TCU team played Dawn Staley's Temple team in the 2004 tournament, Mittie cracked ''I hit a pullup jumper on her with about two to go. I felt that was a big shot.''
Not really, although Mittie's Horned Frogs outlasted the Owls 70-57 in Staley's second-ever NCAA trip as a college coach.
Things might not go as well for Mittie and the Wildcats on Sunday when they face the top-seeded Gamecocks for a spot in the Sweet 16.
Kansas State defeated eighth-seeded George Washington 56-51 on Friday night before South Carolina routed Jacksonville 77-51 in first round games.
The winner will advance to Sioux Falls, South Dakota for regional play.
- Pete Iacobelli reporting from Columbia, South Carolina.
---
1:20 p.m.
What's the musical choice for inspiring teams in the NCAA Tournament? A 1980's song that the players on the court weren't even alive to hear its debut, of course.
Survivor's 1982 ''Eye of the Tiger,'' popularized in ''Rocky III'' was one of the final songs that blared over the Dunkin' Donuts Center public address speakers just before tip-off of the second half of Wichita State and Miami.
Granted, everything is set up to be non-partisan during the NCAA Tournament, from neutral announcers to the NCAA-branded insignia on the court.
But with the Shockers trailing the Hurricanes 32-19 at the half, you have to wonder if maybe someone on the sideline could be a Wichita State fan.
- Kyle Hightower reporting from Providence, Rhode Island
---
1 p.m.
Miami came out fast, then weathered a late surge by Wichita State to take a 32-19 lead into the half in the second round of South Region matchup.
The third-seeded Hurricanes led 27-6 early after connecting on 8 of its first 9 field goal attempts, before an 11-0 run by the No. 11 seed Shockers made things a little more interesting.
The Hurricanes got their footing and the momentum back, though, thanks to 16 first-half points for point guard Angel Rodriguez. He has been unflappable throughout and has connected on all seven of his field goal attempts.
The Shockers were a blur offensively in their first-round win over Arizona, but aside from their one spurt haven't been able to match Miami's quickness at the guard spot.
Wichita State had 10 turnovers and is shooting a paltry 24 percent (7 for 29).
Coach Gregg Marshall is known for his halftime speeches. He will need a good one to help get his team back into the game.
- Kyle Hightower, reporting from Providence, Rhode Island
---
12:35 p.m.
The Miami Hurricanes have almost completely silenced the electricity that the Wichita State brought to the Dunkin Donuts' Center this week.
The third-seeded Hurricanes lead the 11th seed Shockers 27-6 with 8:26 to go in the first half of their South Region second round matchup.
Miami is shooting a blustery 80 percent from the field (12 of 15) and are much quicker to the attack so far against a Wichita State team that won a First Four game against Vanderbilt before upsetting sixth seed Arizona 65-55. The Shockers are just 1 for 14 from the field with nine turnovers.
Miami was a slight underdog against the Shockers entering Saturday's matchup for a berth in the Sweet 16.
- Kyle Hightower, reporting from Providence, Rhode Island
---
12:25 p.m.
Miami was a slight underdog against Wichita State entering the matchup for a berth in the Sweet 16.
In a game featuring two stellar backcourts, Miami's Angel Rodriguez has the edge. He scored the first seven points for Miami. Fred VanVleet has two as the Hurricanes lead 9-4 early.
- John Kekis reporting in Providence, Rhode Island
---