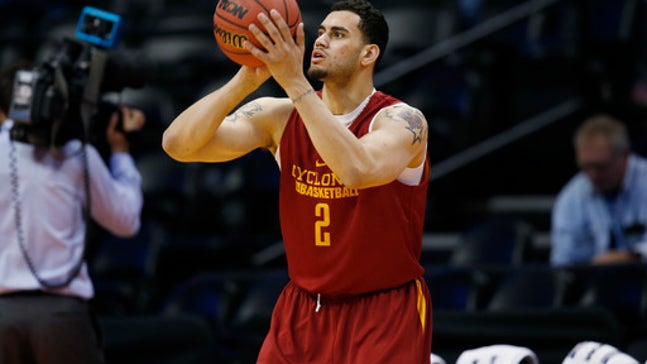 The Latest: KU starts strong; Spring training follows NCAA
Published
Mar. 17, 2016 6:10 p.m. ET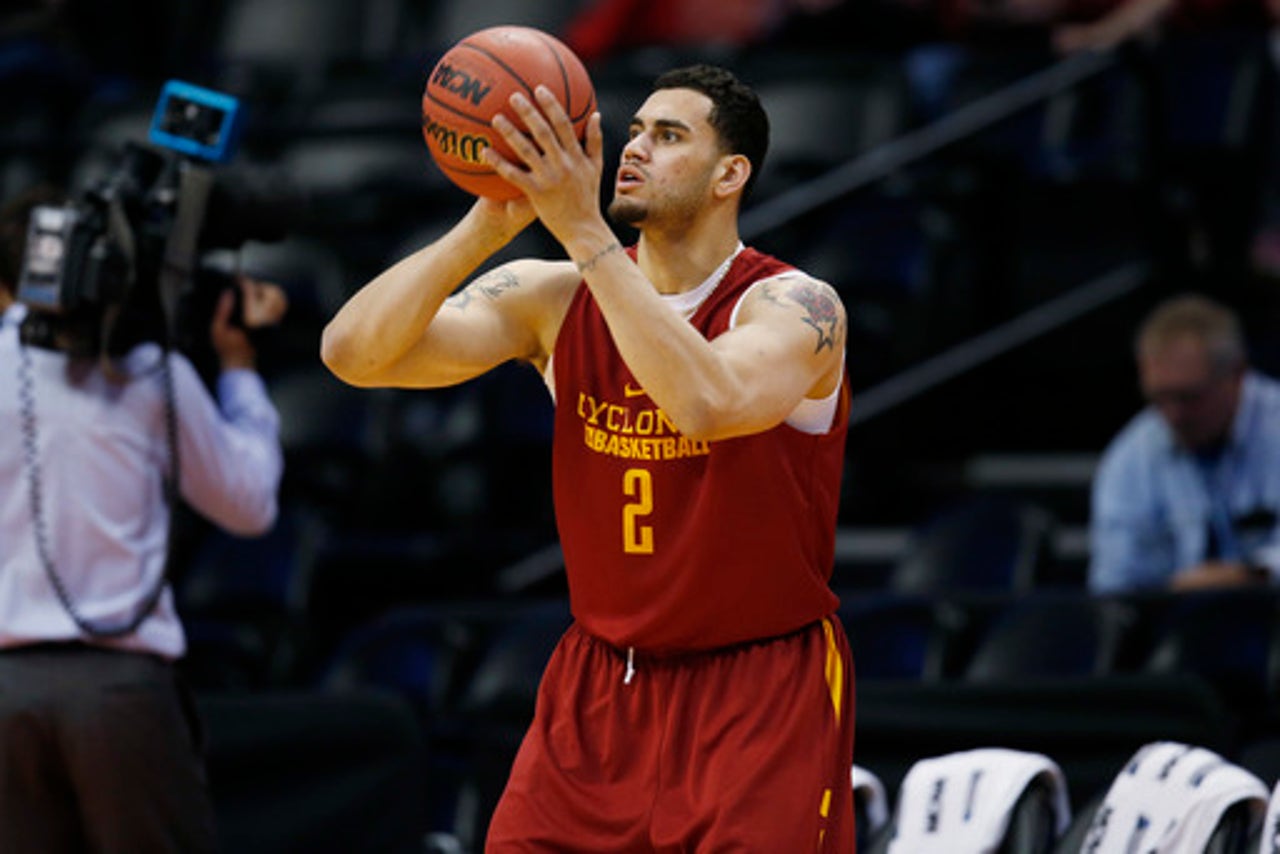 The Latest on the first full day of the men's NCAA Tournament, including games being played in Providence, Rhode Island, Raleigh, North Carolina, Des Moines, Iowa and Denver. (All times EDT):
5:01 p.m.
Wayne Selden's NCAA Tournament struggles have dogged him for years.
Selden started putting those behind him with a strong start against Austin Peay.
Selden scored seven points in the first 12 minutes - including a dunk off an alley-oop feed from Devonte Graham, to help KU jump ahead 26-14. That marked a career high in the NCAA tournament for Selden, who averaged just 2.5 points as a freshman and sophomore and was notably shut out in a round of 32 loss to Wichita State last year.
If Selden can keep it up, the Jayhawks can go a long way in March.
-Luke Meredith reporting from Des Moines, Iowa
---
4:53 p.m.
Even spring training baseball fans can't get enough of March Madness. An AP freelancer received the following note through the press box window while covering the Boston Red Sox in Fort Myers, Florida: ''$5 or a cold Bud Light if you can put on college basketball on the T.V. Happy St. Paddy's.''
- AP freelancer Maureen Muller in Fort Myers, Florida.
---
4:52 p.m.
Michigan State has used St. Louis for a launching pad in past tournaments and coach Tom Izzo has been consistently entertaining. Among the highlights from his media session Thursday, he explained passionately that there's no way the Big Ten tournament champions will take 15th seed Middle Tennessee State lightly.
''Complacency isn't really legal in our program at all,'' Izzo said. ''And if it is, we have the ability to get rid of it quick. I mean that about as forcefully as I can say it because that to me is the biggest disease on the planet for all of us.''
-R.B. Fallstrom reporting from St. Louis.
---
4:50 p.m.
Purdue and Little Rock are underway in Denver.
It's a meeting of two defensive-minded teams. The Trojans are Sun Belt Conference champs, and Purdue finished tied for third in the Big Ten.
Winner plays Iowa State on Saturday.
---
4:45 p.m.
Before their appearance in the NCAA tournament in Providence, Rhode Island, Yale got a pep talk from one of the state's most high-profile Yale alums: Democratic Gov. Gina Raimondo.
Raimondo visited the team Wednesday evening, before Thursday's game against Baylor. She posted photos on Twitter with the team and said she told the Bulldogs she had picked them in her bracket for Thursday's game.
Raimondo said she was proud of her alma mater and told them she would be rooting for the underdog. Her staff says she isn't attending the game.
The winner of Thursday's matchup will advance to a West Regional second-round matchup against Duke.
Raimondo graduated from Yale Law School in 1998. She played rugby as an undergraduate at Harvard.
- Michelle R. Smith in Providence, Rhode Island
---
4:35 p.m.
Expelled Yale player Jack Montague, dismissed last month because of a sexual assault allegation, was in the stands Thursday watching the Bulldogs take on Baylor in the NCAA Tournament in Providence, Rhode Island.
Wearing a pink hat and sitting with a bunch of fans across from the Yale bench, Montague said he was there as a fan to cheer for his teammates but declined comment.
It's Yale's first appearance in the NCAA Tournament since 1962.
Montague, the team captain, was expelled Feb. 10 from the university over a sexual encounter that occurred in October 2014. Montague's attorney, Max Stern, said this week that the dispute is about whether the woman consented to the sex. Montague claims she consented, she claims she did not, Stern said.
Montague has not been charged with any crimes and police and prosecutors say there is no investigation. Stern said Montague plans to sue to school over his dismissal.
As Yale made its run to the Ivy League title, it struggled to gain support on campus as groups spoke out against Yale's players for supporting Montague and used the incident to speak out more broadly about sexual misconduct.
---
4:25 p.m.
Virginia coach Tony Bennett is back for the second half of his team's NCAA Tournament opener against Hampton after he collapsed with what team officials say was dehydration.
Bennett fell to the floor with 34.1 seconds left in the first half after
Anthony Gill made a layup and was fouled. He sat on the bench and talked to his assistants for a few moments and looked to be in noticeable pain.
Team trainers helped him to the locker room with 5.3 seconds left in the half and both teams still on the court.
He returned to the court for the start of the second half and received a loud ovation from the thousands of Virginia fans who made the short trip here.
Bennett told the TruTV broadcast crew during his halftime interview that he ''blacked out'' because he was dehydrated when he crouched down.
''You get up quick and you get a blood rush,'' he said.
- Joedy McCreary reporting from Raleigh, North Carolina.
4:17 p.m.
Iowa State has defeated Iona 94-81 to advance in the NCAA Tournament.
The fourth-seeded Cyclones (22-11) got 28 points from Georges Niang and will next face the winner of Thursday afternoon's game between Purdue and Little Rock.
Oh, and for those keeping track at home - or elsewhere - the 175 total points did surpass the over/under line in Vegas: 165.5.
- Eddie Pells reporting from Denver.
4:10 p.m.
Virginia coach Tony Bennett fell to the floor during the final minute of the first half of the Cavaliers' first-round NCAA Tournament game against Hampton.
Bennett fell with 34.1 seconds left after Anthony Gill hit a layup through contact.
He sat on the bench and talked to his assistants for a few moments and looked to be in noticeable pain. Team trainers helped him to the locker room with 5.3 seconds left in the half and both teams still on the court.
There was no immediate word on his status.
- Joedy McCreary reporting from Raleigh, North Carolina.
4:05 p.m.
Iowa State travels so well to the Big 12 Tournament in Kansas City that Cyclones fans jokingly call the Sprint Center ''Hilton South.''
Kansas fans have turned Wells Fargo Arena in Des Moines, a 30-minute drive from Hilton Coliseum in Ames, into ''Phog Allen North.''
Kansas earned a trip to nearby Iowa after earning the top seed in the South Regional. Its fans followed in droves, packing the gym in a sea of red and blue for the Jayhawks opener against Austin Peay.
The Governors, 18-17, figure to have a hard enough time with the Jayhawks. Playing them in what will feel like a KU home game likely won't help their cause.
- Luke Meredith reporting from Des Moines
3:52 p.m.
UConn keeps rolling along - the men's team, that is.
The Huskies took charge in the second half with Rodney Purvis finishing with 19 points - 15 in the final 20 minutes - in a 74-67 win over Colorado in the NCAA Tournament.
While the women's team is No. 1, unbeaten and heavily favored to win a fourth straight national title, the Huskies made a dramatic run through the Big East to get into the men's field and now move into the second round after their latest win.
UConn (25-10) plays the winner of Thursday night's Austin Peay-Kansas game.
---
3:27 p.m.
Colorado's inability to hit free throws could be its downfall.
The Buffaloes led by as many as 11 points late in the first half over Connecticut in Des Moines, but they also missed 10 of their first 18 free throws. That allowed the Huskies to hang around - and a 24-6 run midway through the second half put them firmly in front.
3:25 p.m.
Perhaps those least surprised by President Barack Obama selecting 13th-seeded Hawaii to beat No. 4 seed California in the first round were the Warriors themselves.
''I hope he would pull for his hometown team, so we got to make him proud,'' Hawaii guard Roderick Bobbitt said.
Obama again filled out an NCAA Tournament bracket for ESPN. He made only one major upset pick in the first round, selecting his home state school to knock out the Golden Bears. It was one of four lower seeds Obama picked to win in the first round, but the Warriors were by far the biggest underdogs.
''It was exciting and pretty cool that he chose us and to see our name up there,'' Hawaii guard Aaron Valdes said.
-- Tim Booth reporting from Spokane, Washington.
3:23 p.m.
Too much talkin'. The refs just called a double technical on Iowa State's Jameel McKay and Iona's Jordan Washington, who were jawing at each other before Washington's free throw.
After the Ts, Washington made the shot to complete a three-point play and pull Iona within 54-44. Washington leads all scorers with 19 points.
-Eddie Pells reporting from Denver.
3:01 p.m.
The Butler Bulldogs are into the second round of the NCAA Tournament with a 71-61 victory over Texas Tech in a Midwest Regional.
Kelan Martin scored all 11 of his points in the final 8 1/2 minutes, including consecutive 3-pointers to break a tie game.
Kellen Dunham scored 23 points to lead the Bulldogs (22-10), a No. 9 seed.
Butler will play next on Saturday against the Hampton-Virginia winner.
2:36 p.m.
Duke moves on in its long shot bid to repeat as national champion.
The Blue Devils trailed at halftime, but a maskless Marshall Plumlee led a second-half surge that powered Duke to a 93-85 win over UNC Wilmington.
''I thought the key to the game was Marshall's play in the second half,'' coach Mike Krzyzewski said after Plumlee finished with a career-high 23 points.
Duke moves into a West Regional second-round matchup against the winner of Thursday's Yale-Baylor game.
Plumlee wore the mask to protect a broken nose, but it was removed in the first half. Early in the second half, the Blue Devils took charge.
---
2:32 p.m.
Some arenas may have been only partially full for the opening games of the NCAA Tournament, but it was tough to find a seat in Las Vegas.
Fans and bettors started lining up at 4:30 a.m. to get into the sports book at the Mirage, nearly five hours before the first game tipped off.
Oddsmaker Jay Rood said there were even long lines Wednesday night as people got wagers in early because they thought they feared crowds might be too big on opening day.
At the South Point hotel-casino, veteran oddsmaker Jimmy Vaccaro said two ballrooms had already been set up with big screens and betting kiosks in advance of the first game. When those filled up quickly, a third ballroom was opened up to handle the overflow.
In sports books across the city, fans drank and gambled in what has been a growing tradition in recent years.
Betting on the NCAA Tournament has become comparable to the Super Bowl. A record $132.5 million was bet on the Super Bowl in February, and oddsmakers say up to $150 million could be wagered legally on the NCAA Tournament.
-Tim Dahlberg reporting from Las Vegas.
---
2:17 p.m.
So much for easing into things.
Barely three minutes into Iona-Iowa State, we've seen four 3-pointers, one alley-oop and 16 points. Iowa State 11, Iona 5.
And now, during a timeout, we're getting video of Charles Barkley butchering ''One Shining Moment'' on the big screen.
-Eddie Pells reporting from Denver.
---
2:10 p.m.
Keep the calculators handy. Iona and Iowa State have tipped off. The over-under for the game between these two running teams is 165.5 - a full 13 points higher than Thursday's next-highest game, which is the Kansas-Austin Peay matchup.
-Eddie Pells reporting from Denver.
---
2:08 p.m.
Syracuse coach Jim Boeheim spent most of his session with the media Thursday talking about the Orange's postseason ban from a year ago and his own nine-game suspension from violations of NCAA rules.
The curmudgeonly coach at least did so with a smile.
Boeheim said taking the ban last year, rather than putting it off until this year, wound up being the right decision. He did so for a couple reasons: the Orange were only losing one senior last year who would be deprived of playing in the NCAA Tournament, and his team would have struggled to make the field anyway.
''The other thing is one month knowing you're not going to the tournament is one thing,'' said Boeheim, whose No. 10 seed Orange play seventh-seeded Dayton on Friday in St. Louis. ''To sit in Syracuse and for 10 months know we're not going to the tournament next year, that would not have been good.''
- Dave Skretta reporting from St. Louis.
2:02 p.m.
Duke looks to be taking charge over UNC Wilmington in the second half of their NCAA Tournament game in Providence, Rhode Island.
After trailing by three at the half, Duke was up 70-62 with less than eight minutes to go. A thunderous dunk by Marshall Plumlee had gotten the lead up to 12 points, but UNC Wilmington wasn't quitting in only the second game between the schools.
There was a scary collision near mid-court between UNCW Chris Flemmings and Duke's Derryck Thornton. Both players stayed down on the floor for about a minute, but were able to make it to their bench under their own power. They appear to be OK.
- Kyle Hightower, reporting from Providence, Rhode Island
---
1:43 p.m.
There's a reason the NCAA Tournament keeps coming to North Carolina seemingly every year.
PNC Arena was about three-quarters full for the first game of the day, an 8-9 game between Butler and Texas Tech.
Fans of the Bulldogs and Red Raiders showed up, of course, but there was no doubt that the two anchor teams here are North Carolina and Virginia.
It helps that three of the eight schools here are only a short drive away - the Tar Heels, Cavaliers and 16th-seeded Hampton.
- Joedy McCreary reporting from Raleigh, North Carolina.
---
1:40 p.m.
California will be without point guard Tyrone Wallace for the NCAA Tournament.
Wallace broke a bone in his right hand in practice on Wednesday. The Golden Bears play Hawaii in a first-round game on Friday in Spokane, Washington.
He averaged a team-high 15.3 points and 4.4 assists per game, along with 5.4 rebounds.
- Tim Booth reporting from Spokane, Washington.
1: 25 p.m.
Those Tobacco Road rivalries never stop.
A few North Carolina fans who showed up early at PNC Arena gathered around the huge video board near the tailgate area outside the gates.
They were loving what they saw - Duke losing to UNC Wilmington.
There were audible cheers when Chris Flemming's basket put UNCW up by four points with a stickback slam dunk late in the first half.
- Joedy McCreary reporting from Raleigh, North Carolina.
1:18 p.m.
Duke has five national titles. UNC Wilmington is playing in the NCAA Tournament for the fifth time.
And then there's this: At the half, it's UNC Wilmington 43, Duke 40 in an East Regional at Providence, Rhode Island.
UNC Wilmington, about 160 miles from the Duke campus in Durham, played the defending national champions only once before. And Duke needed overtime to pull out a 67-57 win on Feb. 8, 1982, one of only 10 victories for the Blue Devils in coach Mike Krzyzewski's second season.
Maybe the Seahawks remember.
---