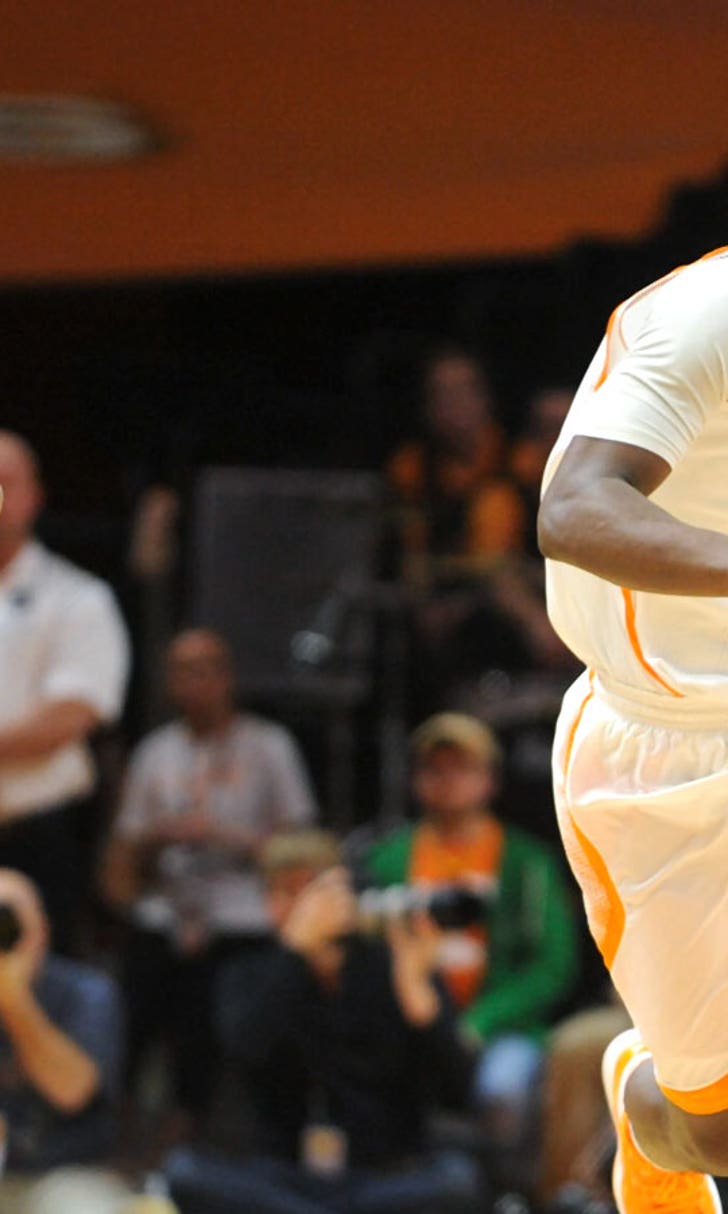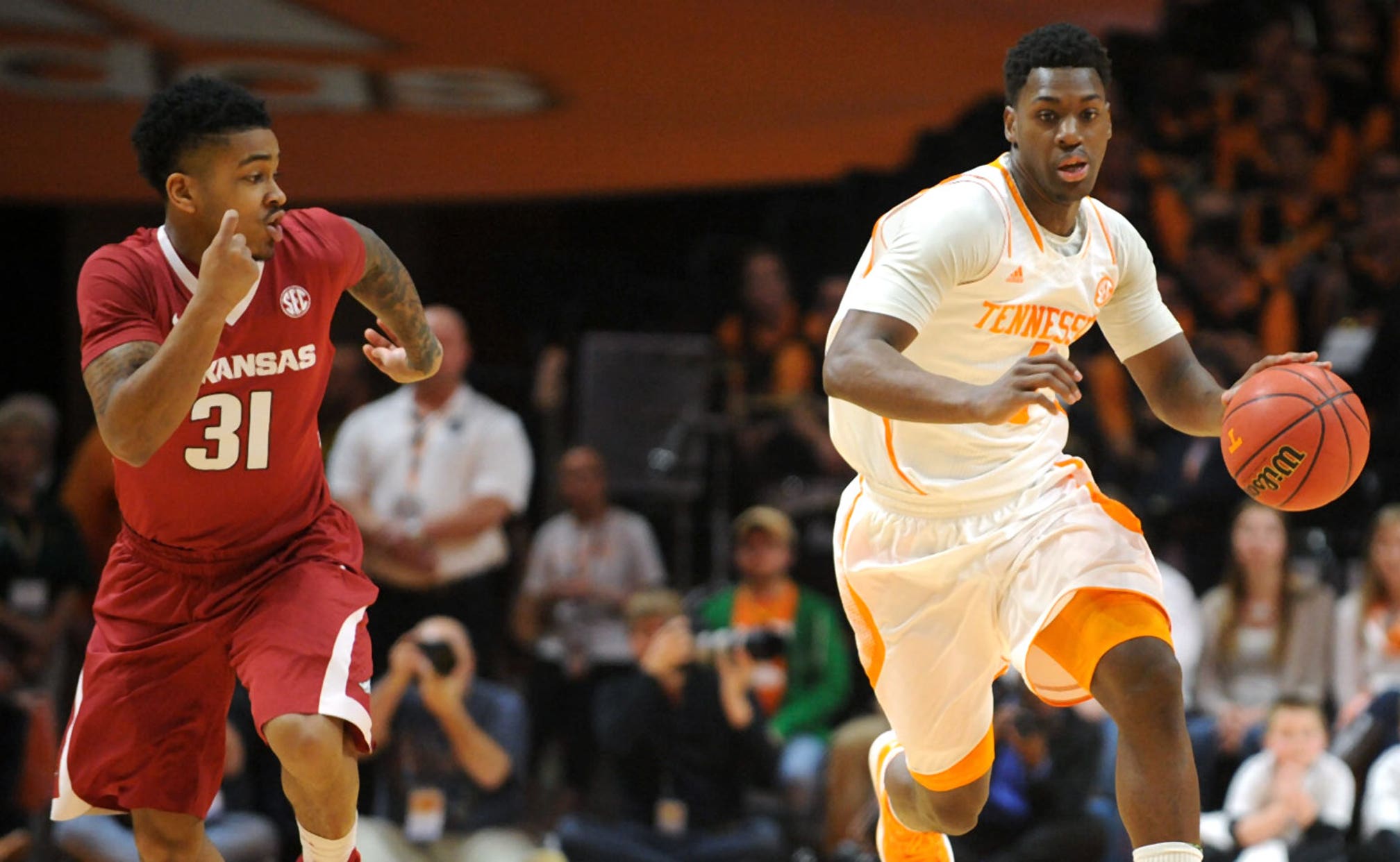 Tennessee hangs on for upset victory over No. 19 Arkansas
BY foxsports • January 13, 2015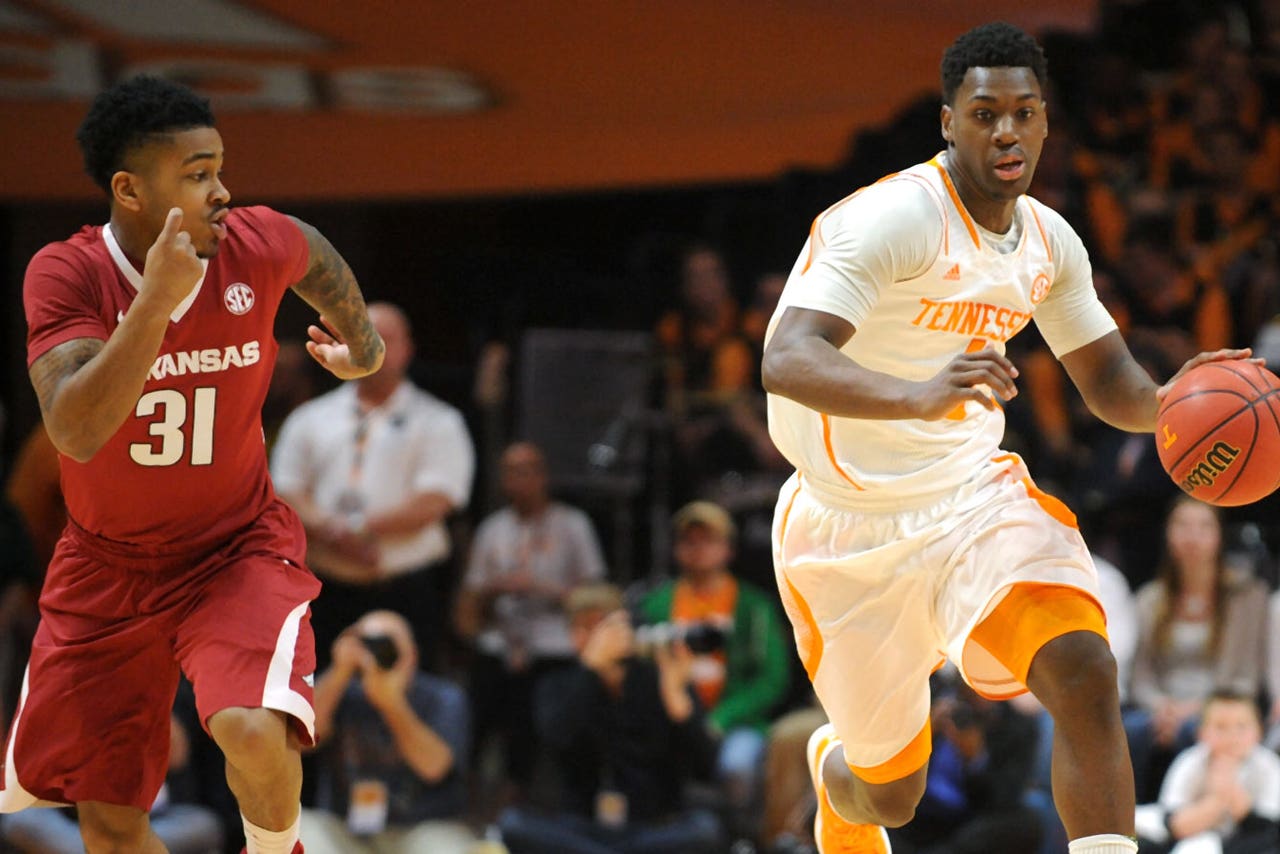 Tennessee's marksmanship from the floor barely made up for its misfires from the free throw line.
Josh Richardson, Robert Hubbs and Armani Moore combined to score 50 points and shoot 20 of 26 as Tennessee withstood a furious Arkansas comeback to hang on for a 74-69 victory over the 19th-ranked Razorbacks on Tuesday night.
"There is a distinct difference in playing not to lose and playing to win," Tennessee coach Donnie Tyndall said. "I thought for about 35 minutes we played to win, and the last five minutes we played not to lose. You could just tell. We tightened up a little bit and missed some free throws. We turned it over. We became a little apprehensive."
After trailing by 13 points with under four minutes left, Arkansas (13-3, 2-1 Southeastern Conference) cut the margin to three and had a chance to tie the game when Anton Beard was fouled by Kevin Punter while attempting a 3-pointer with 5.1 seconds remaining.
Punter was trying to foul before Beard could attempt a potential tying 3-pointer, but the freshman guard put up the shot just as he was drawing contact.
"The play at the end, that is on me," Tyndall said. "I should have had them foul before (they got to) halfcourt."
Tennessee (10-5, 2-1) escaped because Beard missed all three of his ensuing free throws. Moore clinched the victory by sinking two free throws with 3.7 seconds remaining.
"I told (Beard) he got us in that position, that he was going to learn from it and I was proud of him," Arkansas coach Mike Anderson said.
Tennessee snapped Arkansas' seven-game winning streak despite shooting just 14 of 26 from the line, including 12 of 22 in the second half. The Vols led by 16 midway through the second half.
Richardson led the way for Tennessee with 20 points. Hubbs had a career-high 16 points and Moore added 14 for Tennessee. Bobby Portis scored 17, Michael Qualls had 15 and Beard added a career-high 12 for Arkansas.
Tennessee bounced back three days after a 56-38 loss to Alabama in which the Vols were held without a basket for a stretch of over 14 minutes in the second half.
"We've got such a young team and they've never really been through this before," Richardson said. "It was great to see how resilient they were and how fast we turned around and played so well."
Tennessee's defense helped its offense bounce back from that dreadful performance. The Vols shot 51 percent (27 of 53) and outscored Arkansas 27-15 in points off turnovers. Arkansas, which entered the night leading the SEC in turnover margin, committed a season-high 18 turnovers.
"They did some of the things we normally do to people and that's turn them over," Anderson said. "That was a big statistic in the game, they turned us over and turned those turnovers into points. I'm very disappointed in our guys for not taking care of the ball, but I was proud we didn't just wilt."
TIP-INS
Arkansas: The Razorbacks had been seeking to match their best start in SEC competition. Arkansas won its first three SEC games in 1992-93 and 1997-98.
Tennessee: The Vols used their eighth different starting lineup of the season. Junior forward Derek Reese and Hubbs moved into starting roles, with Punter and freshman forward Willie Carmichael coming off the bench.
STAT LINES
Beard had been 9 of 14 from the free throw line this season before missing those three attempts at the end of the game. He had made his only free-throw attempt Tuesday before those three misses. ... Tennessee entered the night shooting 66.8 percent from the foul line to rank 10th out of 14 SEC teams. The Vols had made 75.8 percent of their free throws in their first two conference games.
---