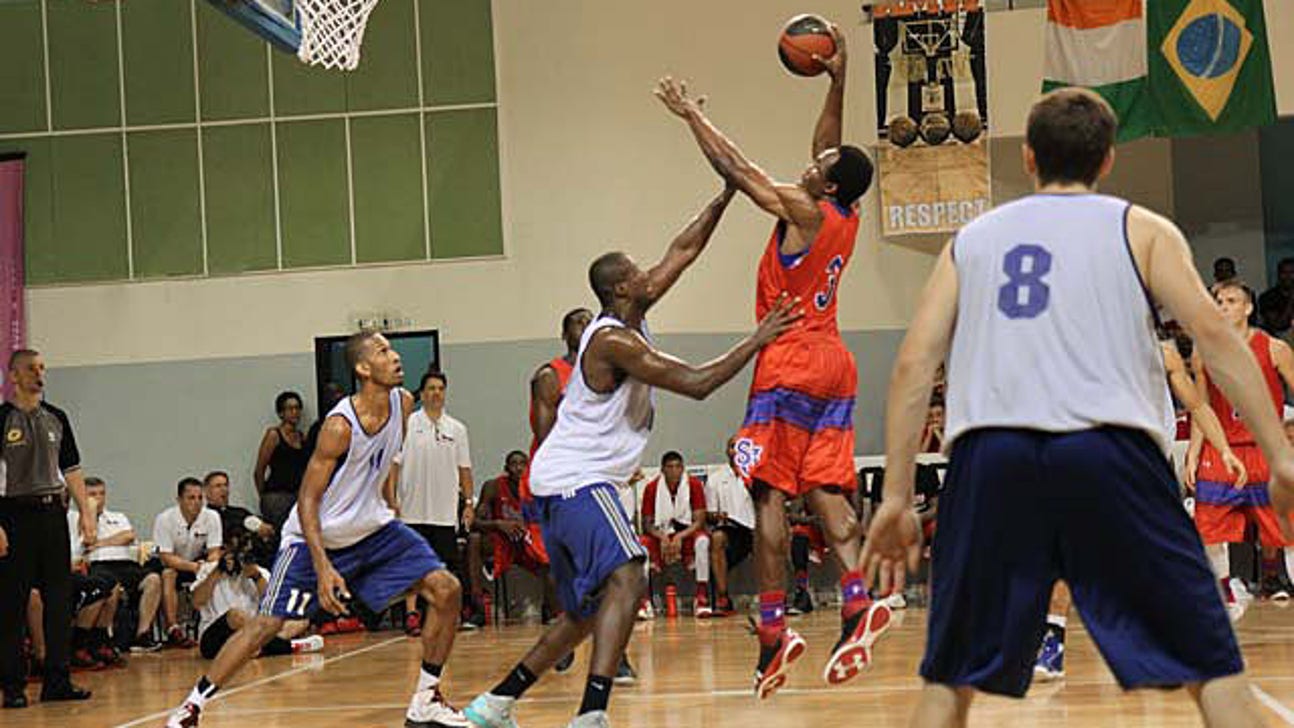 Taking Europe by Red Storm
Published
Oct. 27, 2013 12:09 a.m. ET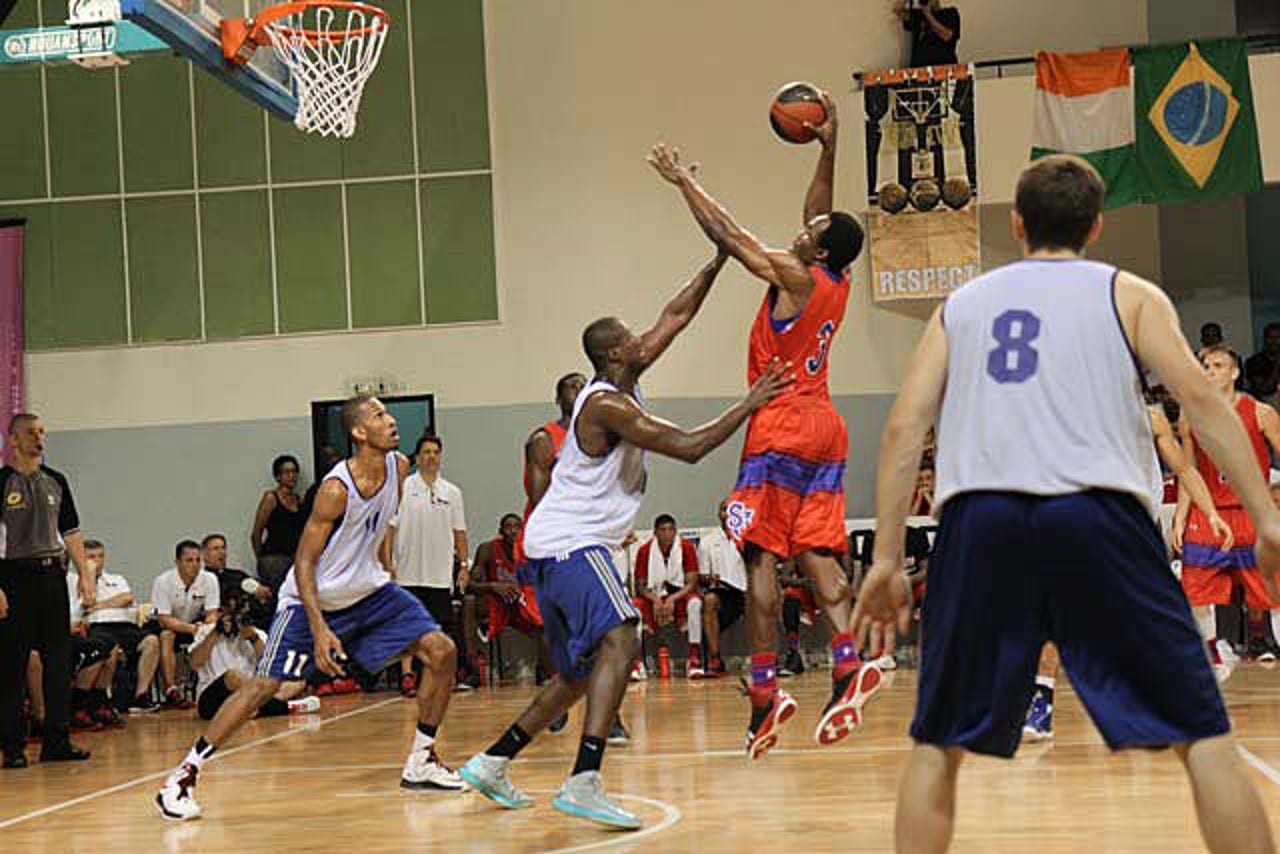 The redemption of St. John's University basketball began more than 3,600 miles away from home, on the other side of the ocean and in a place that in every way is the opposite of Madison Square Garden, that gritty, magical arena where the Red Storm play most home games.
A couple blocks from the River Seine on a lazy Parisian summer night, St. John's players filed off the bus and into the Stade Pierre de Coubertin to play a team from the second-tier French pro league. This was the Red Storm's first game since last season's roller coaster ended with eight losses in the final 10 games. St. John's is no longer the youngest of the 347 Division I teams in college basketball, and this two-week basketball tour of Europe would provide a glimpse into whether it is still one of the nation's most talented teams, and most enigmatic.
Inside, the 5,000-seat arena was occupied: practice for a local handball team. So the American team walked toward the basement locker room, its game relegated to the tiny annex gym: seating capacity 165 compared to 20,000 at The Garden, air conditioning barely functional, rims so bouncy that players seemed flummoxed by why so few warm-up shots went in.
But the level of anticipation? For a team about to tip off on a new beginning, this might as well have been The Garden in March.
"It's the first day of the rest of our life," head coach Steve Lavin said. "It's like opening day in baseball. It's that rare opportunity we get to have a new beginning, a fresh start, a reset. And to have it in Paris – it's a pretty special feeling right now."
The coach lingered outside the arena, taking a moment to soak it all in. His three years at St. John's have meant a return to high expectations for one of the nation's all-time winningest programs. As the sun fell on Paris, the coach seemed more excitable and nervous than you'd expect for a meaningless exhibition game. Perhaps it was the magic of watching young men who'd never before stepped off American soil gawk at the Eiffel Tower and the Arc de Triomphe and the Champs Elysees. Perhaps it was because Lavin, who'd lived the rat race as UCLA's coach and as a big-time sports television personality, had a new outlook after coming out on the other side of a prostate cancer diagnosis at the beginning of his second season at St. John's.
Or perhaps it was simply because last season everything seemed to be going right before it all went wrong. And this was a chance to make everything right again. They had five games scheduled against professional European teams that Lavin could use as a measuring stick. It was the perfect way to start a new beginning in the new Big East.
Lavin took a breath of the evening air: "Just take a second to appreciate all this, appreciate what we're about to embark on."
The path St. John's is about to embark on leads from a recent past full of turbulence toward a future full of hope. Lavin, a relentless optimist, doesn't paint last year's frustrating season as a total loss. The Red Storm won eight games in a tough Big East. They were on the cusp of making the NCAA tournament despite an inexperienced squad with 13 underclassmen. They won a postseason game for the first time in a decade. They had the Big East rookie of the year, the conference's third-leading scorer and the nation's leader in blocked shots.
And yet they also had the wheels come totally and completely off. Lavin's father passed away in February, so he had to leave the team for a stint to be with family. Then leading scorer D'Angelo Harrison was suspended for conduct detrimental to the team, and his future at St. John's seemed up in the air. Orlando Sanchez, a tall, skilled forward from the Dominican Republic and the team's oldest player, wasn't ruled eligible by the NCAA until only three games were left in the season. A crucial early-March game at Notre Dame ended in an ugly fight and an embarrassing 26-point loss. A season that began with hype after Lavin's second straight top-10 recruiting class ended in front of 8,000 fans in a second-round NIT loss to Virginia.
But here is something Lavin believes passionately: Tough times make you stronger.
Last year had plenty of tough times, with only two conference wins after Feb. 1. But now, almost everyone from that team is back, including NBA prospect Jakarr Sampson. Lavin added a five-star point guard to the mix: Rysheed Jordan, a lanky, smooth Philadelphian who was one of the nation's most sought-after recruits. During these two weeks on foreign soil, Lavin wanted to further knit these young men together for a season that could restore the program's pride.
It was nearly tipoff. Lavin walked past some kids kicking a soccer ball in the hall and toward the basement gym, where his players were taped up and putting up shots. And when he walked into the gym, Lavin saw the perfect symbol for this fresh start: Harrison, the volatile player who was suspended last season, was back on the court, joking with teammates, dunking more in warmups than ever before, and incapable of wiping that giant smile off his face.
******************
The night before, just hours after Harrison set foot outside the United States for the first time, the young man from Houston sat on a river boat chugging down the Seine. The moon was low, as if tethered to Paris like a giant yellow balloon. The boat cruised by Notre Dame Cathedral, by the Louvre, by the Assemblee Nationale. Harrison snapped picture after picture after picture. And as he usually does, Harrison kept thinking of his brother.
"He lives through me right now," Harrison said of his older brother, DeAndre. "He's going to get all these pictures I take." He smiled. "All of them."
The story of D'Angelo Harrison isn't the most representative story of the redemption of this program. It might be the most dramatic. But even if it's an outlier, it's telling, too: Of how Lavin is a player's coach who isn't afraid to give his players tough love, and of how a team that slogged through last year ought to have an excellent chance at the best season at St. John's since the Elite Eight year in 1999.
What everyone knows about Harrison is this: A bad attitude got him kicked off the team last season, despite being the team's leading scorer and despite St. John's being on the cusp of an NCAA tournament bid when Lavin booted his leading scorer. He was painted as a bad apple. Meet Harrison, though, and you'll realize the bad-apple tag doesn't ring true.
He's charismatic and funny, smart and cocky, yet also the type to notice when someone is sitting alone and go bring the loner back into the fray. When the team visited the St. John's campus in Paris, Harrison befriended a nun and bought a rosary from her. He's a natural leader, the type of player you root for, yet someone with plenty of demons.
Lavin knew all that, so he gave Harrison the opportunity to earn his way back on the team. It's easy to assume Lavin let him come back because, despite the chip on his shoulder, Harrison can flat-out score.
But two things outsiders don't know about Harrison:
1. He spent this summer at the John Lucas camp in Houston, working through anger management issues at the well-known spot for basketball development and personal rehabilitation. It was a grueling summer: 6 a.m. wakeup call, 2½ hours of workouts and basketball, individual counseling sessions before lunch, another 2½ hours of workouts and basketball, then dinner and bedtime.
"You talk out your problems, figure out what is really wrong," Harrison said. "At first I thought it was cheesy. Then it started working."
Working so well that when another player got in an altercation with him during a pickup game, Harrison backed off, smiled, told the player it wasn't worth fighting over. It was a new Harrison, the polar opposite of the feisty, angry kid whose moods hung over St. John's last year.
"Just let all that go, and enjoy the team, enjoy the game, enjoy life," Harrison said as the boat traversed Paris. "My teammates will tell you I'm a different dude."
2. That angry side? It's not some spoiled, petulant kid, not a bad apple. It's best explained by a family life few can fathom. He was raised by his grandma; his dad left when he was young, and he's only started to become close with his mother in the past year or two.
That second part? It's not something he likes to talk about.
He'd rather talk about his brother.
His brother currently is serving an eight-year prison sentence in Texas. He was the kid Harrison looked up to, "like peas in a pod," and who pleaded to aggravated assault with a deadly weapon after a drug deal ended in a killing. His brother is what Harrison goes on and on about. His brother's struggles aren't a source of shame. It's inspiration. His brother calls him every day from prison, 20 minutes at a time. Sometimes they'll talk four or five times a day. It's the same question for his younger sibling: "How many shots you put up today?"
So Harrison has a goal: His brother will be eligible for parole in May 2015. That will be just after Harrison's senior season at St. John's. He wants to be waiting for him outside prison gates, ready to chase their shared dream of playing pro basketball.
"It's almost like playing for your brother, play through him," he said. "I've dealt with the family hardships, dealt with the pressure of hoops. Now I'm ready."
As the boat floated down the River Seine, two teammates napped next to Harrison, done in by jet lag. Harrison stared through his camera lens at a tall, iron latticed tower. He turned to Marco Bourgault, a St. John's senior who is from France.
"Is that it?" Harrison whispered.
"Is that what?" Bourgault replied.
"Is that it? The Eiffel Tower?"
Bourgault laughed: He was witnessing the world opening up to this young man.
"It's smaller when you see it in person," Harrison muttered, bewildered at his journey from home to here.
*********************
The Red Storm had won a nail-biter in their first game in Paris, a gutsy come-from-behind win. It was the type of game Lavin said they would have lost last season. This was progress, he said. Afterward, with fans and players milling around the marble hotel lobby, Rysheed Jordan sat off to the side, staring into his phone, not speaking.
The 19-year-old had a world-weary look on his face, tears still fresh from the news.
He got the tragic news by phone: A 19-year-old named Aaron McDaniels had been shot and killed in a confrontation with police officers back in North Philly.
Except this wasn't some name without a face on the evening news. This was Jordan's best friend from childhood. This was a young man who'd been in trouble before — kicked out of two schools, arrested on a weapons charge, twice surviving inner-city shootings — but a young man whose family, according to news reports, hoped he was on a better path.
But as Jordan toured Paris with his new teammates, his best buddy from home was sitting in the passenger seat of a car that blew past a stop sign. A police car turned on its lights, but the car sped off. It hit another car and then a building, and McDaniels jumped from the car and allegedly pointed a loaded handgun at a police officer. The officer fired his service revolver, and McDaniels died. So Jordan sat in the Parisian hotel, half a world away from home, surrounded by teammates and coaches he was only beginning to know.
This is a tough kid, who broke his wrist in high school but played in a playoff game with a tube sock tied around that wrist. But how does a teenager, whose family and coaches tried to shelter him from the streets, process that his best friend was shot and killed?
Jordan went up to Phil Greene IV, a junior guard from the South Side of Chicago: "My homey just got killed." He told his new teammate he wanted to skip the rest of this Europe trip and go home.
Greene knew the feeling. Last summer, just before he headed back to St. John's for his sophomore year, Greene's best friend was breaking up a fight when he was shot and killed. Lavin flew to Chicago to attend the funeral with Greene.
"Rysheed was up all night," Greene said. "I told him, 'We all go through it. We just gotta stay strong. Time is the best way to heal. Trust me, I know.' … It happens to everyone. You just gotta get used to it."
The freshman was surrounded by new teammates to lean on.
"It helps us out, because we know what each other are going through," said junior swingman Sir'Dominic Pointer, whose close cousin was shot and killed this summer back home in Detroit. "It happened to Phil first. Then it happened to Christian (Jones, a sophomore forward from near Dallas; the brother of his high school teammate was recently killed). Now me. So we all know what we're going through. It happened to Coach (Lavin) in a different way — he lost his dad (in February). Just people leaving you. We all know what each other is going through."
As the days passed on the European trip, the St. John's coaches noticed a change in their young point guard phenom. Jordan didn't disappear inside himself. Instead, coaches noticed he was talking more with his new teammates than he had on campus over the summer. He laughed when his new teammates got in a water-bottle fight after touring Notre Dame Cathedral; he gawked at the ruins of Pompeii. His new teammates offered support, but more than that, the whole trip was a needed distraction. Assistant coach Jim Whiteside marveled that, more than basketball, this was the point of the European trip: to have these teens and 20-somethings mature together.
Pointer didn't know it, but real, unscripted moments like this — when teammates are off the basketball court — was what this European trip was all about.
"It hurts, you know?" Pointer said. "But you comfort people, and you let people comfort you. It's part of being a teammate."
*********************
Lavin looked out from the hotel and saw lemon trees dotting the mountains of Italy's Amalfi Coast. It was halfway through the team's tour of Europe. Paris was behind them; Rome and Barcelona were ahead. The coach looked tanned and relaxed, and the drama of recent years — his cancer diagnosis, his father's death, his players' personal travails — felt like they were very much all in the past.
This team had grown from last season. Lavin could see it, even before the team begins its first season in the new Big East on Nov. 8. It's tough to bring young men together and forge a team, but even more so with a team that is so quintessentially New York City. Two players are from Nigeria. One is from Guinea. One is from the Dominican Republic, another from France. There are players from cities around the U.S. — Detroit, Houston, Dallas, Chicago, Akron — and only one from New York. It's a team of diverse personalities and skills, learning to work together.
"I don't think you can force or accelerate the relationships," Lavin said. "But these long bus trips, the time spent in the airports, just sightseeing… Sometimes it's just the downtime when a team is made."
"Things beyond sport come up on these trips," he said. "And tragedy at times catches us off guard, yet that's a common experience. We're all going to go through hardship at one time or another. A cohesive team, a family, a community, rallies around those in need. No better opportunity to step up for your teammates, your comrades, your players and my coaching staff, to rally around each other. At the end of the day, sport in its purest form is a metaphor for life. It should teach us lessons that are more enduring than just winning a ballgame, than understanding what it takes to beat Villanova or Syracuse."
It echoed something Bourgault had said the day before, when the team toured the ruins of Pompeii. He spoke about watching this team form before his eyes: "Last year we weren't really hanging out as a team together," he said. "This year you can already tell we are much closer. We're brothers. And that can only build chemistry on the court."
Yes, this trip was about basketball, and the basketball part was a success. The team would go 3-2 against the professional European teams. Lavin saw plenty of bright spots: Harrison's newfound attitude. Branch's confidence as a ballhandler. Harvard transfer Max Hooper's deadly accuracy from 3-point range (including one game in which he went 10-of-13). Pointer's non-stop motor that's reminiscent of Victor Oladipo. Sanchez's inside-outside skills, a missing part from last year's team. It's a fun team that stirs excitement.
But more important than basketball was simply spending time together. The players cracked up on a bus ride to the arena when Branch, who'd guzzled water all day to avoid cramping up, peed in a bottle. They watched a pickpocket get tackled by cops outside Notre Dame. They haggled with a pedicab driver in a Lakers jersey over a ride around Paris. They met a newlywed couple from New Jersey who told them how much New York City was buzzing about St. John's basketball. They egged on Chris Obekpa, the nation's leading shot blocker, when he did an African-style chant in an old brothel at the ruins of Pompeii.
And they walked another way when a street vendor shouted, "Hey! Basketball! America! Michael Jordan! Welcome to Pompeii!"
Lavin walked out of the hotel and joined his players. They strode down the narrow, winding roads to the city center of Sorrento, passed a street performer, and climbed up a steep staircase onto a rooftop, where the players would learn how to make Neopolitan pizzas.
Soon, the players had on white aprons and were teasing each other about who made the best pizza dough. Greene bragged on the deep-dish pizza back home in Chicago. God'sgift Achiuwa, a bulky forward, insisted that he make a calzone. The players laughed as the sun went down on Sorrento, the bells of the cathedral chiming in the distance.
Suddenly, Lavin and his wife were gone. So was Jordan, just days after his best friend had been killed. The coach and his wife knew that for this team to succeed, they needed to be a family, so the coach and his wife took the young man who was grappling with his life's biggest tragedy for a walk on the brick streets of Sorrento, a family helping one of its own.
---