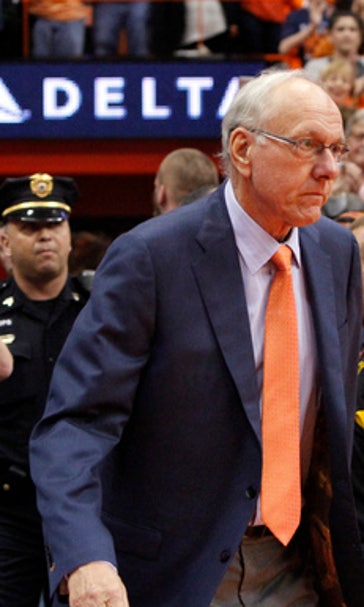 Syracuse's Jim Boeheim returns to the bench after suspension
BY foxsports • January 9, 2016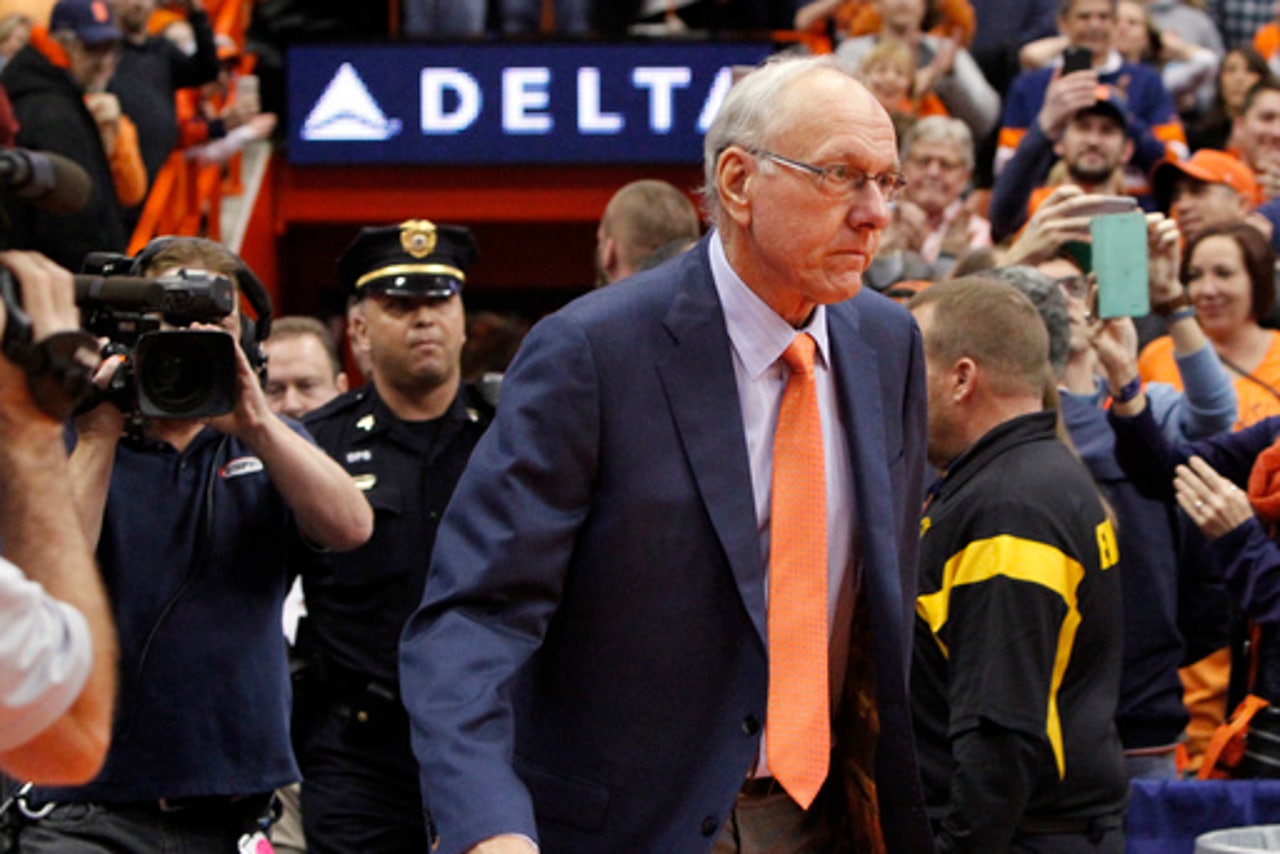 SYRACUSE, N.Y. (AP) Syracuse coach Jim Boeheim returned to the bench on Saturday night against No. 6 North Carolina after serving a nine-game suspension.
Clad in a gray sport coat and wearing an orange tie, Boeheim was greeted with a standing ovation from a crowd expected to top 27,000, the largest of the season. He waved back in appreciation, turning to all corners of the Carrier Dome before shaking hands with North Carolina coach Roy Williams and sharing a brief joke.
Boeheim's suspension ended at midnight Tuesday, less than two hours after his Orange lost by one to Clemson in overtime. He addressed the team at the Carmelo K. Anthony Basketball Center immediately after his suspension was over.
In his 40th season at his alma mater, the 71-year-old Boeheim had only missed three games - for surgery in December 2001 to correct an enlarged prostate gland - before the suspension, which was announced in March by the NCAA.
Under interim coach Mike Hopkins, Syracuse (10-6) won four of six nonconference games, the losses coming against former Big East rivals Georgetown and St. John's. In double-digit Atlantic Coast Conference road losses to Pitt and Miami, Syracuse played both tough until the closing minutes, getting outscored 34-9.
Boeheim's last game before the suspension was an overtime loss to Wisconsin on Dec. 2. Syracuse was ranked No. 14 after impressive wins over a pair of top-25 teams - Texas A&M and Connecticut - in capturing the Battle 4 Atlantis title.
In announcing Boeheim's suspension in March and sanctions against Syracuse, the NCAA outlined a decade of rules violations that included impermissible benefits, academic misconduct, drug policy missteps and a failure by the school to control its athletic department.
Boeheim eventually took responsibility as the guy in charge, but maintained throughout the investigation that he simply coached while others around him took care of everything else where rules were broken.
Boeheim appealed his original suspension of nine Atlantic Coast Conference games, calling it ''unduly harsh.'' The NCAA upheld the punishment in early December but let it start immediately, allowing him to miss six nonconference games and three ACC games. The NCAA Appeals Committee determined that ordering the entire suspension to be served in conference play was an abuse of discretion because Boeheim was not directly involved in the underlying violations of the case.
The Hall of Fame coach was not allowed contact with the team during his absence.
---
Follow John Kekis on Twitter: www.twitter.com/Greek1947
---
---