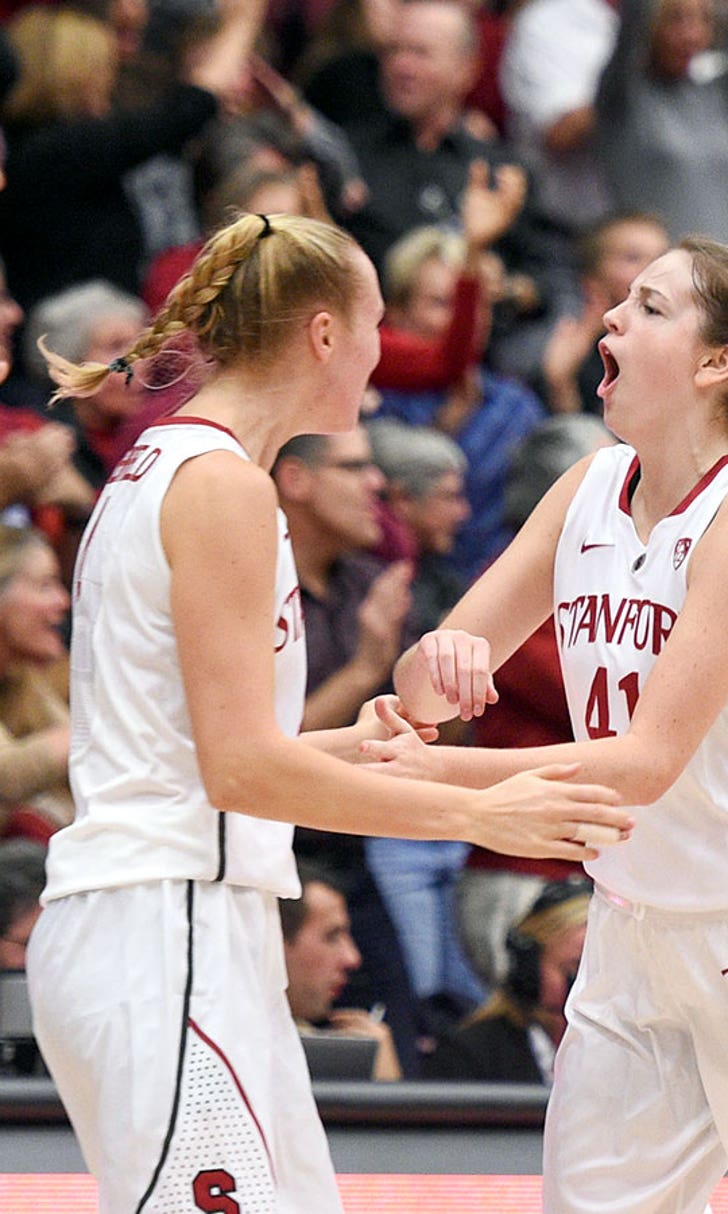 Stanford plays spoiler again, ending UConn's 47-game streak
BY foxsports • November 17, 2014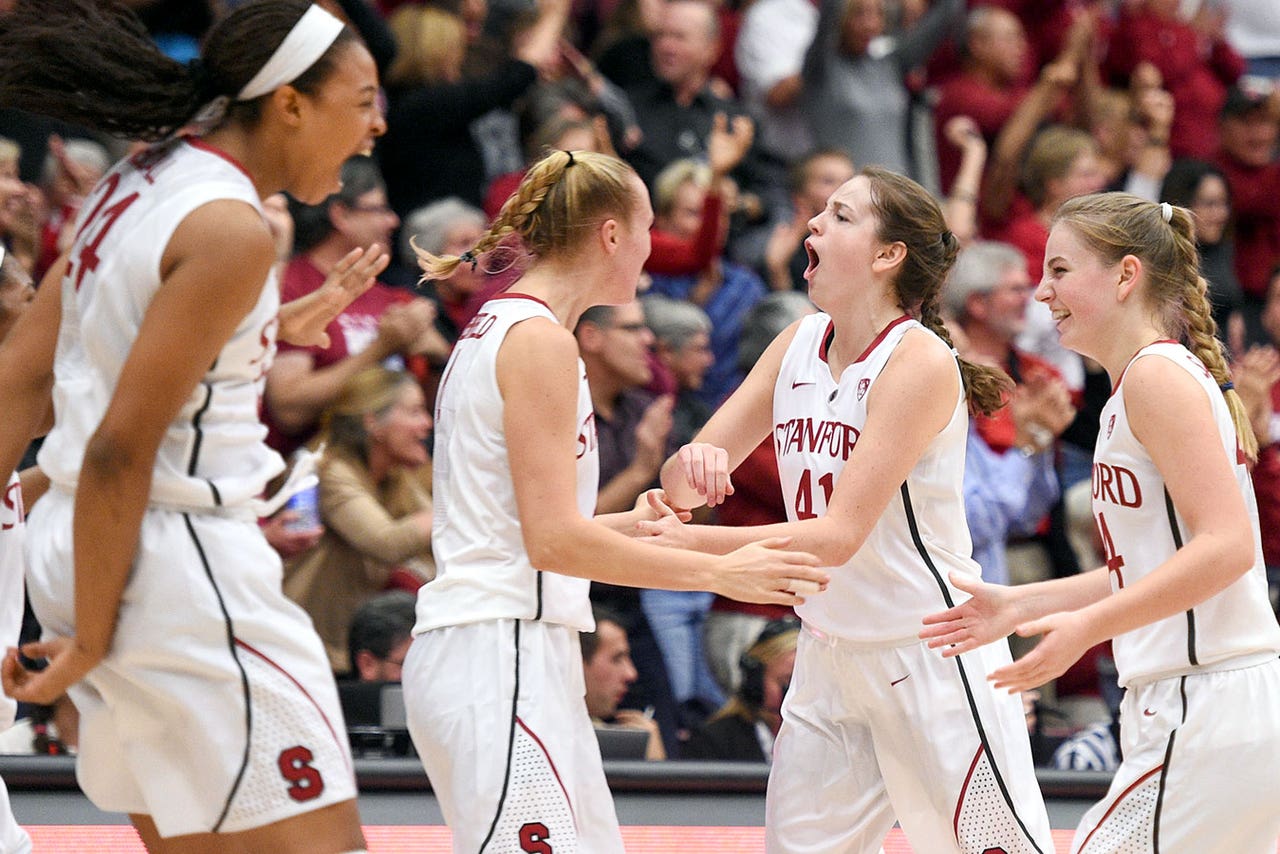 Amber Orrange and new-look Stanford made an impressive national statement while snapping another one of Connecticut's remarkable winning streaks -- without an Ogwumike sister in sight.
Orrange made a go-ahead jumper with 1:38 left in overtime and the tying 3-pointer with 1.4 seconds remaining in regulation to send No. 6 Stanford to the 88-86 upset of No. 1 UConn on Monday night and end the Huskies' 47-game winning streak.
This marked the second time coach Tara VanDerveer's Stanford teams have ended a UConn winning streak at home in Maples Pavilion. The Cardinal snapped the Huskies' NCAA record 90-game unbeaten run on this same floor in 2010. Connecticut went 40-0 last season on the way to its second straight championship. The Huskies lost for the first time since falling to Notre Dame in the 2013 conference tournament.
"We didn't just lose to a team that doesn't have any good players," UConn coach Geno Auriemma said. "Sometimes, because of who we are, the biggest story is that we lost, not that Stanford played great and won, and that would be unfortunate. That would be a disservice to Stanford, but that's the reality, that's the world that we're in. ... We lost to a really good team, a better than team people would probably give them credit for."
Orrange led the way this time, and Stanford's students rushed the floor to celebrate right along with her.
The senior guard's basket in overtime made it 85-84, then Stanford's smothering defense took over. The Cardinal forced UConn into several poor shots, a 5-second violation and prevented the Huskies from getting off a final attempt. Orrange also came up big at the end of regulation to force the extra session, hitting her 3-pointer from the wing to tie it.
"I was surprisingly calm when I took the shot," Orrange said. "I really loved how resilient our team was at the beginning of the game."
More often than not, these cross-country rivals push each other in thrilling non-conference matchups that do plenty, win or lose, to motivate both sides the rest of the way. Days before this game, Auriemma credited Stanford and Hall of Fame coach VanDerveer for continuing to play Connecticut when many teams no longer see the point.
"I think people got their money's worth in that game," VanDerveer said.
Lili Thompson scored 24 points and Orrange 17 for Stanford (2-0), which has watched both Chiney and Nneka Ogwumike depart to the WNBA as top picks over the last few seasons.
"I think it just shows that we're very determined this year, we're not just willing to be written off," Stanford's Bonnie Samuelson said.
Breanna Stewart scored 23 points and Saniya Chong had 20 for the Huskies (1-1).
UConn looked out of sorts for much of the night at Maples Pavilion in a rematch of last season's NCAA semifinals -- and it didn't help that Kaleena Mosqueda-Lewis never got going. Mosqueda-Lewis, coming off a 30-point, 10 3-pointer outing in the opener Friday night at UC Davis, struggled all night to find her shot.
She went without a field goal until she made a 3-pointer with 9:40 left in the game, having a tough time getting open looks facing swarming defense by Karlie Samuelson.
"It seemed like there was a lot of disconnect on the court," Stewart said. "It's up and down, our chemistry."
Stewart's 3 with 7:29 remaining put UConn ahead 62-53 and Stanford called timeout. Orrange then scored for the Cardinal's first points in nearly five minutes before later making a pair of lay-ins in the final 30 seconds to keep the Cardinal close.
Stanford extended its home winning streak to 28 games at Maples. The Cardinal hung tough on both ends of the floor in the first half and swarmed Mosqueda-Lewis, regularly getting a hand in her face.
TIP-INS
UConn had won four straight and seven of eight in the series. The Huskies hold a 10-7 edge overall.
Stanford freshman Kaylee Johnson, playing her second collegiate game, grabbed 13 rebounds to go with eight points. ... 49ers coach Jim Harbaugh, close friends with VanDerveer, also attended.
FREE-THROW WOES
The teams combined to shoot 40-for-60 from the free throw line -- 19 of 28 by UConn.
"It's early," Auriemma said. "Both teams shot terrible from the free-throw line."
---