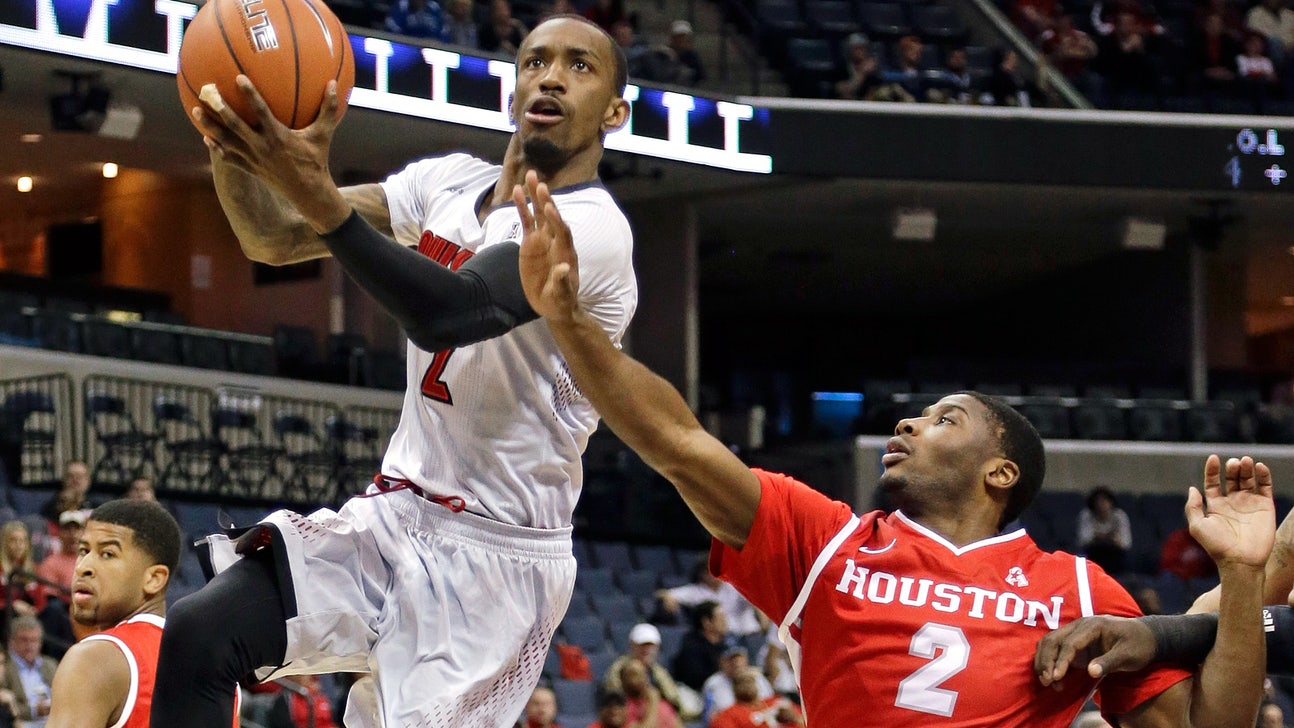 Russ Smith's career day helps No. 5 Louisville rout Houston
Published
Mar. 14, 2014 9:20 p.m. ET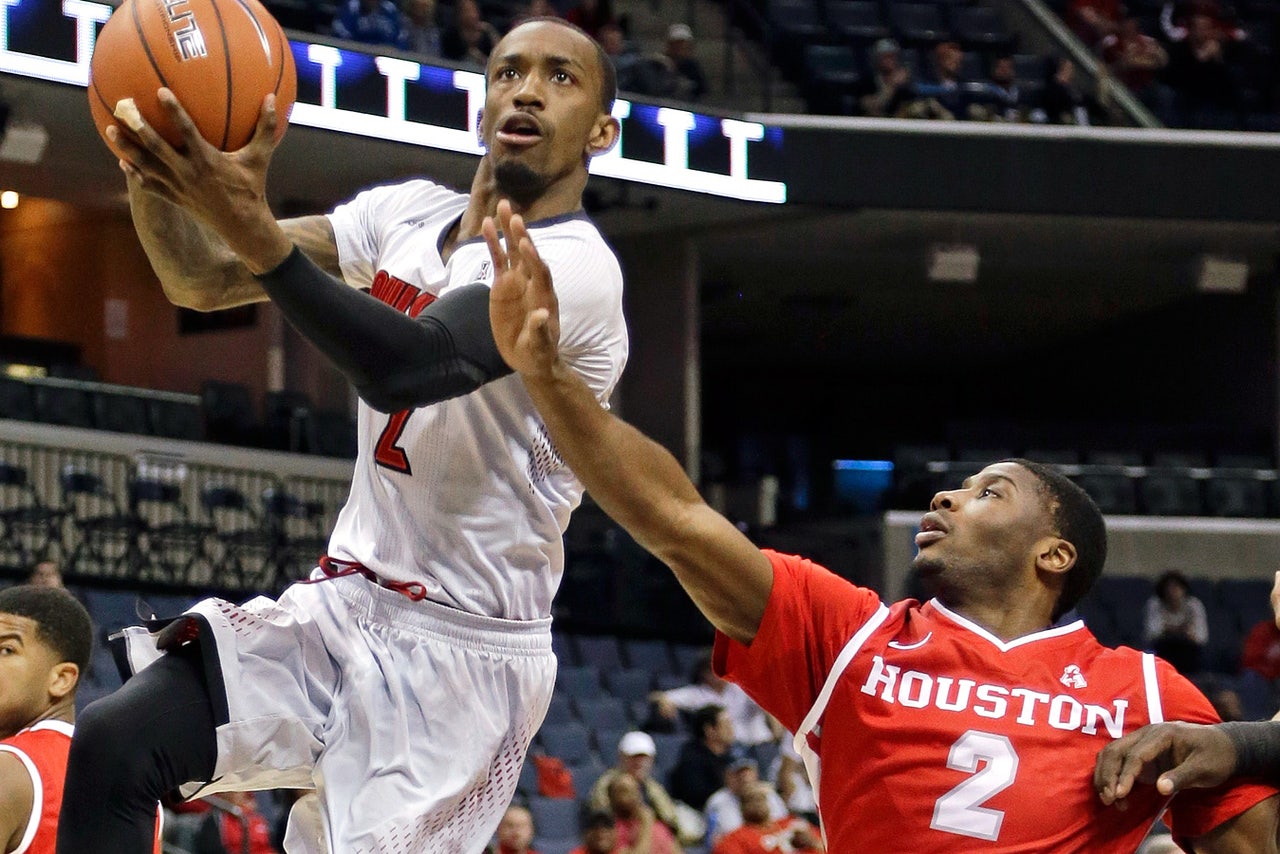 MEMPHIS, Tenn. -- North Carolina State coach Mark Gottfried said his team had a "golden" opportunity to help its NCAA tournament chances. The Wolfpack didn't squander it, instead sending Jim Boeheim and No. 11 Syracuse to a quick exit from their first Atlantic Coast Conference tournament.
T.J. Warren scored 28 points while Ralston Turner banked in the go-ahead 3-pointer with 2:28 left to help N.C. State upset the Orange 66-63 in Friday's quarterfinals, continuing both the Wolfpack's push for the NCAAs and the Orange's downward late-season trend.
The seventh-seeded Wolfpack (21-12) blew a 10-point second-half lead but came through with two clutch baskets late to hold off the Orange (27-5) in front of a home-state crowd in Greensboro.
It was a huge win for N.C. State, which came into the year picked to finish 10th in the league with a young team and instead finished 9-9. That included one-point losses on last-second baskets to Wake Forest and rival North Carolina, as well as one to Syracuse at the Carrier Dome last month.
"I hope that we're a legitimate contender," Gottfried said. "We're not the same team that we were in November and December. When you lose 80 percent of your scoring from a year ago, it's going to take a while to figure yourselves out."
Now N.C. State has won four straight heading into Saturday's semifinals against the Clemson-Duke winner, marking the third time in three seasons that N.C. State has reached Saturday at the ACC tournament under Gottfried.
This win could help Gottfried also make it 3 for 3 with the NCAAs, too.
"I think so," Turner said when asked about whether N.C. State should be in, "but that's not up to me."
Warren followed Turner's tiebreaking 3 with a jumper to make it 64-61, then hit two free throws with 24.6 seconds left to keep the Wolfpack up three.
Syracuse had one wild final possession, missing six shots -- including four hurried 3-pointers from Tyler Ennis, Trevor Cooney and C.J. Fair -- to ensure its first ACC tournament would be a one-and-done stop.
"I thought the 3s we were taking, we had a couple of good chances," Ennis said, "but they just didn't fall."
Ennis scored 15 of his 21 points after halftime for Syracuse, which was unbeaten and ranked No. 1 in the country a month ago but has faded down the stretch. The tournament's No. 2 seed had lost four of six coming into Greensboro, though Boeheim has dismissed the suggestion that his team was in a slump.
That talk will probably grow louder with another loss -- Syracuse is 2-5 after a 25-0 start -- heading into the NCAA tournament.
Syracuse shot 33 percent Friday, with leading scorer Fair scoring nine points on 3-for-16 shooting.
"I'm not concerned about our team," Boeheim said. "I think we've played well all year. I think we've struggled shooting, and I think that's pretty well-documented. But in spite of that, we won 27 games, so I'm pretty pleased with what these guys have done, and I believe we'll be a very good tournament team."
Warren, the ACC's leading scorer and player of the year, finished 9 for 21 from the field but hit 10 of 12 free throws and grabbed eight rebounds.
"I just wanted to find open spots on the floor," Warren said. "Their zone is so spread out that it's easy to find little gaps and little separation. They're very athletic so you've really got to think quick to get your shots up."
Fifth-year senior Jordan Vandenberg added 10 points for N.C. State, which led 28-25 at halftime then shot 52 percent after halftime.
The Wolfpack's win against reigning champion Miami in Thursday's second round set up the rematch with Syracuse, who was still atop the polls when it edged N.C. State 56-55 on Feb. 15.
Syracuse won that after the Wolfpack committed a late turnover that led to Fair's winning layup with 6.7 seconds left. There was also a much-discussed call in which officials waved off a basket from Warren while being fouled with 13.6 seconds left because the foul came before the shot with N.C. State up one.
This one came down the stretch just like before, but the Wolfpack didn't let this one get away.
"Sometimes those kind of things balance out in life," Gottfried said. "We had the tough one earlier in the year where we didn't finish the game. Today, maybe fate was on our side on that last possession."
---