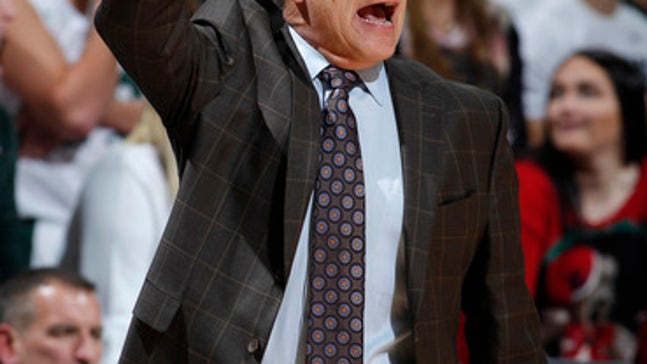 PK80 tournament opens Thanksgiving Day with stellar field
Updated
Mar. 4, 2020 7:00 p.m. ET

PORTLAND, Ore. (AP) The hometown teams have the toughest paths in the PK80 tournament.
Portland State will face top-ranked Duke on Thanksgiving Day, while the Portland Pilots open the tournament against defending NCAA Tournament champion North Carolina.
Pilots coach Terry Porter, the former Trail Blazers great, said his team is looking at the game as an opportunity.
''Our guys are excited for the challenge,'' Porter said on his radio show this week. ''They've embraced it. I told them, `You've got to smell the roses along the way and go out and compete.'''
Porter noted that Portland (2-1) might be the only team in the nation that will play both participants in last year's NCAA title game, because the Pilots also face Gonzaga in West Coast Conference play.
The No. 17 Bulldogs (3-0) join the Blue Devils (5-0) and the ninth-ranked Tar Heels (3-0) in the PK80's stellar 16-team field. The three-day event , officially called the Phil Knight Invitational, honors the 80th birthday of Nike's co-founder. Nike's corporate headquarters are in Beaverton, Oregon, just west of Portland.
Other teams in the field include fourth-ranked Michigan State, seventh-ranked Florida, Oregon, Arkansas, Butler, Connecticut, Ohio State, Oklahoma, DePaul, Stanford and Texas.
The teams are divided into two groups of eight, playing at the Moda Center and the adjacent Memorial Coliseum, and each group will compete for a bracket title. Competition will run Thursday, Friday and Sunday, with a break on Saturday for college football.
Texas (3-0) faces Butler (3-1) in its Motion Bracket opener Thursday. The winner will likely face Duke - provided the Blue Devils get by Portland State (4-0). Stanford (3-2) faces Florida (3-0) and Gonzaga (3-0) plays Ohio State (4-0) in the other two Thanksgiving Day games in the bracket.
''It's an opportunity for us to see what we're about, and see what we're made of,'' Texas coach Shaka Smart said Wednesday before practice. ''You're gonna get tested when you play teams like Butler, they went to the Sweet 16 last year, they've got their top two players back and they've got a lot of other good guys. Yes, we enjoy getting a chance to get tested early. We've got a lot of new guys who want to show what they can do, and we've got a lot of returning guys who worked on their game in the offseason and want to show their improvement.''
In addition to North Carolina's game against Portland, Michigan State (2-1) plays DePaul (1-2), Arkansas (3-0) faces Oklahoma (2-0) and UConn (3-0) plays Oregon (4-0) on Thursday in the Victory Bracket.
Oregon coach Dana Altman was asked Wednesday whether he felt added pressure because the tournament honors Knight, the Ducks' most prominent donor and booster. He said ''a little bit.''
''Mr. Knight has been such a big part of what we've tried to build at Oregon, with our facility named after his son and so forth, so I'd be very disappointed if our guys didn't recognize that and play really hard,'' Altman said. ''Sometimes you can't control whether you play well or not, but you can always control whether you play hard, so I hope our guys understand that and do a good job there.''
Oregon native Payton Pritchard, the only starter for the Ducks who returned to the team following a Final Four run last season, has played numerous times at the Moda Center as a star at West Linn High School, which won four straight state titles.
''I always loved being here. I don't think I've ever lost in this building, so hopefully I continue that streak, knock on wood,'' he said. ''I think I'm 10-0 here or something, hopefully it keeps going.''
---
More AP college basketball: http://collegebasketball.ap.org and http://www.twitter.com/AP-Top25
---
---