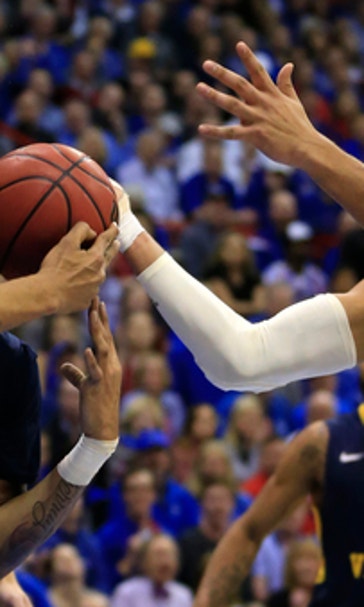 No. 3 Kansas rallies to beat No. 9 West Virginia 84-80 in OT (Feb 13, 2017)
February 14, 2017

LAWRENCE, Kan. (AP) Frank Mason III and Devonte Graham never felt as though the game was over, even when they huddled around coach Bill Self with less than four minutes to go and Kansas trailing West Virginia by 14 points.
''We just talked about staying in it. `We can do it.' Coach kept telling us we were going to step up and make plays,'' Graham said later, ''and everybody stepped up and made plays.''
The two starting guards made the ones that mattered most.
Mason poured in 24 points, including the two free throws that forced overtime, and Graham hit two of his five 3-pointers in the extra period and finished with 18 points as the third-ranked Jayhawks stormed back to stun the No. 9 Mountaineers 84-80 on Monday night and assume control of the Big 12 race.
Josh Jackson also had 14 points and 11 rebounds for the Jayhawks (23-3, 11-2), who avenged a loss in Morgantown while extending their lead over fourth-ranked Baylor to two games in the league standings.
''It was huge to play that hard and compete that hard and not have anything good happen for so long, and the guys just hung in there,'' Self said. ''I still don't know how we did it.''
Esa Ahmad scored 20 points and Tarik Phillip had 18 for the Mountaineers (20-6, 8-5), who appeared to have the game locked up when they led 64-50 with 2:58 left in the second half.
Kansas answered with some more Allen Fieldhouse magic.
Spurred on by their own version of a full-court defense, the Jayhawks began forcing turnovers and turning them into easy baskets. And by the time Graham curled in a 3-pointer, Phillip threw the ball away and Mason made a pair of free throws, it was 71-all with 21.6 seconds left in regulation.
The Mountaineers called a timeout with 16.1 seconds to go to set up a final play, and they managed to get Phillip isolated on the wing. But his long 3-pointer clanked off the iron as the buzzer sounded.
''I was just trying to keep positive,'' Ahmad said. ''I was just trying to keep fighting.''
Any fight the Mountaineers had left withered away as Kansas scored the next eight points.
''We just didn't take care of the ball like we normally do,'' West Virginia's Nathan Adrian said.
The Jayhawks had their 51-game winning streak at the Phog snapped by Iowa State just more than a week ago, but they still have not lost consecutive home games since February 1989. They also have never been swept in the regular season by a Big 12 foe in 14 years with Self on the sideline.
It helped that they got to the foul line 44 times, making 33 of them.
''That's what our season is going to come down to - when it matters most, free throws,'' said Mason, who was 16 of 18 at the line. ''That's what Coach tells us. We just have to keep working hard.''
West Virginia has never beaten the Jayhawks at the Phog in five tries.
The Mountaineers scored the game's first 10 points to silence a record-breaking crowd, only for the Jayhawks to answer with a 16-0 run spanning nearly five minutes. Lagerald Vick was the catalyst, hitting back-to-back 3s when nobody else in a Kansas uniform could hit much of anything.
The Mountaineers soon regained their composure and took a 39-32 lead into the locker room, then kept the Jayhawks at arm's length throughout much of the second half.
But it wasn't the Mountaineers' vaunted Press Virginia defense that caused problems for Kansas. It was some stingy half-court defense, which prevented the Jayhawks' guards from getting open looks on the perimeter or finding creases to get to the basket.
That is, until the final few minutes of regulation.
''It was a toughness win because there certainly wasn't much going right,'' Self said, ''and they had everything going right. But we've never won a game down 14 with 2 1/2 left or whatever.''
NO BUFFER NEEDED
Kansas fans set the record for loudest indoor crowd cheer at 130.4 decibels just before tipoff, breaking the mark set by Kentucky fans in a game against the Jayhawks at Rupp Arena last month.
Kentucky fans needed some help from legendary ring announcer Michael Buffer to get charged up for their record-breaking attempt. Their counterparts at Kansas needed no such assistance in establishing a threshold verified by a representative from the Guinness Book of World Records.
BIG PICTURE
West Virginia squandered a chance to get back in the Big 12 race, not to mention pick up a marquee road win that would have helped with NCAA Tournament seeding next month.
Kansas was dreadful shooting from the floor for most of the night, only to heat up when the game was on the line. It was the kind of back-against-the-wall performance the Jayhawks have put together so many times while winning 12 consecutive Big 12 championships.
UP NEXT
West Virginia begins a two-game homestand Saturday against Texas Tech.
Kansas visits No. 4 Baylor on Saturday for a top-five tilt.
---
More AP college basketball: www.collegebasketball.ap.org
---
---