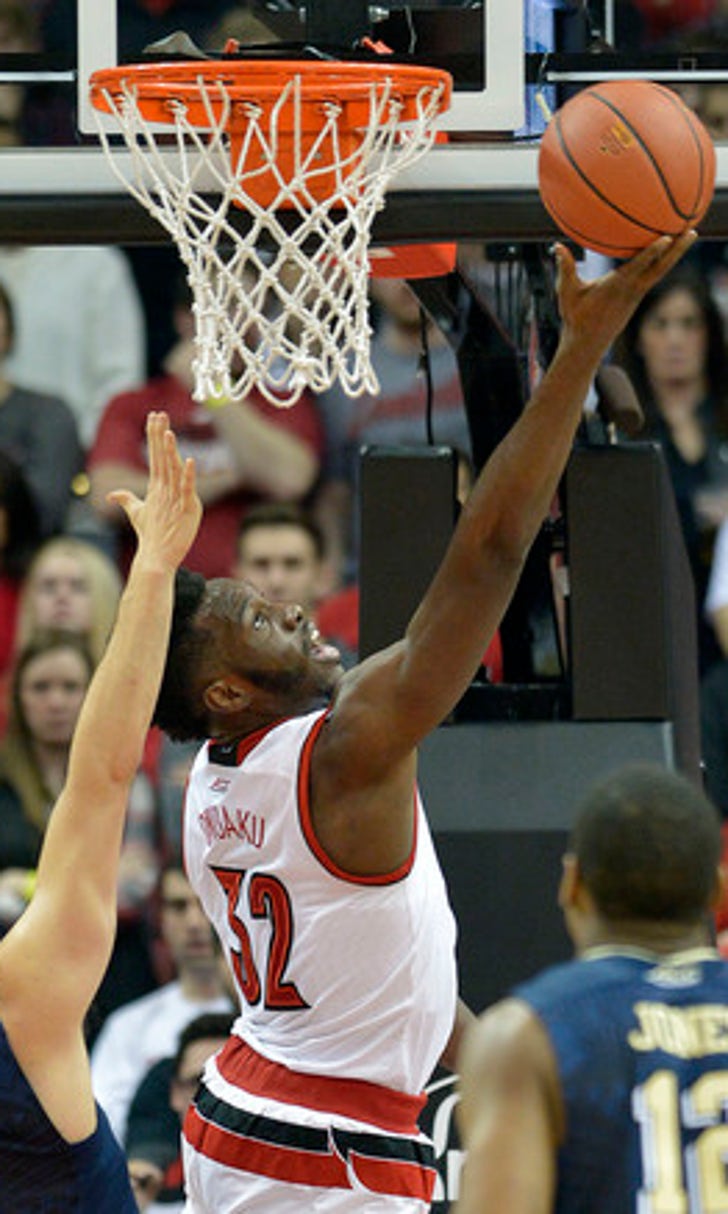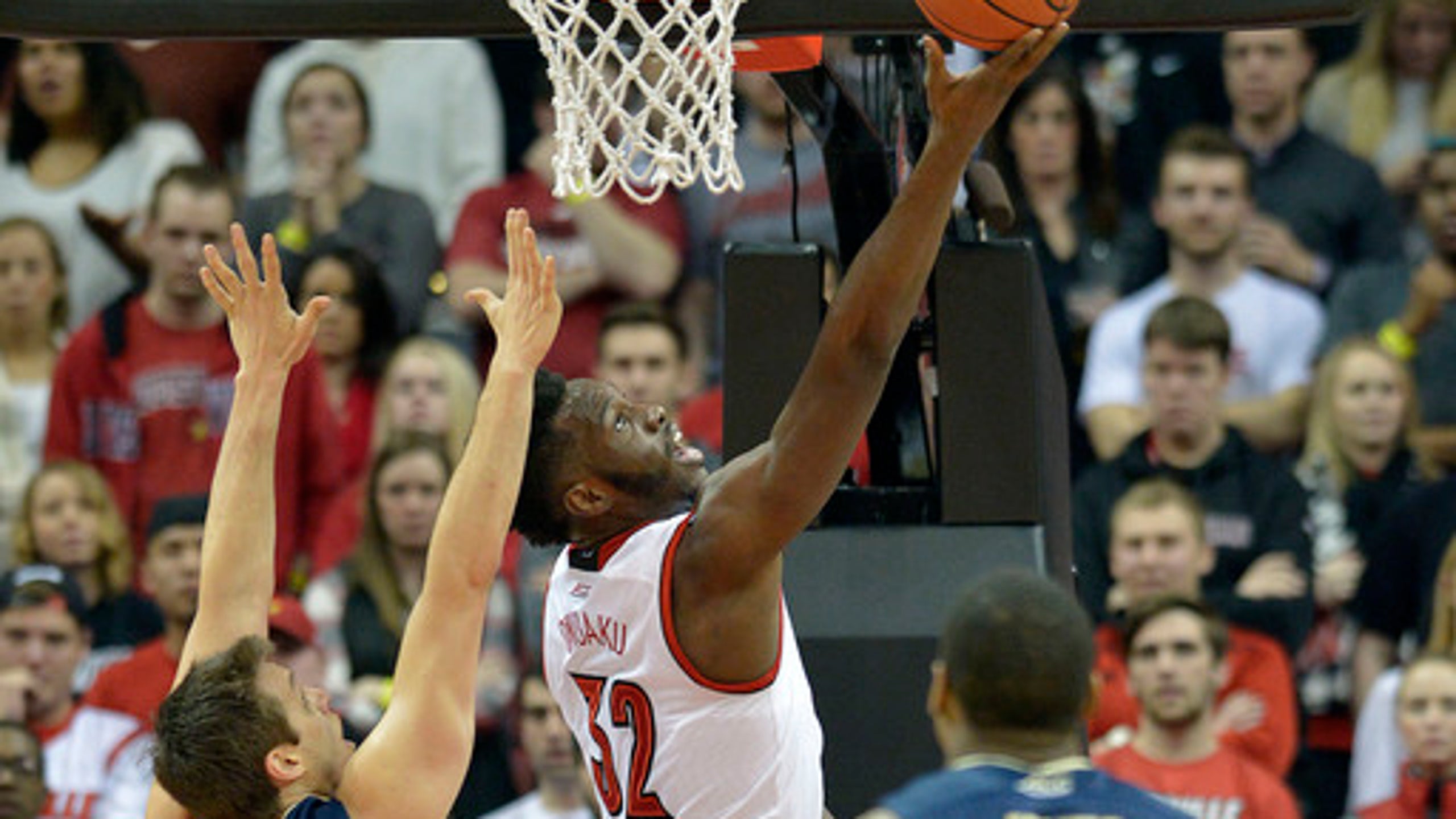 No. 21 Louisville grinds down No. 20 Pitt for 59-41 win
BY foxsports • January 15, 2016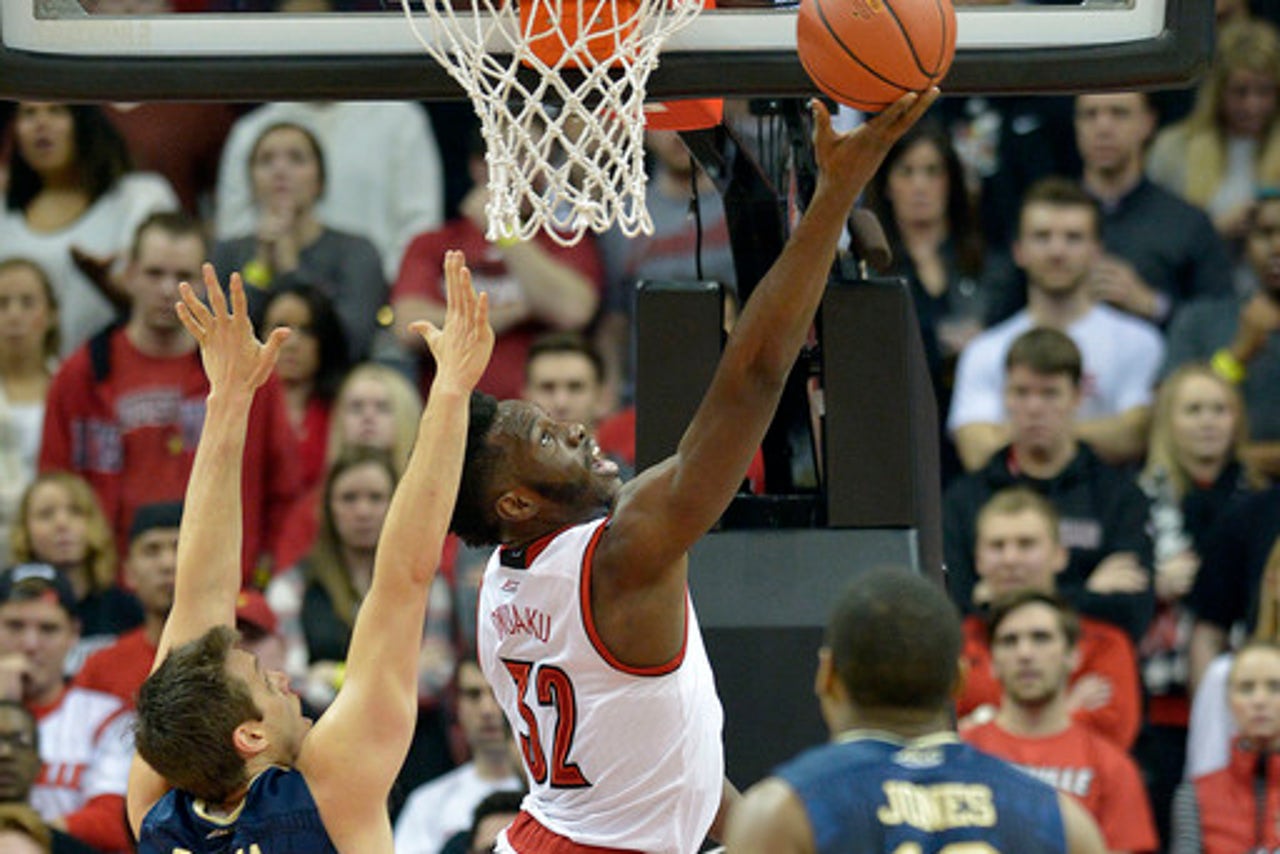 LOUISVILLE, Ky. (AP) Chinanu Onuaku had 18 points and 10 rebounds as No. 21 Louisville ground down No. 20 Pittsburgh for a 59-41 victory Thursday night.
The sophomore center had his fourth consecutive double-double to go with three blocks. Damion Lee scored 18 points for the Cardinals (14-3, 3-1 Atlantic Coast Conference).
Pitt (14-2, 3-1) saw its 10-game winning streak snapped in by far its worst outing of the season. Michael Young led the Panthers with 18 points and eight rebounds.
The game resembled a Big East brawl of a bygone era.
Louisville led 20-17 at halftime, the lowest halftime total for both teams this season. Both teams were 1-of-11 (9 percent) from 3-point range. Louisville had a 34-20 advantage on points in the paint.
Pitt entered the game leading the nation in free throw percentage but shot just 12 of 20 (60 percent) from the line.
Onuaku carried the Cardinals in a myriad of ways - hitting jumpers from the baseline and top of the key to go with dunks off drop-steps, all while directing the defense.
Louisville used a 7-0 run to stretch the lead to double digits with 16:07 left, capped by Ray Spalding's reverse layup. The Cardinals led 33-23 when Pitt's Sheldon Jeter, a 93 percent free throw shooter, missed three straight from the line. That helped Louisville to stretch its lead to 40-25 with 9:33 remaining before Pitt began clawing back. Ryan Luther's steal and dunk with 4:54 remaining cut the lead to nine before Louisville went on an 11-0 run.
Louisville coach Rick Pitino ditched his tie late in the first half of the slugfest after both teams scored just 11 points in the first 10 minutes. Louisville started 3 of 15 from the field - continuing its funk from Sunday's 66-62 loss at Clemson - before regrouping midway through the half. The Cardinals clicked off a 9-0 run, with Onuaku scoring the first seven points, to take a 20-14 lead with 4:56 left in the half. The Cardinals held Pitt without a point for nearly 7 minutes before Damon Wilson's 3 with 2:19 left proved the final score before halftime.
To illustrate just how gnarly it was early: both schools' football teams scored more points in the first half of their matchup this season than the basketball teams managed in theirs.
In a series that has seen its share of physical contests, Thursday was the lowest combined score in 16 matchups. The previous low came in the first-ever game between the schools in 1947.
TIP-INS
Pitt: The Panthers had 11 first-half turnovers, more than their season average for a game, and finished with a season-high 19. ... The Panthers shot 29 percent. Their previous scoring low was 59 in a loss to Purdue.
Louisville: Louisville shot 41 percent. Onuaku, who shoots free throws underhanded, matched his career high with four makes from the line. ... This is the fifth time the Cardinals have limited an opponent to less than 30 percent shooting this season.
UP NEXT
Pitt hosts Boston College on Saturday.
Louisville hosts Florida State on Wednesday.
---
---