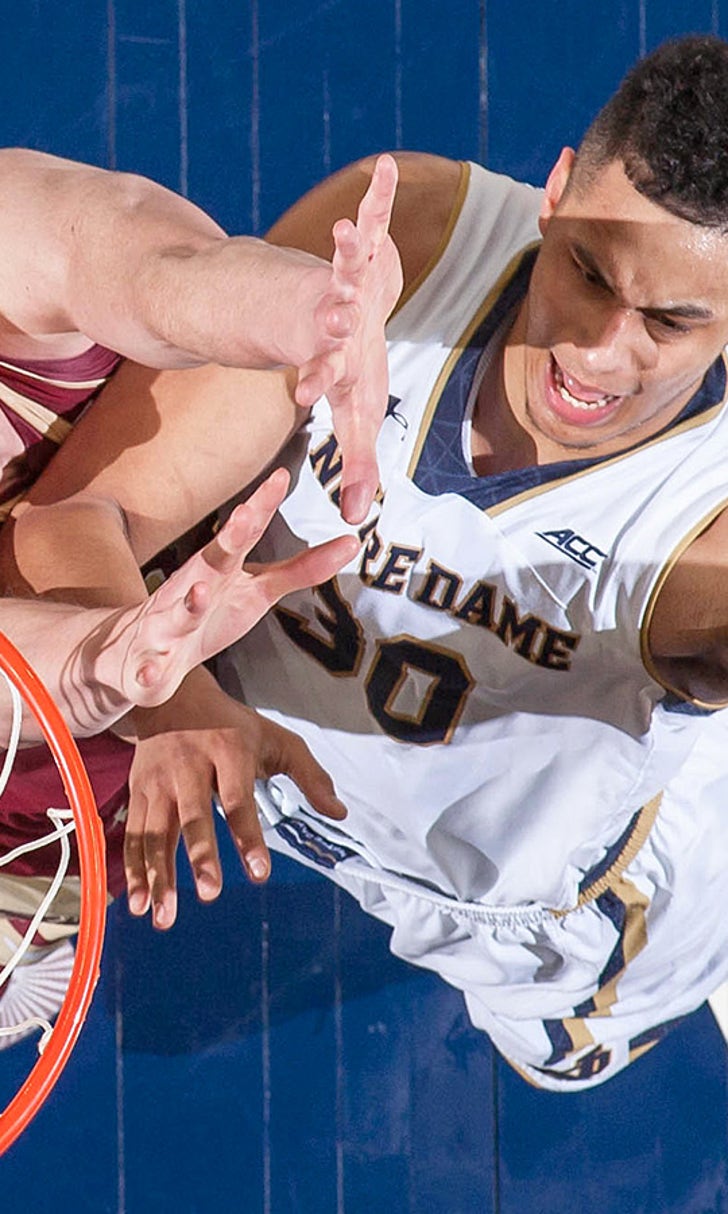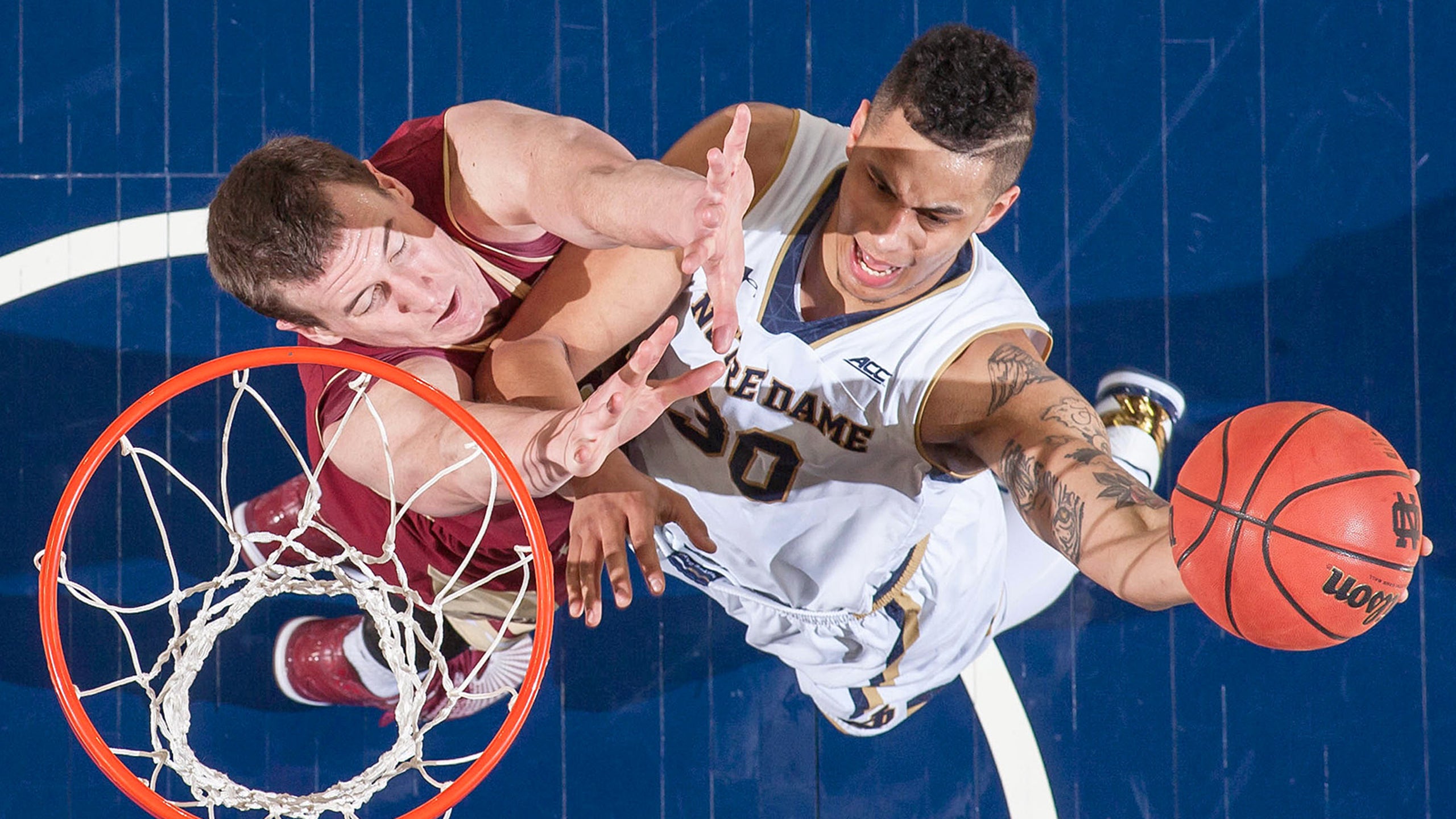 No. 10 Notre Dame continues mastery of Boston College
BY foxsports • February 4, 2015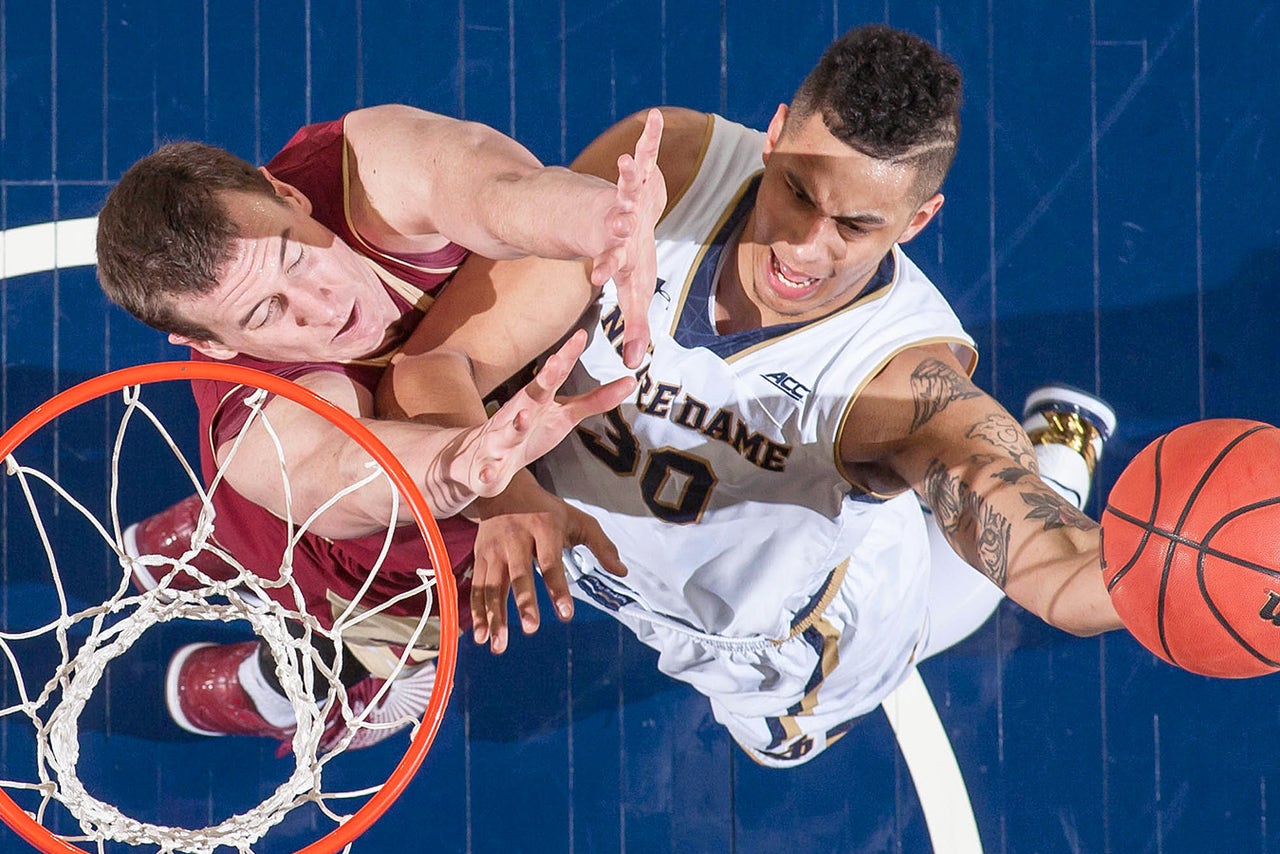 It was a little too easy for No. 10 Notre Dame at the start of the game. It turned into a tough one at the very end.
Jerian Grant and Steve Vasturia scored 17 points apiece, and Notre Dame held off Boston College for a 71-63 victory on Wednesday night.
The Fighting Irish (21-3, 9-2 Atlantic Coast Conference) had a 25-point lead with five minutes left in the first half. But Dimitri Batten's half-court shot got Boston College within 16 at the break, and the Eagles nearly completed an impressive comeback in the second half.
"It got to 25 so fast, you worry about concentration and focus a little bit," Notre Dame coach Mike Brey said. "Then the guy throws in a half-court shot at halftime and I'm thinking ... but I never expect a league game to be easy."
Olivier Hanlan, who led Boston College with 28 points, hit four consecutive 3-pointers to cut Notre Dame's lead to 67-61 with 1:47 left. But the Eagles' rally fizzled from there.
Zach Auguste added 16 points for the Irish, who bounced back from a disappointing loss to Pittsburgh on Saturday. Pat Connaughton scored 10 of Notre Dame's first 16 points and finished with 11.
Boston College (9-12, 1-8) has dropped eight of its last nine games against Notre Dame. Aaron Brown added 13 points for the Eagles.
Grant said the Irish just stopped hitting their shots in the second half.
"We got a little bit out of our rhythm and forced some shots instead of moving the ball like we usually do," he said.
The Irish got off to a fast start while the Eagles struggled to score. Auguste converted a layup to lift Notre Dame to a 34-9 lead.
After giving up 76 points against the Panthers on Saturday, the third-highest total for a Notre Dame opponent this season, the Irish came out focused on defense and forced seven turnovers in the opening 10 minutes.
Boston College was coming off a 16-point loss to Clemson and didn't look any better early against the Irish.
"We have to have everyone on our team come to play and we had some key guys not play hard or well tonight," Boston College coach Jim Christian said.
Hanlan said the Eagles were too sloppy on defense early in the game.
"They had so many easy looks in the first half and Notre Dame, being the team they are, you can't get caught doing that against a team like that," he said.
TIP-INS
Boston College: The Eagles dropped to 0-8 when they trail at halftime. ... Boston College dropped to 1-10 when outshot by its opponent. Notre Dame shot 50 percent to become the fourth team this season to shoot 50 percent or better against the Eagles.
Notre Dame: The Irish have won eight straight at home against Boston College. ... Notre Dame plays three games in six days and then is off for a week. ... The Irish are off to their best start since opening the 1978-79 season 22-3.
SCHOOL REUNION
Auguste and Hanlan were best friends at New Hampton School in New Hampshire. "He has improved so much this year," Hanlan said. 
---