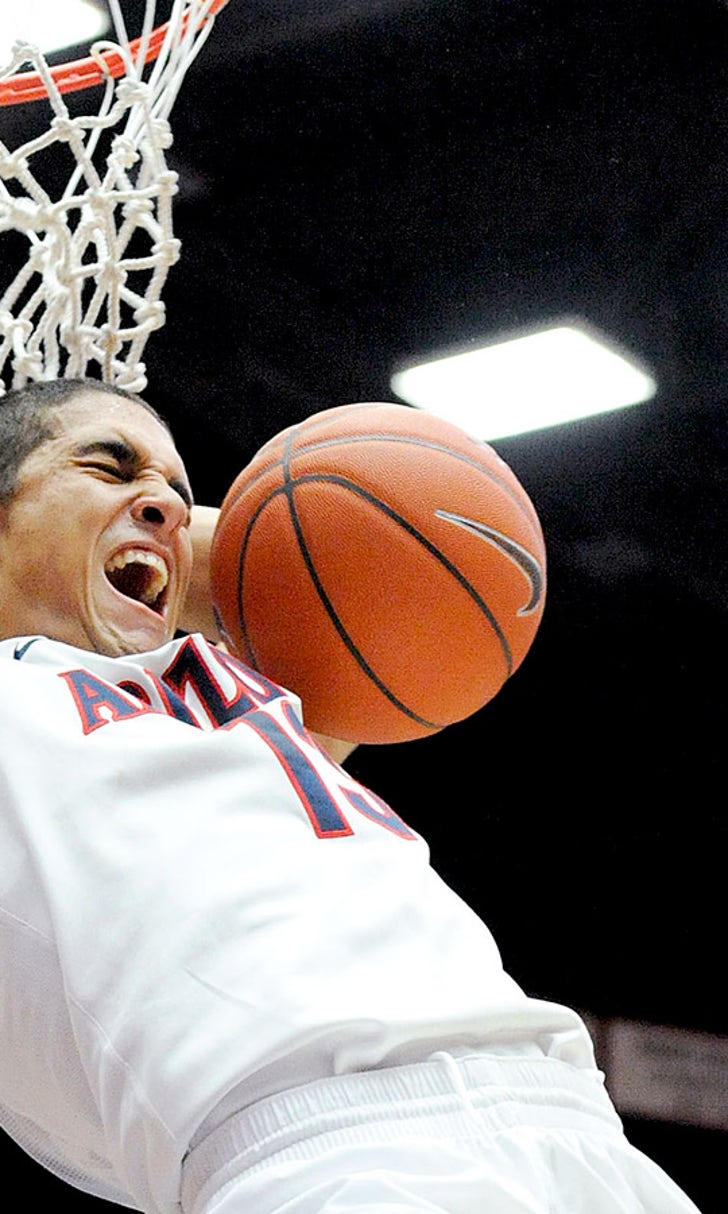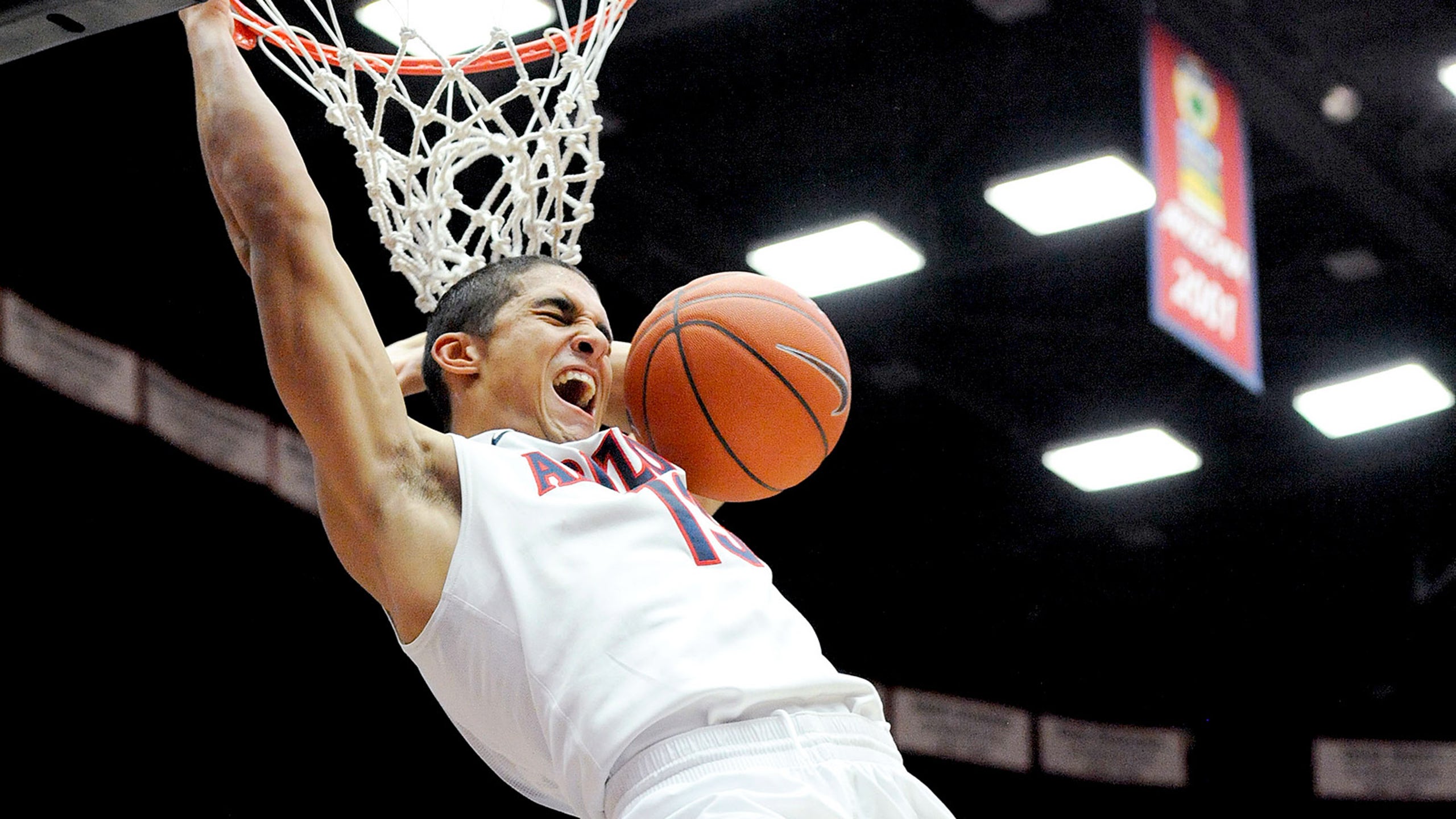 No. 1 Arizona beats Utah for school-record 20th straight win
BY foxsports • January 26, 2014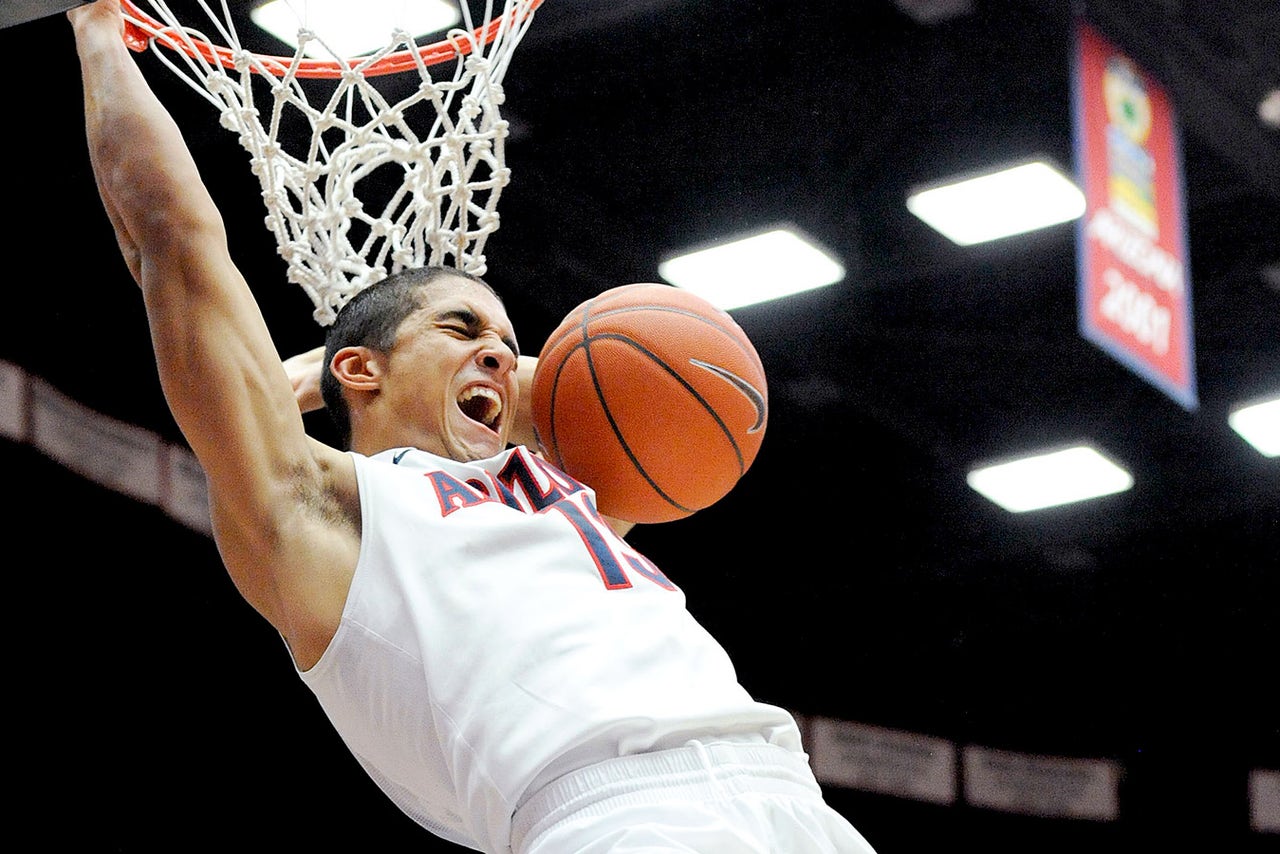 TUCSON, Ariz. (AP) -- Aaron Gordon went on wild, fruitless drives to the basket, repeatedly shook his head in frustration and shot a free throw that had a better chance of bouncing off the floor into the basket.
The talented freshman never stopped hustling, though, and came through with some of the biggest plays of the night.
Gordon overcame a difficult night on the offensive end with his relentlessness, providing top-ranked Arizona with a huge boost down the stretch of a 65-56 victory over Utah Sunday night that extended the Wildcats' winning streak to a school-record 20 games.
''I've learned from a young age that when it's not going your way, you have to try to turn the tide and make it go your way,'' Gordon said. ''The ball wasn't going through the rim tonight, but I picked up my play in other aspects.''
It's a good thing for the Wildcats that he did.
Arizona (20-0, 7-0 Pac-12) struggled early, falling into an early 10-point hole as they struggled to figure out Utah's variety of defenses.
The Wildcats eventually managed to decipher what the Utes were doing and wore them down with relentless defensive pressure and a dominating performance on the glass.
Arizona shot 3 of 14 from 3-point range and 40 percent overall, but made up for it with 20 offensive rebounds that led to 19 second-chance points. The Wildcats had a 40-29 rebounding advantage overall and outscored Utah 38-24 in the paint.
Nick Johnson had 22 points, hitting some big shots down the stretch to help Arizona pull away.
Gordon scored 10 points on 3-of-13 shooting, but had seven of his 12 rebounds on the offensive glass and blocked two shots, including one during Arizona's decisive run.
Fellow freshman Rondae Hollis-Jefferson also provided a lift with his hustle, scoring 10 points while grabbing five of his seven rebounds on the offensive end.
No, it wasn't easy, but the Wildcats pulled it out just like they have all season.
''To set a record at Arizona, it's so meaningful because of the history here,'' Arizona coach Sean Miller said. ''It's special.''
Utah (14-6, 3-5) remained winless on the road.
Delon Wright led Utah 19 points and Jordan Loveridge added 13 on 3-of-14 shooting.
''To use a football analogy, it's a team that runs the ball,'' Utah coach Larry Krystkowiak said of Arizona. ''They grind on you and grind on you and eventually the defense gets tired of being on the field at the end of the game. There's a lot to be said for the way they play.''
Utah has been good at home, earning all 14 of its wins in Salt Lake City, including a 74-69 victory over then-No. 25 UCLA on Jan. 18.
The road has been a different story for the Utes.
But Utah clearly wasn't intimidated by Arizona or the atmosphere of playing the nation's top-ranked team in one of college basketball's most difficult road arenas.
The Utes opened with a 12-2 run, punctuated by Wright's steal and fast-break layup, and the Wildcats couldn't get anything to go in, missing shots at the rim and perimeter while starting 1-for-12.
''We jumped out early and came out with a lot of energy like coach wanted,'' Utah forward Dakaral Tucker said.
A hustle play by Hollis-Jefferson got Arizona rolling.
Scrambling after his own missed free throw, the freshman dived on the floor and hit the ball off Wright before falling out of bounds.
With the crowd cheering instead of groaning with every possession, the Wildcats found their rhythm, using a 12-0 run to take the lead.
Both teams settled down after that and traded baskets and physical play the rest of the half. Arizona went up 33-26 at halftime after Kaleb Tarczewski threw down a two-handed rebound slam at the buzzer.
The Utes didn't back down, scoring the first six points of the second half and hitting seven of their first 11 shots while the Wildcats managed to it close despite struggling on offense.
Gordon helped turn the tide for the Wildcats.
The freshman missed 10 of his first 12 shots, but he broke Arizona out of its funk with a two-handed dunk over Dallin Bachynski, followed with a blocked shot on a jumper by Loveridge, and then grabbed an offensive rebound to keep possession alive, leading to a runner by Johnson.
Johnson added two more baskets, one a dunk on a baseline drive, to cap a 12-2 run that put Arizona up 59-49
''Those two guys bring a lot to the table,'' Miller said of Gordon and Hollis-Jefferson. ''Their athleticism and physicality and just big-moment plays. The bigger the game, the more competitive the game, those guys are first-year players but they're really at home when it's like that.''
---