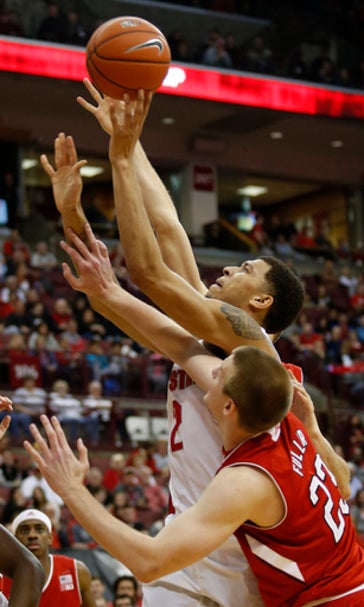 Nebraska rallies to beat sloppy Ohio State 58-57 (Feb 18, 2017)
February 18, 2017

COLUMBUS, Ohio (AP) Mistakes and sloppy play by Ohio State allowed Nebraska to climb back into Saturday's game in the final 25 seconds and escape with a win for the first time in eight trips to Columbus.
The Huskers pulled out a 58-57 victory in a sloppy game marked by lousy shooting and careless ball-handling by both sides.
The Buckeyes led 57-52 before Nebraska's Jack McVeigh hit a 3-pointer from the corner with 25 seconds on the clock to cut the lead to two points.
An Ohio State turnover led to a Glynn Watson layup to tie the score with 12 seconds left. Watson was fouled on the shot, and his subsequent free throw put Nebraska ahead for the first time in the second half.
Ohio State had 7.8 seconds to set up for a shot and win it, but the play blew up, Jae'Sean Tate picked up his dribble and was forced to throw up an errant jump shot just before the buzzer.
Afterward, Ohio State coach Thad Matta, whose team assured him of the first losing league record of his coaching career, couldn't quite find the words to explain how the Buckeyes blew it.
''Dumbfounded,'' Matta said.
Tai Webster scored 17 points, Watson had 14 and McVeigh added 11 for the Huskers (12-14, 6-8 Big Ten), who won their second straight game, despite shooting only 38 percent. The Buckeyes were only a little bit better, hitting 41 percent of their shots, but they committed 18 turnovers leading to 23 Nebraska points.
Tate had 14 points and 10 rebounds, and Marc Loving and Trevor Thompson each added 13 for Ohio State (15-13, 5-10 Big Ten). The Buckeyes lost their third straight and watched their hopes of making the NCAA Tournament as a bubble team all but evaporate.
''We've got to be smarter, we beat ourselves tonight,'' Tate said. ''We deserve it.''
The first half wasn't pretty.
Ohio State led by 11 with 5 1/2 minutes left, but a 7-2 run allowed the Huskers to close it to 30-24 at the break. Nebraska shot a dismal 33 percent from the floor, including 2 for 9 from beyond the arc, and didn't have a basket in the last 2:54 of the half. The Buckeyes could manage only a single foul shot in the last four minutes and had eight turnovers.
Ohio State went up by 11 early in the second half but Nebraska stayed around. The Buckeyes held a seven point lead with 3:37 left, but a 10-3 run by Nebraska tied it with Watson's layup.
''I saw the lane and I thought I had the big man beat, and I just finished it,'' Watson said.
BIG PICTURE
Nebraska: Gets some momentum and a reason to feel good in a season that has not been stellar.
Ohio State: Couldn't rise to the occasion in a late-season home game when their backs were against the wall. Hopes for an NCAA bid all but disappear in a game the Buckeyes shouldn't have lost.
UP NEXT
Nebraska: Plays at Michigan State on Thursday night.
Ohio State: Faces No. 11 Wisconsin at home Thursday night.
---
More AP college basketball at www.collegebasketball.ap.org.
---
Follow Mitch Stacy at http://twitter.com/mitchstacy
---
---