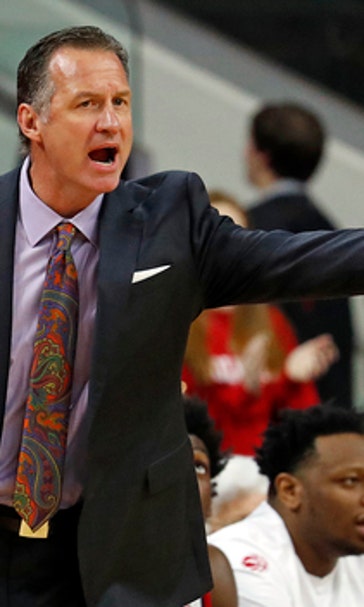 NC State's Gottfried hopes for final flurry before his exit
February 19, 2017

RALEIGH, N.C. (AP) North Carolina State coach Mark Gottfried knows he's out of a job at the end of the season. He's just hoping to help his Wolfpack put together a final flurry.
The Wolfpack took the court Saturday for the first time since athletic director Debbie Yow announced Gottfried wouldn't return for a seventh season, falling 81-72 to No. 25 Notre Dame. And Gottfried said he's going to fight through the final three regular-season games as well as however long his team plays in the Atlantic Coast Conference Tournament in Brooklyn or beyond.
''Tough things happen in life, that's what life is - it's hard and things happen,'' Gottfried said. ''I need to be an example too in how I respond to tough things happening. My whole focus that day and today is them guys on the team, our players, that's all this is about.
''I want them guys to have success, that's all I want for them. Got close today, just didn't get enough.''
Gottfried had a 122-82 record with the Wolfpack, including NCAA Tournament trips in his first four years that included two Sweet 16 appearances - the second coming after an upset of No. 1 seed Villanova in 2015.
But N.C. State has slid to 30-31 over the past two seasons - including 8-25 in league play - while struggling to maintain continuity amid transfers, players leaving early to pursue professional playing careers, and staff turnover.
This year's team was picked to finish sixth in the 15-team ACC with the arrival of potential one-and-done point guard Dennis Smith Jr., but sits in 14th after seven straight losses - four by at least 24 points.
''I want to coach,'' Gottfried said. ''I look at myself and look at our run at Alabama and look at Murray State and even look at here ... I'm proud of some of the things that happened here. Amazing things happened here. Unbelievable fun things. Disappointed too. But hey you roll on. I'm going to roll on when that time comes.
''But right now I want to see if I can help these guys somehow. Just a little bit more, just a little more to get over the hump and have some success on the way out.''
Gottfried heard a smattering of boos before Wednesday's 97-73 loss to 10th-ranked rival North Carolina, with the announcement of his ouster coming the following afternoon. He heard only cheers Saturday, though there was a smaller crowd with at least a half-dozen empty upstairs seating sections in PNC Arena.
''It's hard, to be honest,'' Gottfried said. ''It's not an easy thing. It's difficult. I can disagree with Debbie and that's OK, but I work for somebody, just like we all do. We all have a boss. And so once I kind of got over all that a little bit, my job now is to still lead our team.''
His team repeated some of its season-long defensive struggles and fell behind 41-28 by halftime Saturday, then by 23 with about 14 minutes left. The Wolfpack thrice rallied within seven points late with a competitive edge it hasn't shown in several of the recent losses.
The focus now is Tuesday's game at Georgia Tech, a home game with No. 14 Virginia next weekend and the finale at Clemson on March 1.
''Mark is a good friend, lot of respect for him - he's a really good coach,'' Notre Dame coach Mike Brey said. ''He probably has a couple of job offers by now. But for him to stay with this group and finish with them just kind of tells you the kind of guy he is. Don't be surprised if they do something interesting here in the regular season, especially in Brooklyn.''
---
Follow Aaron Beard on Twitter at http://www.twitter.com/aaronbeardap
---
More AP college basketball: http://collegebasketball.ap.org and http://www.twitter.com/AP-Top25
---
---