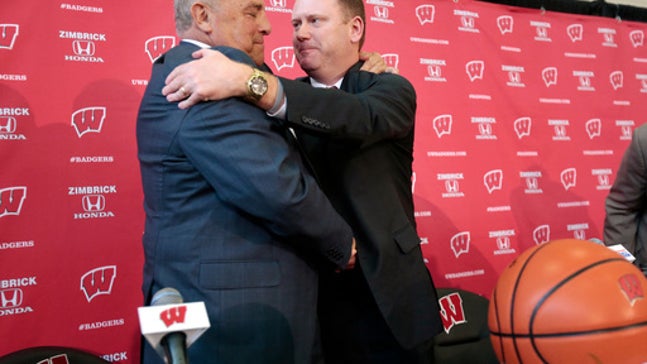 Native sons Chryst, Gard lead Wisconsin's visible programs
Published
Mar. 14, 2016 7:25 p.m. ET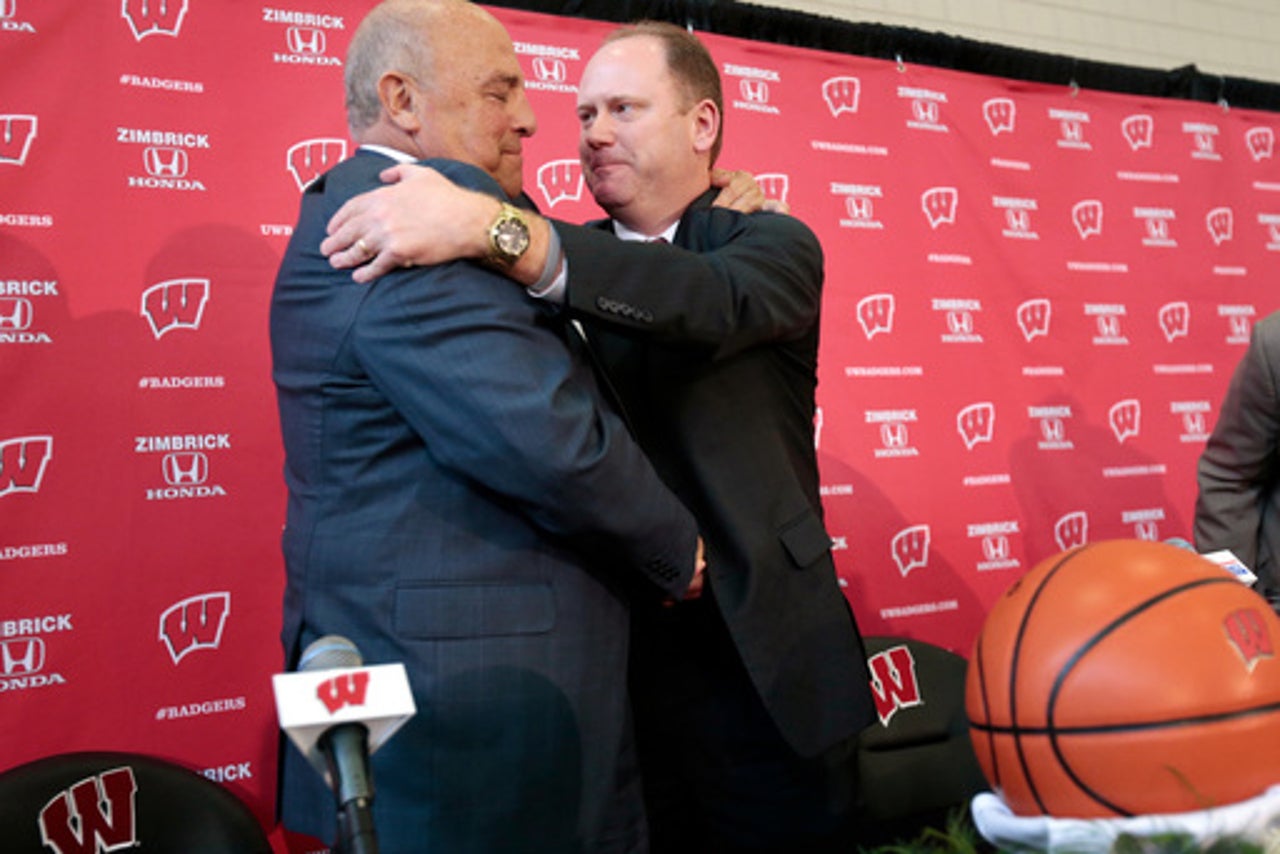 MADISON, Wis. (AP) The leaders of the highest-profile athletic programs at Wisconsin know all about the pride and pressure that come with coaching in their home state.
Football coach Paul Chyrst is a native son, just like Greg Gard, newly minted as the full-time basketball coach. Both also were former Wisconsin assistants.
While home-state connections weren't requirements for the jobs, it sure didn't hurt their candidacies, either.
''Yeah, I think it's easier to have one who knows it all, who knows how we operate, who has a plan that's been successful and understands the plan and understands the University of Wisconsin,'' athletic director Barry Alvarez said last week in announcing Gard's hiring.
Having coaches with more familiarity would seem to make sense, though it's not that common in the current makeup of the Big Ten.
Of the 14 conference schools, Penn State (football coach James Franklin and basketball coach Patrick Chambers) and Northwestern (football coach Pat Fitzgerald and basketball coach Chris Collins) also have coaches in both sports with in-state ties. Fitzgerald also played at Northwestern.
Gard is from the small town of Cobb, about an hour's drive west of Madison. He considers himself lucky enough to never have left his home state for any coaching job.
Division III Wis.-Platteville was the first collegiate line on Gard's resume, followed by Division I Milwaukee. In both roles, he served as an assistant under Bo Ryan before following Ryan to the Wisconsin system's flagship campus in Madison.
''Do you know how unique that is and rare? Do you know how special that is?'' Gard said at his introductory news conference last week. ''That's unbelievable, and I'm so proud of all the people that have helped me along the way.''
Most importantly, Gard produced results in leading the Badgers to a 13-6 record following Ryan's retirement in December to help get Wisconsin an 18th straight trip to the NCAA Tournament. Seventh-seeded Wisconsin plays 10th-seeded Pittsburgh on Friday in a first-round game in St. Louis.
The practice gym used to stage Gard's introduction was filled with friends, family and mentors - much like how it looked when Chryst was introduced in December 2014 to replace Gary Andersen.
Chyrst grew up in Madison near Camp Randall Stadium, and played for the Badgers.
''You're happy for him and you're happy for the program. I don't know if I'd be less excited of the opportunity that he has if he was from another state,'' Chryst said of Gard, speaking Saturday after the start of spring football practice. ''But yeah, I'm proud of where I'm from, and I'm proud of being the coach here at Wisconsin. I know that Greg is the same.''
Andersen, Chryst's predecessor, didn't have Wisconsin roots. Alvarez hired Andersen from Utah State to replace Bret Bielema, but he lasted just two seasons before heading back west to take the reins at Oregon State.
When asked about the value of having a coach with local knowledge for one of Wisconsin's more visible jobs, Alvarez talked about the importance of having someone who understood the school's academic standards at the school.
''And it's not just lip service, that they're going to go to class and they're going to be serious students,'' Alvarez said. ''So it's not that you can't learn it, but when you have someone who does understand it, it makes it easier for me, and it is important.
''But it wasn't a necessity ... You can find a fit from outside, but it makes it much more easier, and it's more of a guarantee.''
---
Follow Genaro Armas at http://twitter.com/GArmasAP
---