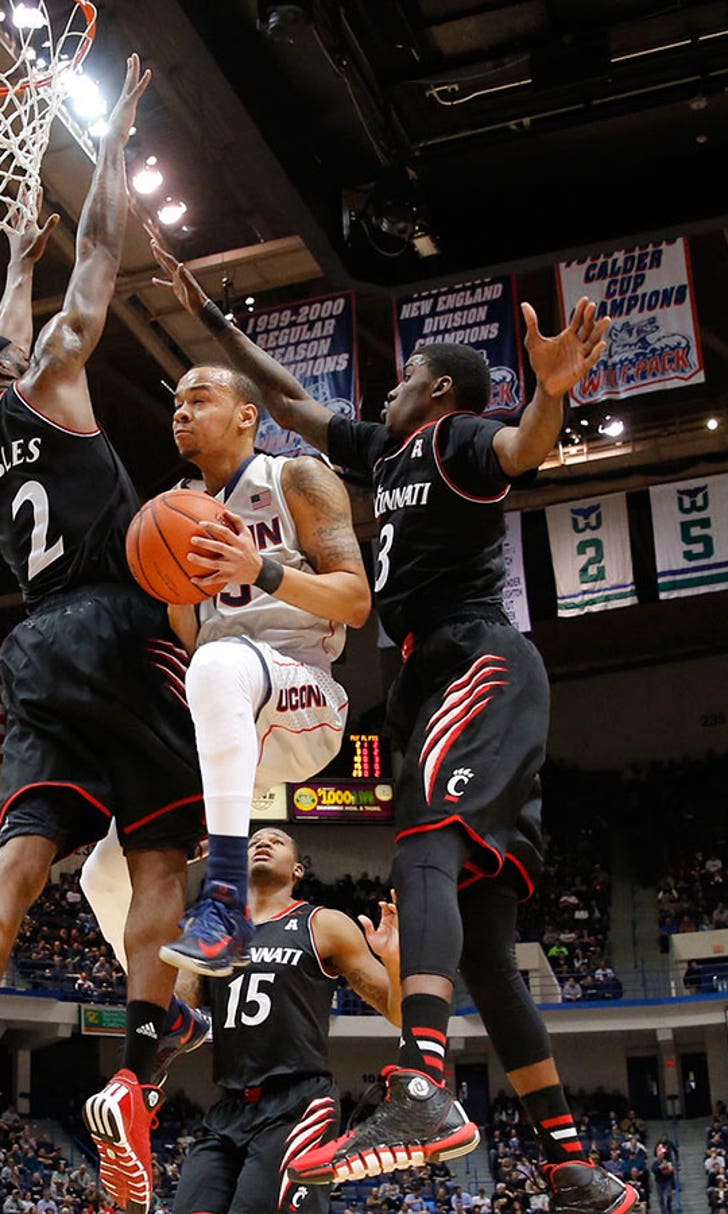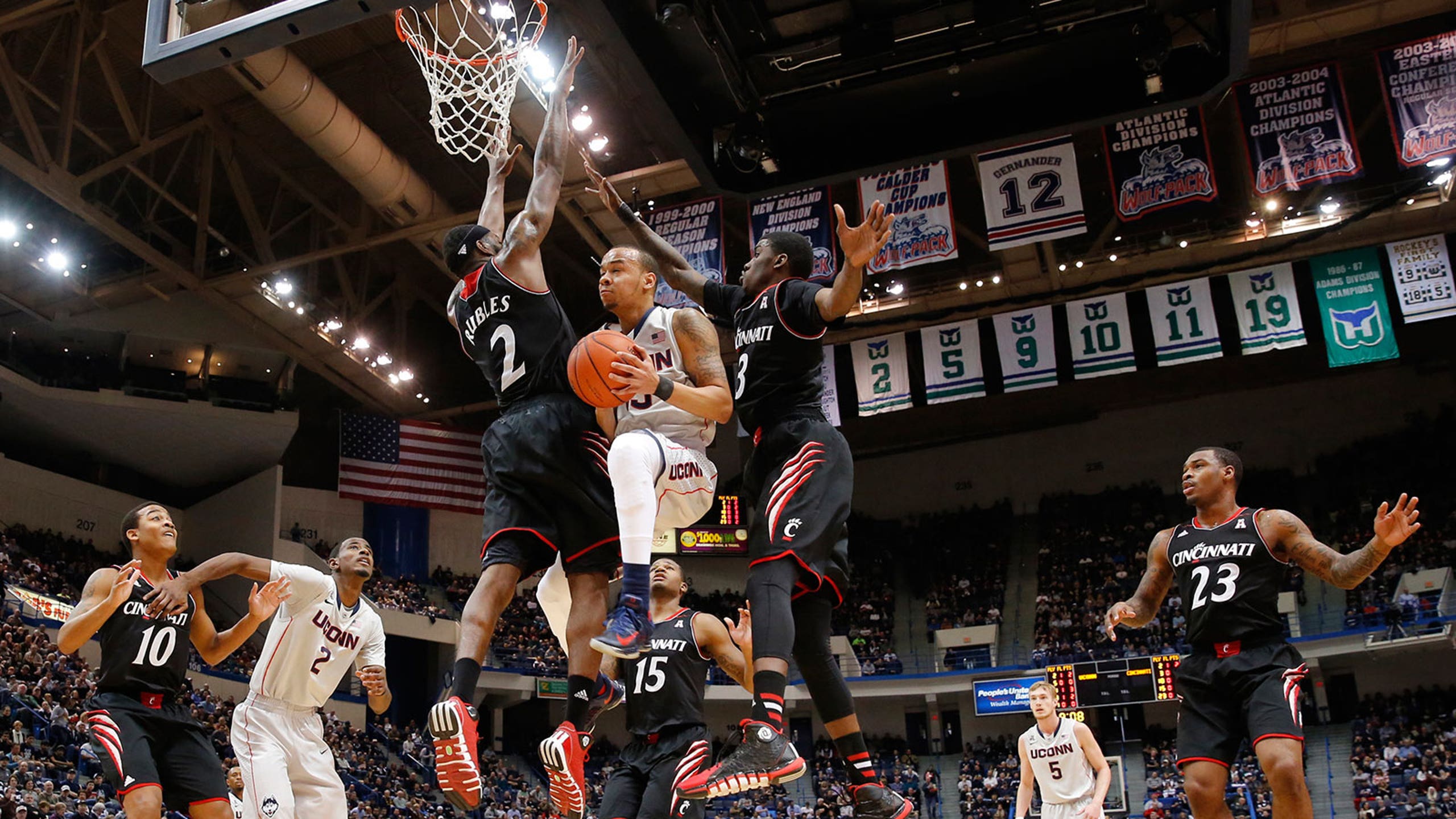 Napier's double-double helps UConn upset No. 11 Cincinnati
BY foxsports • March 1, 2014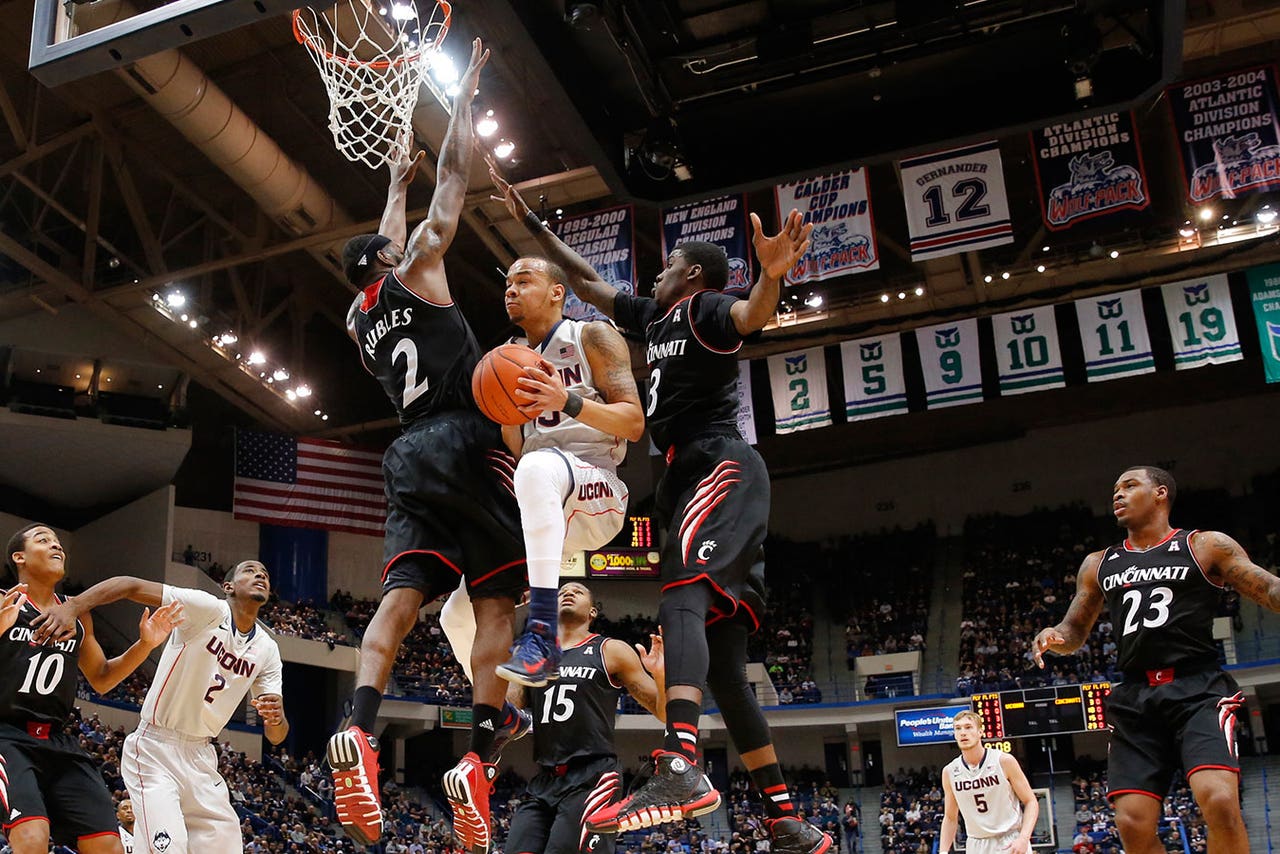 HARTFORD, Conn. -- UConn didn't score a basket in the last 7 minutes against No. 11 Cincinnati on Saturday, and still won the game.
Shabazz Napier scored 18 points and grabbed 11 rebounds to lead the Huskies to the 51-45 upset of the 11th-ranked Bearcats.
"We went into a little drought and we didn't allow that to deter us on the defensive end," said Napier, who made just four of his 13 shots from the floor. "Guys were just continuing to work hard and that was exactly what we needed."
UConn 23-6, 11-5 American Athletic) held Cincinnati (24-5, 13-3) to just 13 baskets on 48 shots, while scoring 15 baskets on the same number of attempts.
It was the fewest points the Huskies have scored in a win in 12 years, and the fewest combined points since they beat Butler 53-41 in the 2011 NCAA championship game.
Napier, the Huskies' player of the year candidate, bested Cincinnati's, Sean Kilpatrick, who finished with 16 points, but was just 4 of 16 from the floor.
The Huskies scored 20 points off 20 Cincinnati turnovers.
"That loss was on us, it's not on anyone else or what affected us in any type of way," Kilpatrick said. "We just weren't taking care of the ball at all."
UConn led by one at halftime. But the Bearcats had just one field goal in the first 7 minutes after intermission, and Connecticut went on a 13-4 run over the first 11 minutes of the second half to open up a 39-29 lead.
Connecticut's final field goal came with 7:39 left in the game, a Ryan Boatright dunk that made it 41-32.
Cincinnati chipped away, cutting the lead to 45-42 on a pair of free throws by Shaquille Thomas. The Bearcats had the ball trailing 47-43 with 36 seconds left.
But Phil Nolan stepped in front of a Kilpatrick drive to the basket, drawing a charging foul. It was one of 39 fouls called in the game.
The Bearcats were forced to foul again, and Napier sealed the win with a pair of free throws. It was the senior's 25th double-digit game during a season in which he has put up a career-best 516 points. He was 9 of 10 from the foul line.
"There wasn't going to be a lot of Xs and Os this game, there was going to be a lot of punches thrown," UConn coach Kevin Ollie said. "And thank God we threw the last punch and we got out with a victory."
It was a game of big runs in the first half.
UConn scored seven in a row and held Cincinnati without a point for more than seven minutes. But the Huskies hit just two of their first 15 shots.
The Bearcats trailed just 9-7 after Kilpatrick followed up on his missed layup. That started a 10-0 run that put Cincinnati up 15-9.
The Huskies countered with a 9-0 run before things settled down.
Kilpatrick had 12 of his points in the first half. His second 3-pointer of the game gave Cincinnati a 25-20 lead. It was the 300th 3-pointer of his career.
UConn scored the final six points before intermission, with Napier cutting through the Cincinnati defense to give the Huskies a 26-25 advantage at halftime.
The win was the first for the Huskies against any of the three teams ahead of them in the conference standings. They were swept by SMU and lost at home to Louisville. But they have won six of seven since falling to Cincinnati 63-58 on Feb. 6 in Ohio.
The Bearcats, who had not played since their one-point loss to Louisville last Saturday, came in tied with the Cardinals atop the conference. They could have sealed at least at share of the conference title by winning this one and their final two.
"We were awful from pillar to post," Cincinnati coach Mick Cronin said. "We weren't connected. We want things to be easy. Well, welcome to March."
---