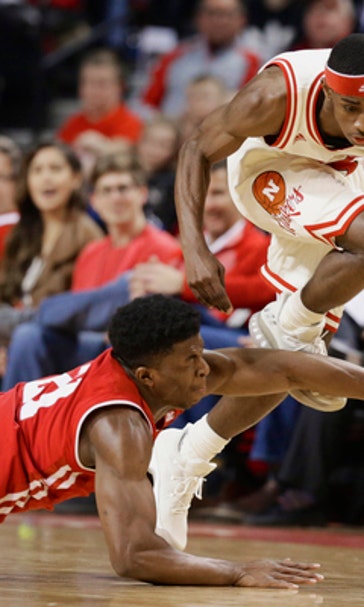 Miles says new-look Huskers could be a surprise in Big Ten
October 26, 2017

LINCOLN, Neb. (AP) The stream of transfers coming and going has made it difficult for coach Tim Miles to gain traction at Nebraska, which has finished higher than 10th only once in its six years in the Big Ten.
Once again, little is expected of the Cornhuskers. The media picked them 13th in the 14-team conference.
''I think we're going to be a lot better,'' Miles said. ''I think we can make a charge. I'm glad no one is talking about us; that's just fine.''
The Huskers had four scholarship players from last season's team transfer but have three coming in who are eligible and expected to play important roles.
''We reinvented ourselves pretty well,'' Miles said. ''We had losses, we had transfers, we had a key player graduate, and the year before we had a key player transfer again. When you get those losses it just feels bad, looks bad, the whole thing. But I like where this team is mentally, physically. Last year (entering preseason) I had three guys in my office wondering what position they were going to play. This year I've had none. There's something to be said about that.''
Since Miles took over in 2012, only six of the 14 high school players he signed finished four years at Nebraska or remain in the program. Two starters and two bench players left after last season in addition to graduated senior Tai Webster, who started 83 of 127 career games.
The Huskers return starters in guards Glynn Watson and Evan Taylor and key contributors in forwards Jack McVeigh and Isaiah Roby and center Jordy Tshimanga.
''Glynn, I believe, will develop into an all-conference type player,'' Miles said. ''He seems better than ever - a better leader, more confident. He feels this is his team and I would expect him to play and act accordingly.''
Transfers Isaac Copeland (Georgetown) at forward and James Palmer (Miami) at guard are projected starters, and center Duby Okeke (Winthrop) should give the Huskers an inside presence the Huskers have lacked. Nebraska also signed a top-100 recruit in guard Thomas Allen.
Things to know about the Huskers:
EXPERIENCE COUNTS
Miles said this is the deepest of his six Nebraska teams. Five of the six returning scholarship players appeared in 30 games last season, and the three transfers have played in a combined 239 career games.
KEY IMPROVEMENTS
The Huskers were 13th in the Big Ten in 3-point shooting (32 percent) and last in 3-point defense (39.9 percent) last season. Miles said he's confident both areas will improve. He said he's recruited better shooters and has made adjustments to the team's perimeter defense.
OKEKE BETTER THAN OK
Okeke has a 7-foot-5 wingspan and his 165 career blocked shots rank sixth among returning Division I players.
Okeke is a ''force to be reckoned with down low as far as rim protection and some of the things he can do,'' Miles said. ''He can stand still, look up and jump up and hit 12 feet. He and Roby both can. That's athleticism we haven't had.''
DROUGHT CONTINUES
Nebraska hasn't won a regular-season conference title since tying for first in the Big Seven in 1950; the Huskers won the 1994 Big Eight Tournament. Nebraska is the only team from a Power Five conference to have never won an NCAA Tournament game.
JAYHAWKS ON SCHEDULE
The highlight of the nonconference schedule is a Dec. 16 home game against Kansas. The Huskers also play their annual game against in-state rival Creighton on Dec. 9 in Omaha, and they open the Advocare Invitational in Orlando, Florida, against a UCF team that reached the NIT semifinals.
''I didn't take the Kansas game for my personal well-being. I took this for the fans,'' Miles said. ''I wanted to be able to show other Big 12 folks this is what we're doing here at Nebraska, this is what basketball looks like, and Pinnacle Bank Arena is going be spectacular at night on Dec. 16 - not that I have that date circled, because they're all circled.''
---
For more AP college basketball coverage: http://collegebasketball.ap.org and http://twitter.com/AP-Top25
---
---