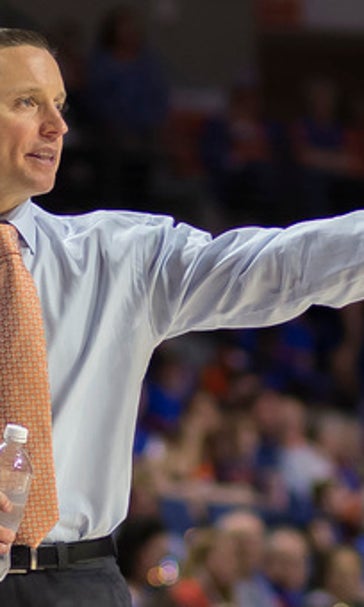 Meeting and beating: No. 17 Florida streaking after powwow
February 10, 2017

GAINESVILLE, Fla. (AP) After consecutive losses to South Carolina and Vanderbilt last month, Florida coach Mike White decided to do something a little different.
Following a lengthy film session, White gathered his players for an even longer discussion.
The team meeting turned into a two-hour intervention.
''Everybody put everything on the table,'' forward Devin Robinson said. ''Some of the stuff can't be (repeated). Basically, we were all focused on the wrong things. We weren't playing for each other like we did at the beginning of the season.''
The 17th-ranked Gators (19-5, 9-2 Southeastern Conference) have won five in a row since - all in lopsided fashion. They beat LSU, Oklahoma, Missouri, then-No. 8 Kentucky and most recently Georgia by a combined 140 points, an average margin of victory of 28 points.
In his second season in Gainesville, White has Florida looking like a lock to return to the NCAA Tournament for the first time in three years. And if the Gators continue their surge, they'll surely earn a top-four seed and open the tournament in nearby Orlando.
For now, the Gators would gladly settle for a sixth straight victory Saturday against Texas A&M (13-10, 5-6). The Aggies are winless in four tries this season against ranked teams, losing to UCLA, Arizona, Kentucky and West Virginia.
Florida could represent problems, too.
The Gators rank sixth in the nation in defensive efficiency, according to the Pomeroy College Basketball Ratings. They have speed and experience on the perimeter, size and depth down low, and enough length and athleticism to challenge most shots.
On the offensive end, the Gators don't have a go-to scorer. Instead, they have so many options that eight different players have led the team in scoring through 23 games.
''It shows that on any given night anyone on our team can have a great game, go for 20 or get eight points, 10 rebounds and 11 assists,'' guard Canyon Barry said. ''So when we have all these guys playing so well at the same time, it's awesome. I think it shows, too, that none of us really care who's the guy any given night. We're just trying to go out there and play our best and win games.''
That wasn't always the case.
Players say they strayed from the team-first philosophy, somewhat common when so many upperclassmen are trying to impress NBA scouts. But it stressed communication, unselfish ball movement and success on both ends of the floor.
So White called the impromptu team meeting to give his guys ''a little prodding, a little encouragement.''
''There were some challenges from certain guys to other guys,'' White said. ''And there were some challenges from our staff to certain guys. We just got some stuff out in the open. There wasn't a lot of sensitivity, either. And that's been huge for these guys lately, to allow their teammates and to allow their staff to be real with them. It's been huge.
''Our guys are realistic. Right now, we're in a good place where we understand that we're not great at this, we're pretty good at this and, when we focus on this, we're pretty good. We just hope it continues.''
Following Texas A&M, the Gators finish the regular season with four of six on the road. That might not be a bad thing.
Playing early season games away from home - the O'Connell Center was wrapping up a $64.5 million renovation - proved to be chemistry-building endeavor for the Gators.
''We have great chemistry,'' point guard Kasey Hill said. ''It definitely was a process. Without those road games, I am not sure we would be this close honestly. But they definitely helped us grow as we were around each other.''
That's a big reason the intervention worked.
''You want to just ride this momentum, win or lose, just continue playing well, playing for each other, focus on the right things,'' White said. ''If we can continue to have this chemistry, play this way, we'll continue to win our share.''
---
More AP college basketball: www.collegebasketball.ap.org and https://twitter.com/AP-Top25
---
---