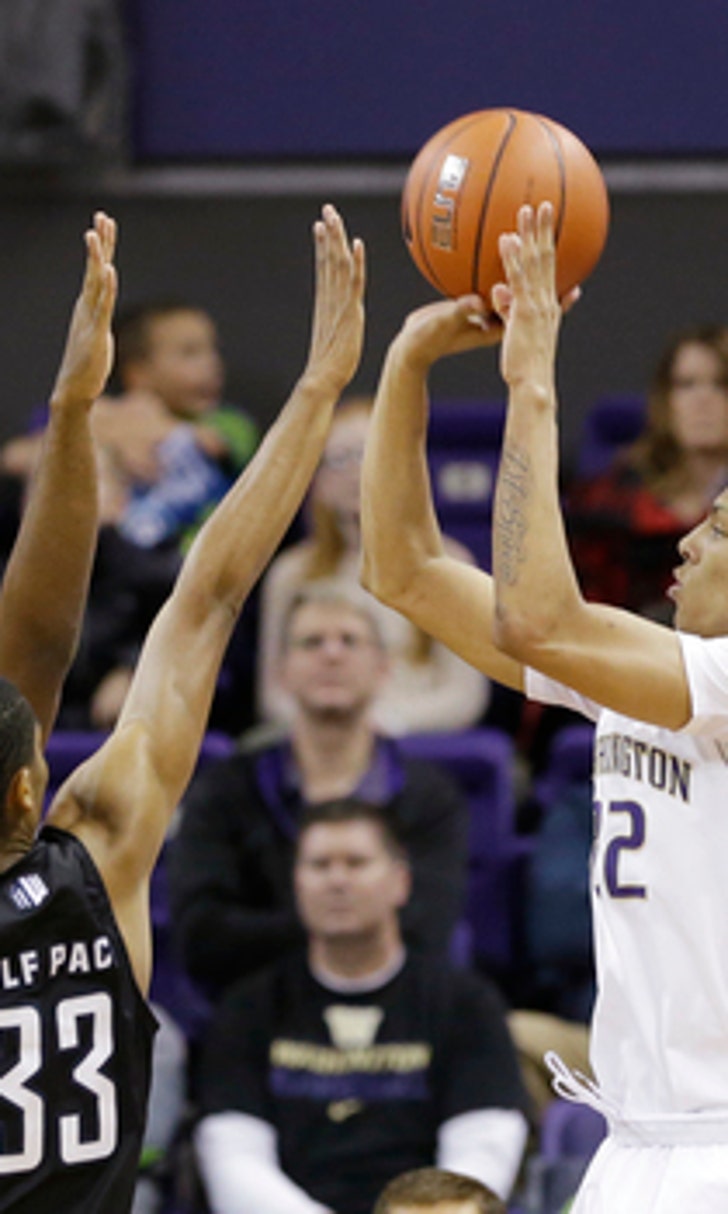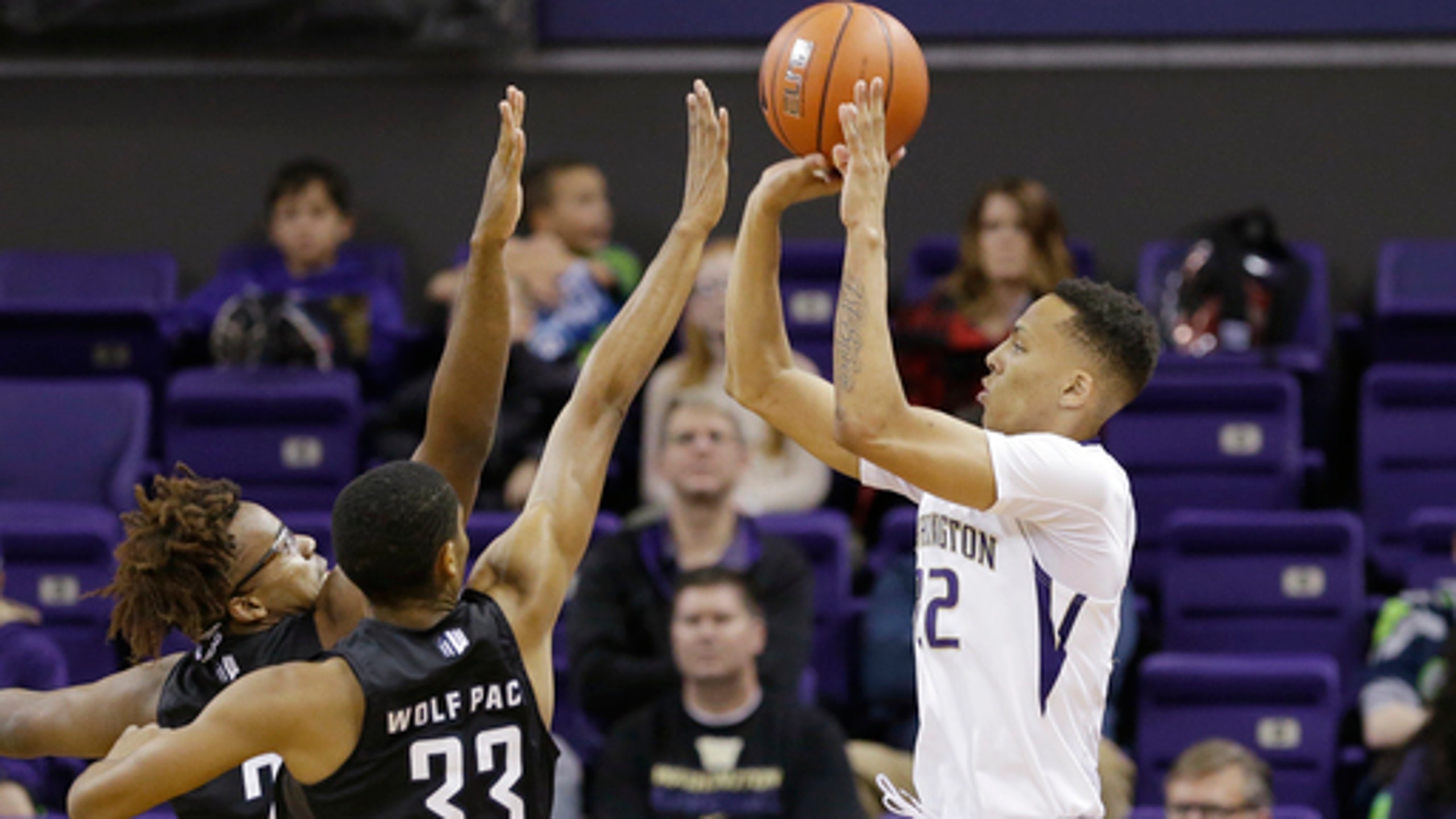 Marshall hits game-winner as Nevada stuns Washington 87-85 (Dec 11, 2016)
BY AP • December 11, 2016
SEATTLE (AP) Nevada's Marcus Marshall knew the clock was running down, knew he didn't have time to try and get around Washington's Matisse Thybulle. The only option was flipping an off-balance runner toward the basket.
He did it just in time.
''The guy sitting at the top of the building today knew that we were going to him down the stretch because we went to him for 4 1/2 minutes and we rode him,'' Nevada coach Eric Musselman said. ''Special players make special shots.''
Marshall hit the 15-foot runner with less than a second remaining to lift Nevada past Washington 87-85 on Sunday night, making a strong statement the Wolf Pack (8-2) want to be considered contenders when Mountain West Conference play begins.
Marshall's shot capped a 32-point night by the senior and was the last of three huge shots he made over the final four minutes as the Wolf Pack picked up their second win this season over a Pac-12 school. Marshall was unable to shake Thybulle, but was able to slide the shot just over the rim with 0.2 seconds remaining.
''Honestly when I drove I felt some contact so I knew the clock was going down so I just put it up,'' Marshall said. ''I'm capable of hitting that shot even with contact.''
Somehow, it was the shot that both coaches wanted. Musselman wanted his star with the ball in his hands. Washington coach Lorenzo Romar got his best defender to force a challenged look at the basket, with Marshall moving to his left and shooting with his right.
''On one hand, you'd like to see Marshall in `Horse' or any other game shoot a running right-hander going to his left and see how many times it would go in,'' Romar said.
Marshall was 11-of-24 shooting, but 7 of 7 on free-throws. The Wolf Pack made 22 of 29 at the free-throw line, while Washington was just 11 of 14.
Washington (4-5) rallied from an 11-point second-half deficit, pulling even at 85-85 on a pair of free throws from Markelle Fultz with 12 seconds left. Washington's star freshman finished with 21 points, but appeared to tire in the second half after scoring 15 points in the first half, and twice in the final two minutes had shots blocked. The second block came on a 3-point attempt that could have given Washington the lead with less than a minute remaining.
David Crisp also had 21 points, all coming in the second half, and his scoring surge midway through the half got Washington back into the game. Crisp had 12 points during a 3 1/2-minute span, but the Huskies never led in the second half.
''We just kept talking about, `We're not letting (Fultz) beat us,''' Musselman said. ''If Crisp hits another shot, we go home, get on the airplane and that's how it is, but we're not letting Fultz beat us under any circumstances.''
While Marshall was the star, Nevada got a huge contribution from D.J. Fenner off the bench. The Seattle native scored 16 of his 20 points in the second half, while Cameron Oliver added 18 points.
''We played tough, we played physical and we played confident,'' Musselman said. ''I think our guys came in to this building tonight expecting to win.''
BIG PICTURE
Nevada: The Wolf Pack won their third straight after losing to Iona in the finals of the Great Alaska Shootout and continued their success in close games. Nevada has won five of its past six games decided by 10 points or less.
Washington: The Huskies were dominated on the offensive boards again. Nevada had a 17-8 advantage, leading to 19 second-chance points, including 15 second-chance points in the first half.
LOSING SKID
Washington's four-game non-conference losing streak is the longest of Romar's tenure. Perhaps most concerning for the Huskies, Romar acknowledged that effort has been an issue at times early in the season.
''Tonight our effort was better, though,'' Romar said. ''But at times, yes, effort is a question.''
UP NEXT
Nevada: The Wolf Pack will host UC Irvine on Wednesday.
Washington: The Huskies will host Western Michigan next Sunday.
---
---