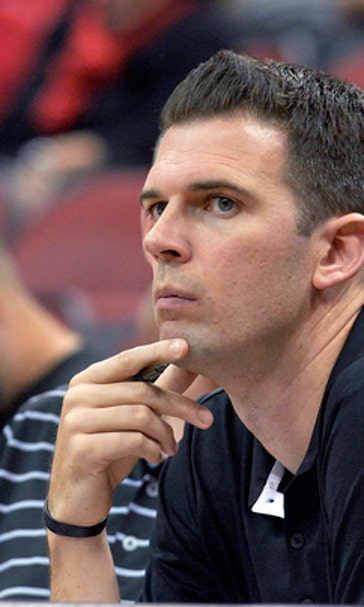 Louisville interim coach Padgett adds Paulus as an assistant
October 19, 2017

LOUISVILLE, Ky. (AP) Louisville interim coach David Padgett has hired Greg Paulus as an assistant, the latest addition to the men's basketball staff.
''We've just been taking it one at a time,'' Padgett said Thursday. ''There's a lot of moving parts to all this, so we're just happy to have Trent (Johnson) and Greg on board now. If and when we cross that bridge, we will.''
Paulus played at Duke from 2006-09 before switching to football and becoming Syracuse's starting quarterback as a graduate transfer. He was an Ohio State assistant the past four seasons and previously worked at Navy.
''I was hoping that he would reach out,'' Paulus said of Padgett, ''and when we connected I was very excited.''
Padgett, a former Cardinal center, now officially has control of the program after Rick Pitino was fired amid a federal investigation of college basketball . Last week Padgett hired veteran coach Johnson. The interim coach did not specify a timetable for adding another assistant after Paulus.
Paulus' arrival follows the school's announcement last week that it had ''parted ways'' with assistant coach Jordan Fair and exercised a contract option to terminate him with cause. Fair and Cardinals associate coach Kenny Johnson were placed on paid administrative leave Oct. 6 as Louisville deals with the federal bribery probe of recruits.
''There's an investigation going on and our feeling is his situation is unchanged and it'll remain in that position until we've learned more,'' acting athletic director Vince Tyra said. ''It could take some time. I don't feel pressured to make a decision on that at all.''
Louisville's Athletic Association on Monday approved a one-year contract worth up to $1 million with incentives for Padgett, who continues to fill his staff.
Padgett cited Paulus' familiarity with the Atlantic Coast Conference as a three-year starter under Duke coach Mike Krzyzewski and his experience as an Ohio State assistant as factors that would help the Cardinals.
''If you played at one of the most prestigious programs in college basketball, that obviously says a lot,'' Padgett said. ''His experience as a player and a coach speaks for itself and I don't think I have to elevate that by any stretch.''
Louisville will hold its second Red/White scrimmage on Oct. 27. The Cardinals open the regular season Nov. 12 against George Mason.
---
For more AP college basketball coverage: http://collegebasketball.ap.org and http://twitter.com/AP-Top25
---
---