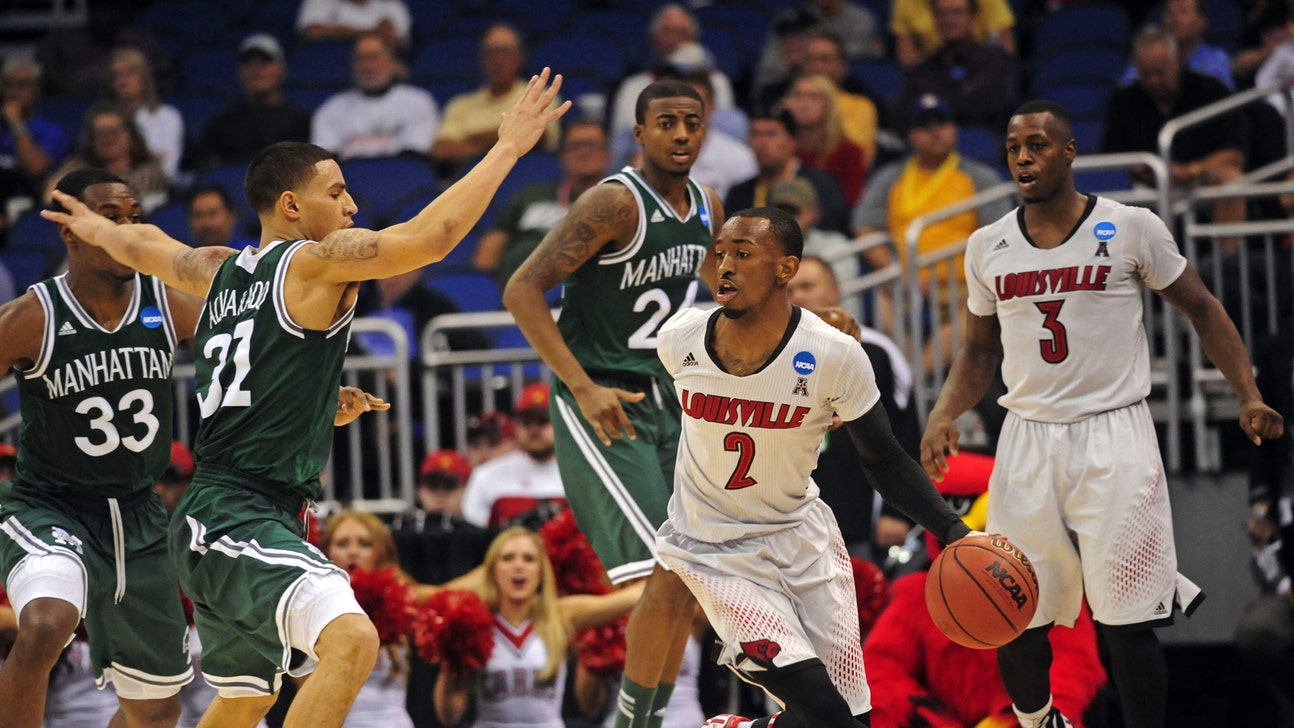 Louisville gets scare from Manhattan but steps up late
Published
Mar. 21, 2014 1:15 a.m. ET

Now everyone knows why Louisville coach Rick Pitino wanted nothing to do with Manhattan.
Luke Hancock hit two huge 3-pointers in the final 1:19 to help Louisville finally shake free from tenacious Manhattan, 71-64 in the NCAA tournament Thursday night.
The defending national champions were down 58-55 with less than 4 minutes remaining -- getting outplayed for most of the second half -- before coming alive from the 3-point line.
Silky smooth guard Russ Smith, who finished with 18 points, got things going with a game-tying 3 from the wing. Hancock delivered the knockout blows. He stole an inbound pass, got fouled and made both free throws. He hit the first of two daggers with 1:19 remaining and then sank a wide-open look from behind the arc with 28 second left.
Those shots propelled fourth-seeded Louisville (30-5) into the round of 32, where it will face fifth-seeded Saint Louis on Saturday in the Midwest Region.
Ashton Pankey led 13th-seeded Manhattan (25-8) with 16 points.
"That's why I didn't want to play them, because I'm sick inside losing to one of my players," Pitino said.
While outsiders everywhere questioned why the Cardinals were seeded fourth, Pitino criticized the selection committee Wednesday for pitting his team against Manhattan, which is coached by Pitino's former assistant, Steve Masiello.
Masiello served as Pitino's ball boy with the NBA's New York Knicks in the 1980s, played for him at Kentucky (1996-1997) and then spent another six years coaching alongside him at Louisville (2005-11). They know each other inside and out, with Masiello molding Manhattan to mirror the Cardinals.
Masiello's team attacked Louisville's weaknesses and gave the Cards fits on the defensive end.
"That's one of the best coaching jobs that I have seen in my 39 years," Pitino said. "He just made us have to guard on the perimeter with four guards."
The lead changed hands a few times in the second half, but when Manhattan went ahead 58-55 on Rhamel Brown's layup, it looked like Louisville would be the highest seed to lose on the tournament's first full day.
Making matters worse for the Cards, Smith and big man Montrezl Harrell picked up their fourth fouls in the final minutes.
So anything could have happened from there.
Smith and Hancock took over, ensuring Louisville another day.
"We could have folded and we didn't," Pitino said. "I think we'll take a big step forward from here."
Harrell finished with 12 points and 13 rebounds for the Cards. Chris Jones chipped in 11 points.
Louisville didn't shoot particularly well, but made 27 of 35 free throws. A 42-31 rebounding advantage was big, too.
But the Jaspers never gave an inch, even though they were outsized at every position.
Louisville led by as many as eight in the first half, but Manhattan wouldn't go away.
The Jaspers came out of the locker room and made a flurry of shots, taking the ball repeatedly to the rim and then tying the game at 35 on George Beamon's jumper with 17:25 remaining. They took their first lead a few seconds later on Emmy Andujar's up-and-under drive around Harrell.
Louisville went right back in front but never could pull away or even get some breathing room.
Pankey was a big reason. He got to the rim with ease, getting fouled or getting easy looks. He was 5-of-8 shooting and 6-of-9 from the free throw line.
Andujar added 13 points, and Michael Alvarado chipped in 10.
---