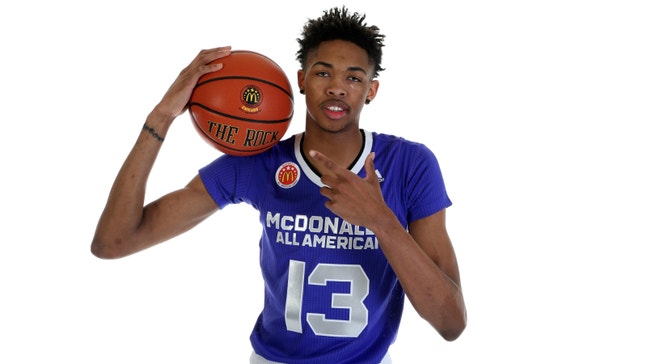 Late recruiting coup pulls Duke closer to UNC, NC State for 2015-16
Updated
Mar. 4, 2020 1:49 p.m. ET

When all the way-too-early top-25 polls came out in the aftermath of Duke's fifth national title, the Blue Devils were arguably the third-best team in The Triangle.
North Carolina was going to return almost all of its lineup, while NC State -- which reached the Sweet 16 -- would likely return everyone, too.
Duke, in turn, had lost their three freshmen stars to the NBA -- Jahlil Okafor, Tyus Jones and Justise Winslow.
A month later, things have changed down on Tobacco Road.
North Carolina lost wing J.P. Tokoto somewhat unexpectedly to the NBA Draft -- the same kind of fate for NC State's All-ACC (second team) guard Trevor Lacey. Fomer Wolfpack forward Kyle Washington also transferred.
The Heels and 'Pack were still alive for wing Brandon Ingram, a top-5 national player and native of Kinston, N.C. But so was Duke, and head coach Mike Krzyzewski is as hot as anyone not named John Calipari when it comes to recruiting -- and possibly hotter, considering his recent haul.
Krzyzewski added forward Antonio Vrankovic on April 16, point guard Derryck Thornton (a top-20 player) to reclassify to 2015.
There goes the point guard problem.
Then Ingram chose Duke over the other local schools (plus Kansas and Kentucky), giving Duke the No. 1 class for the second straight year.
Duke's class already included Chase Jeter and Luke Kennard, two top-25 players. But there were questions at point guard with Jones leaving, and overall questions considering Duke finished last season with eight scholarship players (losing four).
Are Duke's freshmen next season going to be as special as last year's group? It's impossible to say that now, but Duke has suddenly morphed from a program in transition to a rebuilt, on-the-fly title contender.
The Triangle is a brutal area when it comes to basketball, and Duke and North Carolina have spent the last 30 years or so on top of the ACC (before that, it was NC State and North Carolina). There's no rest for the weary, and Krzyzewski's haul means UNC and NC State must shore things up, as well.
North Carolina isn't losing anyone off of last year's team to graduation. The exodus of Tokoto, the starter at one of the off-guard spots will hurt, but the Heels should be able to shore things up if everyone takes a step forward defensively to make up for his absence. 
With the specter of possible NCAA sanctions hanging over head coach Roy Williams on the recruiting trail, it hasn't been easy for UNC. Ingram said he would have committed to the Tar Heels a while ago were it not for said sanctions (although he grew up a Duke fan).
Ultimately, that uncertainty played into his final decision.
The Tar Heels were going to be very good next season, with or without Ingram. But they needed a recruiting coup. They got it last week when they beat out Virginia for four-star guard and former VCU commit Kenny Williams, a three-point specialist.
So basically North Carolina's entire lineup last year, plus a touch of three-point shooting? Yeah, the Tar Heels will be just fine, even with a one-man recruiting class.
That leaves NC State. With the expectation that Lacey would return, many slotted the Wolfpack as a potential ACC favorite entering the 2015-16 season.
Lacey was the team's leading scorer and go-to guy, but the Wolfpack had plenty of players progress last season, including freshman big man Abdul-Malik Abu and sophomore point guard Cat Barber.
The Wolfpack were in the running for Ingram, plus a number of transfer players. Then NC State landed a commitment from Whiteville, N.C., native and three-star wing Shaun Kirk back on April 27, snapping a streak of more than 500 days without a commitment.
Not long after he signed, though, Calipari and Kentucky -- who have lost out, uncharacteristically, on a few recruits of their own recently -- swept in and tried to woo Kirk before signiing.
An anxious few days later, Kirk sent in his letter of intent to Raleigh.
Kirk likely won't see a ton of minutes, and he certainly won't replace what Lacey brought. But if everyone else on the roster can continue to improve, NC State will have plenty of young talent headed into 2015-16.
One thing's for sure: With the recruiting drama surrounding Ingram, and as close as the three schools are right now, next year will be fun in the Triangle.
---
---