North Dakota Fighting Hawks
North Dakota Fighting Hawks
Koenig, Happ score 17 each, Wisconsin beats N. Dakota 78-64
Published
Nov. 17, 2015 11:08 p.m. ET

MADISON, Wis. (AP) It hasn't taken Ethan Happ long to learn a simple lesson about his role with the Badgers: Stay out of foul trouble and good things will happen.
Now if he can cut down on his fouls for the full game and not just the first half.
The redshirt freshman scored 17 points and grabbed seven rebounds, five on the offensive glass, as Wisconsin beat North Dakota 78-64 Tuesday night.
Happ struggled with foul trouble early in both of Wisconsin's first two games. This time, he was whistled only once in the first half, though he still finished the game with four fouls.
''It doesn't take a brainiac to know you're not going to play when you have two fouls in the first half,'' Happ said.
Happ acknowledged coach Bo Ryan wasn't happy with Wisconsin's defensive performance after allowing North Dakota (1-1) to shoot 48 percent. But the Badgers (2-1) used their size advantage and ball security to offset that by creating more opportunities on the offensive end.
In addition to taking 66 shots, 16 more than North Dakota, the Badgers held a 16-5 edge in offensive rebounding and turned it over just six times compared to 16 for North Dakota.
Ryan chalked up some of the rebounding edge (40-31 overall) to Wisconsin's size advantage. He also praised Happ for his work around the rim.
''That's his game. That's what he has to do for us because he's not a prolific outside shooter,'' Ryan said. ''He knows how to get things done to help the team.''
Happ led a balanced scoring attack in which Bronson Koenig also scored 17, Vitto Brown added 12, Nigel Hayes had 11 and Zak Showalter 10.
The Badgers were in control for much of the game. They opened the game on a 7-0 run, jumped out to their first double-digit lead midway through the first half, and used a 10-2 second-half run to push their advantage to 57-36. They led by as many as 25.
North Dakota coach Brian Jones tried to focus his defense on Koenig and Hayes only to see that strategy create opportunities for other Badgers. He also said while North Dakota shot well overall, there were too many missed opportunities once his players got a step on the Wisconsin defense. Starting 2-of-8 from the free throw line also helped zap some early momentum, he said.
Geno Crandall came off the bench to lead North Dakota with 19 points, while Drick Bernstine added 15.
''The thing that hurt us was when we got to the rim and got layups we didn't finish,'' he Jones said.
---
RYAN KNOCKS VAN VLIET DECISION
Before the game, Wisconsin announced the NCAA had denied the waiver it had requested for Andy Van Vliet and the freshman will be ineligible for the 2015-16 season. In the announcement, Wisconsin noted student-athletes are allowed one year to enroll in college following their high school graduation or expected graduation date. But Van Vliet, 20, played as an amateur in that window. He also repeated a level of high school in his native Belgium, which Van Vliet said he did to stay on track academically so he could enroll at a U.S. program like Wisconsin. ''It's tough, but I saw it coming,'' Van Vliet said, adding he plans to use the upcoming year to get stronger. In addition to sitting out this season, Van Vliet will only have three years of eligibility, which miffed Coach Bo Ryan. ''There's no question he can do the work here, and he wasn't doing it to do anything other than improve his chances of being admitted to a school like ours,'' Ryan said. ''You lose a year and sit a year because you're trying to get a better education? You know how I am about some of those other rules. But this one doesn't make any sense.''
---
TIP-INS
North Dakota: There are four Division I transfers on the North Dakota roster, three of whom are expected to contribute this season. Drick Bernstine (Denver) and Carson Shanks (Utah State) started Tuesday night, while Dustin Hobaugh (Houston Baptist) came off the bench. Wheeler Baker (Albany) is sitting out this year due to NCAA transfer rules.
Wisconsin: The Badgers have only played North Dakota three times in school history, but the last one is in the record books. Then-junior Frank Kaminsky set a school record with 43 points in a 103-85 win two years ago.
UP NEXT
North Dakota plays Bowling Green in the Hilton Garden Inn FGCU Classic on Saturday.
Wisconsin plays Georgetown in the 2K Classic in New York City on Friday.
---
---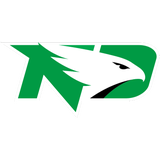 Get more from North Dakota Fighting Hawks
Follow your favorites to get information about games, news and more
---