Is this the worst NCAA tournament loss in Duke history?
Published
Mar. 20, 2017 7:33 a.m. ET

Take your jaw off the floor. We'll wait.

The mighty Duke Blue Devils, one week ago crowned ACC tournament champions and discussed as a probable No. 1 seed, were handed a a stunning loss on Sunday night to the feel-good South Carolina Gamecocks, a team that hadn't won an NCAA tournament game since 1973 and had never seen the Sweet 16. The ACC blue blood losing to the SEC also-ran was surprising enough, but even more so given that SC was 7-35 from the floor at halftime with the game playing out just as everyone expected. Then, out of nowhere, the Gamecocks shot 71% in the second half and nearly tripled its first-half point total. Frank Martin's smothering brand of defense rattled Duke players, who couldn't hit an open jump shot in the final 12 minutes and then began to panic once South Carolina took a seven-point lead with 8:53 left, en route to what ended up being an easy 88-81 victory.

No one saw this coming. Not this one. Even if you thought Duke was a bit overrated and a bit of a streaky enigma, the Devils were still the tournament's betting favorite, going off at 5/1, just slightly better than South Carolina's 200/1 odds. Ending the season with a loss? Not astonishing. Losing when they did to who they did? Yeah, that'll do it.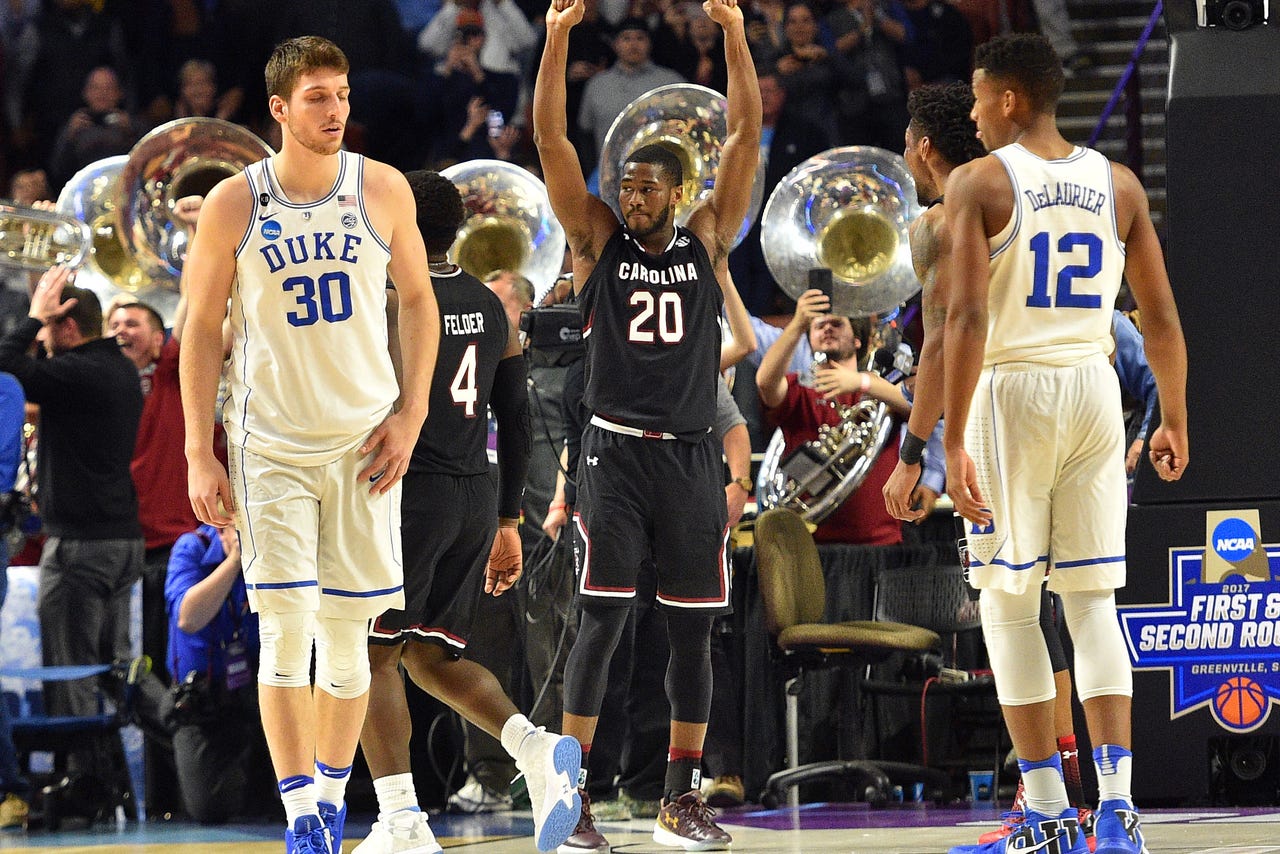 USA TODAY Sports Images

So where does this one go on Duke's list of tournament disappointments? (Yes, they do have some. When you've been on top of the sport for more than 30 years and have won five titles, you're also having 28 end-of-season defeats. That's the way it goes. Other teams' last losses are merely the natural end of their season. Duke's take on a different meaning, is if every year they seek, and approach, immortality.

The Blue Devils have suffered earlier losses, bigger numerical upsets and larger point-spread defeats. But were those teams favored to win the title? Did those losses come at the hands of teams with less basketball tradition than Northwestern? (Tough weekend for Duke coaches, by the way.) We looked at more than three decades of NCAA tournament results for the greatest program in modern history and ranked the worst losses suffered by a Mike Krzyzewski-coached team. You may be surprised where this one goes. (In descending order.)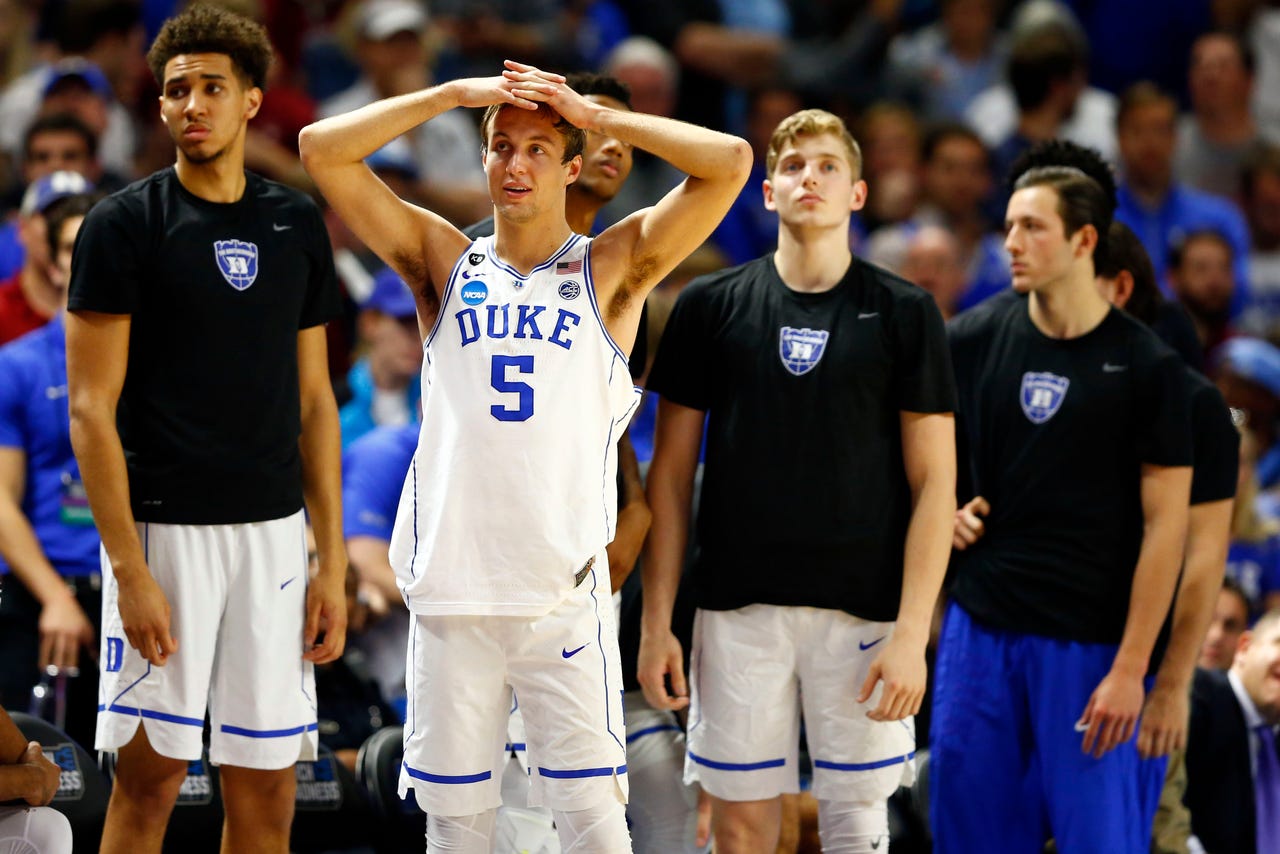 1996 - No. 8 lost to No. 9 Eastern Michigan, first round

This was Coach K's first-ever first-round loss, but it came one year after the team's 1995 implosion (which Krzyzewski laid on assistant Pete Gaudet) and on the heels of an 8-8 ACC regular season and first-round loss in the ACC tournament. This was a No. 10 or No. 11 seed who got a bump because it was Duke. No stunners here.

2007 - No. 6 lost to No. 11, VCU, first round

The Devils were seventh in the ACC after losing superstars J.J. Redick and Shelden Williams. VCU was not yet VCU - this was a bad loss to an inferior team - but Eric Maynor was the real deal.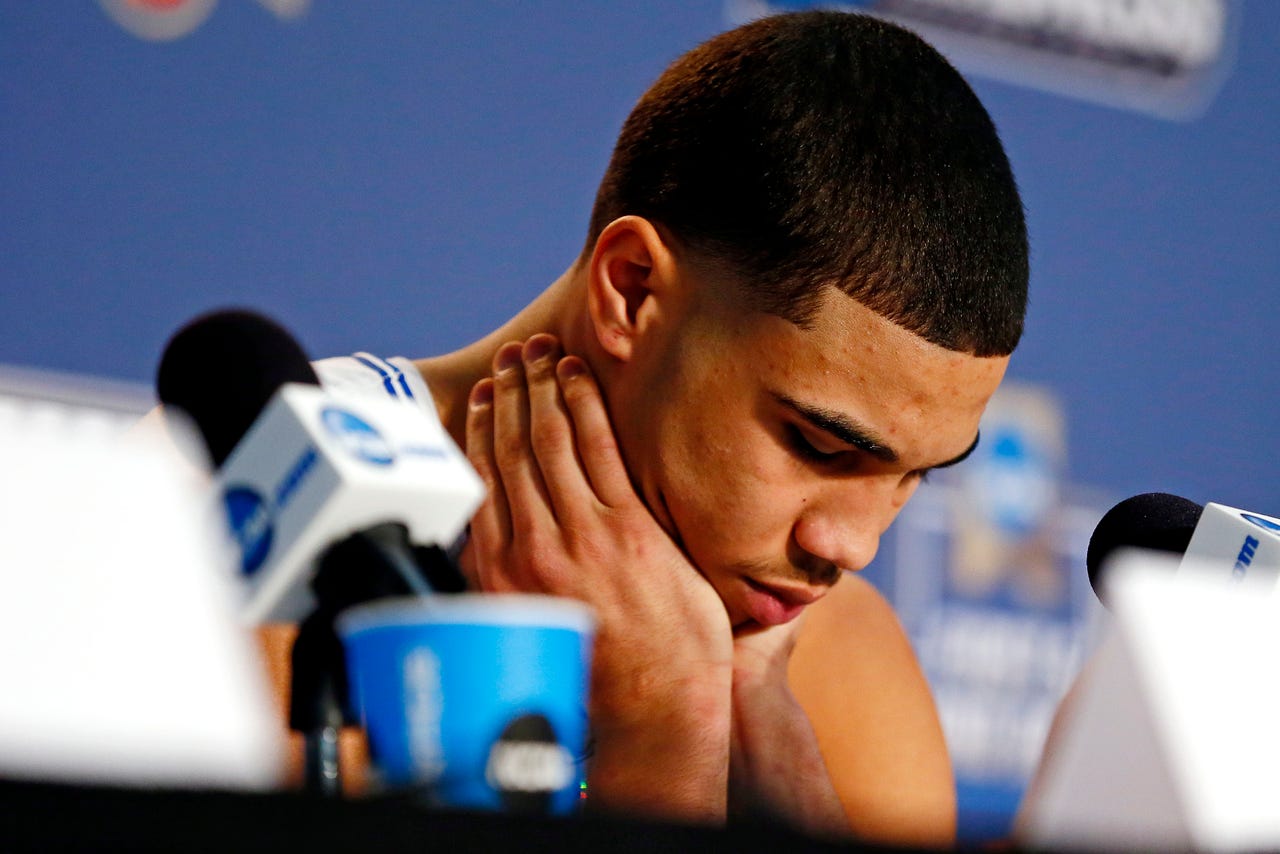 USA TODAY Sports Images

1997 No. 2 lost to No. 10 Providence, second round

A better version of the 1996 team but one that was 5-7 against top-25 competition. It's hard to assign too much disappointment to a team that started Greg Newton 30 times.

2014 - No. 3 lost to No. 14 Mercer, first round

Once Duke showed it wasn't infallible (in a loss that'll come up later on the list), it was far less of a bombshell when it happened again. This was the worst Duke defense in nearly 20 years and the offense proved the old saying true: When you live by the three, you die by the three. Much like on Sunday, the Devils couldn't get a grip after an underdog clawed its way back into the game and went 0-4 from beyond the arc in crunch time.

2008 - No. 2 lost to No. 7 West Virginia, second round

This was becoming an epidemic. The loss to Bob Huggins and the Mountaineers marked the seventh time in the previous eight years (dating back to the team's 2001 national championship) that Duke hadn't made a regional final and put the team's NCAA tournament record in games outside North Carolina at 5-7. West Virginia famously had no McDonald's All-Americans on their team while the Dukies had eight. The first real jaw-dropped on this list.


USA TODAY Sports Images

1993 - No. 3 lost to No. 6 California, second round

The Blue Devils were coming off back-to-back national titles and five-straight Final Four appearances, so when Jason Kidd knocked out the team in a stunning second rounder it was instantly the most astonishing loss of the Krzyzewski era. In retrospect, it's less surprising. (Things always are though, aren't they?) Though Bobby Hurley was a senior and Grant Hill emerged as a sophomore superstar, replacing Christian Laettner with Cherokee Parks was never going to turn out well.

2017 - No. 2 lost to No. 7 South Carolina, second round

Sunday was bad but, with the same benefit of time, we may regard Duke's March revival to have been a lot of smoke and mirrors. The Devils, who played through injuries and Grayson Allen antics for the first few months of the season, was never good enough to warrant a No. 1 seed and, by virtue of an impressive ACC tournament win, made people forget they ended the regular season losers three-of-four (and were a blown layup from having it been four-of-five). The 2016-17 Blue Devils are who we thought they were: A talented team that could hang with anyone in the country but, throw 'em against a tough defense and see the shots not fall, and they were also a team that could also play down to the level of any opponent.

2002 - No. 1 lost to No. 5 Indiana, Sweet 16

This was a little deeper into the tournament but was no less an upset. Indiana was a mediocre Big Ten team and Duke was on a collision course for an All-ACC title game against Maryland. Then Jason Williams missed a free throw on a possible four-point play in the final seconds to cap a meltdown by the defending champs.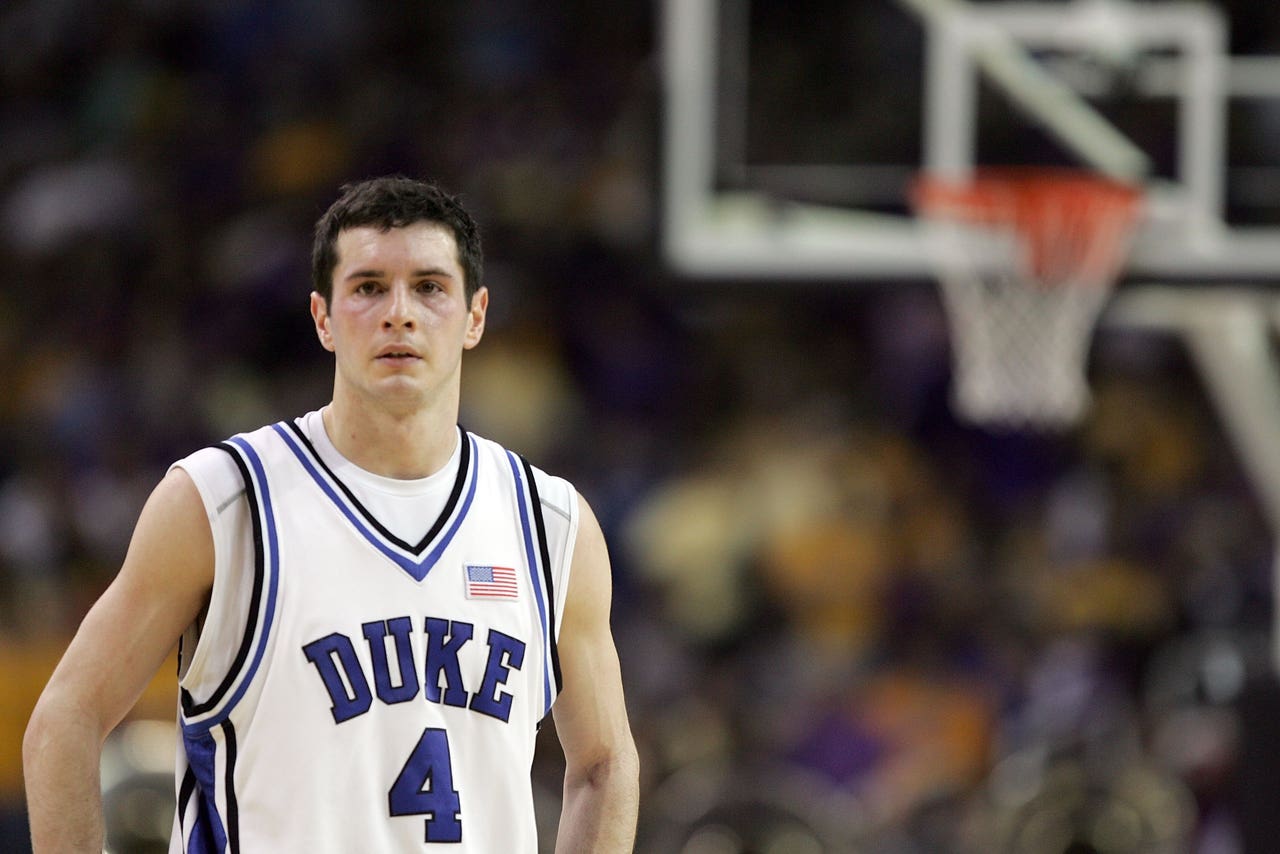 Getty Images

2006 - No. 1 lost to No. 4 LSU, Sweet 16 

The 2006 Duke squad, starring J.J. Redick and Shelden Williams, was better than both the 2010 and 2015 title teams. But just like four years before, the double-digit favorites collapsed in a Sweet 16 game that everybody was looking past. Redick went 3-18 and left the court in tears, Big Baby Davis and Tyrus Thomas were dominating the paint and Duke was bounced from a tournament that was theirs to lose.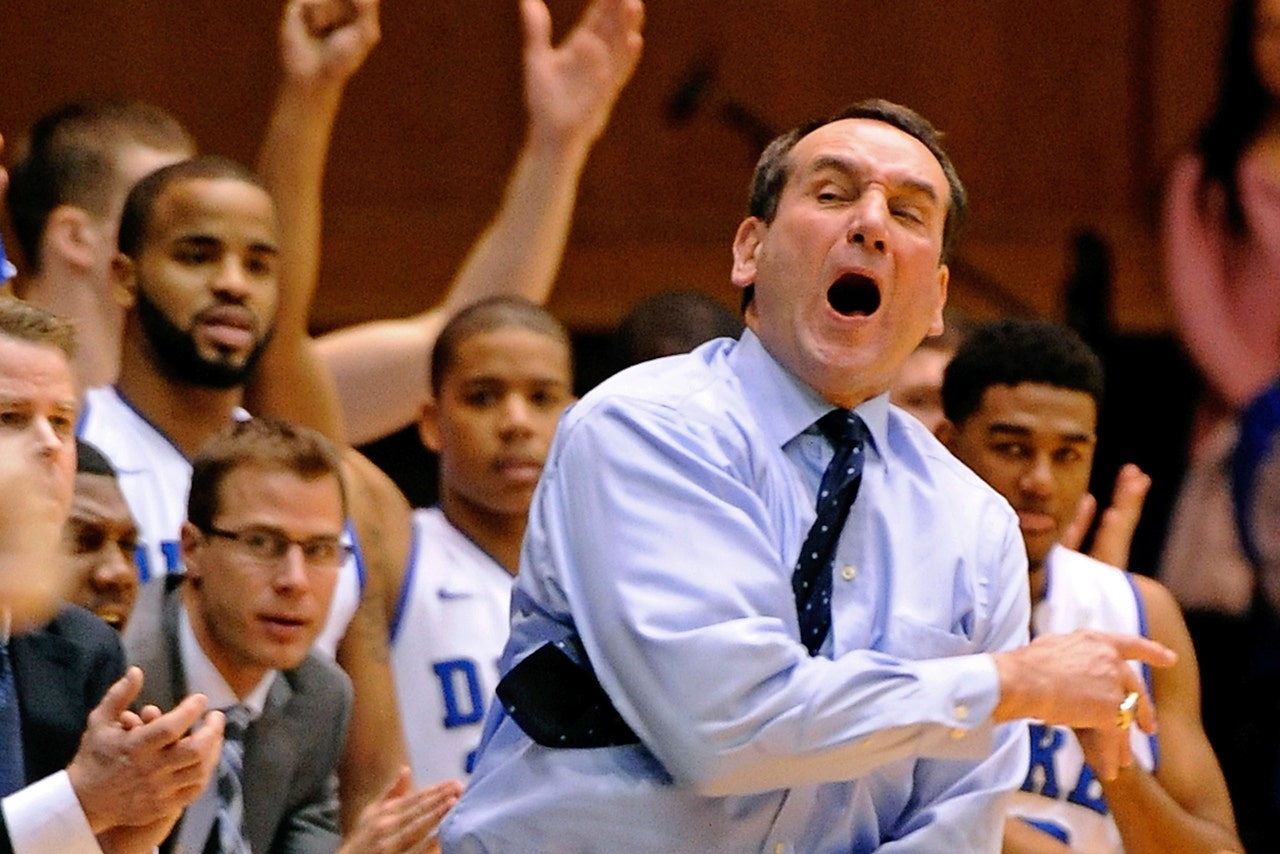 Getty Images

2012 - No. 2 lost to No. 15 Lehigh, first round 

Bad defense and cold shooting (Duke was 6-26 on three pointers) led the 2011-12 Blue Devils to the most stunning loss in school history. You could argue (and I deeply thought about) either the Indiana or LSU game being a bigger upset, but the Lehigh game best sums up the Duke tournament letdowns. (It was also a 15-over-2 upset, a win that's still so rare you can count the number of times it's happened on your fingers.)

In the years of Duke's key first-weekend upsets, those Blue Devil teams generally haven't been very good. This '12 Duke team featured Austin Rivers, Seth Curry, Mason Plumlee and Ryan Kelly - not the centerpieces of a Final Four contender. But Krzyzewski maximizes talent and the team squeezes every last ounce from its players, so mediocre teams turn into good teams, while never quite getting over the fear they'll one day be exposed. As constructed, the 2012 Dukies were probably a No. 5 seed that Coach K molded into a No. 3 seed and that turned into a No. 2 seed because there's an inherent bias every time the selection committee sees the letters D-U-K-E. If the '17 Blue Devils shouldn't have been title favorites, the edition from five years ago shouldn't have been in the title discussion. Once again though, the team faced a hot hand (C.J. McCollum) and choked down the stretch, seemingly amazed that the Duke magic had abandoned them, just as it did Sunday night in Greenville when Mike Krzyzewski and his merry band of one-and-dones and upperclass heroes walked off the court losers, again.


---