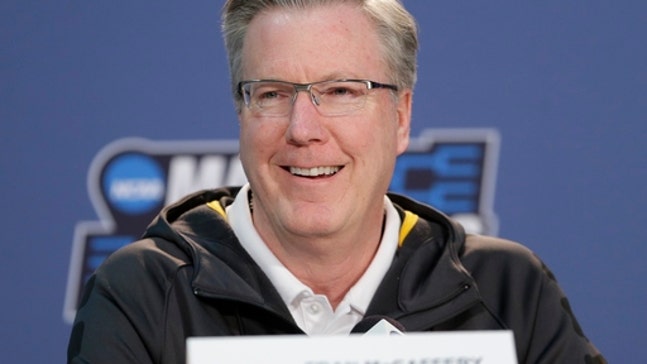 Iowa-Villanova Preview
Published
Mar. 20, 2016 12:58 a.m. ET

NEW YORK (AP) It's not the only thing being talked about around the Villanova basketball team but it sure takes up a lot of the discussion.
The Wildcats have another chance to advance to the Sweet 16 of the NCAA Tournament. They haven't been there since their run to the Final Four in 2009. This senior class will go down as the winningest in school history but it hasn't gotten past the second round.
The final chance for those seniors is Sunday when the second-seeded Wildcats face seventh-seeded Iowa in the South Regional at Barclays Center in Brooklyn, New York.
''Everyone has the right to think what they want, say what they want. We played in those games. We haven't come through in the second round of the tournament,'' senior guard Ryan Arcidiacono said. ''I can't really tell people how they should look at our senior class or myself in particular.''
His classmate, Daniel Ochefu, said the talk has been going on for a while.
''Everybody's been talking about this game for the whole year, even in the summertime before the season started,'' the center said. ''So the fact that the game is here and we can finally just get it done. Hopefully, we'll get the win, and people will stop talking about it.''
Junior Josh Hart said everyone will judge Villanova on this game.
''They're not going to judge us on being Big East champions, Big Five champions or anything that we did in the regular season. Our whole year the questions have been about this game. Obviously we didn't know the opponent but it's about this game, this round,'' Hart said. ''So we know we're going in focused, ready for a dogfight and playing a great team. I'm not sure how they got a draw to be a seven seed. They're a heck of a team.''
The Wildcats (30-5) advanced with an 86-56 victory over UNC-Asheville, while Iowa (22-10) beat Temple 72-70 on a tip-in at the overtime buzzer.
The Hawkeyes haven't been past the second round of the NCAA Tournament since 1988 but they haven't had to hear about it as much as the Wildcats.
''We don't listen to outside noise very much,'' Iowa guard Mike Gesell said. ''Everyone has opinions, and obviously we haven't made the Sweet 16 in a while, and that's a difficult task. Once you get into March Madness, every single team is a good team. It's tough just to make it into this tournament. So you really have to value every single game.''
Things to know about the Wildcats and Hawkeyes meeting in the second round:
---
PAST TIME: The schools have met once before in the NCAA Tournament, a 55-54 Villanova victory in the second round in 1983.
GOOD D: The Wildcats are 25-1 this season when holding opponents under 70 points. Iowa averages 77.9 points per game.
TAKING CARE OF THE BALL: Iowa had just three turnovers in the overtime win over Temple, one off the NCAA Tournament record set by North Carolina in 1997. The Hawkeyes average 10.2 turnovers per game while Villanova averages 11.1.
SHOOTING 3s: Villanova's Kris Jenkins is shooting 42.7 percent from 3-point range over the past 19 games (56 for 131). Iowa's Jarrod Uthoff and Peter Jok both set an Iowa NCAA Tournament record with 10 3-point attempts against Temple and they have combined for 142 3s this season with Jok going 78 for 192 (40.6 percent) from beyond the arc.
---